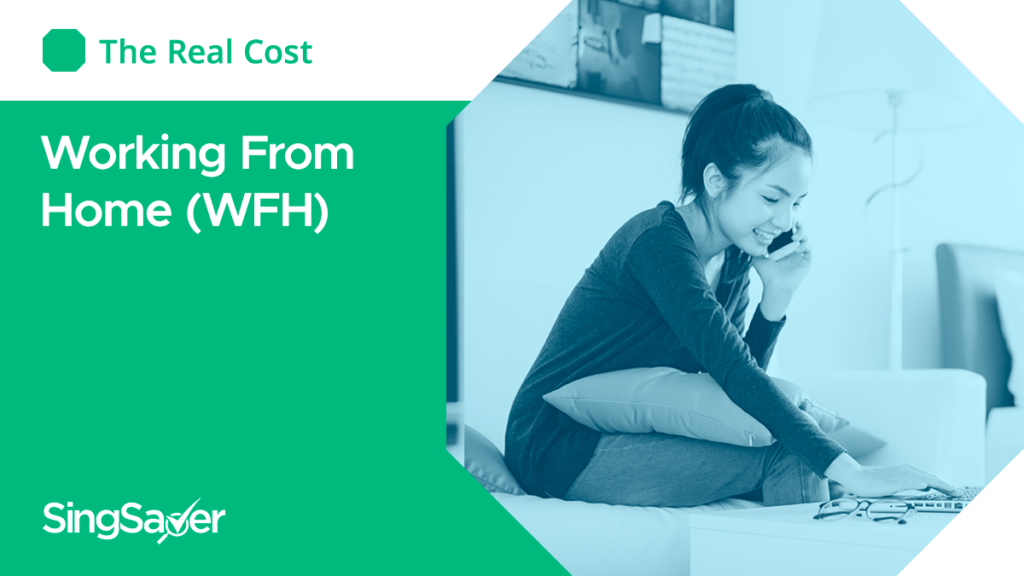 ---
There may be hidden costs on every dollar you spend. The Real Cost, a SingSaver Series, uncovers all the unexpected expenses you're incurring.
---
Yes, the COVID-19 situation is unsettling (and increasingly making us all nervous) but we believe in looking for silver linings in troubled times. If you've been granted work from home (WFH) arrangements, you'd get what we mean.
Waking up minutes before work begins, video calls in pajamas (or a formal shirt with pajamas, hell yeah!), ensuring laundry gets done within the day and more time is spent with loved ones — the perks you get are pretty incredible.
But let's face it. WFH is not as cheap as you think it may be. There's actual financial costs incurred and not to be able to expense makes it all a tad tougher on your finances.
So, we break down the real cost of work from home based on the basic necessities and fill you in on areas where you could be saving.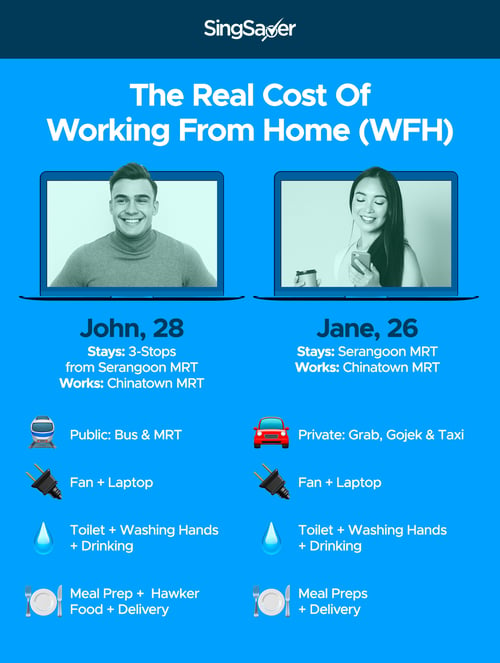 For the purpose of the calculations involved, we'll use 'John' and 'Jane' as examples. Both are working professionals in their late 20s to early 30s, they stay near Serangoon MRT and work around the Central Business District (Chinatown MRT). Their companies have implemented WFH. Let's look at the math.
Last updated on 6 July 2021. Prices of transport, electricity, water, and food are subject to change without prior notice. The calculations below are estimates, and prices listed may vary depending on actual quantity needed, credit card discounts, among others.
Transport
Since you're on WFH, technically you aren't (supposed to be) going anywhere during work hours, therefore you will be saving big on 2-way transport. Depending on your regular mode of transport, you could be saving anything between $0.92 a day for those who take public transport to over $35 a day for those who hire private transport.
John's daily trip to and from work requires a bus ride (3 stops) and a train ride (8 stops).
| | |
| --- | --- |
| Public Transport Type | Price |
| Bus Ride | $0.92 |
| Train Ride | $0.56 (transfer + distance based fares) |
| Total for 1-way | $1.48 |
| Total for 2-ways | $2.96 |
| Transport cost over 5 days | $14.80 |
Jane travels to and from work on private transport like Grab, Gojek and Taxi (fares are approximate and indicative of off-peak timing).
| | |
| --- | --- |
| Private Transport Type | Price |
| Grab | $13 |
| GoJek | $13.50 |
| Taxi (Flat Fare on ComfortDelgro Mobile App) | $12 |
| Average for 1-way | $12.80 |
| Average total for 2-ways | $35.60 |
| Average transport cost over 5 days | $178 |
Electricity
We use electricity in many ways, our smartphone, Wi-Fi, fan or air conditioner and, perhaps, wireless Bluetooth speakers (because entertainment is much needed when your colleagues aren't around). For this section, I will only be calculating the bare basics, which is the usage of a standing fan and laptop for a period of 9 hours a day, and over the course of 5 days.
Do note that just how much higher your electric bill will be is heavily dependent on brand, model and configuration of your fan and preferred workstation setup.
Standing Fan Usage
Yes, a fan to keep cool throughout the working day and to reduce carbon footprint (compared to an air conditioner). Nothing fancy, a basic standing one that you can find at any home appliance store for under $50. Note that the average cost per kWh used to calculate electrical cost is based on the published online rates from SP Group ($0.2255), Sembcorp ($0.1907) and iSwitch ($0.1640).
| | | | |
| --- | --- | --- | --- |
| Average Standing Fan Power Usage | Electricity Consumed For 9 Hours | Average Cost per kWh | Cost Over 5 Days |
| 50W | 0.45 kWh | $0.19 | $0.44 |
Laptop Usage
Some choose to work with 2 laptops or a laptop connected to a separate desktop monitor, but for some, just a laptop will do. John and Jane are both only using laptops. John's using an Apple MacBook Pro 13" with a 58.2‑watt‑hour battery and Jane's using a Microsoft Surface Pro 7 with a 43.2‑watt‑hour battery.
Here's how much it would cost for them to keep their laptops powered for 9 hours a day:
Subject
Laptop Power Usage
Electricity Consumed For 9 Hours (kWh)
Average Cost per kWh
Cost Over 5 Days
John
Apple MacBook Pro 13"
58.2‑watt‑hour
0.5238
$0.19
$0.51
Jane
Microsoft Surface Pro 7
43.2‑watt‑hour
0.3888
$0.19
$0.38
---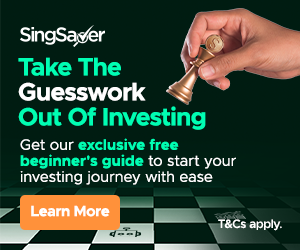 Start managing and saving money like a pro with SingSaver's weekly financial roundups! We dole out easy-to-follow money-saving tips, the latest financial trends and the hottest promotions every week, right into your inbox. This is one mailer you don't want to miss.
Sign up today to receive our exclusive free investing guide for beginners!
---
Water
One of Singapore's most precious resources, WFH will mean that your water bill will go up. If you've been told growing up that water is expensive and you've got to manage your usage, well, we'll let you judge it for yourselves.
There are 3 variables to consider for this section:
Number of times you visit the toilet and age of your toilet bowl's flushing system: Older flushes use up more water, newer ones use an average of 4.5L of water per flush.
Number of times you wash your hands: 3.7L of water on average is used per wash. Considering the current situation, the number of times you wash your hands should increase especially if you've touched any public or unknown surfaces.
Amount of water you drink daily
Here's an average amount of water one will use per day when working from home:
| | | | | | |
| --- | --- | --- | --- | --- | --- |
| Subject | Toilet | Washing Of Hands | Drinking | Used Per Day | Used Over 5 Days |
| John | 3 times, 13.5L | 6 times, 22.2L | 2L | 38.2L | 189L |
| Jane | 4 times, 18L | 6 times, 22.2L | 2L | 42.5L | 210L |
Water in Singapore is sold to households at $2.74 (w/gst $2.93) per 1,000L block. This means that WFH for 5 days will cost John $0.55 and Jane $0.62 after taxes. So, is water really as expensive as you've been told?
Food
If you're working in the CBD or its fringe neighbourhoods, you'd know that an average meal including a drink can easily cost between $10 to $15—food is just more expensive here, especially when you want to eat healthier. This actually adds up to around $50 to $75 a week for lunch.
Since John and Jane are both on WFH, they have three ways to get lunch, either cook it, buy it from the nearby coffee shop or order it on a food delivery app like GrabFood and Foodpanda.
Here's what it would cost them to get their lunches when WFH:
Food Option
Minimum Average Cost
Cook a simple meal at home (ingredients, water, gas/electricity)
$5
Coffee Shop (economical rice consisting of 2 meat and 2 vegetable dishes, and a drink)
$6, including a drink
Food delivery
Minimum order of $10
- Excluding an average delivery fee of $3
- Average of $9.90 for a monthly food delivery subscription plan
Let's assume that John makes an effort to cook twice, eats at the coffee shop twice, and orders food delivery for lunch once within the week. This adds up to around $35, and saves him between $15 to $40.
Jane on the other hand, cooks twice and since she has the food delivery subscription plan, she orders food delivery thrice within the week. This would set her back by approximately $42.48 for the week and she still would've saved between $7.52 to $32.52.

Conclusion: How much does it really cost to WFH?
Category
John (In Office)
John (WFH)
Jane (In Office)
Jane (WFH)
Transport
$14.80
NA
$178
NA
Electricity
NA
$0.44 + $0.51
NA
$0.44 + $0.38
Water
NA
$0.55
NA
$0.62
Food
$50 to $75
$35
$50 to $75
$42.48
Total
$64.80 to $89.80
$36.50
$228 to $253
$43.92
Total Savings
(1 Week WFH, 5 working days)
$28.30 to $53.30
$184.08 to $209.08
Well, you've got the numbers. Who knew that WFH could actually save you so much?
To be honest, you could save a lot more on your monthly costs regardless if it's WFH or at the office. If you look at the table above, it is clear that food and mode of transport are the biggest expense areas that you can easily cut back on.
But, if (good) food is life and you are more comfortable in a private transport due to the current predicament we are in, swipe it on the correct credit card to earn rebates or cashback to save yourself some money.
Read these next:
Food Delivery Promo Codes 2021: GrabFood, Deliveroo, Foodpanda, WhyQ
Best SIM-Only Mobile Plans For Light, Moderate, And Heavy Data Users
Things To Do In Singapore That Get You The Most Bang For Your Buck
Cheap And Reliable Courier Services In Singapore (2021)
Shopee Promo Codes And Credit Card Discounts
---
---