Looking for Things To Do in Singapore in June 2022? You've come to the right place.
Catch yourself Googling "Things to do Singapore 2022" when planning activities for the weekend? That's us, all the time.
If you ever find yourself with nothing to do in Singapore, here's showing you the many things to do in our beautiful island country, as you make your bookings on the right credit card and earn rewards, points and cashback.
In this article, we aim to capture the best things to do Singapore every month in 2022, so you can mark your calendar and plan your week around them. We will try to cover a range of our recommended options for the outdoorsy, the adventurous, the artsy, the closet food connoisseur, and the leisure-loving souls. At the risk of quoting a cliche — there's something for everyone here.
Things to do in Singapore 2022: Table of Contents
Last updated on 15 June 2022.
---
Things to do in Singapore 2022: Limited-time events — Festivals, art, theatre, exhibitions and more!
Smooth and easy-to-drink, the new Heineken® Silver is set to excite a new generation of beer drinkers eager to elevate and refresh the social occasions of today.
As part of its epic launch, Heineken® Silver is set to drop to 3,000 fans against a backdrop of International artists, retro arcades, and unexpectedly smooth experiences at the Heineken® Silver Smooooth Warehouse Party!
Reminding the nation of what an epic night out feels like, party-goers are invited to transition from their stuffy situations to a smooth night of light, colour and pulsating beats from the world's smoothest DJs — Flight Facilities, Palms Trax, Floyd Lavine and Ice Cream Sundays.
Be ready for a night of unexpectedly smooooth experiences and much-anticipated reunions on the dance floor. There will also be food trucks that cater to a wide variety of palates, so be sure to come hungry!
Address: Pasir Panjang Power Station A, 27 Pasir Panjang Rd, Singapore 117537
Time: 7.30pm to 1am
Price: S$40 per ticket including two complimentary servings of Heineken® Silver
15 June 2022
Things to do in Singapore 2022: Camp 1N
Bored of the typical staycation packages? Consider going on a "camp-cation" at Camp 1N instead, hosted by Singapore Discovery Center (SDC).
Back by popular demand, Camp 1N promises a slew of exciting experiential activities that incorporate primitive natural elements that pair perfectly with SDC's own line up of attractions.
The itinerary kicks off with an "Army Days" experience where your family learns the nuances of conventional wildlife camping. Everyone will be taught the fundamentals of tent pitching, field cooking and much more!
This will be followed by an all-exclusive access to SDC's attractions, where participants have full reign to curate their own individualised experience. Engage in a legendary battle of laser tag as you battle it out for total domination, decrypt enigmatic puzzles at the puzzle room, or seek solace in your natural surroundings on your very own pedal boat — there is just so much to do with only a finite amount of time!
The night slows down with a relaxing night trial that ends with a mini-barbeque by the lake where both guides and guests share riveting tales and delicious food under the night sky. That's not all however, for there is an eco-sustainability tour and workshop that awaits your family the next day!
Do not fret about the sleeping accommodations, as you'll be assigned a cosy tent that comes with air pillows, sleeping bags and even foam beds if you opt for its "Chio" package.
Make sure to book as soon as you can, as spots are very high in demand (as indicated by its December camp, which was fully booked out)
Address: 510 Upper Jurong Rd, Singapore 638365
Price: Starting from S$599
Additional Notes: Participants must be above five years old of age, a tent can comfortably fit four participants (or more depending on your chosen package)
30 May 2022 to 24 June 2022
Things to do in Singapore 2022: Tinkerfest 2022
Stir those creative juices at Tinkerfest 2022, as you and your kids explore inventive means to utilise sustainable materials. With the rising threat of global warming, it is more crucial than ever that we begin focusing on preservation and prevention efforts. This year's theme best alludes to this phenomenon, with activities revolving around one's resourcefulness in meaningful recycling.
Of course, you can't have a festival called Tinkerfest without inventive gadgets! Build your own catapult that you can test out at different targets, or your very own DIY controller that can be used to interact with online digital games. You'll also have a chance at making your own DIY rings that you can experiment with at its Ring Toss station. Make sure to visit its marble labyrinth that is made entirely with recycled materials before leaving!
If that's not enough to convince you, this month-long festival is free for all!
Address: 15 Science Centre Rd, Singapore 609081
Time: 10am to 12.30pm | 2pm to 4.30pm
Price: Free
Until 26 June 2022
Yoga isn't just a series of dexterous postures and regulated breathing exercises. Some say it's a means to access your inner light, which you will use to explore an intimate connection with your body and spirit. Others say it's a spiritual form of meditation. Regardless, yoga is a fantastic way to alleviate stress and focus on what matters.
Conducted by the beach, this informal yoga session is accentuated with the magnificent warm orange evening glow that sets seamlessly with the beach's golden hue. That's not all, participants can also receive a S$15 interim F&B voucher, which is redeemable at Southside's Market. All you'll need is a yoga mat, water and an open mind.
Address: 80 Siloso Road, Siloso Point, Singapore 098969
Opening Hours: 6.30pm to 7.30pm on Fridays
Price: Starting from S$15
Until 29 July 2022
Things to do in Singapore 2022: Singapore HeritageFest 2022
Its 19th year running, Singapore HeritageFest is back with its usual array of splendid exhibitions and artistic trails celebrating local ingenious moments that reflect pivotal historical moments, modern developments and futuristic innovations.
Cinema Reclaimed
Enjoy local curated films that showcase the evolution of Singapore's travel and tourism industry at the Oldham theatre. Following after, you'll get to engage in a lively discussion with the creators of the film as you touch on a myriad of diverse perspectives regarding the industry's trajectory and state.
Time: Various timings
Address: 1 Canning Rise, Singapore 179868
Price: Starting from S$10
5 June 2022
We all know Universal Studio as a haven for childlike joy and guiltless thrill. Elevate that experience with this novel triple pass that will certainly triple the excitement plus extra! This special token provides you three visits within three months, with each visit allowing you to skip the queue for three rides. What's more, you'll even get a special experience catered for you on each visit that is not normally available to visitors.
Take a breather after a day of exhilaration at the exclusive Star Lounge in KT's Grill as you enjoy a plethora of snacks and cocktails. Or if you're more intrigued by USS's operations, explore its back-of-house areas and learn what goes behind the scenes that have allowed its current success as a revolutionary theme park. Food lovers will love what this pass will have to offer, as they get to indulge in a character themed menu as well as endless towering stacks of waffles and chicken lollipops.
Address: 8 Sentosa Gateway, Singapore 098269
Price: Starting from S$388
Additional Note: The character-themed menu is only available from 26 May 2022 onwards
Until 31 July 2022
"Banana", as so poetically articulated by our beloved mischief-makers. Join them in their shenanigans at USS this June holidays as they once again, wreck havoc and chaos in their own adorable way. Catch them at their Groovy meet-and-greet, with special appearances by the trio Kevin, Stuart and Bob who are dressed in funky 70s-themed clothing!
At the stair of New York's Public Library, you may even catch them practicing their karate moves in silly yellow jumpsuits!
End the day with a thematic array of minions-inspired dishes that commemorates their silliness, charm and joy.
Price: S$98 for adult visitors and S$88 for children visitors
Until 26 June 2022
Singapore's Chinese Cultural Centre (SCCC) seeks to celebrate the diversity of our cultural wonders this year with an amazing series of intimate close-readings, exhibitions and artistic appreciations.
Mythology RElooked
By incorporating augmented reality and reactive digital media, this immersive experience features 20 art installations created by local artists that are inspired by legendary myths and epic tales that have dominated our cultural scene.
Address: 1 Straits Blvd, Singapore 018906 (SCCC concourse level 1)
14 May 2022 to 31 July 2022
Poetic Pandemic
A very fitting name that best reflects our current circumstance, this literary exhibition explores local narratives that allude to the regression and frustrations faced by Singaporeans during the peak of the pandemic. Described to be a visceral abstract expression of words, immerse your senses in beautiful Chinese poetry composed by Dr Ng King Kang that is recited by reputed actor Andie Chen.
Verses are also translated into English, Malay and Tamil so it is easily accessible to all.
Time: 10am to 8pm
Address: 1 Straits Blvd, Singapore 018906 (SCCC Creative Box Level 6)
Price: Free
27 May 2022 to 26 June 2022
Things to do in Singapore 2022: PAssion Wave
Like always, PAssion Wave has a myriad of activities lined up for all demographics to enjoy.
Amphibious Workout Challenge
Fitness enthusiasts looking to stretch their limits can finally find a challenge with the Amphibious Workout Challenge. Adopting a completion style of challenge, participants are expected to complete a myriad of feats of strength, such as two hours of Kayaking, five static fitness workouts and a 5km virtual run. Work those muscles and win a completion medal alongside a water bottle and dry bag.
Time: 9am to 11.30pm
Address: Kayaking can be done at any PAssion Wave outlet, except the one at East Coast. The static exercises must be done at imPAct @ Hong Lim Green (20 Upper Pickering Street, Singapore 058284)
Price: S$10 for PAssion Card members and S$15 for non-members
Additional Notes: Price compromises of a single Kayaking session and a one time fitness workout. Registration ends on 5 June 2022
Until 30 June 2022
Skool's Out Fiesta
Love coffee and recycling? Well you will after PAssion Wave's Skool's Out Fiesta! Described as a half-day camp, you and your kid will learn from Starbucks' very own baristas how you can make your own aromatic latte or frappuccino. Following after, you'll be part of an upcycling craft session that ends with you making your own mini dragon boat (with sustainable materials of course) and learning the intricacies of jesmonite castings.

Time: 1pm to 6pm
Address: Bedok Reservoir Road, PAssion WaVe @ Bedok Reservoir, Reservoir Park
19 June 2022

Indulge your kid's fast and furious fancies at EXPO's karting circuits as you let your kid take the wheel of their very own adorable go-kart. With a circuit emulating the elements of an actual Formula 1 track, this kiddy circuit allows your children to partake in their own personal Grand Prix.
Make sure to drop by Timbre+ Eastside, EXPO's newly launched contemporary food court, for a meal after your family's fill of adrenaline.
Address: 1 Expo Drive, Singapore Expo, Atrium 4, Singapore 486150
Opening Hours: 1pm to 8pm on Fridays | 10am to 8pm on weekends
Price: S$15 per ride and S$35 for three rides
Until 30 June 2022
Unleash your inner musical spirit with local talents as they light the stage on enthralling fire (metaphorically, of course)! Showcasing iconic names such as Benjamin Kheng, 53A and The Day Trippers, pump the fuels of passion at Timber+ One North and Eastside with over 20 multidimensional performances done in a span of two melodious months.
Time: Showtimes vary. You can find a comprehensive list of showtimes here
Address: 73A Ayer Rajah Crescent, JTC LaunchPad @ one-north, Singapore 139957 and 1 Expo Dr, Singapore 486150
Until 26 June 2022
Its first night-themed Children's season, the National Heritage Board has decided to host an intimate cultural session for families through immersive allegorical narratives. Be regaled with tales of legendary heroes and villains, with the museum's artifacts further bringing these tales to life.
The strongest of them all
Held at the Asian Civilisation Museum, families will follow the tale of a royal princess in a materialistic pursuit of the best of suitors, only to discover that strength stems from within.
Address: Asian Civilisations Museum, 1 Empress Pl, Singapore 179555
The God of Birds
A legendary tale of Garuda, an eagle with tremendous strength that seeks to protect its grove, will definitely inspire you with its unconditional compassion, and love for wildlife.
Address: Indian Heritage Centre, 5 Campbell Lane, Singapore 209924
The Runaway Kueh
A kueh has escaped! A rebellious kueh has run away from the kitchen, and it is up to a band of settlers to catch it. Learn more about Singapore's more primitive years, and the animated personalities of the settlers that have occupied a once simple fishing village, and trading hub.
Address: National Museum of Singapore, 93 Stamford Rd, Singapore 178897
Until 26 June 2022
Things to do in Singapore 2022: Jurassic June
Singapore Discovery Centre is stomping the grounds with its wave of dinosaurs this June holiday. With a spectacle of dinosaur-inspired events, you and your kids can expect colossal exhibitions, reverberating roars echoed throughout the hallways, and even a live show with dinosaur puppets.
Dino's explorer's show
Join a cast of charming puppeteers in this lively interactive show as you learn about the threat of extinction (a notion dinosaurs can understand all too well) and environmental preservation.
Time: 2pm
Price: S$15
Until 26 June 2022
Dino Eco-hunt with SingaPaw
Put on your investigative hats as you're going on a hunt (an eco-hunt to be precise). Accompanied by your groovy partner, SingaPaw, you'll follow this mysterious trail that might explain the disappearance of the golden age of dinosaurs. Discover interesting insights and tales pertaining to this enigmatic era, and how we can avoid history repeating itself once more
Successful investigators get a dinosaur toy to commemorate their venture! (only on weekends though)
Price: Free
Until 26 June 2022
Jurassic World Dominion
We can't have a dinosaur fiesta without Jurassic World – a trilogy that enshrines both the beauty, and dangers of these monstrous creatures. The series' latest entry, Jurassic World Dominion, will be shown at iWerks theater for just S$7 so make sure to catch it while you're here!
Watching Jurassic World during Jurassic June – it might be worth watching just for the alliteration alone!
Price: S$7
From 9 June 2022 onwards
A rather inventive take on interactive theatre, this enigmatic treasure hunt features a beautiful meld of virtual gameplay with an immersive and futuristic narrative.
Based on the year 2055, participants are time agents on a race against time, where they will have to travel back to the year 2022 to end a malicious scheme that entails the destruction of Singapore's adored national monuments.
While on the hunt, expect to be faced with a slew of challenging encrypted puzzles and live storytelling enacted by professional actors. Of course, theatre is nothing but an allegorical stage inspired by real life. Through this narrative, you will learn to appreciate Singapore's art and culture scene, while gaining profound insights on the history of our national monuments.
Stop your adversaries in the most creative and inventive way, and stand a chance to win a 2D1N staycation and much more!
Time: 10am to 5pm
Address: Selected locations. More information will be provided upon a successful sign up
Price: S$40 per ticket | S$100 for four tickets
Additional Information: The experience is expected to last for two to three hours, and participants are expected to possess a device that is connected to 4G.
Until 3 July 2022
Some may have experienced the luxurious gold class package at Golden Village with comfortable leather-clad recliners. But a drive-in movie screening? That's definitely a one in a lifetime experience (in Singapore at least) given how rare it is.
Downtown East intends to celebrate the relaxation of regulation measures with a classical movie drive-in that was so prevalent in the US during the early 1900s. Held in an open-air carpark, the package comes with two delicious burgers and drinks, alongside optional add-ons at additional cost.
Drive by with a soulmate, and enjoy a simple romantic evening blanketed by a serene night sky. The movie of choice will be Shang-Chi And The Legends Of The Ten Rings, a treat for staunch marvel fans.
Time: 7.30pm to 10pm
Address: 60 Pasir Ris Drive 3, Singapore 519599
Price: S$25 per car
25 June 2022
Things to do in Singapore 2022: Charlie Brown and Peanuts Snowy Exhibit at Changi Airport T3
Terminal 3 is celebrating Christmas early with a snow-filled wonderland filled with snow slides and luges that are sure to indulge your desire for thrill. The site is also accompanied by charming sculptures and caricatures celebrating the Peanuts gang, including the legendary Snoopy!
While here, make sure to grab photo opportunities with the life-sized snow sculptures of Charlie Brown, Snoopy and his kennel.
Address: Changi Airport, Terminal 3, Airport Blvd
Time: 11am to 10pm
Price:S$18 for 20 minutes of playtime
Until 11 July 2022
Celebrate your passion for the culinary arts at GastroBeats, where Singapore's most acclaimed chefs gather to showcase contemporary interpretations of traditional favourites. You can also expect charming bespoke menus that fuse the expertise and passion of international chefs, with unique collaborations that each last a week.
The ambience is further amplified by a whole series of local musical artists playing electrifying hits. The event features the likes of Dru Chen, Rangga Jones and Daniel Sid.
We cannot neglect the most important bit — bouncy castles! With over eight food-themed bouncy houses, you and your children can bounce the night away at its bubble tea bouncy caricature, or a whimsical taco truck.

Address: 2 Bayfront Ave, Marina Bay Sands, Singapore 018972
Price: Starting from S$9
Time: 4pm to 10.30pm
Until 26 June 2022
Are you ready kids? Spongebob Squarepants definitely is! Nickelodeon has recreated the magic of its child-like favourites with the first-ever thematic entertainment centre in Singapore! Go on a Jellyfish Hunt with our favourite sponge, join the Adventure Bay Fire Rescue or challenge yourself with the Ninja Vertical Challenge with the Ninja Turtles.
Recharge at the one-of-a-kind Slime Lounge, before hitting the Bikini Bottom Bubble Bash or a final Mutant Mission!
Stand by with your cameras and look out for opportunities to meet your favourite Nickelodeon characters. Who knows, they might ask you to join them in their silly shenanigans
Address: 6 Raffles Blvd, #03-208, Singapore 039594
Price: Starting from S$36
Time: 10am to 10pm
Until 19 June 2022
Don't like, you've probably antasised the idea of living the life of sensational singing legends belting out number one hits with gusto and passion. Well, you can finally indulge this fantasy at Star Studio as you can record yourself professionally singing your heart out.
In fact, this is the perfect opportunity to surprise your mother this coming Mother's Day as she can create her own rendition of old classics that she can listen to whenever she is feeling nostalgic. Can't sing? Do not fret as professional sound engineers and vocal coaches will be present to guide you through the process, working alongside you to create both you, and your mother's musical vision.
While it is only available from 9 May 2022 onwards (a day after Mother's Day), this may be an amazing supplement to your existing Mother Day's plan!
Address: Varies
Price: Starting from S$288
From 9 May 2022 onwards
Singapore has evolved drastically from its humble beginnings as a little fishing village. However, our contemporary identity as an influential cosmopolitan metropolis makes it easy for us to forget the rustic gems hidden amongst soaring skyscrapers.
Siloso Headland (formerly known as Tanjong Rimau) is one of our many cultural jewels that remains unknown to many Singaporeans.
Home to a vibrant ecosystem and biodiversity, Tanjong Rimau comprises of coastal cliffs and treacherous shores that inhabit Sentosa's northern coastline. With the never-ending hustle and bustle of city life, this is the perfect opportunity to kick back and enjoy Singapore's wondrous natural elements.
Make sure to apply as soon as registration opens up, given that they choose applicants based on a balloting system. Registration for April's tour will open on 17 April 2022. Do act fast as the link will only be available as per the ballot period.
Address: Registration will be done online. Successful applicants will receive a confirmation email detailing the meeting address.
Price: Free
Registration Period: 17 June 2022 to 22 June 2022 and 21 October 2022 to 27 October 2022 (Fridays at 12pm)
Ballot Confirmation: 25 June 2022, 28 October 2022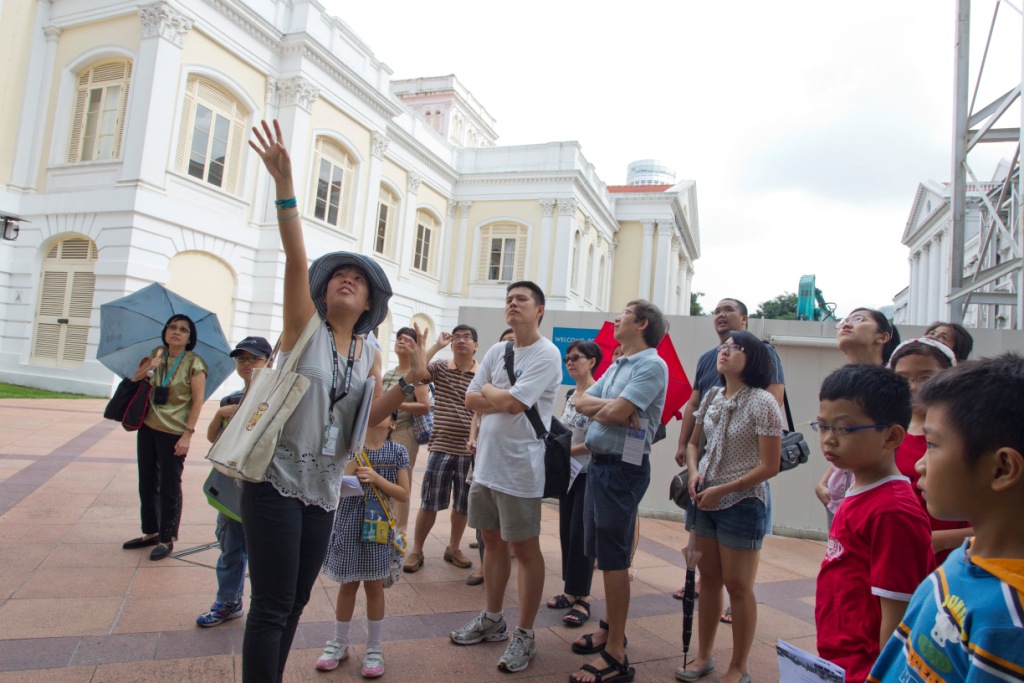 Go on a volunteer-led thematic tour with passionate heritage enthusiasts as your guides. Unravel some of the unheard stories behind Singapore's greatest monuments and treasured buildings.
We assure you that you'll go home feeling more connected with Singapore's hidden gems and more enriched in mind and soul.
Address: Various National Monuments
Price: S$5 (student), S$3 (senior citizen)
Time: 10am to 11.30am
Ongoing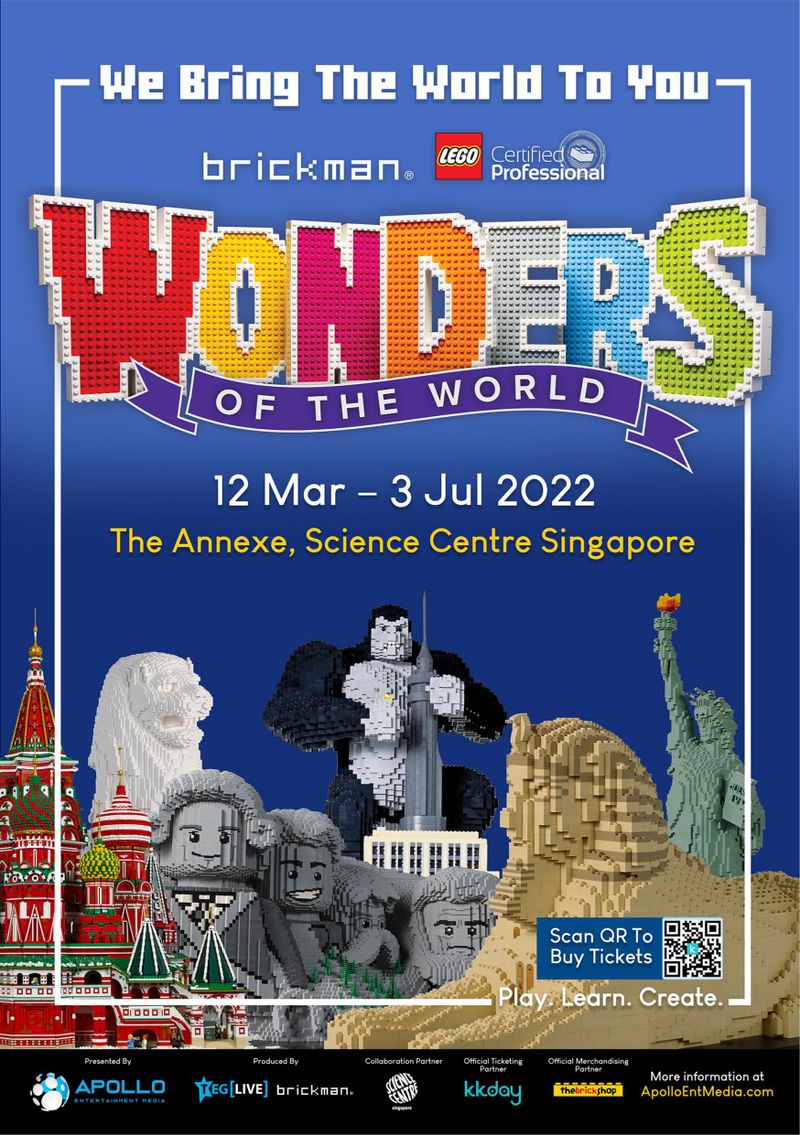 Are you a lego enthusiast? If you are, you're in luck! The very first Brickman® Wonders of the World exhibit in Asia is opening its doors at the Singapore Science Centre (SCS) very soon. Featuring more than 50 jaw-dropping mega-sized LEGO® constructions, this is every little architect's dream come true.
Curated by a LEGO® certified professional, over 14 million LEGO® bricks have been used to construct iconic landmarks from all over the globe like the Taj Mahal, the Arc De Triomphe, Mount Rushmore and many more.
Furthermore, there'll be play-table stations available for guests to get their hands on some LEGO® fun and unleash their creativity.
Address: Science Centre Singapore, 15 Science Centre Road, Singapore 609081
Price: From S$23
Time: 10am to 8pm (Last entry: 6.30pm)
Till 3 July 2022
Give in to your child-like sense of wonder at Jumptopia's next destination: Bayfront Pavilion. This new instalment of the inflatable park houses over eight unique giant castles, this bouncy sanctum will appeal to those seeking some thrill and fun.
If the obstacles seem 'larger' than life, just jump higher at this inflatable indoor garden escapade!
Address: Bayfront Pavilion (18 Marina Gardens Dr, Singapore 018953)
Price: S$18
Operating hours: 10am to 7.45pm (15 minutes cleaning every two hours)
Till 3 July 2022
The ultimate festival that unites artistic vision with flawless abstract execution, this celebration of creativity will challenge your views, disrupt norms and dazzle you with a kaleidoscope universe of colours and imagery.
Explore the unpredictable mind of Turner Prize award-winning artist Tai Shani through a one-time theatrical display, an analysis of mystifying Salome from the evocative film by Oscar Wilde, or a mult-disciplinary exhibition that references life in Singapore and in the Philippines – there is just so much to see, appreciate and engage in this bastion of boundless creativity.
Time: Varies
Address: Virtual exhibits can be engaged with online | 28 Aliwal Street #03-05, Aliwal Arts Centre, Singapore 199918
Price: Varies
Till 5 June 2022
Despite Singapore's rapid urbanisation in the past few decades, one part of our local biodiversity that's (thankfully) been pristinely preserved is the beautiful shores of Sentosa.
When the ocean waves roll away and the tide pulls back, uncover the hidden world of Singapore's delicate marine life. Our aquatic animals like sand gobies or swimmer crabs are definitely different from guppies you might find at your HDB's longkang.
So put on your waterproof boots and plan your route to Sentosa in order to catch these intertidal guided tours (min. 4 pax) before they're gone!
Address: Siloso Point Bus Stop, Sentosa Island
Price: S$90.95 per person
Time: Refer to website for tour slots
Until 31 July 2022
To infinity and beyond!
Help Otah and his affable friends assemble a rocket for build-a-rocket day and launch it into outer space. During this journey, meet and connect with Otah's gang as you work together to complete mini-missions in an immersive narrative.
Address: 18 Marina Gardens Dr, Singapore 018953
Price: S$24 (2 participants minimally)
Time: Weekdays (2pm to 8pm) | Weekends, school holidays and PH (10am to 8pm)
Till 30 June 2022
---
Things to do in Singapore 2022: Activities
Fun things for you and your loved ones to do for hours
---
If you think you have seen all there is to see at Changi's newest annex – Jewel, you may be mistaken.
Introducing Jewel-rassic Park, a new augmented reality (VR) experience inspired by the Cretaceous period. With an emphasis on the flourishing fauna and flora, this alternate universe fills these gardens with huge dinosaurs and primitive elements that will remind you of prehistoric times.
This isn't a mere sightseeing opportunity, as you will take on exciting quests that will gradually unravel the mysteries of this era when completed. Suppose you have yet to visit this wondrous dome that houses Singapore's natural marvels. In that case, you should opt for this VR experience, as a ticket grants single-entry access to Canopy Park for you and an accompanying child.
Do bring your own audio device to accentuate the vibrant ambience the experience promises.
Address: 78 Airport Blvd, Singapore 819666
Price: S$25 for non-Singaporean citizens (S$20 introductory rate) | S$22.50 for Singaporean citizens (S$18 introductory rate)
Opening hours: 10.30am to 5.30pm
Additional Notes: A refundable S$50 deposit is required before the collection of a TimeLens device. Each ticket holder is entitled to 90 minutes of gameplay. The introductory price is valid for a limited period of time.
Ongoing
The Skyline Luge at Sentosa prides itself on being "Singapore's best gravity-fuelled thrill ride" with a blend of thrilling heights and exhilarating speed. Boasting over four thematic tracks that stretches over 2.6km, this staple attraction allows you to explore Sentosa's rich biodiversity and greenery while steering a cart downhill.
For those less adventurous, you can always hop on the ever-popular Skyride for a bird's eye view of Sentosa's lush tropical forest and the South China Sea. Pro tip: Try to catch a ride on the Skyride once dusk sets in. Vibrant colours and lights will illuminate the entire Luge track beneath you, which, when juxtaposed against the night sky, will provide an enchanting experience like no other.
Address: 45 Siloso Beach Walk, Imbiah Lookout, Singapore 099003
Opening Hours: 11am to 7.30pm on Mondays, Wednesdays, Thursdays and Sundays (Last entry is at 6.30pm) | 11am to 9.30pm on Fridays and Saturdays (Last entry is at 8.30pm). Closed on Tuesdays
Price: S$25 for two rounds, S$28 for three rounds and S$30 for four rounds (A round entails a ride around the circuit and a ride atop the Skyride)
Ongoing
Things to do in Singapore 2022: Magical Shores
Who says the fun has to end once the sun sets on Sentosa Island? Once dusk descends, be treated to a magical light display that's equal parts fantastical on the sandy shores of Siloso Beach.
The entire beach will be enlivened with a magnificent medley of light and sounds, transforming the sand with each step you take. So what are you waiting for? Whether you're coming on foot, by bike or by car, it's time for a romantic beach day with bae from dawn to dusk.
Note: Reservations are required prior to arrival. Sessions are also subject to wet weather.
Address: Siloso Beach, Sentosa Island
Price: Free
Time: Fridays to Sundays, eve of PH, & PH (7.30pm to 10.30pm)
Ongoing
Enjoy a couple's day of moulding gorgeous earthen clay together at Am I Addicted pottery studio. With an emphasis on community-building, they welcome one and all like-minded pottery enthusiasts.
They offer a plethora of classes ranging from trial classes to self-glazing classes to even intermediate and advanced classes depending on your skill level. Alternatively, feel free to opt for an open studio if you desire a more unrestricted creative outlet.
Their on-site cafe is also to die for if you have a craving for delicious Korean vegetarian cuisine like Doenjang Truffle Risotto.
Address: 13 Stamford Rd, B2-51/52/53, Capitol Singapore, Singapore 178905
Price: From S$50
Time: Studio from 10am to 9pm | Cafe from 11am to 9pm
Ongoing
Take a break from the hustle and bustle of Singapore with a spa day at G.Spa. Be pampered with a selection of treatments ranging from foot massages to full-body treatment, and soak all your stress away at the various facilities at the spa.
For more potential spa visits, you can check out our article here.
Tip: Pay only S$58.20 for the day pass when you purchase it on Klook and save almost S$10!
Address: 102 Guillemard Road, #02-02, Singapore 399719
Price: From S$68 for a full-day pass
Time: 24 hours
Ongoing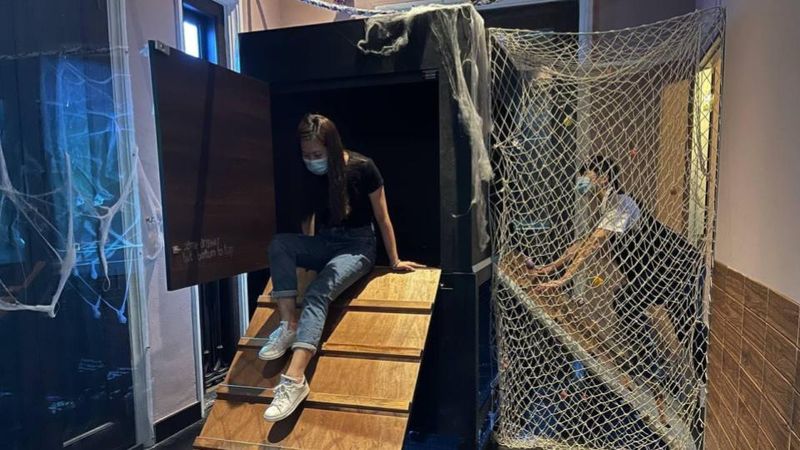 Located on the second level of Gedung Kuning, Amazing Chambers Singapura is an escape room in Singapore with five interactive games — Sang Nila Utama And The Lost Crown, Sisters' Island, The Princess Of Radin Mas, 1603 – Changi Naval Battle and Leftenan Adnan – The Battle Of Bukit Chandu.
Showcasing over 800 years of Singapore's history, Amazing Chambers Singapura promises a fun and interactive escape room experience for both children and adults.
Address: 73 Sultan Gate, Singapore 198497
Price: From S$34.90
Operating hours: Wednesdays to Sundays from 11am to 8pm
Ongoing
Miss the pre-COVID-19 days of carnivals at overcrowded pasar malams (night markets) with mini bumper cars, Viking ships and Ferris wheels? Now you can experience it once more, albeit on a smaller scale.
Operating Thursdays to Sundays from 5pm to 8pm, the beloved Uncle Ringo Carnival will feature popular rides such as the pirate ship, mini carousel, train ride and Ferris wheel. Once you've had your fun, take a stroll through the mini Jurassic Park, which will surely delight kids and adults alike.
Address: Social Innovation Park, 50 Punggol East, Singapore 828826
Price: Free to enter
Opening hours: Wednesdays to Sundays and eve of PHs from 5pm to 8pm/9pm
Things to do in Singapore 2022: Wag & Wild
Wag & Wild, Singapore's newest and largest waterpark for dogs, is THE place to go for your doggos to have a fun time under the sun.
There's over 19,000 square feet of space, which includes amenities such as a large pool, floaties, and even a mushroom waterfall for your furbabies to go wild. Oh, did we also mention that humans are allowed in the pool too? Yay, double the fun!
Address: 2 Jurong Gateway Road, #01-13, Singapore 608512
Price: S$29.96
Ongoing
Wondering how you can take your iPad game to the next level? Or maybe you want to maximise the use of your new iPhone 13 Pro. Here's the class for you.
Join Apple Creative Pros as they teach you how to be more creative and have fun with it. From drawing a new logo for your side hustle to designing and experimenting with different lighting to get the best shot, you'll be sure to pick up a thing or two at one of the free Apple Creative Classes.
If that's too much for you, they have virtual sessions for you to learn the basics of your Apple devices as well. Might as well make use of it since we paid an arm and a leg for it, right?
Address: 270 Orchard Rd, Singapore 238857
Price: Free
Time: Schedule available here
Ongoing
---
Things to do in Singapore 2022: Shopping
---
Embrace the new era of home appliance technology with Dyson's new Demo store in Vivocity, the biggest in Southeast Asia! This immersive 178m2 demo space houses Dyson's entire repertoire, allowing customers to discover the wonders of their key technologies.
The demonstration zones and interactive displays are perfect to experiment hands-on and get a feel for the appliance before you decide which one to bring home.
There's also the Dyson Beauty Lab where a Dyson Expert will elaborate how to use the cult favourite, Dyson AirWrap Styler, and even give you a personalised styling service and tips.
Address: VivoCity, 1 HarbourFront Walk, 01-21/22, 098585
Operating hours: 10am to 10pm
Ongoing
Things to do in Singapore 2022: BricksWorld LEGO® Certified Pop-up Concept Store (Funan)

Source: LEGO®
Reignite your inner childlike wonder when you pay a visit to the newest LEGO outlet at Funan Mall. With an 'Adults Welcome' sign proudly displayed at the entrance, you'll be greeted by wondrous LEGO reiterations of iconic architecture we're all too familiar with.
It would be remiss for the store not to cater to fellow geeks out there with a respectable range of Star Wars and other pop culture replicas in full LEGO-sculpted glory. Needless to say, the LEGO sets offered at this concept store are definitely more complex and challenging.
Address: 107 North Bridge Road, Funan Mall, #01-04, Singapore 179105
Operating hours: Daily from 11am to 9pm
Ongoing
---
For more insider's knowledge on how to earn greater cashback, savings and rewards on your online purchases, consider applying for a credit card today!
---
Things to do in Singapore 2022: Attractions — Rediscover Singapore's local tourist attractions
---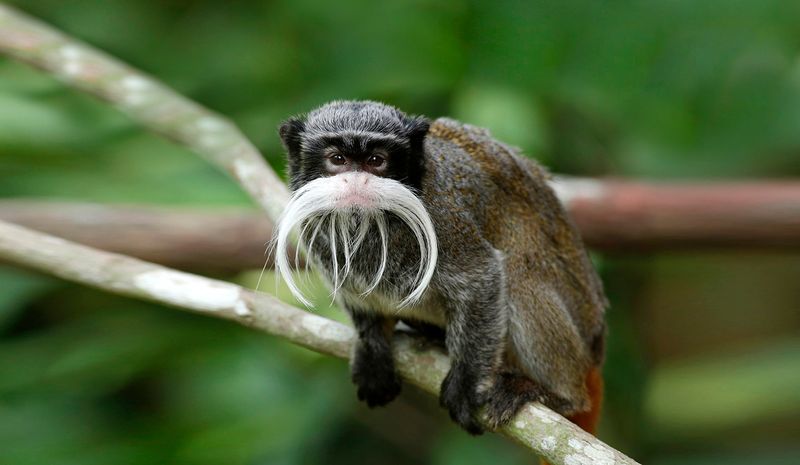 Go behind the scenes and interact virtually with the animal and human personalities from Wildlife Reserves Singapore again as Hello From The Wild Side returns for a second season with a newly curated Zoo Explained! segment.
This live virtual experience is a unique opportunity to discover the zoo's animal family such as the Californian Sea Lions and what goes into their behavioural training.
Also, get to meet the bird nannies stationed at Jurong Bird Park's Breeding and Research Centre to learn more about avian rehabilitation and wildlife nutrition.
Address: Zoom, online
Price: S$10 per session
Ongoing
It's time to find out where the wild things are… but at night. Put on your night vision goggles and your best safari outfit, because Singapore's residential nocturnal animals at the Night Safari are eagerly awaiting your arrival!
Be sure to catch their amphitheatre shows* like Creatures of the Night where you'll see the amazing otters, binturongs and other powerful nocturnal predators. After the exciting show, you can even gradually wind down with a curious tram ride around the park.
As the first nocturnal wildlife park in the world, there's much to be seen (if you squint) and heard (if you stay real quiet) at all the critters that go bump in the night.
Protip: Enjoy some savings with 30% off (WildPass) or 10% off (Klook, kkday) your tickets.
*Advance online booking (2 hours before the show) is required for seating. Subject to wet weather conditions.
Address: Night Safari, 80 Mandai Lake Rd, Singapore 729826
Price: From S$47.70 (adult), S$32.40 (child), S$22 (senior)
Operating hours: Thursdays to Sundays from 6.30pm to 12am
Ongoing

Source: Night Safari
Book your slot at the Night Safari to enjoy a close encounter with the elusive (and vulnerable status) species – the Indian rhinoceros.
This newly-launched programme offers a rare opportunity to learn about this fascinating species and feed one of the two rhino brothers, Newari, his favourite carrot snack.
It might seem intimidating at first, but don't let its tough exterior fool you. A sweet and gentle giant with a huge appetite is underneath all that thick skin.
The programme starts at 7.30pm at the Indian rhinoceros exhibit (beside the East Lodge) and will cost S$10 per feeding. All proceeds will go towards supporting conservation efforts locally and in Southeast Asia.
Note: This feeding session is also available to those who purchase the Safari Adventure Tour.
Address: Night Safari, 80 Mandai Lake Rd, Singapore 729826
Price: S$10 per feeding
Timeslot: From 7.30pm onwards
Ongoing

Source: Hay Dairies
Being the only goat farm in Singapore since 1988, the Hay Dairies Farm is nothing short of a mehhh-ry good time.
Housing over 800 goats of mixed breeds (with origins stemming from Minnesota, USA), entry is completely free. Visitors can observe how the animal farm operates via a free-and-easy tour around its premises.
Walk-in visits are welcomed either as individuals, families, or an educational tour group.
Spend some time feeding the goats some specially-imported Alfafa Hay, known for its protein, minerals and GMO-free branding. Get to learn about the milking and pasteurising process involved along the way and even purchase a few bottles to bring home!
Address: 3 Lim Chu Kang Lane 4, Singapore 718859
Operating hours: Wednesdays to Mondays from 9am to 4pm | Closed on Tuesdays
Price: Free
Ongoing
Nothing beats the adrenaline junkie of riding the fearsome Human & Cylon. Or perhaps, you prefer a more leisurely approach of festive meet-and-greets with the iconic stars from Despicable Me, Sesame Street, Transformers and more.
Whatever your cup of tea is, there's always something for everyone at Universal Studio Singapore. After all, soaking in that theme park atmosphere and spending time with friends and loved ones is what makes the experience so universally magical.
Address: Resorts World Sentosa, 8 Sentosa Gateway, Sentosa Island, 098269
Price: From S$58
Operating hours: Thursdays to Sundays from 12pm to 7pm
Ongoing
With the concept of staycations constantly evolving, and hotels beginning to explore bolder thematic designs, we think we have seen it all. Well, have you seen a hotel room made of glacial ice?
Certified by Singapore Book of Records as Singapore's first ice hotel, you can expect innovative artistic interpretations of the conventional staycation, with icy art installations resembling hotel rooms, bars and dining rooms. You can even get craft beers at the ice bar to warm your soul (ironically) if it ever gets too cold.
Address: 21 Jurong Town Hall Rd, Singapore 609433
Price: From S$16.80
Operating hours: 10am to 6pm
Ongoing
Experience a wondrous display of music and light symphony with this dazzling display amidst Gardens by the Bay's Supertrees. Depending on the season, you can expect a different showcase celebrating a different period/festivities* every month or so!
Current Showcase: The Enchanted Woods
Screening Period: Until 31 July 2022
Thus, this pretty much gives you a reason to come back and visit the Supertree every month now, doesn't it? *wink*
*Details on each screening period can be found on their website.
Address: Supertree Grove, Gardens by the Bay, 211 Marina Way, Singapore 018977
Price: Free
Ongoing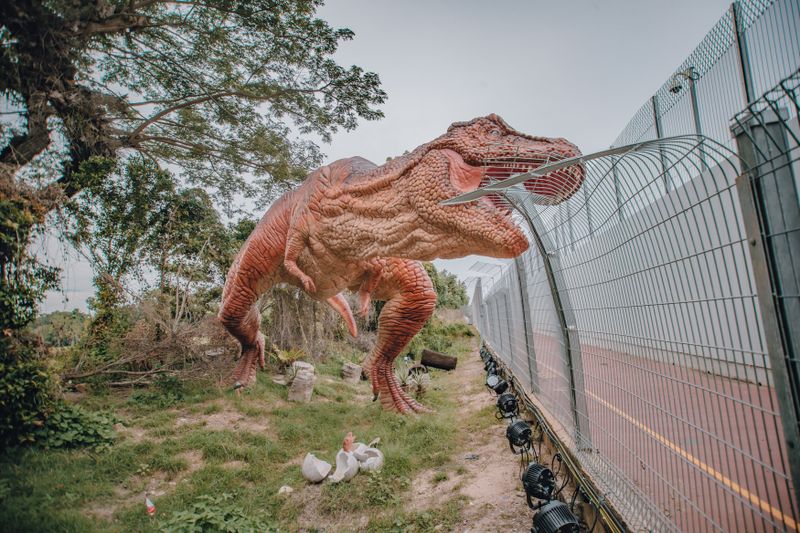 And you thought Changi was done with its newest marvellous offering? Nope. Hit Jurassic Mile with your family for a fun day out with the kids. Singapore's largest permanent outdoor display of life-sized dinosaurs with more than 20 different prehistoric creatures from nine different species — all stretched over one kilometre of the cycling and jogging path.
The tallest dinosaur stands at almost 5 meters high, and there's one that even flies! The best part is you can get there on foot or by renting a bike from GoCycling or from East Coast Park via the Changi Coastal Park Connector. And what's more, it's free and open 24 hours.
Address: Drop-off point inside the Hub & Spoke car park (right opposite the café) or at Changi Airport Terminal 2, beside Car Park 2A. The on-ground signage will lead you to Hub & Spoke.
Price: Free
Ongoing
---
Things to do in Singapore 2022: Virtual activities
---
Unknownst to many, Netflix has been developing a whole catalogue of interactive games that can be accessed through the app itself. Playing on popular series such as Stranger Things and the widely acclaimed League of Legends series, Arcane, you can find many fascinating tales told through cute and quirky video games that are already in your Netflix app. Simply enter the key word "games" under Search.
The next time you use the app why not you try Netflix and Game instead?
Address: Online
Price: Free if you already have an existing subscription with Netflix | Starting from S$13 per month for new users
Ongoing
Escape rooms from the comfort of your own home? Sign us up! Hosted by Game Guides, Remote Adventure most closely resembles traditional escape rooms where you can play it in real-time.
The virtual escape room is based in the USA and features escape rooms in New York City and San Francisco — the closest we can get to travelling for now.
Address: Online
Price: From US$32
Time: According to US central time (CST)
Ongoing
This virtual gallery features four photographers who changed the game of modern photography in Singapore. Lee Sow Lim, Lee Lim, Lim Kwong Ling and Tan Lip Seng have been hailed as influential members of the photography community, actively shaping it through their roles as educators and mentors.
This exhibition illustrates our emerging nation during times of political turmoil and rapid urban change through their talented lens.
Address: Online
Price: Free
5 February 2021 to 22 February 2023
Solve murder mysteries and go on an intriguing web adventure with this series by comic artist Troy Chin for free from the comfort of your own home.
Our recommendation: Have a go at A Red Sky at Dawn, an interactive murder mystery set in 1941 Singapore. We don't want to spoil too much, so you'll just have to play the game and find out more yourselves!
Address: Online
Price: Free
Ongoing
After numerous delays and false starts, the Singapore – Hong Kong Air Travel Bubble is set to take off on 26 May 2021. If you're one of those lucky (and rich) enough to snag flight tickets, good for you. But if not, you can always digitally visit the land of dim sum through photographs and poetry by 16 poets.
Eight Singaporeans and eight Hong Kongers were paired up as pandemic pen-pals, and asked to share photos of their favourite places in their home city. After that, each one of them wrote a poem about their favourite place and another poem about their partner's.
Address: Online
Price: Free
Ongoing
Virtual Fire Station Open House

Source: roots.sg
Although the in-person flair and excitement of real Fire Station Open Houses are currently put on hold, that doesn't dampen the fiery passion of our local firefighters.
SCDF offers virtual tours of our fire stations where viewers can experience the daily lives of these local heroes. From their routine activities to learning about fire engines and ambulances, there's never a dull moment being a firefighter.
You can book to view a Virtual Fire Station Open House at the following stations: Central Fire Station, Tampines Fire Station, Jurong Fire Station and Brani Marine Fire Station.
Address: Online
Time: 10am to 10.30am
Price: Free
Ongoing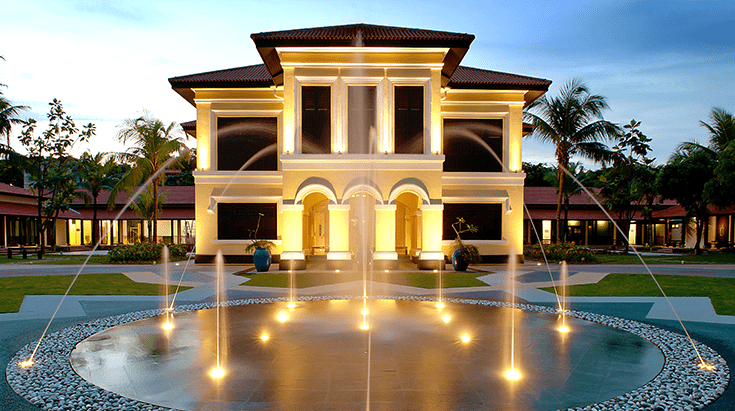 Brought to you by the Malay Heritage Centre, discover fun facts about the Malay community that you might not know through a series of short but sweet minigames.
Featuring Laila and her cat, Oreo, they'll share all the ins and outs of the community's rich history.

Source: Malay Heritage Centre
For instance, the game I am a Little Jewellery Designer will transport you back in time to harvest your own diamond (intan) at the famed diamond village (Kampong Intan) to get a taste of what the diamond business was like back then. You can even download your creation once you're done designing!*

Source: Malay Heritage Centre
Or perhaps, be enchanted by the wayang kulit show as you go behind-the-scenes as a shadow puppeteer (dalang) in a Ramayana performance.
Address: Online
Be amazed and bewildered by the internationally-renowned yet locally-bred magician, Sng Ming Da.
Having been the youngest Singaporean magician to headline the Close-up Gallery at the Magic Castle in Hollywood, his sleek brand of magic has been recognised far and wide by industry professionals and audience members alike.
Offering bespoke virtual magic shows, everyone is in for an enchanting and mesmerising show behind the comforts of their home screens.
Address: Online
Price: Subject to bespoke service
Ongoing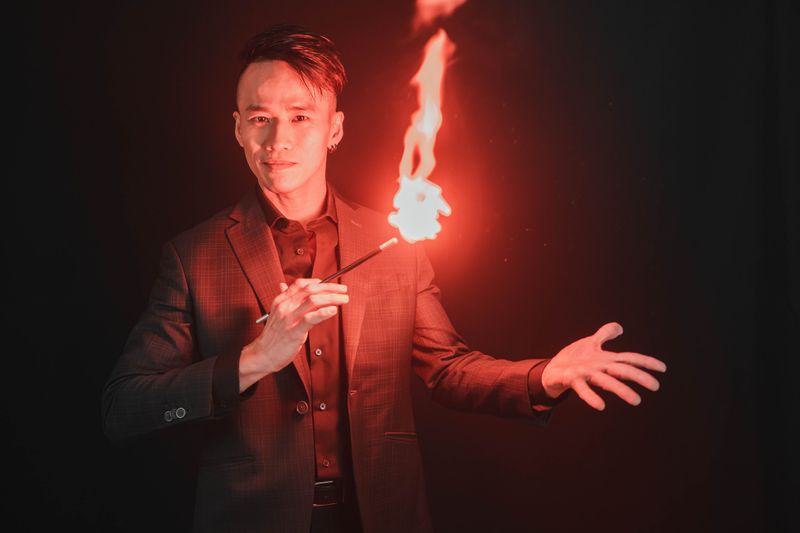 This interactive virtual magic show by magician Jack Seet will blow your mind. Be entranced by his personality and humour as he takes you along on this highly interactive journey of magic, mind-reading and entertainment.
Address: Online
Price: From S$25
Ongoing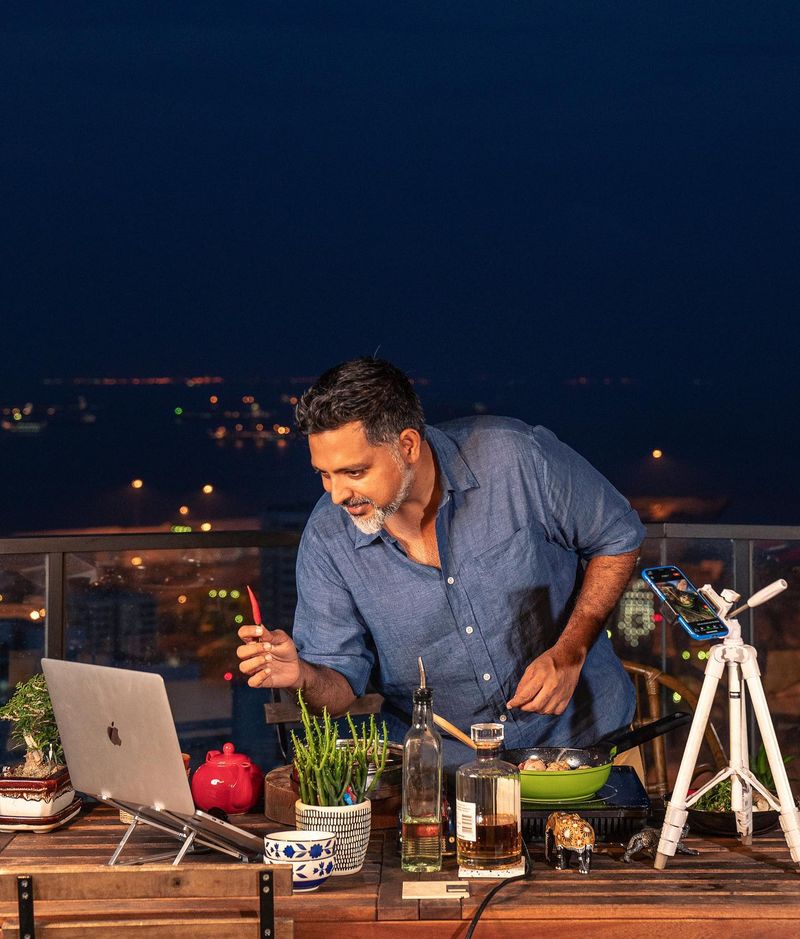 What you get out of a cooking class with Dhruv, is an Afternoon of Awesomeness.
He'll pour a few drinks, play some music, put on wacky aprons, and cook an early dinner on his beautiful harbour-facing balcony. You'll get a crash course in the herbs and spices of the Indian subcontinent, and over the course of the afternoon, you'll cook a complete meal — appetiser, mains and dessert.
Dhruv will teach you basics like slicing an onion, and also some advanced techniques like flambéing a pineapple without losing even a single eyebrow.
One of the coolest things about this class is that he cooks a different menu every week.
Here are some of his greatest hits:
– Chicken 65 / Cauliflower 65 – fun spicy appetisers from South India
– Butter Chicken – the most glamorous thing to ever happen to a chicken
– Dal Tadka – lentils with looks & money
– Bangin' Bharta – roasted eggplants in a tangy onion-tomato sauce
– Different kinds of Pilafs
– Hot water
Address: Spottiswoode Park, 101 – 110 Spottiswoode Park Road
Price: From S$175 per person
Ongoing
---
Things to do in Singapore 2022: Staycations — Home away from home
---
Given how popular staycations as a concept has been, surely you have seen it all – from fancy cosy hotel suits to thematically wonky hotel setups. How about a room augmented by virtual reality (VR)? Elevate your next staycation with a futuristic space adventure packed within an elegant hotel suit at Grand Park City Hall, as you and your kids explore the galaxy through a narrative-driven story mode, or play god as you create your own realm of space-filled mysteries and wonders.

Completion of the story mode entitles your family a complimentary Galactic dessert, a sweet conclusion of your own space odyssey.
Address: 10 Coleman St, Singapore 179809
Until 30 June 2022
---
Things to do in Singapore 2022: Museums — Get cultured
---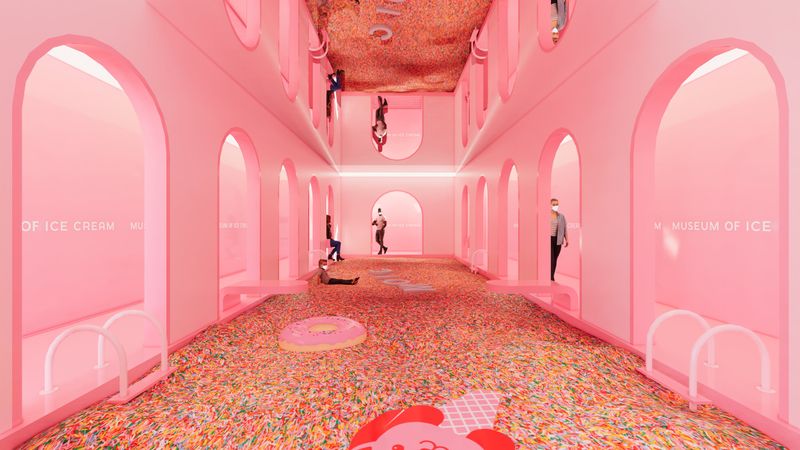 The bright and colourful Museum of Ice Cream (MOIC) has made its way to sunny Singapore! Take a dive into the largest Instagram-famous sprinkle pool or pose next to the Singapore-inspired 'Dragon Playground'. With 14 unique multi-sensory installations, you'll be in for a real treat at the Museum of Ice Cream.
If you get peckish during your visit, there is a café on-site to satisfy your sweet tooth. Check out signature MOIC flavours as you sip on coffee, tea or a milkshake!
In addition, MOIC has just launched their newest evening event — Night at the Museum* — that fuses play and intimacy into a delectable experience.
One of its highlights includes the Cone-nection Cube, a sequence of quests that facilitates meaningful conversation and forges deeper bonds among guests.
Upon completion, the reward is none other than a round of celebratory sprinkle shots under twinkling lights at their alfresco cafe and bar.
As the cherry on top for a night to remember, take souvenirs home in the form of specially-made MOIC merchandise, such as workout gear and accessories.
*Recommended for those 18 years old and above
Address: 100 Loewen Road, Dempsey, Singapore 248837
Price: From S$38 (daytime), S$48 (nighttime)
Operating hours: Thursdays to Sundays from 10am to 11pm
Ongoing
Loved the Ice Cream Museum? Now, it's time to check out Singapore's first-ever Instant Noodle-themed playground! Snap pictures and play games with Singapore's favourite instant treat.
To enjoy bonus treats, book your ticket via Lazada and receive complimentary Eatbox vouchers according to the number of purchased tickets. For more details, read their FAQ here.
So, find out your favourite flavour and toppings through this exhibition, with slides and photo ops. Unleash your inner child today!
Address: 2 Serangoon Road, #01-51 to #01-54, Tekka Place, Annex Building, Singapore 218227
Price: From S$19
Operating hours: Fridays to Sundays from 10am to 10pm
Ongoing
Revisit contemporary Singapore through illuminating lenses that envision our future at the Singapore Discovery Centre (SDC). Hosting a collection of multi-sensory digital interactives, behold the ingenuity of our defence and security capabilities while you appreciate the unity of our social fabric.
Witness how our current path has been defined by the many hardships and adversities our predecessors have overcome, with our people and technology serving as the bedrock of our nation.
Address: 510 Upper Jurong Rd, Singapore 638365
Price: Free (Singaporeans and PRs), S$10 (non-Singaporeans)
Time: 11am to 8pm
Ongoing
Combining the pure wonder of technology, science and art all into an enchanting display, the Future World exhibit is definitely a hot favourite amongst Singaporeans.
Upon entering, you'll immediately be transported into a seemingly ethereal realm, navigating through rooms of mesmerising showcases, thanks to the creative minds at teamLAB.
Address: Art Science Museum, 6 Bayfront Ave, Singapore 018956
Price: S$16 (Singapore resident, adult), S$12 (Singapore resident, child)
Time: Mondays to Sundays from 10am to 7pm (Last entry at 6pm)
Ongoing
If you're an anime fan, chances are you've already heard of this. But in case you've been living under a rock, this highly-anticipated Southeast Asia exhibition premiere has got all Attack On Titan fans reeling in excitement.
Enter the world ravaged by ginormous man-eating titans where humanity is threatened to the brink of extinction. Guests can either choose to experience the exhibit as someone born inside or outside the walls, either of which would eventually collide in epic battles between opposing factions and of course, titans.
Featuring 180 impressive pieces, guests will get an exclusive look into early concept drawings and storyboards (and never-before-seen pieces) from the creator Hajime Isayama himself, spanning the entire franchise from its infancy to the present.
Trust us, this is an exhibition you do not want to miss.
Note: Best suited for 16 years and up. Viewer discretion is advised.
Address: Art Science Museum, 6 Bayfront Ave, Singapore 018956
Price: S$18 (Singapore resident, adult), S$14 (Singapore resident, child)
Time: Mondays to Sundays from 10am to 7pm (Last entry at 6pm)
19 February to 3 July 2022
Embark on a quest for discovery and meaning by delving into the universe of world-renowned inventor and visionary, Buckminster Fuller. An expert in various fields, he's made many leaps and strides in the disciplines of art, science, architecture and design.
Whether you are an architectural connoisseur or just a sucker for design, Radical Curiosity is an exhibit that'll trigger those neuron activations and get those inner cogs working.
Address: Art Science Museum, 6 Bayfront Ave, Singapore 018956
Price: S$16 (Singapore resident, adult), S$12 (Singapore resident, child)
Time: Mondays to Sundays from 10am to 7pm (Last entry at 6pm)
2 January to 10 July 2022
Emerging from two years plagued by fraught uncertainty and distorted passage of time, Hope from Chaos arrives just in time for the 2nd anniversary of COVID-19 in Singapore.
As we acclimatise to the endemic phase, it becomes pertinent for us to understand the science behind infectious diseases as well as reflect and muse over the lessons learnt through this global pandemic.
Address: Art Science Museum, 6 Bayfront Ave, Singapore 018956
Price: S$6
Time: Mondays to Sundays from 10am to 7pm (Last entry at 6pm)
12 February to 3 July 2022
Special Exhibition: Cerita (Stories)

Source: Malay Heritage Centre
To educate and enlighten Singaporeans on who are the Malays, pay a visit to Malay Heritage Centre to learn more about this limited exhibition.
It'll present a total of four themes covering the topics of Language (Bahasa), Culture & Customs (Adat), Values (Nilai), and People/Nation (Bangsa).
It displays materials, artefacts and a decade's worth of key collaborations from the vast Malay Archipelago (Nusantara). It will surely be an illuminating time reading and reflecting on the shared stories of the Malay community.
Note: Nusantara is the centre's first dedicated space for children 3 to 6 years old. A storytelling session, Tales from the Nusantara, will be held on 12 March, 10am at the Auditorium.
What's Nenek's Occupation?
Do you have a curious mind and a detective spirit? Agent Laila has a special mission just for you!
Available in both English and Malay, unravel the mysteries surrounding Laila's grandmother through a fun and interactive detective game. You'll be tasked with solving riddles and quests in the provided mission cards to eventually lead you to the final clue for a grand reveal.
Address: 85 Sultan Gate, Malay Heritage Centre, Singapore 198501
Operating hours: Tuesdays to Sundays from 10am to 6pm (Last admission: 5.30pm)
Price: Free
Till 31 July 2022
---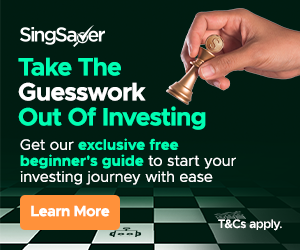 Start managing and saving money like a pro with SingSaver's weekly financial roundups! We dole out easy-to-follow money-saving tips, the latest financial trends and the hottest promotions every week, right into your inbox. This is one mailer you don't want to miss.
Sign up today to receive our exclusive free investing guide for beginners!
---
Commemorate the 80th anniversary of British surrender to the Imperial Japanese Army with this intricated exhibition weaving multimedia and memorabilia together at the National Museum of Singapore.
Explore the notion of "war memory" through the blend of physical objects, documents and oral histories that mark this turbulent time in Singapore's past. It'll evoke nothing short of melancholy and gratitude for the peace and prosperity we enjoy today.
You can find other Dislocations event programmes here.
Address: Exhibition Gallery (Basement), National Museum of Singapore, 93 Stamford Rd, Singapore 178897
Price: Free
Time: 10am to 7pm
Till July 2022

Source: National Gallery
Spend your weekend at the newly revamped Basement Concourse for a day full of eye-opening yet introspective exhibitions like the Gallery Children's Biennale and the Art and tech at Y-Lab Showcase.

Calling for Rain (Left), Head/Home (Right)
Source: National Gallery
Families are welcome to sit back and enjoy Khvay Samnang's environmental short film Calling for Rain or marvel at Alfredo and Isabel Aquilizan's abstractly-curious collages of cardboard and recycled materials, the Head/Home installation.
Meanwhile, visitors can co-create "innovations-in-progress" at the Y-Lab, featuring interactive and unique displays of art and tech innovation prototypes. Afterwards, real-time feedback can also be sent in via the digital exhibit Common Landscape.
Address: National Gallery, Basement Concourse
Operating hours: Daily from 10am to 7pm
Price: Free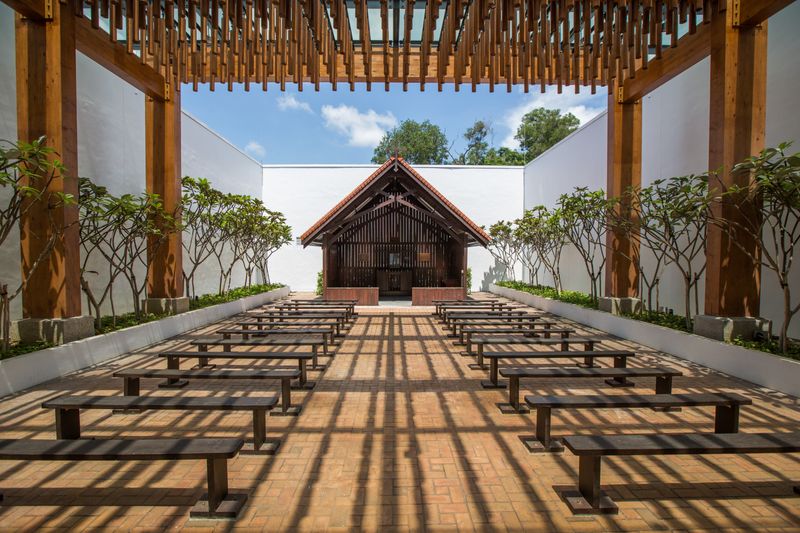 Explore the newly revamped Changi Chapel and Museum featuring never-seen-before artefacts belonging to the prisoners-of-war (POW) and civilians interned in Changi prison camp during the Japanese Occupation.
Address: 1000 Upper Changi Road North, Singapore 507707
Price: Free for Singaporeans and PRs
Ongoing
The Chinese culture in Singapore has evolved in a way unlike other communities around the world, all thanks to the unique influences from living alongside a significant proportion of non-Chinese residents.
This interaction with other cultures over the years, encouraged by geographical proximity and social diversity, has birthed a Chinese Singaporean identity that is complex and ever-changing.
At the Singapore Chinese Cultural Centre, join in the conversation and discover (or rediscover) what it means to be a Chinese Singapo人(ren, Chinese for people).
Address: Singapore Chinese Cultural Centre, 1 Straits Boulevard, Singapore 018906
Price: Free
Ongoing
What Singapore has prided itself on since its independence is the multiculturalism and diversity that thrives on our humble island. But perhaps what many might not know is the influence of the Jewish community on our social fabric.
From simple traders to industrial barons to Singapore's First Chief Minister, the Jews have had a profound impact on our nation's history and progress.
Address: 24 Waterloo Street, Singapore 187968
Price: Free
Time: Sundays to Thursdays from 10am to 6pm | Fridays from 10am to 12pm
Ongoing
Deepen your knowledge and understanding of the Singapore Indian community with this permanent exhibition held at the Indian Heritage Centre.
Its galleries are spread across five themes, chronicling the lives and times of the Indians from as early as the 1st century CE to the modern 21st century.
Chart the historical links made between the Indian sub-continent and Southeast Asia, depicting the experiences and contributions that this remarkable community has don towards Singapore's nation-building efforts.
Address: Indian Heritage Centre, 5 Campbell Lane, Singapore 209924
Price: Free
Ongoing
Enjoy an interactive and tactile experience in the Mandarin re-telling of the tale of Guai Guai*, a magical monster that was teased for being "not monstrous enough".
Learn more about her story as she reclaims her identity and eventually grows in self-acceptance.
For our older crowd, ever wondered what the significance of animals in Chinese culture are? This talk will unravel layers of festive animal motifs that underpin Chinese prints and paintings and elucidate the changing perceptions of the relationship between man and the animal world.
Lastly, continue 'huat'-ing your way through the year by visiting the Nian Hua exhibition featuring guardians, deities and auspicious art from Chinese folklore.
This showcase features new year prints from different China provinces across the dynasties, providing deeper insight into the attitudes and values of the Chinese past.
Address: 12 Tai Gin Rd, Sun Yat Sen Nanyang Memorial Hall, Singapore 327874
Nian Hua exhibition
Date: Ongoing to 25 September 2022
Time: Tuesdays to Sundays from 10am to 5pm (Last admission: 4.30pm) | Closed on Mondays
*Recommended for children aged 4 to 8 years old.
---
Things to do in Singapore 2022: Nature
---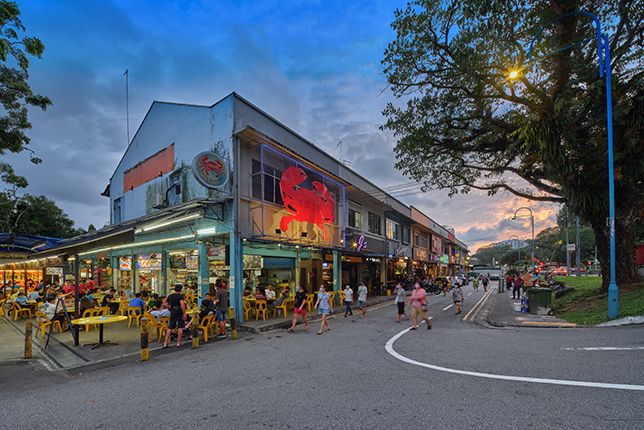 Did you know that Sembawang was home to a former British naval base? Explore the trail and learn about the rich history of the northern coastal town that many Singaporeans are probably not aware of. This historic trail will take you to the former Admiralty House, past the iconic black and white colonial houses, to finally end at the row of shophouses at Sembawang Strip.
The trail can be done in your own time and you can make a date of it or as an excursion with family. There are three suggested short trails that can take you about two to three hours to complete (with public transportation). Download the trail booklet and get movin'!
Address: Depends on the trail you take
Price: Free
If running isn't exactly your thing, how about a stroll through the newly-opened Bukit Gombak Park? As part of the Bukit Gombak Nature Corridor, the park has a nature-inspired play area for your little ones and even sloped terrains for your dogs to run free and get their wiggles out.
Feeling peckish? There is also a cafe for you to get a quick bite on your day out.
Address: Along Bukit Batok West Avenue 5, opposite Bukit Batok Driving Centre
Price: Free
Nature lovers and hiking/cycling junkies rejoice! New additions to the Round Island Route (RIR) have been recently inducted and opened to the public in January this year.
For starters, the gorgeous Rower's Bay Park in Seletar to Berlayer Creek near Labrador Park forms 75km of the first phase of this green corridor.
The eastern half of the route has also received much attention with the additional 150km recreational connection opening soon — Changi Bay Point being one of the first to open.
From nature sites to cultural/historical and recreational landmarks, the RIR serves to uncover all the beauty that has been hiding right under our noses. It's always been there; if we just take the time to stop and smell the roses.
Address: Enter via any of the park connectors or any parks en route
Price: Free
Animal lovers rejoice! Nothing beats getting up close and personal with some animals at a petting zoo.
The EcoTrail is an educational learning trail sprawling over 2.6 hectares of lush private greenery, housing loads of different species of flora and fauna.
With over 10 different stops to explore, you'll get to try your hand at a wide variety of activities pertaining to farm life. They offer a 90-minute guided leisure trail and nature sightseeing tour around the estate.
In particular, get to learn about the role of solar plants in cultivating sustainable energy or partake in some organic seed planting yourself!
You'll also have the opportunity to pet some exotic-looking chickens (the Silkie chickens), bunnies, guinea pigs and more. Carrots and other snacks are available for feeding at the guinea pig enclosure.
Note: Advanced booking of timeslot (guided tour) is required.
Address: 91 Lor Chencharu, Yishun, Singapore 769194
Operating hours: Weekends and school holidays from 9am to 5pm (last tour)
Price: S$21 (Early Bird Promo)
Ongoing
CapitaSpring – The Green Oasis within the city
Singapore isn't called a Garden City for nothing. With the newly opened CapitaSpring, this 51-storey integrated development is Raffles Place's newest skyscraper that offers panoramic views of the CBD area.
Apart from the expected office and living spaces, there are plenty of F&B outlets and a rooftop Sky Garden for everyone to soak in major #views.
This skyscraper also features the Green Oasis as a new botanical promenade, occupying floors 17 to 20. One can find 38,000 plants from more than 70 different species in this serene 35m-tall open area. The winding aerial pathways through this gardenscape is also not to be missed.
All in all, it's the perfect new go-to oasis tucked in the urban jungle for those seeking a new 'work-from-home' spot or simply finding some respite from the hustle and bustle below.
Address: 88 Market Street, CapitaSpring, Singapore 048948
Price: Free
---
Things to do in Singapore 2022: Fitness — Get up and moving
---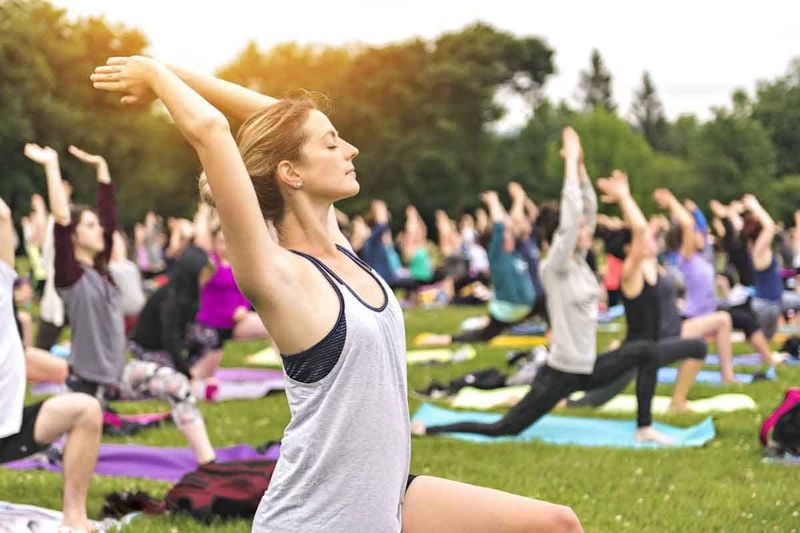 Become one with nature in this outdoor yoga session where you're guaranteed to work up a sweat. Urban Yoga's focus is not only on spreading the merits of yoga but also encouraging others to explore this practice, cultivating a welcoming community of yogis. Slots are limited, so the fastest fingers first!
Address: 469C Bukit Timah Rd, Singapore 259772, Bukit Timah Gate (Botanic Gardens MRT exit A)
Price: S$10
Time: Saturday and Sunday mornings from 8am to 9am | Sunday evenings from 6pm to 7pm
Ongoing
Partnering with rhythm cycling studio, Absolute, get your spin on up to seven days a week (if you really miss clubbing) with their iconic "Absolute 45" high-intensity spin classes hosted in a club-like atmosphere with epic Zouk lighting and heart-pumping music for the ultimate workout.
Address: Zouk Singapore, 3C River Valley Road, Clarke Quay, #01-05 to #02-06, The Cannery, Singapore 179022
Price: From $49
Ongoing
Soak in some Vitamin D and enjoy a day in the sun with a classic game of beach volleyball. There are many available beach volleyball courts at Sentosa to accommodate endless hours of competitive fun.
These courts are spread across Siloso, Tanjong and Palawan beach. Best of all, they're free!
Book for your very own volleyball session here.
Address: Siloso, Tanjong, Palawan Beach (Alight at Beach Station on Sentosa)
Price: Free
Time: Depends on session timings
Ongoing
---
Things to do in Singapore 2022: Dining
---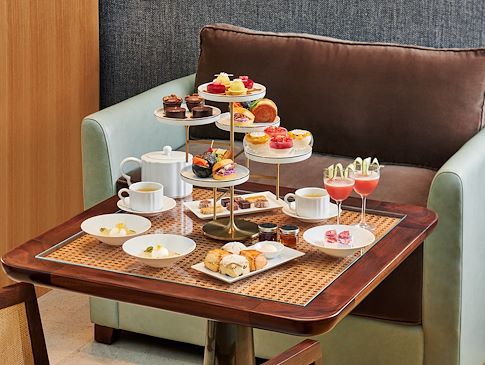 Bring out your fancy dress for this British-inspired five-tier afternoon tea experience. Dine on scones served with jam and clotted cream, pastries and chocolate pralines.
If you want something more filling, à la carte options like steamed cod fish and braised beef short ribs are also available.
Address: The Ritz-Carlton, Millenia Singapore (Level 3), 7 Raffles Avenue, Singapore 039799
Price: S$58
Time: Mondays to Sundays from 12pm to 11pm
Ongoing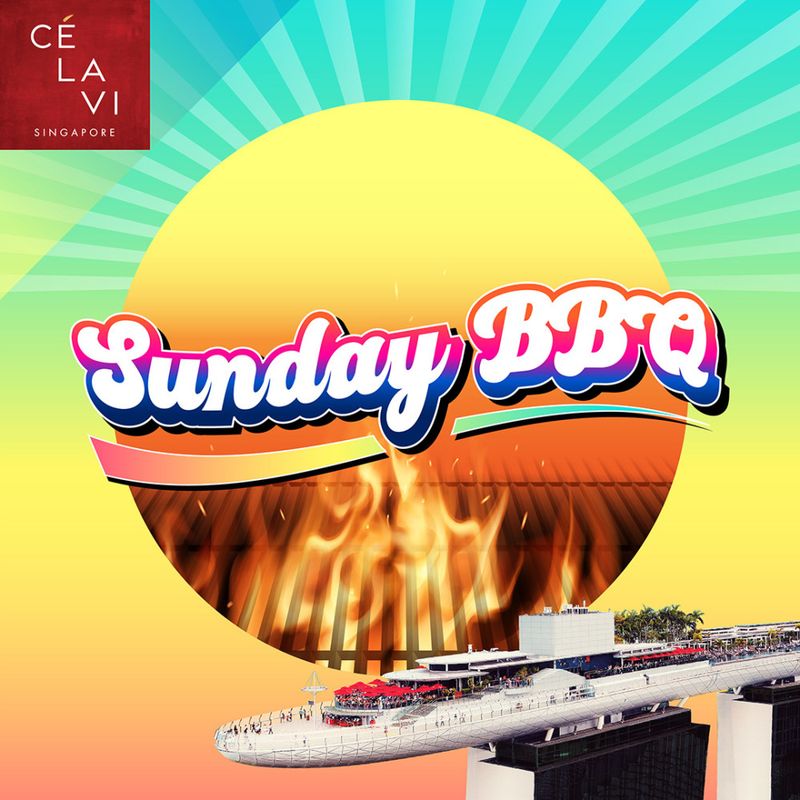 Chase away the Monday blues with a Sunday sunset BBQ at Cé La Vi! Perched over Singapore's skyline, here's where you can enjoy panoramic views as you feast on BBQ delights and sip on Spritz options from Aperol and Campari.
Address: Level 57, Sky Lounge, Marina Bay Sands SkyPark, Hotel Tower 3, 1 Bayfront Avenue, Singapore 018971
Price: Depends on what you order
Time: Sundays from 5pm to 10.30pm
Ongoing
---
Things to do: Films
---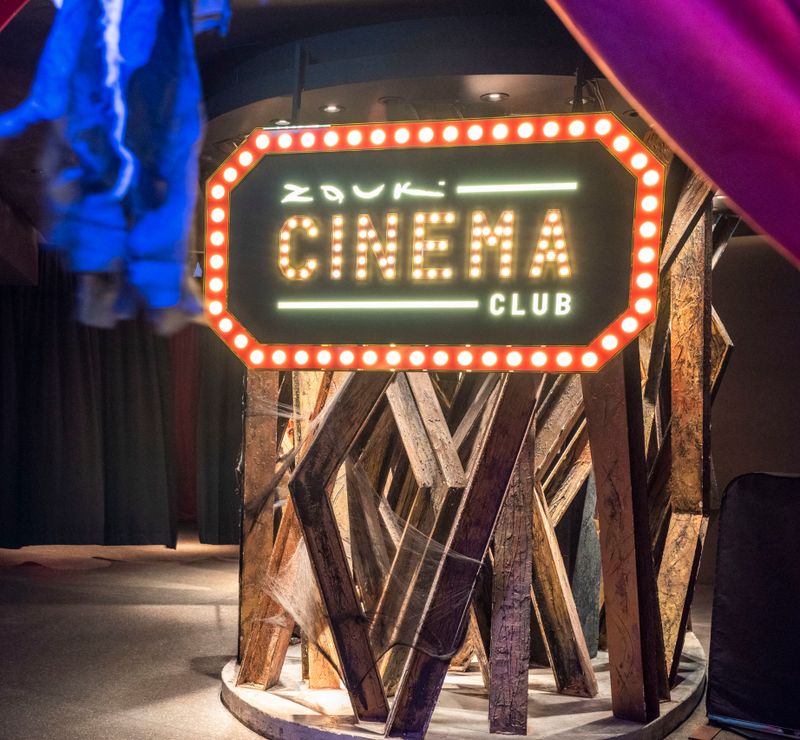 We get it. Your movie experience is not the same when the screen isn't massive, the sound isn't booming, and the overpriced caramel popcorn isn't losing its crunch by the minute.
While we wait for great movies to hit the screen again, you can still find an elevated movie experience in the meantime. Enter Zouk Cinema Club, a pop-up cinematic experience from Wednesdays to Saturdays.
The nightclub turns into a cinema with one screening session a night, showing two movies. Zouk's famous screen, which normally belts out trippy visuals accompanied by the DJ's turntable, now plays classics like Moulin Rouge, Grease, and The Greatest Showman.
Grab your date, a bottle of sparkling, some hors d'oeuvre to share and hit Zouk to experience the magic of old romances on the big screen.
Address: Zouk Singapore, 3C River Valley Road, Clarke Quay, #01-05 to #02-06, The Cannery, Singapore 179022
Price: Call to book your seats. Packages range from S$75 to S$350
Ongoing
---
Marking your calendars and booking your next weekly or weekend activity? Then you'll want to make your money work harder for you by charging it on the right credit card to earn cashback or rewards that can help offset your next purchase, or to chalk up air miles for your travels next year. Apply for one through us today and get rewarded* with attractive prizes and cash!
*Rewards may change at any time. Terms and conditions apply.
---
Read these next:
Birthday Treats You Need To Take Advantage Of In Singapore 2022
Maximise Your Annual Leave With Public Holidays For Long Weekends (2022)
Sightseeing, Staycations, Activities: How To Spend Your $100 SingapoRediscovers Vouchers
8 Kid-Friendly Restaurants With Entertainment
7 A La Carte Buffets To Enjoy During Phase 3
---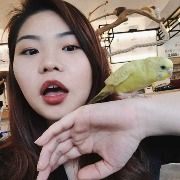 By Kendra Tan
Avid promo code hunter and haggler. Kendra doesn't like paying full price for anything. She's the best person to bring along if you're travelling on a budget. Have an interesting story to tell? E-mail her at kendra.tan@singsaver.com.sg
---