Take a well-deserved break during the coming long weekends with our curated list of activities.
If you ever find yourself with nothing to do in Singapore here's showing you the many things to do in our beautiful island country, as you make your bookings on the right credit card and earn rewards, points and cashback.
In this article, we aim to capture the best activities in Singapore every month, so you can mark your calendar and plan your week around them. We will try to cover a range of our recommended options for the outdoorsy, the adventurous, the artsy, the closet food connoisseur, and the leisure-loving souls. At the risk of quoting a cliche — there's something for everyone here.
Note: With Phase 2 (Heightened Alert) in place from 16 May, you are only permitted to gather in groups of two and dining in is no longer an option. Do remember to book your tickets in advance and check with the merchants directly in case of unprecedented closures. Last updated: 2 June 2021.
---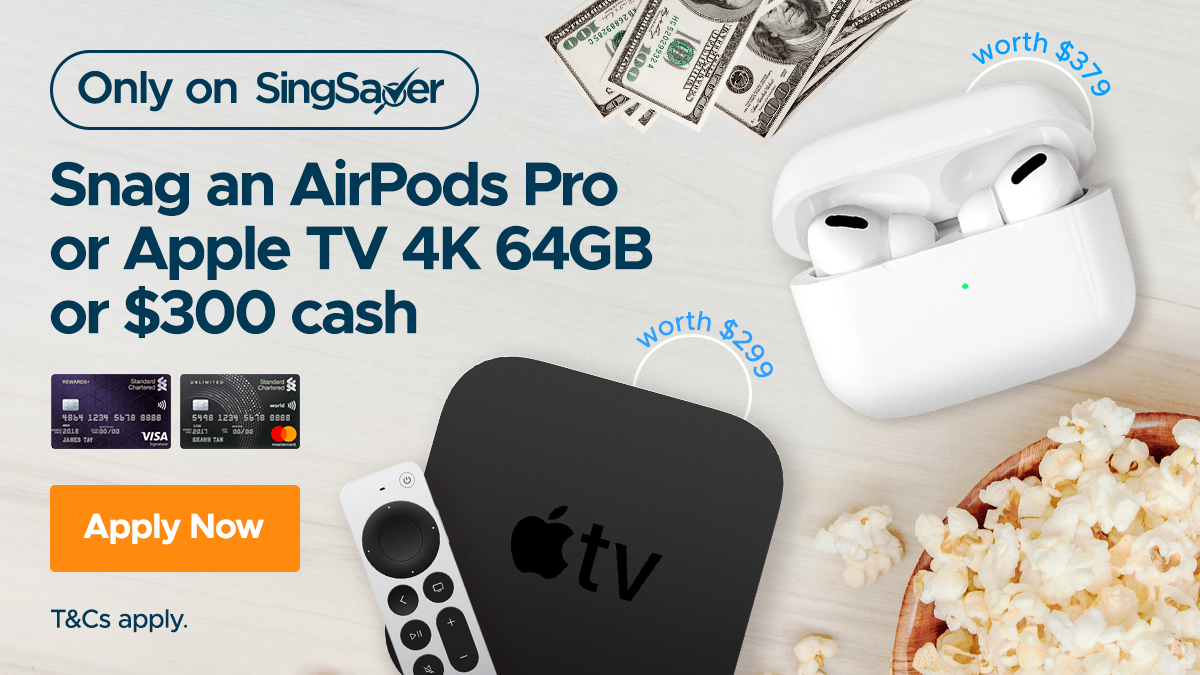 SingSaver's Exclusive Promotion: Score an Apple AirPods Pro (worth S$379), Apple TV (worth S$299) or S$300 via PayNow when you apply for the Standard Chartered Unlimited or Standard Chartered Rewards+ credit card!
To be eligible for this promotion, you'll have to be a new Standard Chartered Bank cardholder and activate your new card within the first 30 days of card approval. Also, a min. spend of S$300 is required. If you already have a Standard Chartered credit card, you'll be rewarded with S$30 cash via PayNow when you sign up. Promotion is valid till 22 June 2021, T&Cs apply.
Welcome offer: Enjoy 35,000 miles upon card approval and payment of the annual fee. Valid till 31 December 2021. T&Cs apply. Apply for the Standard Chartered Visa Infinite Credit Card now!
---
Things to do: Virtual activities
---
Solve murder mysteries and go on an intriguing web adventure with this series by comic artist Troy Chin for free from the comfort of your own home. Our recommendation: Have a go at A Red Sky at Dawn, an interactive murder mystery set in 1941 Singapore. We don't want to spoil too much, so you'll just have to play the game and find out more yourselves!
Address: Online
Price: Free
Ongoing
After numerous delays and false starts, the Singapore – Hong Kong Air Travel Bubble is set to take off on 26 May 2021. If you're one of those lucky (and rich) enough to snag flight tickets, good for you. But if not, you can always digitally visit the land of dim sum through photographs and poetry by 16 poets.
Eight Singaporeans and eight Hong Kongers were paired up as pandemic pen pals, and asked to share photos of their favourite places in their home city. After that, each one of them wrote a poem about their favourite place, and another poem about their partner's.
Address: Online
Price: Free
Till 20 February 2022
The Curious Case of the Missing Peranakan Treasure is an enthralling detective whodunnit tale set against the backdrop of the iconic Raffles Hotel. You, the audience, will play the role of a detective tasked to investigate the missing Peranakan treasure — the crown jewel of the Treasures of the Straits exhibition.
Through this highly-interactive virtual experience, not only do you get to solve mysteries, but also explore Raffles Hotel's grounds and learn about its history.
Address: Online
Price: $38
1 April to 30 June 2021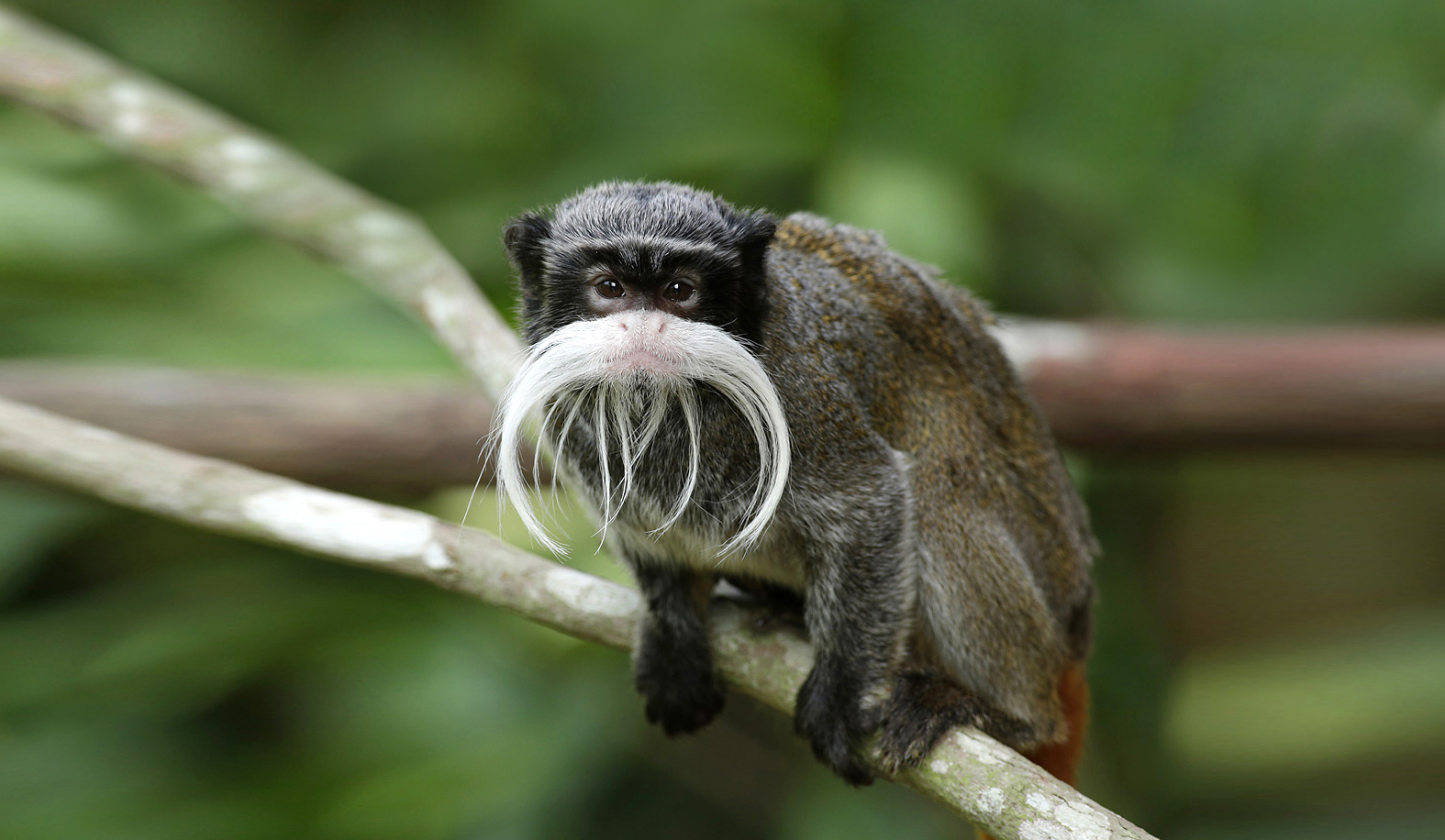 Go behind the scenes and interact virtually with the animal and human personalities from Wildlife Reserves Singapore again as Hello From The Wild Side returns for a second season with a newly curated Zoo Explained! segment.
This live virtual experience is a unique opportunity to discover the zoo's animal family such as the rhino baby and stars of the Animal Friends Show. Also, get to meet the individuals involved in caring for the animals and learn about animal behaviour, rehabilitation, and wildlife nutrition.
Address: Zoom, online
Price: S$10 per session
Ongoing
---
Things to do: Art and culture
---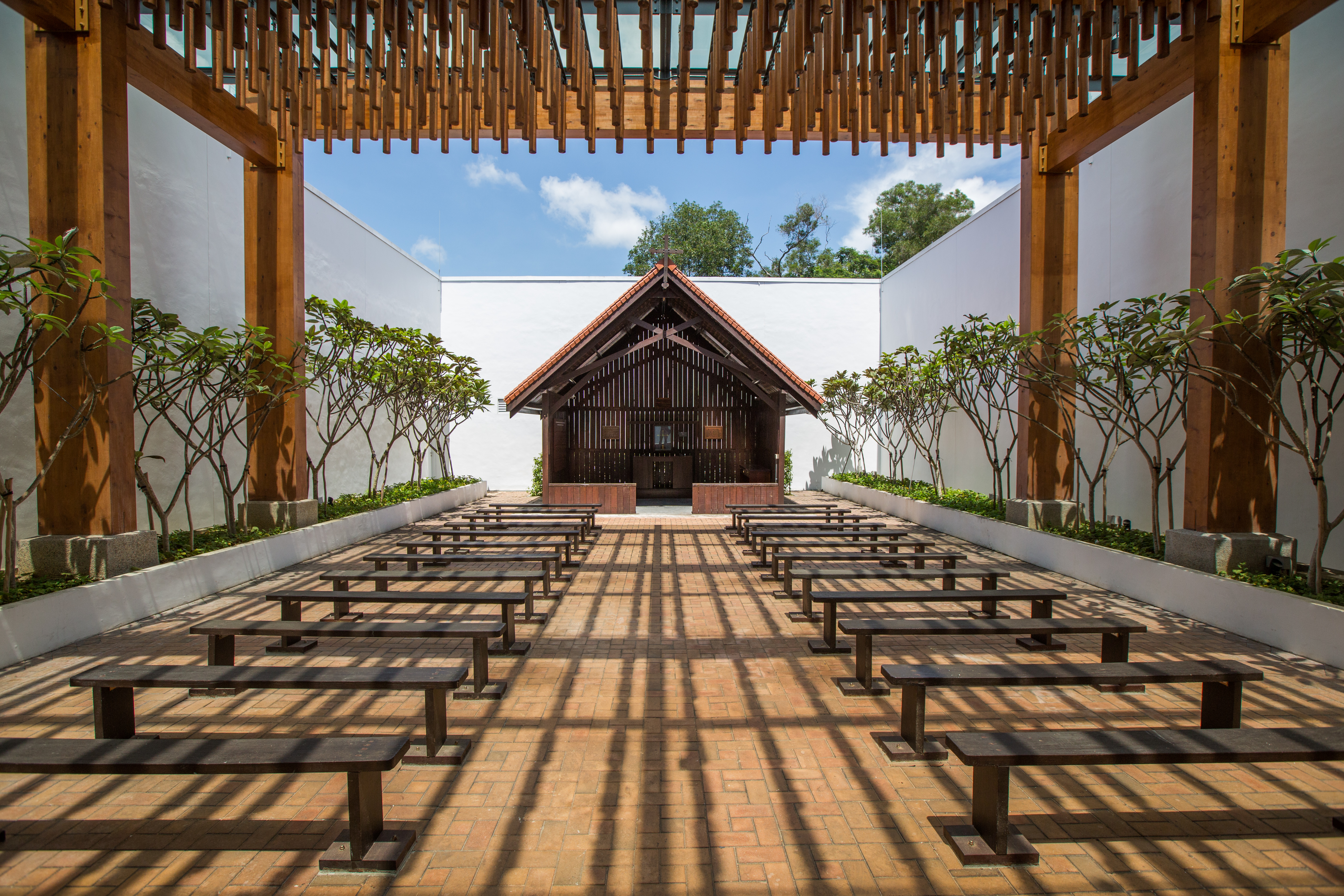 Explore the newly revamped Changi Chapel and Museum featuring never-seen-before artefacts belonging to the prisoners-of-war (POW) and civilians interned in Changi prison camp during the Japanese Occupation.
Address: 1000 Upper Changi Road North, Singapore 507707
Price: Free until 30 May 2021
Ongoing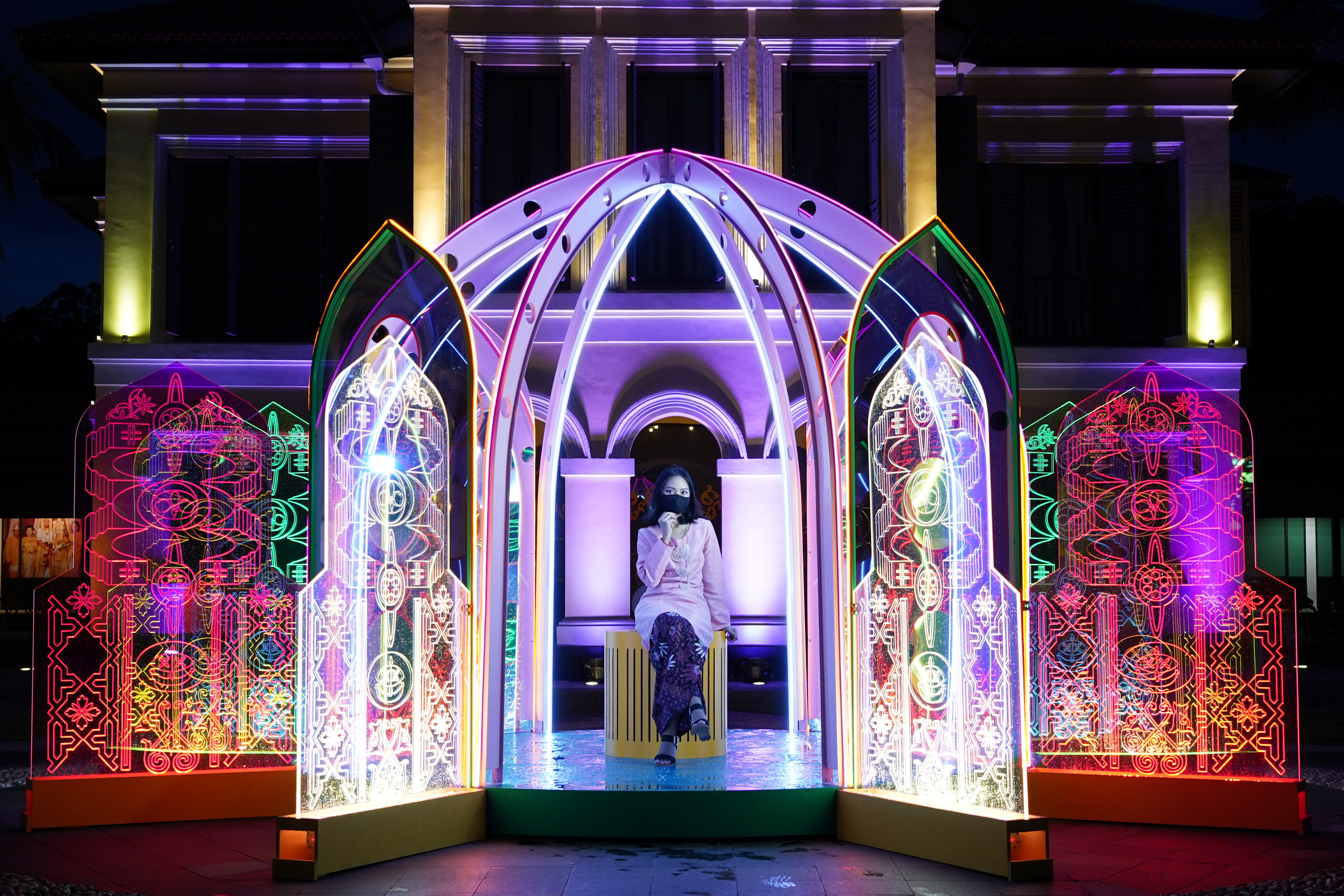 The Malay Heritage Centre (MHC) will be celebrating Hari Raya Puasa this 2021 with a hybrid range of online and on-site activities. One of the highlights is this neon light art piece titled "Lap Lip 2021: An Iconic Landmark installation", which pays tribute to Kampong Glam and features patterns inspired by Malay motifs designed by local artist Reza Hasni.
Address: Malay Heritage Centre, 85 Sultan Gate, Singapore 198501
Price: Free
Till 13 June 2021
Gain a deeper understanding of this small but prominent Singapore Indian community with this exhibition that tells its lesser-known stories.
The first part, Roots, explores the origins of Singapore's Sikh community, from its beginnings at the crossroads of civilisation in Punjab to the birth of the Sikh faith.
This is followed by Settlement, which presents the narratives of Sikh migrants in Singapore, revealing the story of the nascent original community and some of its prominent members.
Contemporary Perspectives concludes the exhibition, offering glimpses into the experiences of contemporary Sikhs, highlighting the ever-evolving Singaporean Sikh identity and the community's contributions to the nation.
Address: Indian Heritage Centre, 5 Campbell Lane, Singapore 209924
Price: Free
Till 30 September 2021
Singapore-based British fine artist Chloë Manasseh explores her Sephardic roots in her solo exhibition, CASA. The exhibition reflects on how one's concept of home and identity shifts over time.
CASA delves into Jewish folklore, featuring wall paintings, two-sided folding screens, a tile installation and pots that will transport the viewer to an alternate Morocco born from the artist's vivid imagination.
Address: Art Porters Gallery, 64 Spottiswoode Park Road, Singapore 088652
Price: Free
Till 9 May 2021
Visit National Museum of Singapore's latest exhibition, Picturing the Pandemic: A Visual Record of COVID-19 in Singapore, for a glimpse into the diverse experiences of Singaporeans as they live, work and care for each other in the pandemic.
Through 272 photographs, a short film and 16 donated artefacts, the exhibition presents a poignant and resonant portrait of a nation responding to and coping with an unprecedented local and global crisis.
Address: National Museum of Singapore, 93 Stamford Road, Singapore 178897
Price: Free
Till 29 August 2021
The Chinese culture in Singapore has evolved in a way unlike other communities around the world, all thanks to the unique influences from living alongside a significant proportion of non-Chinese residents.
This interaction with other cultures over the years, encouraged by geographical proximity and social diversity, has birthed a Chinese Singaporean identity which is complex and ever-changing.
At the Singapore Chinese Cultural Centre, join in the conversation and discover (or rediscover) what it means to be a Chinese Singapo人(ren, Chinese for people).
Address: Singapore Chinese Cultural Centre, 1 Straits Boulevard, Singapore 018906
Price: Free
Ongoing
The Force is strong in Singapore at the ArtScience Museum with Star Wars Identities: The Exhibition, happening from 30 January to 13 June 2021.
The vast and exclusive showcase includes some 200 authentic props, models, costumes, and artwork from the original Star Wars films.
Expect to see the original Star Wars drawings from the classic (1977 to 1983) and prequel (1999 to 2005) trilogies, the animated series Star Wars: The Clone Wars, as well as Star Wars: The Force Awakens.
Fan favourites such as Darth Vader, R2-D2, Chewbacca, Boba Fett, Yoda and the Millennium Falcon will be on display.
Address: 6 Bayfront Ave, Singapore 018974
Price: From $20
Till 13 June 2021
The National Museum of Singapore presents Home, Truly: Growing Up With Singapore, 1950s to the Present in collaboration with The Straits Times, as part of the newspaper's 175th anniversary.
Featuring photographs and artefacts, including those contributed by members of the public, as well as audio-visual footage, sounds, scents and special digital features, Home, Truly explores the moments and experiences in Singapore's past and present that express our identity and collective memory as a people.
Address: 93 Stamford Rd, Singapore 178897
Price: Free
Till 29 August 2021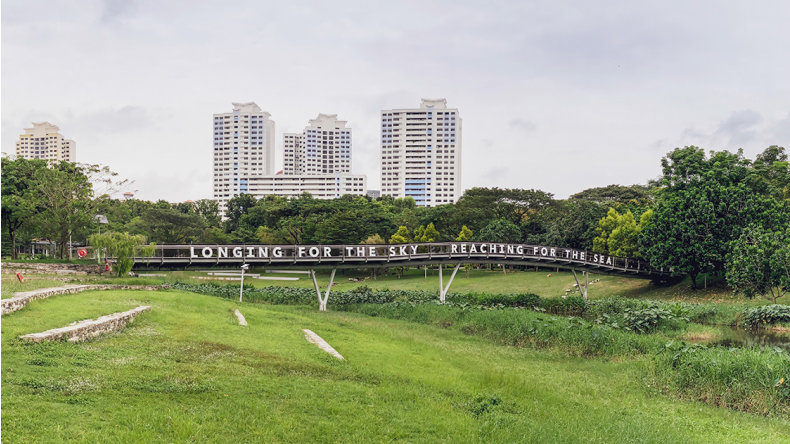 A brand new commission by the Public Art Trust and its most ambitious ever, Re-written: The World Ahead of Us presents 14 text-based public artworks by Singapore artists. Some of the artworks are inspired by local writers and literary works, contemplating the multitude of changes experienced in their daily lives since the onset of COVID-19.
Distributed across eight parks in Singapore, the artworks resemble visual poetry unfurling across the island, awaiting discovery. The physical presentation will also be accompanied by a virtual engagement component, which seeks to offer new entry points in experiencing and learning about public art in a world transformed.
Address: Various locations
Price: Free
Till 6 June 2021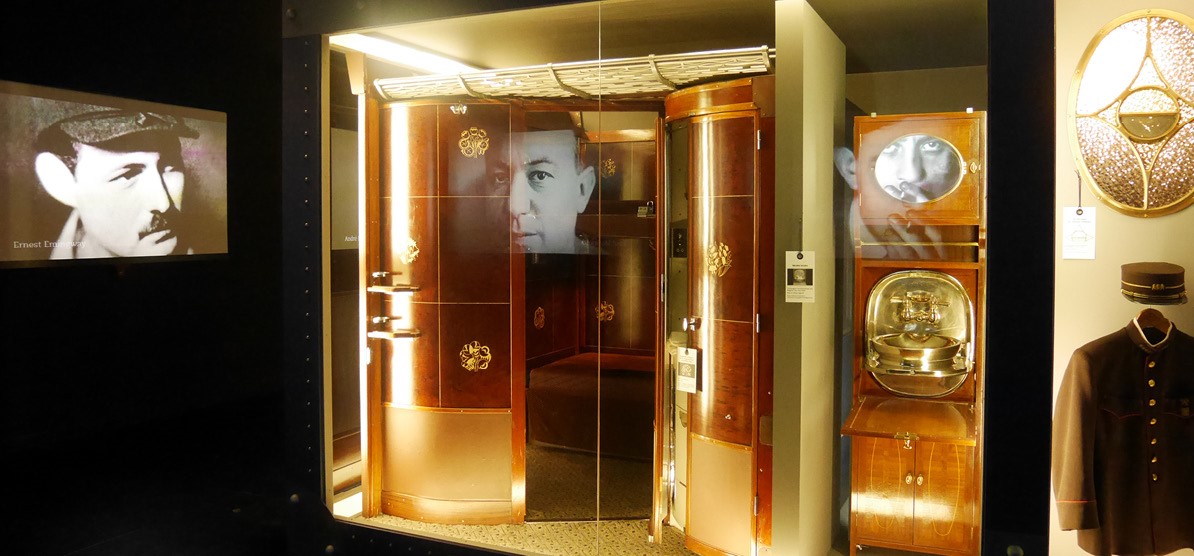 Through this pop-up attraction, visitors can relive the emotions of travellers who have boarded the Orient Express through a reconstituted train platform and showrooms where they can embark on a fascinating journey through the history of the Orient Express.
The exhibition will present some of the most extraordinary objects and documents to showcase centuries old history that retraces the legacy of the train, allowing guests to also discover events that transformed the world and shaped the map.
It will also feature an exclusive Orient Express shop, Orient Express road cafe, Orient Express restaurant and lounge and an escape room experience, which has to be book separately.
Address: Gardens by the Bay – West Lawn
Price: From $25
Till 12 September 2021
---
Things to do: Eating out
---
The durian season is upon us once again. From 8 March to 1 August 2021, feast yourselves silly on handcrafted D24 and Mao Shan Wang durian pastries from Goodwood Park Hotel's Durian Fiesta.
Be spoilt for choice with at least six new creations such as the D24 Pandan Waffle Cake, the D24 Trio Chocolate Cake, delectable Mini D24 Salted Caramel Delights, and D24 Kueh Dadar. If you'd rather stick to the signature favourites, you'll be glad to know that their popular Mao Shan Wang Mousse Cake and Mao Shan Wang Power Puff will be available from 1 May onwards!
Additionally, get 15% off Durian Fiesta pastries until 1 August when you pay with Citi, DBS/POSB and UOB credit/debit cards.
Address: 22 Scotts Road, Singapore, 228221
Price: From $14.95
From 8 March to 1 August 2021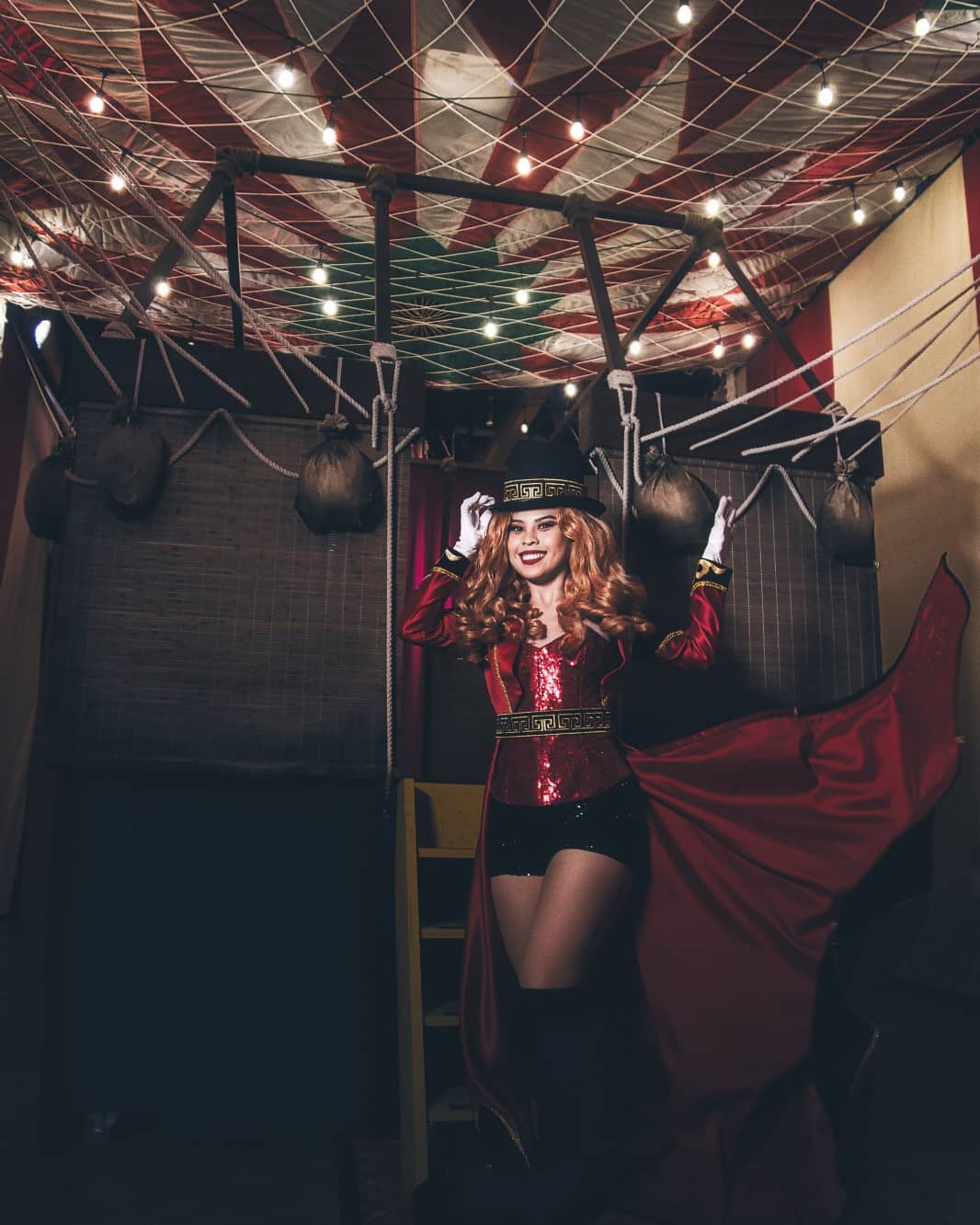 Trotting the globe in 150 minutes is entirely possible, all thanks to AndSoForth's Around the World in 80 Days multi-sensory, theatrical dining experience.
Immerse yourself in seven wondrous rooms, each themed to look like London, Egypt, India, Hong Kong, Japan and New York. Feed your stomach with international cuisines inspired by each country, and then feast your eyes on the whimsical set designs and colourful costumes by the actors.
Address: Secret, to be revealed 24 hours before workshop
Price: From $128
Ongoing
Chinatown Food Street isn't the typical tourist trap Singaporeans think it is anymore. The refreshed space, which reopened in December 2020, has new dining concepts such as mookata, mala hotpot and Korean BBQ.
The prices are rather affordable as well — Hongdae Korean BBQ's buffet only costs $23.90 per adult, and it comes with free-flow Korean rice cakes and kimchi pancakes. If you're feeling spicy, a mala hotpot buffet costs an affordable $19.90 with free-flow dumplings.
Address: Smith Street, Chinatown Food Street, Singapore 058938
Price: Depends on what you eat!
Ongoing
---
Things to do: Films
---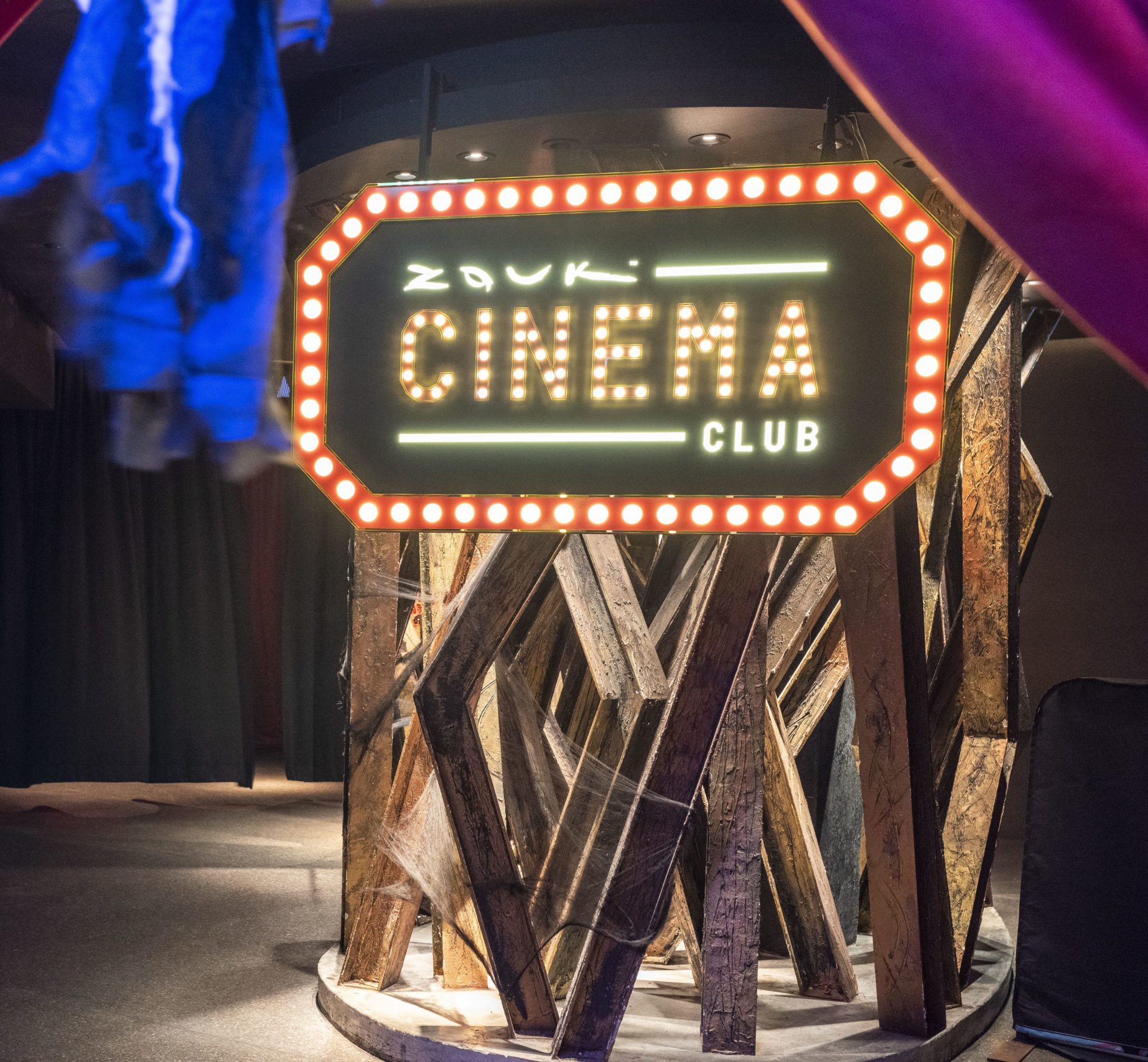 We get it. Your movie experience is not the same when the screen isn't massive, the sound isn't booming, and the overpriced caramel popcorn isn't losing its crunch by the minute. While we wait for great movies to hit the screen again, you can still find an elevated movie experience in the meantime. Enter Zouk Cinema Club, a pop-up cinematic experience from Wednesdays to Saturdays.
The nightclub turns into a cinema with one screening session a night, showing two movies. Zouk's famous screen, that normally belts out trippy visuals accompanied by the DJ's turntable, now plays classics like Moulin Rouge, Grease, and The Greatest Showman. Grab your date, a bottle of sparkling, some hors d'oeuvre to share, and hit Zouk to experience the magic of old romances on the big screen.
Address: Zouk Singapore, 3C River Valley Road, Clarke Quay, #01-05 to #02-06, The Cannery, Singapore 179022
Price: Call to book your seats. Packages range from $75-$350
Ongoing
---
Things to do: Explore Singapore
---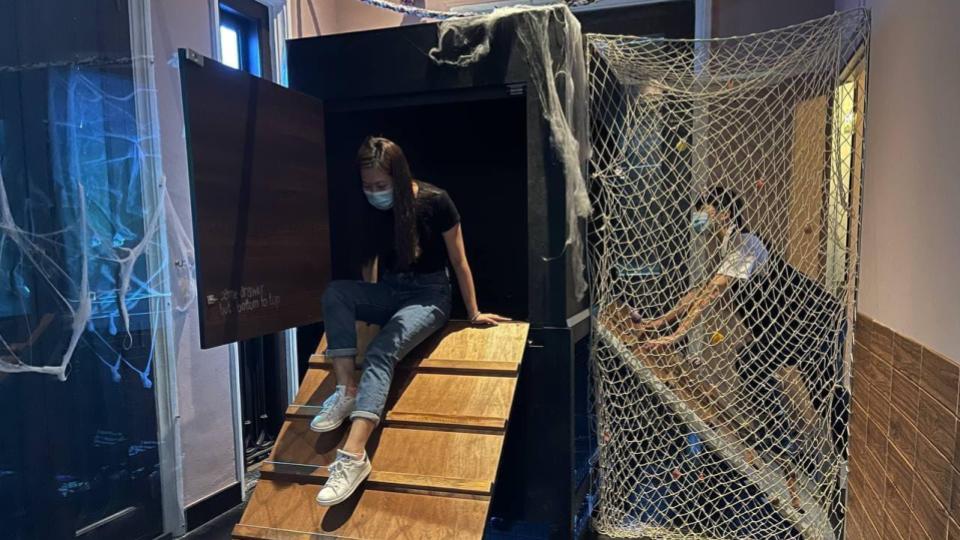 Located on the second level of Gedung Kuning, Amazing Chambers Singapura is an escape room in Singapore with five interactive games — Sang Nila Utama And The Lost Crown, Sisters' Island, The Princess Of Radin Mas, 1603 – Changi Naval Battle and Leftenan Adnan – The Battle Of Bukit Chandu.
Showcasing over 800 years of Singapore's history, Amazing Chambers Singapura promises a fun and interactive escape room experience for both children and adults.
Address: 73 Sultan Gate, Singapore 198497
Price: From $20.90
Ongoing
Get your adrenaline pumping with Singapore's first ever karting circuit, located in the carparks of Resorts World Sentosa. Circuit Tiki's track covers a distance of 550 metres, with a total of 23 corners.

There are two options you can choose from:
Novice (25 km/h): $18 for RWS members and $28 for public
Advanced (40 km/h): $25 for RWS members and $35 for public
Anyone can have a go at the Novice karts, but you'll have to be at least 1.4 metres tall and wear covered shoes. For the Advanced karts, you'll need to have a valid driving/motorcycle license. Hair nets and helmets will also be provided for all riders.
Address: Resorts World Sentosa East Carpark (Orange Zone)
Price: From $18
Till 30 June 2021
Miss the pre-COVID-19 days of carnivals at overcrowded pasar malams (night markets) with mini bumper cars, viking ships and Ferris wheels? Now you can experience it once more, albeit on a smaller scale.
Operating on Saturdays and Sundays from 5pm to 8pm, you can look forward to rides such as the pirate ship, mini carousel, train ride and a Ferris wheel. Once you've had your fun, take a stroll in the mini Jurassic Park, which will surely delight kids and adults alike.
Address: Social Innovation Park, 50 Punggol East, Singapore 828826
Price: $38
Till end of 2021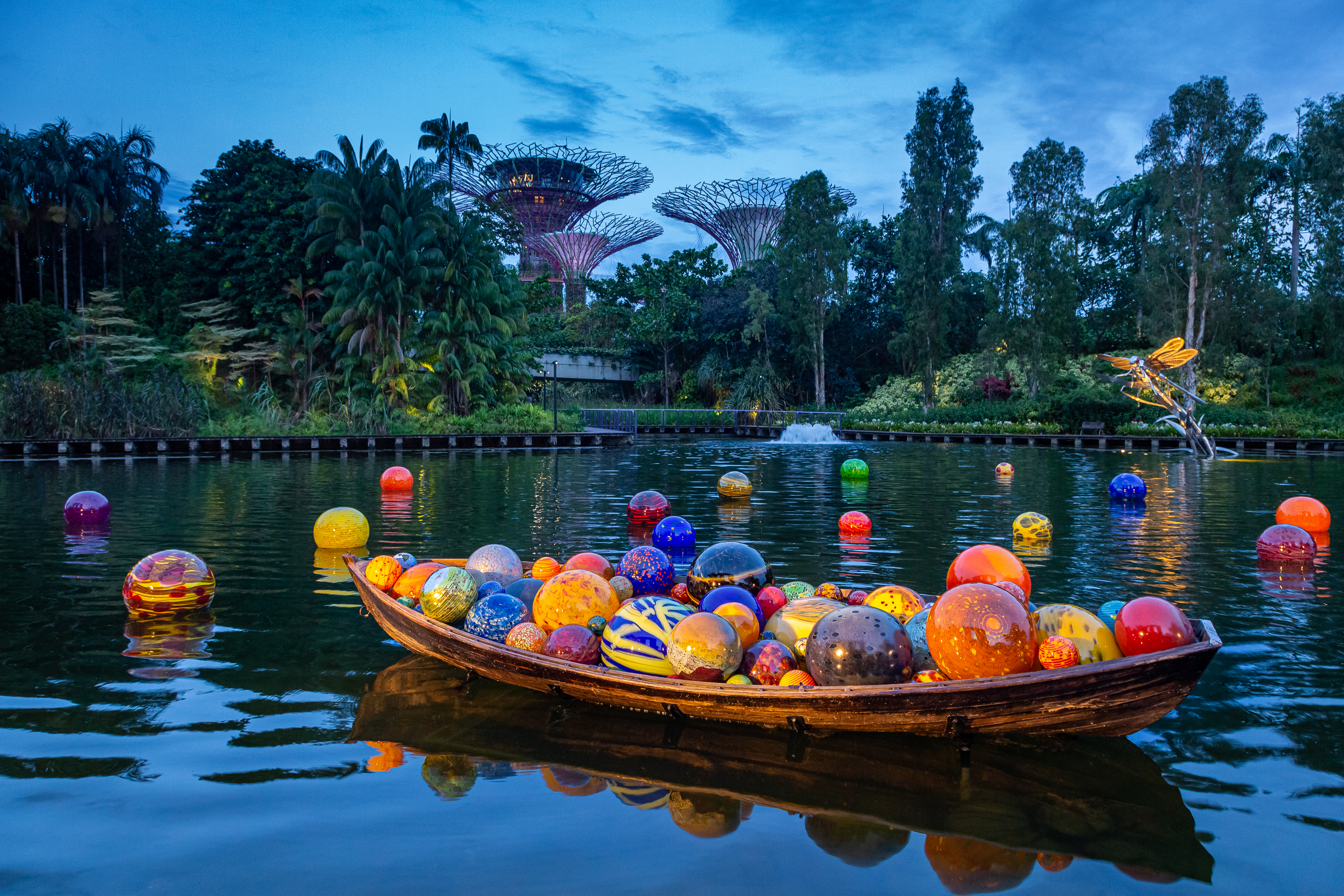 From 1 May to 1 August 2021, American artist Dale Chihuly will be bringing his large-scale installations and sculptures to Gardens by the Bay, making this his first major garden exhibition in Asia.
Dale Chihuly: Glass in Bloom will feature 25 massive structures as well as more than 80 pedestal sculptures and two-dimensional works, all of which were shipped directly from Seattle and installed on site.
Among the highlights are Setting Sun, and Moon, a large spherical installation which was last presented in the artist's landmark exhibition, Chihuly in the Light of Jerusalem 2000. Visitors will also get to see Ethereal White Persians at the Serene Garden, and Cloud Forest Persians, a study in scale and translucency which debuted in 2019 at the Royal Botanical Gardens, Kew, in London.
Photo above: Dale Chihuly, Float Boat & Boats, 2014. Gardens by the Bay, Singapore, installed 2021 © Chihuly Studio. Photo by Nathaniel Willson.
Address: 18 Marina Gardens Dr, Singapore 018953
Price: From $12
From 1 May to 1 August 2021
Following a successful run at Gardens by the Bay, Otah & Friends is back for more spills and thrills at an entirely new location — SAFRA Punggol.
You'll have 45 minutes in Otah The Otter's house to uncover secrets and discover surprises in every corner of his whimsically decorated home, which includes a living room, kitchen and a giant tree filled with cute interactive props and clues.
With the visually-stunning, IG-worthy rooms, this family-friendly adventure is perfect for those who don't like the horror and intensity normally associated with regular escape rooms.
Address: SAFRA Punggol, 9 Sentul Cres, Singapore 821313
Price: From $12
Till 4 July 2021
Wag & Wild, Singapore's newest and largest waterpark for dogs, is THE place to go for your doggos to have a fun time under the sun.
There's over 19,000 square feet of space, which includes amenities such as a large pool, floaties, and even a mushroom waterfall, for your furbabies to go wild. Oh, did we also mention that humans are allowed in the pool too? Yay, double the fun!
Address: 2 Jurong Gateway Road, #01-13, Singapore 608512
Price: $28
Ongoing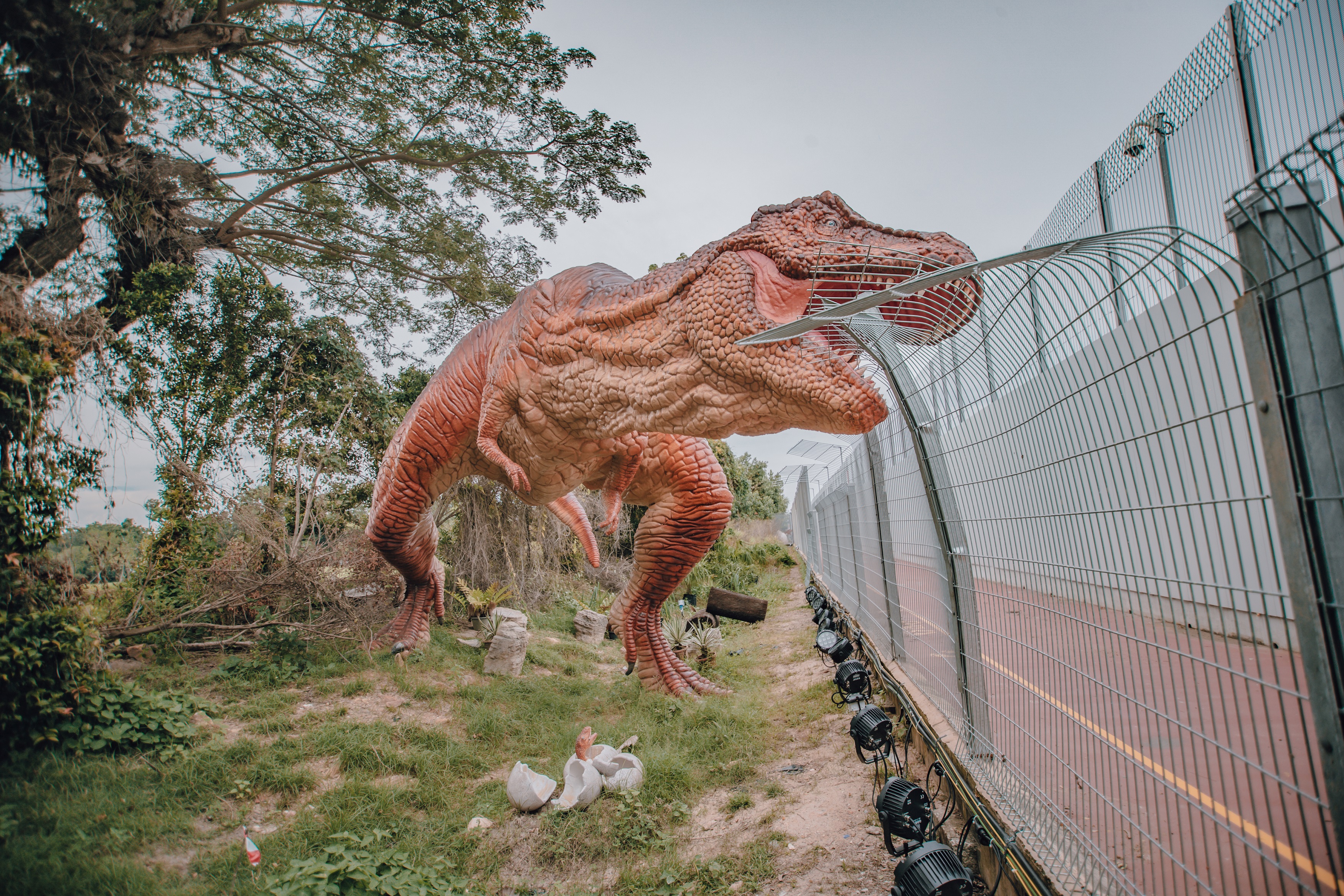 And you thought Changi was done with its newest marvellous offering? Nope. Hit Jurassic Mile with your family for a fun day out with the kids. Singapore's largest permanent outdoor display of life-sized dinosaurs with more than 20 different prehistoric creatures from nine different species — all stretched over one kilometre of the cycling and jogging path.
The tallest dinosaur stands at almost 5 meters high, and there's one that even flies! The best part is you can get there on foot or by renting a bike from GoCycling or from East Coast Park via the Changi Coastal Park Connector. And the even better part? It's free and open 24 hours.
Address: Drop-off point inside the Hub & Spoke car park (right opposite the café) or at Changi Airport Terminal 2, beside Car Park 2A. The on-ground signage will lead you to Hub & Spoke.
Price: Free
Ongoing
---
Things to do: Fitness
---
Every Sunday, join a small group of passionate joggers and enjoy a leisure stroll/run at various spots in Singapore, all for free. Oh, did we also mention that all participants are female, and that only ladies can join?
So if you've always wanted to kickstart your work out journey, feel free to join this group. According to the event's description: "There's always a first time for everything, so just come and have fun and be yourself!".
Address: Varies every week
Price: Free
Every alternate Sunday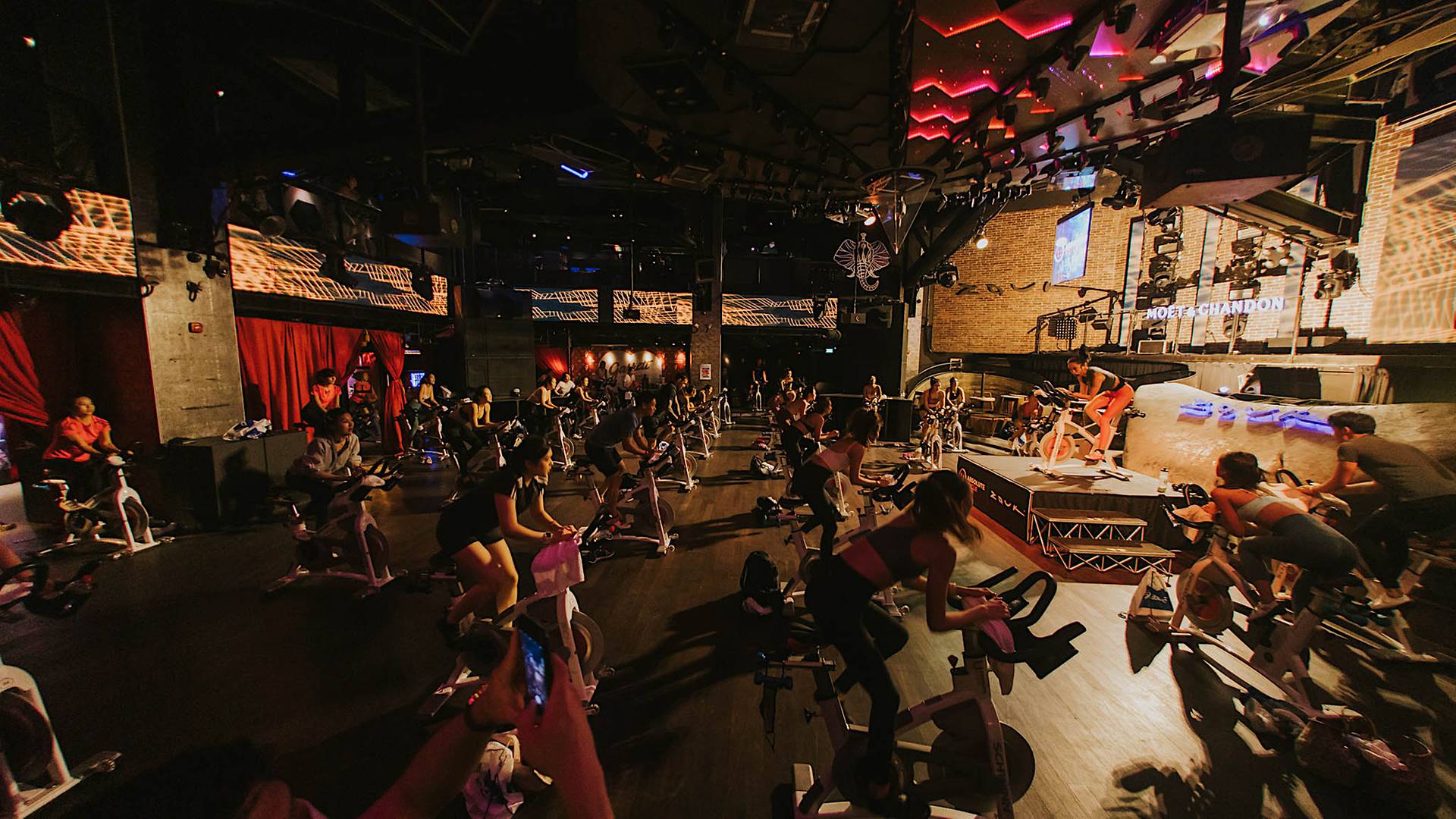 Looks like you don't need to wait until Phase three to hit the dance floor at Zouk. Partnering with rhythm cycling studio, Absolute, get your spin on up to seven days a week (if you really miss clubbing) with their iconic "Absolute 45" high-intensity spin classes hosted in a club-like atmosphere with epic Zouk lighting and heart-pumping music for the ultimate workout.
Address: Zouk Singapore, 3C River Valley Road, Clarke Quay, #01-05 to #02-06, The Cannery, Singapore 179022
Price: From $49
Ongoing
---
Marking your calendars and booking your next weekly or weekend activity? Then you'll want to make your money work harder for you by charging it on the right credit card to earn cashback or rewards that can help offset your next purchase, or to chalk up air miles for your travels next year. Apply for one through us today and get rewarded* with attractive prizes and cash!
*Rewards may change at any time. Terms and conditions apply.
---
Read these next:
Birthday Treats You Need To Take Advantage Of In Singapore 2021
Maximise Your Annual Leave With Public Holidays For Long Weekends (2021)
Sightseeing, Staycations, Activities: How To Spend Your $100 SingapoRediscovers Vouchers
8 Kid-Friendly Restaurants With Entertainment
7 A La Carte Buffets To Enjoy During Phase 3
---
---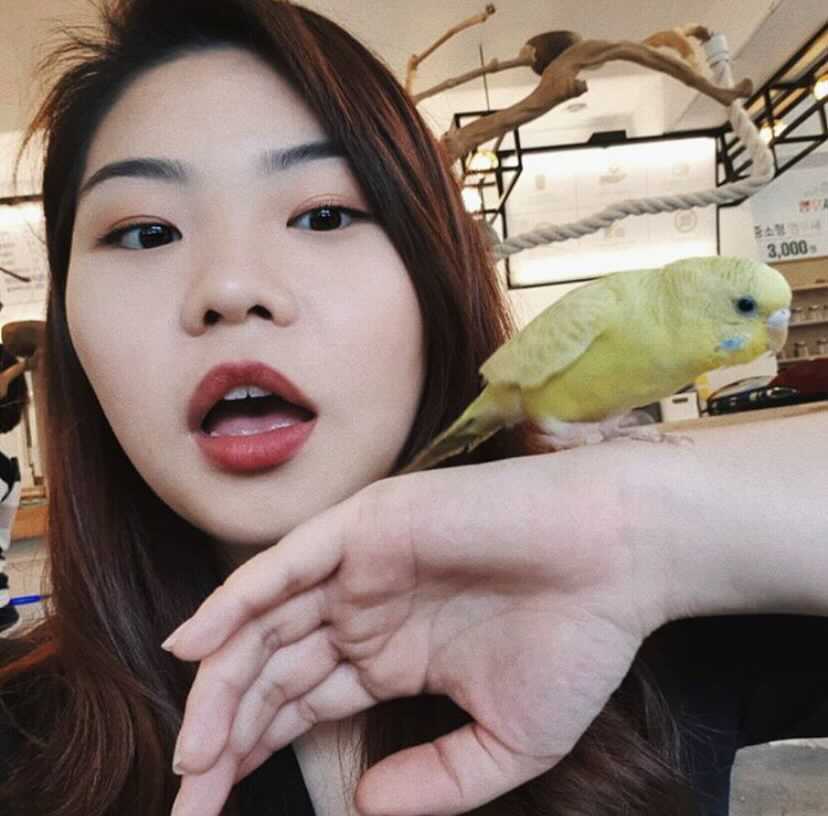 By Kendra Tan
Avid promo code hunter and haggler. Kendra doesn't like paying full price for anything. She's the best person to bring along if you're travelling on a budget.
---