There are many reasons why you would apply for a personal loan – and they don't always have to be because you're in some form of crisis.
When used properly, personal loans are a great way to manage your personal cash flow, especially during life's biggest milestones such as renovating your home, furthering your education, or taking that bucket list trip you've always dreamed of before settling down.
Read more: Your Go-To Personal Loans Guide
As with any financial product, using a personal loan to your best benefit requires going in with both eyes open, and discipline and commitment to paying off your debt.
Here are some DOs and DON'Ts to take note of so you can make the most of your personal loan.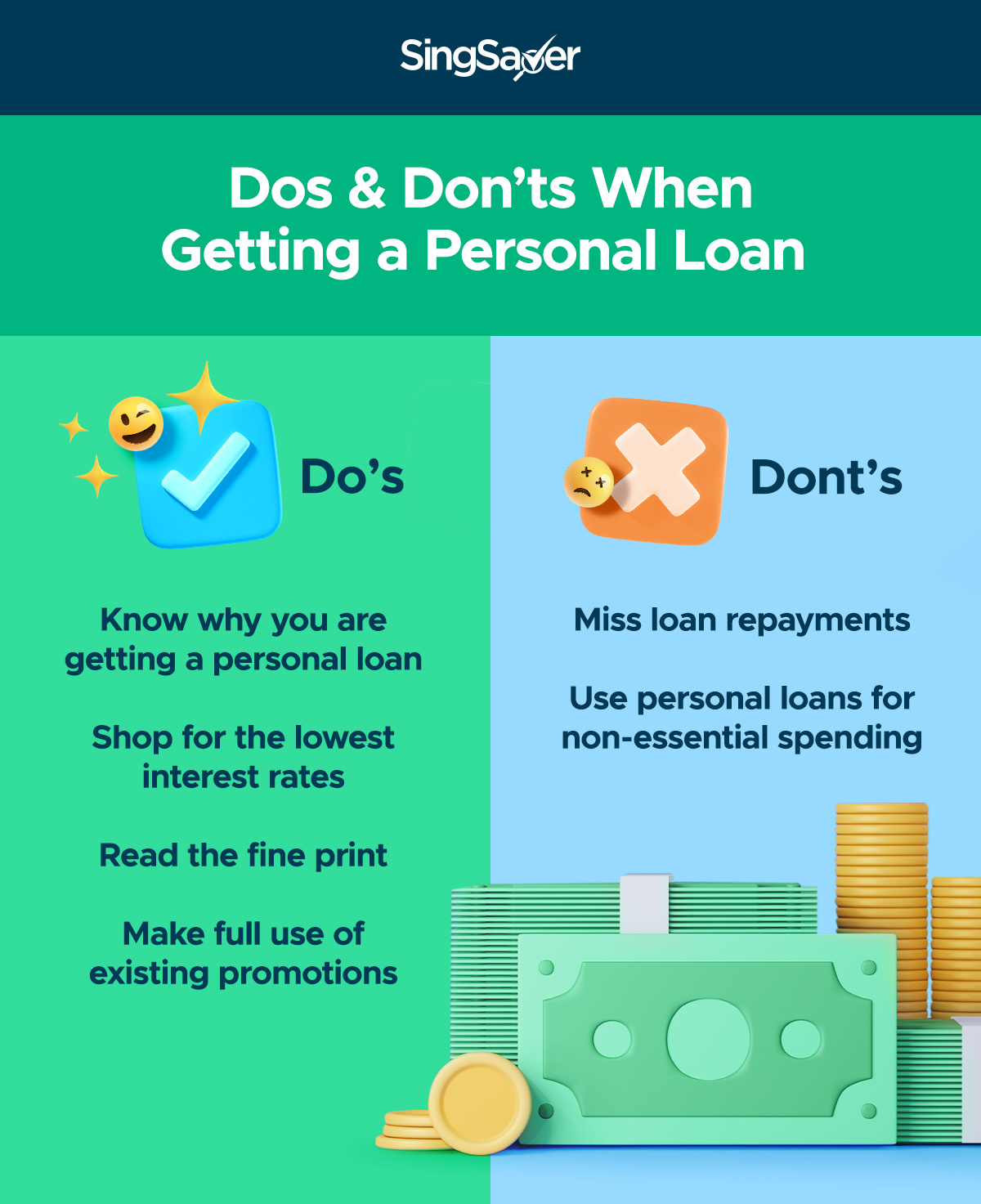 DO know why you are getting the personal loan
Your reason for getting a loan would determine the necessity of taking it up and your ability to repay it.
There are two main reasons to get a loan: to invest or to get out of debt.
Investing could come in the form of actual investing, or in the form of getting an education or renovating your home. Personal loans in these cases make perfect sense because your expected return would cover your loan amount.
Using a personal loan to get out of debt may seem counter-intuitive, but it's actually not – most unsecured debt is placed on credit cards, which have an average interest rate of 25% p.a. Personal loans have an average interest of only 6% p.a., making it a far more manageable alternative to credit card debt.
The idea is to borrow a little to prevent a larger debt down the road.
DO shop for the lowest interest rates
Getting a personal loan just because you can is not a good thing. Make sure you can commit to the repayment schedule and get the best loan with the lowest interest rates.
A small difference in interest rates can save you hundreds, if not thousands, of dollars depending on your loan amount and tenure.
Say you need to borrow $20,000 to be paid back over 3 years.
If you choose a bank that is currently offering 5.8% interest p.a., your total loan repayment (inclusive of interest) will amount to $23,472.
Alternatively, if you had chosen a bank with only 3.7% interest p.a., your total loan repayment (inclusive of interest) would have been only $22,212.
That is $1,260 that you could have saved on interest alone, simply by comparing interest rates first.
Read more: 3 Best Personal Loans in Singapore With The Lowest Interest Rates
DO read the fine print
It's not just the interest rates that matter. Read up on required repayment schedule, maximum loan tenor, any income inhibitions, and importantly – how long it may take to have your loan approved.
Also, be sure to check for any additional administrative or disbursement fees. Some loans offer low advertised interest rates but make up for it in high administrative fees. This is why it is always better to look at the Effective Interest Rate (EIR) rather than the advertised interest rate.
DO make full use of existing promotions
Make use of exclusive offers by applying on an aggregator, which may give you exclusive rates that are not available on (and sometimes better than) the bank's own website.
In addition to exclusive rates, aggregators also often throw in sweeteners like additional welcome gifts (like cash or cash vouchers). All these are great ways for you to get the most value out of your personal loan.
DON'T miss loan repayments
Applying for a loan doesn't necessarily have a negative impact on your financial health, but defaulting on a loan most definitely will.
Loan defaults are a real issue that can upset your credit score and make it more difficult for you to access crucial loans in the future. This could be a huge hindrance to achieving your dreams of owning a house, starting your own business, or furthering your education.
Before taking out a personal loan, use our personal loan calculator to see what your expected monthly repayment will be. Do you believe you'll be able to keep up with these amounts? If not, consider extending your loan tenor or reducing your loan amount.
DON'T use personal loans for non-essential spending
Personal loans are easy to apply for, and their relatively low interest rates make them a useful and manageable financial tool for many Singaporeans.
However, your eligibility for a personal loan should not be the only reason you're applying for one. Personal loans should not be taken on a whim or be used to fuel excessive leisure spending.
Whatever your decision…
It's important to know your financial needs and saving habits before taking up a loan. While personal loans can help bridge the gap to fulfill your needs, it is also a monetary commitment.
If you've decided that a personal loan is the best thing for you right now, consider HSBC's personal loan. It has one of the lowest interest rates in the market at only 3.7% p.a. (EIR 7% p.a.), no processing fees, and a long loan tenor of up to 7 years so you can repay your loan at a more comfortable pace.
This article was developed in collaboration with HSBC.
Read these next:
5 Ways to Get the Highest Credit Score in Singapore
4 Times In Life You Should Consider Getting a Personal Loan
How to Get a Cash Loan From Your Card's Credit Limit
What's the Average Personal Loan Interest Rate in Singapore?
3 Best Personal Loans In Singapore With The Lowest Interest Rates