The GameStop short squeeze created overnight millionaires, but do meme stocks actually hold up under scrutiny over time?
For those who rode the meme stock wave and invested in Gamestop (GME), good news - their shares are rising after the board of directors approved a 4-for-1 stock split for 22 July.
Meme stocks came into the spotlight in 2021 when retail investors — galvanised into a coordinated force via the Reddit group WallStreetBets — took on multi-billion-dollar hedge funds, and won.
This iconic battle was fought over publicly traded video game retailer GameStop, which was in danger of failing. This put the company in the sights of institutional investors who had opened short positions against GameStop's stock prices, which means they would profit as the price crashes to zero.
WallStreetBets was not having any of it. Banding together, members of the subReddit started buying GameStop stocks, which caused the company's stock price to surge to new highs.
This action not only created a lifeline for the sinking company, more importantly, it placed investors shorting the stock into a 'short squeeze'. This turned their short position into a losing trade, with losses growing as the stock price rises higher.
In the end, the hedge funds gave up, closing out their short positions at a loss of billions of dollars.
As a result, meme stocks started to trend in the investment community, with proponents pointing to GameStop as proof that dedicated online followings can influence stock prices through coordinated trades.
Are meme stocks still a thing in 2022?
If meme stocks started and ended at once-mighty companies that are now barely hanging on, hoping for nostalgia to cause WallStreetBets to come riding to their rescue, that would be the end of this article.
However — perhaps because WallStreetBets' heroic victory has managed to capture the imaginations of retail investors — the category of meme stocks has expanded to include a wider variety of companies, including some astonishing ones.
According to online chatter, here are some of the top meme stocks that are trending at the time of writing:
GameStop (GME)
AMC Entertainment (AMC)
Nokia (NOK)
BlackBerry (BB)
Bed Bath & Beyond (BBBY)
Amazon (AMZN)
Meta Platforms (FB)
Tesla (TSLA)
Apple (APPL)
Palantir (PLTR)
Sources: Yahoo Finance, CMC Markets, The Motley Fool, USNews
As you can see, online attention has now expanded to cover a broader range of companies, including some of the most successful ones of our time.
This brings us to a turn in our understanding of meme stocks. Perhaps meme stocks aren't simply about buying stocks that the Internet tells you to.
Rather, it is more about following the conversation around which companies the online community is excited about, and why.
Meme stocks — not what they seem?
To those who are more cautious, entrusting your investment funds to the whims of the online crowd sounds like a dubious idea.
Afterall, it's no secret that wanting to strike back against the rich elite was a major rallying cry for WallStreetBets when it decided to go up against the hedge funds.
It is difficult to say why GameStop was saved by WallStreetBets — perhaps it was simply in the right place at the right time.
Afterall, it's not like GameStop has a direct line to its target audience, judging by the company's recent announcements.
Startlingly, GameStop plans to pivot into cryptocurrency — even though gamers have an almost universal disdain for NFTs.
Should you invest in meme-stocks in 2022?
Perhaps trying to apply logic to a movement that is at least partially driven by emotion is a fool's errand.
Notwithstanding, the actions of WallStreetBets have undeniably driven up stock prices of GameStop and AMC.
Here, have a look: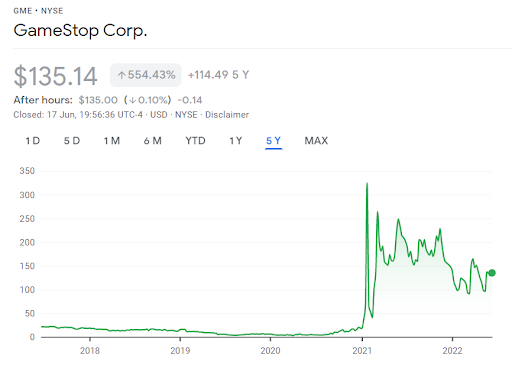 You can clearly see the massive effect that WallStreetBets had on GME stock prices. That giant spike at the start of 2021? That's when they took on the hedge funds shorting the stock.
Next, up, AMC: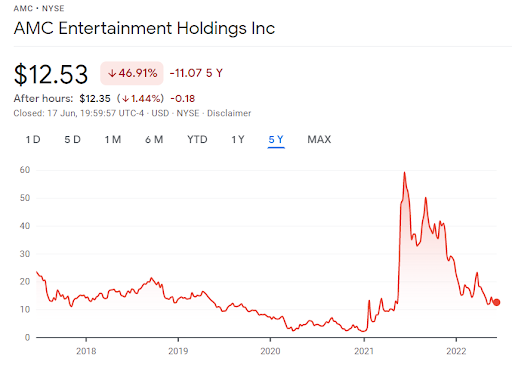 A similar story can be seen here. Turning their attention to AMC after boosting up GameStop, WallStreetBets created a similarly miraculous turnaround for the beleaguered chain.
Investors who piled in were rewarded with a handsome windfall, with some even becoming millionaires overnight, and it is stories like these that make the case for investing in meme stocks so compelling.
Fundamentals still matter
So GameStop and AMC found unexpected reprieve, and now investors are betting that the same meteoric rise in valuations can be pulled off for the other companies that WallStreetBets members are talking about.
Does this mean now is the time to jump in? Well, maybe.
As we've explained, meme stocks aren't any special category of stocks — they are simply the companies that have attracted the attention of the Internet, for the moment.
And — taking Apple vs Nokia as an example — the companies that Redditors are talking about vary widely, in basically every way that matters. There's no way they can all be considered equally good investments.
So what's an investor looking to jump into meme stocks to do? We'd urge you to remember this rule: No matter what, fundamentals still matter.
By all means, look towards the online crowd for some candidates to add to your portfolio. However, don't simply — to borrow the language — ape into a meme stock just because every other post is screaming about it.
Always evaluate the fundamentals of the underlying businesses and companies, and decide whether these stocks fit into your investment goals, style and timeline.
It may also pay to be quick on your feet if you're simply looking to turn a quick profit.
Read these next:
Trading Lingo from Wall Street Bets Decoded
A Guide To Meme Coins And Whether They Are Worth The Risk
Should the Metaverse be Your Next Big Investment?
5 Ways To Buy And Invest In Bitcoin In Singapore
What Is Gala Games And Why Is This Blockchain Gaming Platform Growing Rapidly?