If you're looking to embark on your cryptocurrency investment journey, Bitcoin is an un-ignorable big name. Here are five ways you can include Bitcoin into your portfolio.
Crypto has its fair share of diehards — those that periodically dollar-cost-average into crypto, as well as naysayers that think crypto coins are worth nothing at all. Whether you're on the bullish or bearish end of the argument, you'd have heard of Bitcoin, the most expensive crypto around.
Over the years, Bitcoin's price has seen highs of more than US$61,000 per Bitcoin in March 2021, but also lows of less than US$32,000 per Bitcoin in July 2021, showing just how volatile the crypto market can be.
However, those fully supportive of crypto will be licking their lips during these market lows — dips as it is more endearingly called — and picking up more coins at discounted prices during these times of fear, uncertainty and doubt.
Just like investing in blue-chip stocks, an investor looking to manage their risk would look to invest in a cryptocurrency that's more established. In this case, Bitcoin is the longest standing cryptocurrency, and also the one most widely accepted by an increasing number of companies as payment.
If you're looking to buy and invest in Bitcoin here in Singapore, here's how you can do it.
#1 Buy from a cryptocurrency exchange
You can't simply use your existing stock brokerage account to purchase cryptocurrencies, unless you're buying a derivative such as futures or options. You'll need a cryptocurrency exchange account in order to buy, sell and transfer your cryptocurrencies.
Just like your typical brokerage account, crypto exchanges also differ in terms of:
Cryptocurrencies available: Do they only offer the big crypto names such as Bitcoin, Ethereum, Cardano and more; or do they offer a wide variety of the many coins available?
Fiat currencies accepted: Will you be able to make the purchase in Singapore Dollars, or do they only accept US Dollars? If they only accept foreign currencies, you're likely to incur additional foreign exchange fees to convert your cash.
Methods of funding: Will you have to deposit cash to fund the account, or can you fund it using your credit card or even PayNow?
Tools available: Are you able to lend or stake your coins?
Fees charged: The cost you incur during the transaction, as well as the foreign exchange fees charged.
The all important question then is, which cryptocurrency exchange should you use?
With the news of Binance being placed on the MAS' Investor Alert List, a few crypto exchanges for you to consider include Gemini, CoinHako, FTX and Coinbase. You can find a more detailed breakdown of each of these exchanges here.
Another platform that has recently gained traction is Luno. Not only is it extremely user-friendly and highly secure, but they also offer one of the lowest fees on the market. For more details, head over to their website.
#2 Buy from Peer-To-Peer (P2P) exchanges
Instead of buying it off the crypto market, you can instead buy Bitcoin from someone else. Hence the term, peer-to-peer.
P2P crypto transactions can be done on crypto exchanges such as Binance and Huobi. On these P2P platforms, you can post an offer to sell a specific amount of crypto at a specific price. It would also need to include information like the mode of payment. Once the payment for the crypto has been made, the seller will release the crypto you purchased to you.
#3 Bitcoin derivatives
If you're hoping to gain exposure to Bitcoin with your brokerage account, it isn't entirely impossible. You can invest in cryptocurrency-related derivatives, such as futures, contracts for difference (CFDs) and options.
For example, if you frequently trade stock CFDs, you can also check your brokerage to see if you can trade Bitcoin CFDs.This allows you to tap on the growth and volatility of Bitcoin trading, without actually holding the coin itself.
However, do keep in mind that trading derivatives does come with its own set of risks as these are leveraged products and not all brokerages offer these derivatives.
#4 Bitcoin ATM machines
Just like a bank ATM machine, you can find a Bitcoin ATM machine in Singapore to buy Bitcoin using cash. You feed your cash into the machine, in order to purchase crypto that will be sent to your digital wallet.
However, the fees for using these ATM machines are high, at S$10 plus an additional 4.5% transaction fee. There are also minimum and maximum transaction limits imposed. While buying and selling Bitcoin on these ATMs shouldn't be a problem, do keep in mind that there are few altcoins available (if any at all) via the ATM.
Places where you can find this ATM machine include Funan Mall, Plaza Singapura, Paya Lebar Quarter, The Arcade and more.
You can refer to this handy list of bitcoin ATM machines here.
#5 Buy stocks that have exposure to Bitcoin
If you're risk averse and don't know how to start investing in crypto, you can stick to what you know and invest in stocks that have exposure to the cryptocurrency space, or own Bitcoin directly.
One great example of such a stock is Coinbase, a cryptocurrency exchange that was listed on the Nasdaq in April this year. The price of Coinbase stocks opened at US$381. However, it has since fallen to trade around US$241 per share, at this time of writing.
Alternatively, you can also invest in the likes of Silvergate Capital, MicroStrategy, Riot Blockchain, PayPal, Square, Tesla and more — all of which have some degree of exposure to cryptocurrencies.
If you're looking for a diversified cryptocurrency fund to invest in, do keep an eye out for potential crypto ETFs that look to be introduced in time to come.
---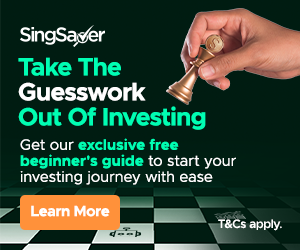 Start managing and saving money like a pro with SingSaver's weekly financial roundups! We dole out easy-to-follow money-saving tips, the latest financial trends and the hottest promotions every week, right into your inbox. This is one mailer you don't want to miss.
Sign up today to receive our exclusive free investing guide for beginners!
---
Read these next:
A Keen Investor's Guide To Cryptocurrency (2021)
How Bitcoin Works: Singapore Edition
7 Best Cryptocurrency Exchanges To Use In Singapore
A Guide To Meme Coins And Whether They Are Worth The Risk
Non-Fungible Tokens (NFT): What They Are And How People Are Making Money Off Them