Looking for a personal loan as a low income earner? Here are four personal loans with low annual income requirements, offered by leading reputable banks in Singapore.
Personal loans are a convenient and flexible tool for meeting financial needs. They can be used for urgent or unanticipated events, to pay for furthering your skills and education, or to pay for home appliances or personal devices to improve your quality of life.
However, personal loans come with strict eligibility criteria. Most notably, they require an applicant to have a certain level of annual income. This threshold is even higher if you're a foreigner.
As a result, those of us who do not have a high enough income can find it difficult to find the personal loan we need or want.
Why do personal loans in Singapore come with annual income thresholds?
Well, that's because personal loans are unsecured. In other words, you do not pledge an asset as collateral on your loan.
Without a collateral, the lender has no recourse (other than bringing a lawsuit against you) should you choose not to repay your loan.
Hence, to protect themselves from this situation, banks or financial institutions offering unsecured loans have to screen applicants to gauge their ability to repay their debt.
One of the ways they do this is by requiring that loan applicants earn an annual income that is high enough to accommodate the debt repayment.
In Singapore, this annual income requirement is typically pegged at S$30,000 for citizens. If you're a foreigner, you'll be subject to higher income requirements — sometimes as high as S$60,000 per annum.
---
See also: Your Go-to Personal Loans Guide in Singapore
---
Personal loan options for low income earners
Of course, not everyone has an income that fulfils these thresholds. But that doesn't mean that you won't be able to get a personal loan in Singapore.
You simply have to look for a personal loan that has a lower annual income requirement, and there are quite a few of such options available.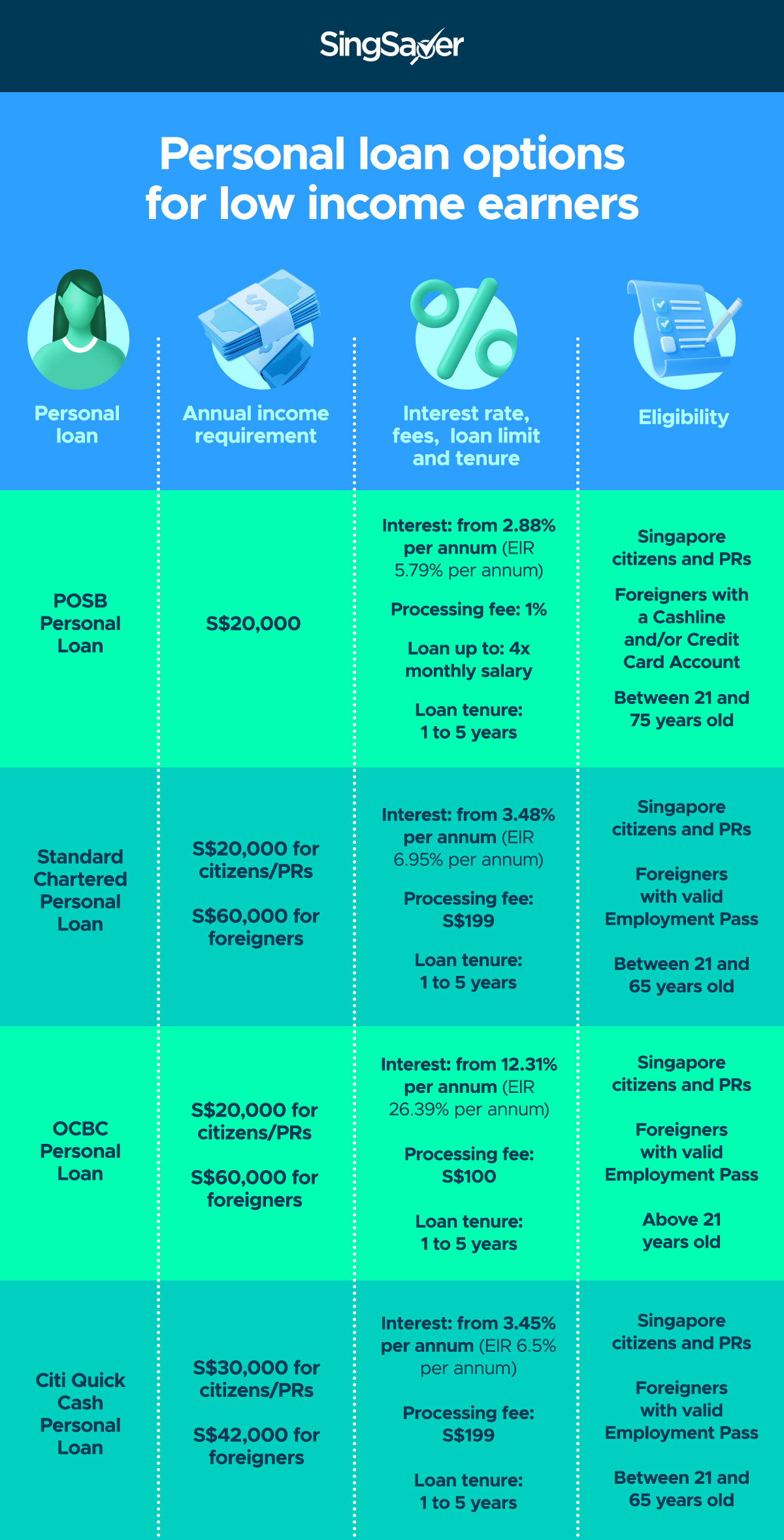 POSB Personal Loan
The POSB Personal Loan has one of the friendliest eligibility requirements around.
It is open to anyone earning at least S$20,000 per annum, and Singaporeans, PRs and foreigners are welcome to apply — although the latter would need to have a Cashline and/or Credit Card account with the bank.
The eligible age for applicants also spans a wide range, from 21 up to 75.
This loan offers low interest rates starting from 2.88% per annum (EIR 5.79% per annum), and can be repaid over as long as five years.
You may borrow up to four times your monthly salary or income.
Standard Chartered Personal Loan
Standard Chartered is another good option for personal loans for those with a lower income; the minimum annual income required is pegged at S$20,000.
However, only Singaporeans and PRs qualify for this threshold, foreigners will need to be earning S$60,000 or more per year in order to apply.
For those who qualify, this loan offers affordable interest rates starting at 3.48% per annum (EIR 6.95% per annum).
There is a fixed one-time processing fee of S$199, but this can be partially or fully offset with the current cashback promotion.
Borrow at least S$10,000 with a loan tenure of three, four, or five years, and you will receive S$200 cashback if you're a new client, and S$100 if you are an existing customer.
Standard Chartered Cashone Personal Loan Welcome Gift: Get up to S$620 Cash via PayNow when you apply for a min. loan of S$10,000 with a tenure of 3 to 5 years. Valid till 31 May 2023. T&Cs apply.
Also enjoy up to S$3,100 cashback when you apply for loan with a loan tenure of 3-5 years. Valid till 31 May 2023. T&Cs apply.
OCBC Extracash Loan
A third option for those with annual incomes below the S$30,000 threshold is OCBC's Extracash Loan.
This loan requires a minimum of S$20,000 in annual income if you're a Singaporean or PR. Foreigners, too, may find this loan easier to qualify for, as the income threshold here is S$45,000 for expats.
One drawback, though, is the high interest rates charged on this loan — from 12.31% per annum (EIR 26.39% per annum). So if possible, it might be best to wait for a promotion where you can get lower rates.
Other things to note here is the one-time processing fee of S$100, as well as the loan tenure of one to five years.
Citi Quick Cash Personal Loan
Citi's Quick Cash Personal Loan has a slightly higher minimum annual income requirement for Singaporeans and PRs — you'll need to earn at least S$30,000 to apply.
However, for foreigners, the income threshold is a moderate S$42,000, which puts this loan within easier reach for working expats here seeking a loan.
Another advantage of this loan is its low interest rates, which start from 3.45% per annum (EIR 6.5% per annum). You may borrow up to four times your monthly salary, subject to a minimum loan amount of S$1,000.
Available tenures for this loan range from one to five years.
Things to note when applying for a personal loan
Watch your TDSR
If you plan to take out a housing loan somewhere down the line, be sure to watch your Total Debt Servicing Ratio (TDSR).
This is a measurement of your total debt payments each month — including personal loans and mortgages — which is capped at 55%.
Now, TDSR kicks in when you're applying for a mortgage. Hence, if your personal loan repayments take up most or all of the 55% limit, you may have to make do with a smaller-than-expected property loan, or wait till you pay off your personal loan to get your mortgage.
Advertised interest rates may not be the rate you get
When looking for a personal loan, be aware that you may not be granted the advertised interest rate. This could be due to many reasons, such as credit rating, outstanding debt, income profile and so on.
This means you may be charged a higher-than-expected interest on your loan, which will result in heavier instalment payments each month.
You will be informed of the interest rate offered to you, as well as the monthly amount you'll need to repay during the application process. Be sure to check thoroughly that these are acceptable before you proceed.
Remember to check the Effective Interest Rate too
You will notice that there are two sets of rates displayed — the Advertised or Flat Interest Rate, and the Effective Interest Rate (EIR) — when reviewing personal loans.
How EIR is calculated can vary from bank to bank, but it essentially takes into account the effect of fees and other charges associated with your personal loan.
Take a look at the following example.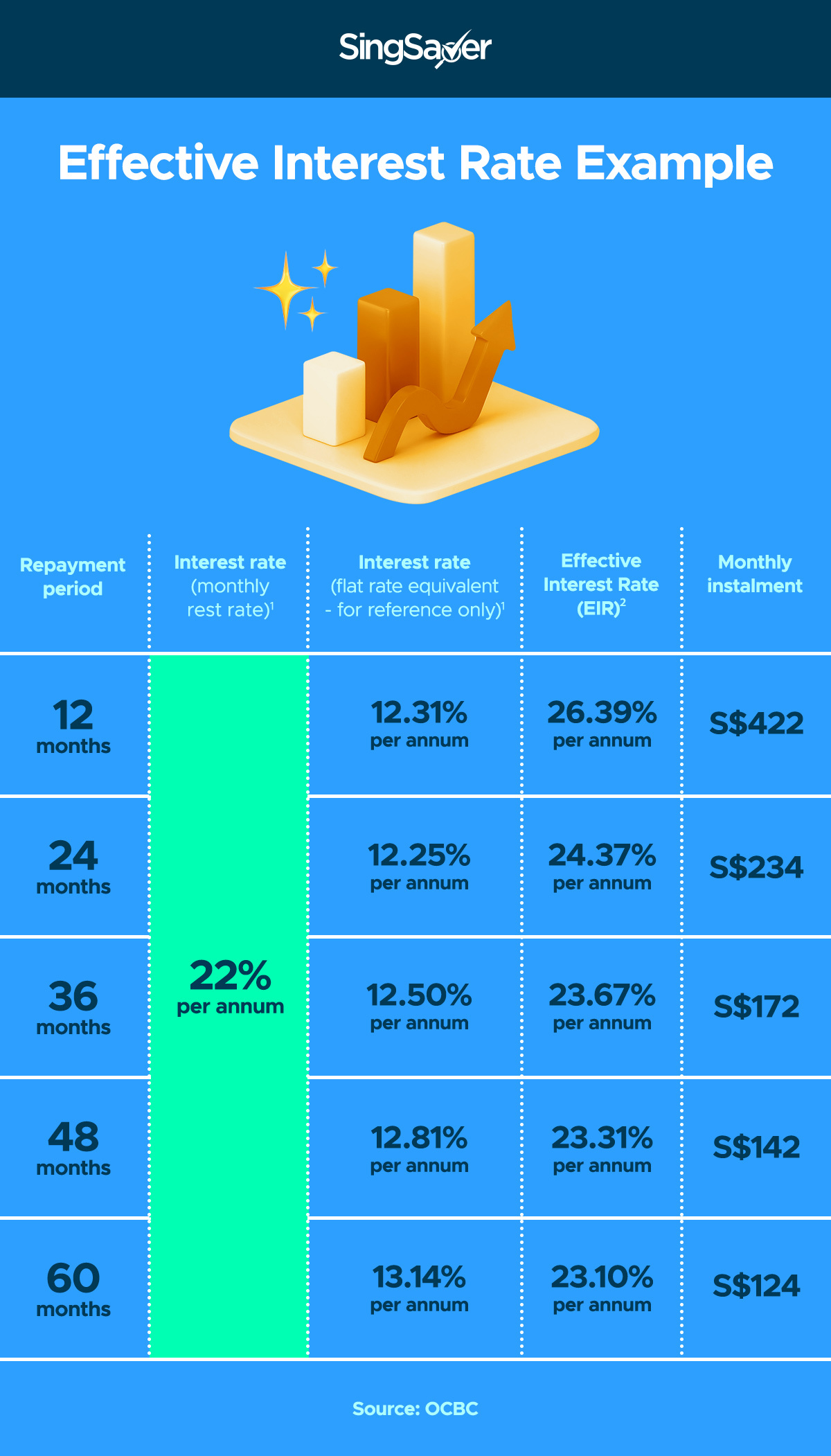 As you can see, the interest rate in the middle column (Interest rate, flat rate equivalent) seems to say that a 12-month loan is the cheapest (i.e., has the lowest borrowing cost).
However, when you take a look at the next column, Effective Interest Rate, you see that it is actually the 60-month loan tenure that is the cheapest instead.
Hence, be sure to check the EIR as well, so as to bring your borrowing cost as low as possible. One good question to ask during the application process is, "Which tenure will give me the cheapest loan?"
Read these next:
Understanding Personal Loans: Why And When Should You Use It?
4 Times In Life You Should Consider Getting a Personal Loan
Best Personal Loans To Ease Your Cash Flow In Singapore (2022)
Four Types of Personal Loans: What You Need to Know
What's the Average Personal Loan Interest Rate in Singapore?