Money is a funny thing. It can buy you a ticket to space and it can lose you hard-earned dollars if you aren't careful. But if you are unsure about handling it all (earning is hard enough work, we know), you might just be ready for priority banking.
First, a pat on your back is in order. You have made enough money to enter the hallowed world of priority banking. You are likely to book yourself private dinners on weeknights and golf day-out on weekends. You want more money (who doesn't?) but you don't want the hassle of managing it. This is where priority banking figures.
Along with perks that you are entitled to, you are eligible for the services of a relationship manager at banks that have been eyeing you all this while you were minting cash. No one knows better than you that nothing in the world comes for free.
So, you will be charged for the services — usually a fee equivalent to a percentage of the total value of your portfolio, which they manage on your behalf.
But how do you really know you are ready to make that call to your bank without embarrassing yourself with a 'better luck next time' response? We take a look at the 'show don't tell' signs that you're Bling Empire-level rich.
P.S. This satire is supposed to be read with a pinch of salt.
#1 You can buy a ticket to space (or, fund some such ludicrously exorbitant fantasy)
Jeff Bezos, apparently, spent US$5.5 billion to feel weightless in the lowest rung of suborbital space for a total of four minutes. That's about US$1.38 billion per minute. Now, the undeniable fact is that he is the world's richest man who funds his space company, Blue Origin, to jet off to space just like that.
But, if you're finding yourself at the cusp of doing something similar, you're probably a Bezos-worshipper or a 40-under-40 in the making. Congratulations, if you're onto something big. You have officially earned the right to the services of a relationship manager.
#2 You can sponsor a BTS show
Imagine the outpouring of love and fame you will likely receive. But, more importantly, imagine the dent a BTS tour will create in your stocked-up bank account. Oh, right, it doesn't really matter. You would do it for the love of music and the legacy of K-pop.
If you are actually thinking about scheduling a call with only the biggest pop music phenomenon of our times, you are it. It makes sense that you would want to invest in this boy band who might have reportedly earned US$80,000 an hour on YouTube recently.
Banks will line up relationship managers for you to have you in on the craziest perks for a valued customer like you.
#3 You can afford first class tickets to anywhere (on pre- and post-pandemic flights fares)
You fly first class or you don't. You're probably itching to invest in a private jet of your own in the near future. Getting to VVIP events comes at a price tag, after all. And priority banking could get you in on those while getting you there on time — what with immigration fast passes, complimentary hotel stays, hotel credits and more.
It's time you got treated like the VVIP that you are (and, shockingly, weren't aware).
#4 You can buy beach houses on your holidays
You take a fancy to the luxury private island property while you're on vacation and you decide that it should be your next holiday home. So, you make an enquiry and offer to buy it. But do you really want to do the deal yourself?
We didn't think so. You're definitely ready for a wealth manager who could swoop right in to make this happen for you without you having to break a sweat.
#5 You can order S$200 worth of feline caviar on a whim
Being a cat can be hard work. Of course they need TLC, regal treatment with a regal menu to boot. So, what's a few hundred dollars when it comes to earning love from the most important creature in your life?
If you're ordering caviar for your cat (cats?) on the daily, you are so ready for priority banking.
Now, you can laugh it all off all you want, but being wealthy often means putting your best foot forward, being at the right place at the right time, growing your wealth every day. A priority banking member can take his/her wealth to the next level with the support of a dedicated relationship manager.
Imagine having your cake and eating it too, comfortably and guilt-free.
So, once you have reached about a quarter of a million dollars, it's time to think about signing up for a priority banking account and let it take the lead on your wealth accumulation journey.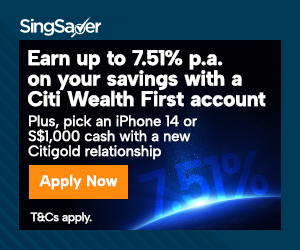 SingSaver Exclusive Offer: Get an Apple iPhone 14 128GB (worth $1,311.10) or a Bowers & Wilkins Px8 McLaren Edition ANC Headphones (worth S$1,299) or S$1,000 Cash when you apply for Citigold and deposit a min. of S$250,000 in fresh funds by 31 July 2023. Valid till 2 July 2023. T&Cs apply.
Enjoy up to 7.51% p.a. interest on your savings when you open a Citi Wealth First account. T&Cs apply.
In addition, receive S$300 cash when you hold a valid Primary Citibank Credit Card + S$500 cash when you apply for a Citibank Mortgage loan with min. loan size of S$800,000 within 3 months of account opening. Valid till 30 June 2023. T&Cs apply.
Also, receive up to S$74,000 cash upon fulfilling Citigold's Investment and Insurance promotion criteria. Valid till 30 June 2023. T&Cs apply.
Read more:
7 Subtle Flexes That Show You're Really Wealthy In Singapore
Being Rich vs. Being Wealthy: What's The Difference?
How To Calculate Your Net Worth In Singapore
6 Things Your Priority Banking Relationship Manager Can Do for You
6 Best perks You Enjoy As A Private Banking Client