I used to trade crypto via Binance, until the Singapore government banned the platform in 2021.
I shifted to FTX, because it was also known to be one of the world's top crypto exchange platforms.
While I could've traded on other platforms as well, they didn't have the coins I wanted and their trading fees were higher compared to FTX.
Had a bad feeling, but ignored it
The moment I ventured into FTX, I mysteriously had a nagging feeling that I was probably going lose this cash.
On FTX, I traded Optimism (OP), Bitcoin (BTC), Ethereum (ETH), Cardano (ADA) and more.
However, the worst was Shiba Inu (SHIB). That was a true gamble. But that's another story for another day.
Luckily, I didn't buy and hold FTT, FTX's token.
I only did scalp trading with crypto, so I cashed out (albeit in my FTX wallet) once my coins increased by 5% to 10%.
I didn't want to be too greedy, as crypto can be very unstable.
As my main job requires me to work irregular hours (and I can't use my phone), I did not dare to trade as much because I can't immediately sell my coins if anything goes wrong.
All was going well with the scalping, and I thought that as long as I knew when to cut my losses, I should be safe. I was profiting quite a bit… until FTX crashed.
When it all went down
When I first heard the news that FTX was on the verge of crashing, my initial thoughts were "well, s***".
I panicked, and immediately tried to withdraw my cash.
The group chat with my friends — some with five figure investments — who used FTX as well was buzzing; no one was able to withdraw their money.
Only have ourselves to blame
As crypto investors, we were very aware of the risks from the beginning. As of right now, we have no choice but to just suck it up.
Yes, the entire ordeal might've hurt, but I'm glad it was only 20% — others (if you search up anecdotes on Reddit) have it worse.
If I were to put it bluntly, trading crypto is like having a casino on your phone/laptop. The nature of crypto and these platforms are really volatile.
The moral of the story? Don't put all your eggs in one basket. And maybe also listen to your gut feeling.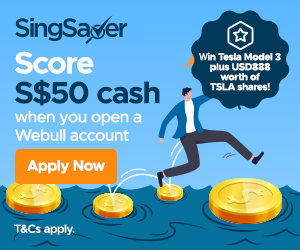 SingSaver Exclusive Promotion: Score $50 cash reward when you open a Webull account and fund a minimum of $100 within the campaign period. Valid till 2 July 2023. T&Cs apply.

Also, receive up to 40 free shares, a chance to win a Tesla Model 3 and 0-commission trading for US Stocks and ETFs when you fund and maintain S$100 in your Webull account for 30 days. T&Cs apply.
💡 Pro-tip: Complement your income channels with a diverse and robust investment portfolio.
As told to Kendra Tan.
Read these next:
5 Habits of Super Frugal People You Should Follow If You Want To Save Money
Money Confessions: I Bought More Than S$700,000 In Critical Illness Coverage While In My 30s—Here's Why
Money Confessions: The Best Of Dads' Money Hacks Since The 1970s (and Dad Jokes)
I Am An Artist/e — Here's How I Make Money From The Arts: Chen Yixi
I Was Retrenched At 26 Years Old And I Have No Savings