Make your shopping sprees even more enjoyable with these Qoo10 credit card promotions.
You can find many good deals on Qoo10, especially if you know how to ferret them out. From cheap buys straight from China, to fix-it-yourself furniture, to discounted Korean facial products, the massive online marketplace can be a fun digital playground to indulge your inner bargain hunter.
Make your shopping sprees even better by combining these Qoo10 promotions with your bargain-hunting skills to wring out every last bit of value from your purchases.
Last updated on 19 December 2022. Qoo10 promo codes and coupons are subject to change without prior notice.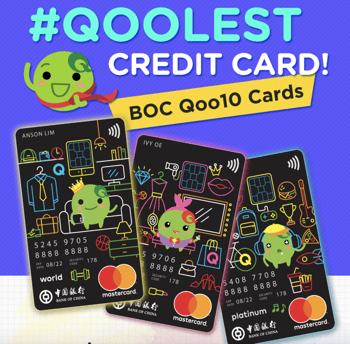 Qoo10 promotions and promo codes for Bank Of China credit card: Get up to 15% cashback
Bank of China (BOC) has its very own credit card with Qoo10. With the Qoo10 BOC credit card, you can earn yourself rebates with your online spend on Qoo10.
With the Qoo10 BOC credit card, card holders can get up to 15% Cashback. Get up to 15% rebate for public transport rides (SBS/SMRT buses & MRT), up to 10% rebate for all Qoo10 purchases and up to 3% rebate for other spends.
Besides the Cashback, new cardholders will also get a S$100 Qoo10 Coupon Pack upon card approval when you sign up for a Qoo10 BOC Credit card with the promo code "MBQ10". This is promotion is applicable for new Qoo10 BOC credit card sign up only.
Other Qoo10 promotions
There are no other Qoo10 promotions at the moment.
Qoo10 hacks
Besides credit card promotions on Qoo10, here are a few other ways to save money on your Qoo10 purchases.
Coupons: There are 2 types of coupons, one which you can apply on the Q-price and one which you can apply on your final cart (cart coupon). These coupons can shave a few dollars off your final purchase amount. However, not all coupons can be used for all purchases as restrictions apply, such as not being applicable on sale or discounted items, or during special events.
Today's sale: Ongoing sales that are offering discounted prices only at that specific time period.
Time sale: Limited-time promotional discounts.
Daily deal: Deals of the day.
MameGo Roulette Chance: A chance to earn yourself a prize everyday. Spin the roulette wheel to earn yourself cart coupons, Qpoints, Q*coins or Mameballs.
Group buy: Your purchase gets a discount because you are essentially buying in a group (almost like a bulk purchase).
Qpoints: Can be used for more discounts on your purchase. You can earn Qpoints by spinning the roulette or from leaving reviews of your purchases.
Lastly, some shops offer the option to collect the purchase yourself. This can save you from paying the delivery fee, a good option to consider especially if you stay near the shop selling the product.
Read these next:
Phase 2 Post-Circuit Breaker: What Reopens And What's Allowed
7 A La Carte Buffets To Enjoy During Phase 2
Food Delivery Promo Codes: GrabFood, Deliveroo, Foodpanda, WhyQ
The Best Shopping Credit Cards In Singapore
RedMart Promo Codes And Vouchers
Best Citibank Credit Cards in Singapore 2023
Best OCBC Credit Cards in Singapore 2023
Best CIMB Credit Cards in Singapore 2023
Best Standard Chartered Credit Cards in Singapore 2023
Best OCBC Credit Cards in Singapore 2023
Best UOB Credit Cards in Singapore 2023