If there's anything cheaper or on par with Taobao, it's AliExpress. Items on the e-commerce platform may already be super affordable, but that doesn't mean you can't save more. Get your items at an even cheaper rate with these hacks!
If you're a small business owner or you're into dropshipping, then you would've most definitely heard of AliExpress.
AliExpress is one of China's online marketplaces that sells everything and anything you could possibly ever need or want. When we say everything, we mean it — from clothing and fashion, to jewellery and accessories, mobile phones, electronics and more.
If you're looking for ways to spruce up your home or your work from home setup, they also have household essentials such as decorations, houseware and even large furniture pieces like sofas, cabinets and beds.
At. Very. Attractive. Prices.
By cheap, we mean really cheap. For example, you can get these super cute joggers and trendy pop fidget toys for only one cent. What?
Items on AliExpress may already be pretty affordable, but who doesn't like to save more? Here's a list of AliExpress promo codes, coupons, vouchers and other money-saving hacks that you can make use of for your next purchase.
Psst! Charge your AliExpress order to the right card to earn air miles, reward points or cashback that can be used on your next online shopping spree. Apply for one with us today and you could be rewarded with cash and attractive prizes!*
*Rewards may change at any time. Terms and conditions apply.
Last updated on 1 January 2022. AliExpress promo codes, promotions and other offers are subject to change without prior notice.
AliExpress promo codes, coupons and vouchers (2022)
Coupon 1: New user coupons (Pay only S$0.01 for selected products on your first purchase)
How to get: Automatically credited into your account when you first sign up
Additional remarks: For new users only
Expiry date: ongoing
Believe us, we've dug and scoured the entire internet for AliExpress promo codes in Singapore, but they're mostly duds. Only the voucher above is legit, and you just need to sign up for an account to receive it.
AliExpress may only offer this coupon for new users, but there are tonnes of coupons you can grab at different stores for future purchases.
AliExpress store coupons
AliExpress works similarly to Shopee, where you can collect coupons from the respective stores to apply for further discounts. If we were to list all the vouchers from every single store, we would never finish writing this article.
But in case you're wondering, here's a preview of the types of coupons you can get on AliExpress: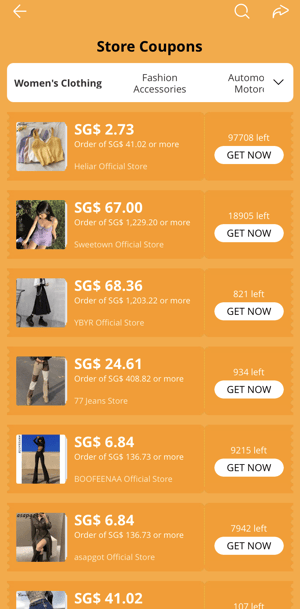 New AliExpress users get the best deals
First-time users will not only get the coupon mentioned above, but also a gift at S$0.01. The gifts are updated frequently, and you can cop pretty good deals such as infant clothing sets, earrings, tank tops, beanies and more.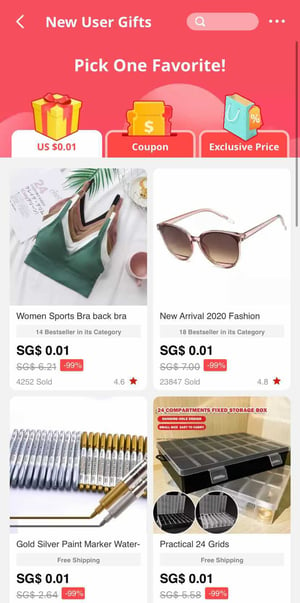 AliExpress delivery costs and methods
Delivery costs and methods vary depending on your seller, so you'll need to check in with the shop when you place your order.
However, do note that AliExpress is notorious for their long delivery times — we're talking at least one to two months. But that's what you get when you want to save money — the slowest shipping method (some of which might not even have tracking too). We recommend that you use AliExpress only when you're not in a hurry to receive your item.
Whether or not you can pay extra to get your items faster via express delivery is also up to the seller. Some of them don't even give you the option to do so.
Often, customers have to place their order, wait, hope and pray that their items make it to Singapore safely.
Hacks to save on your AliExpress orders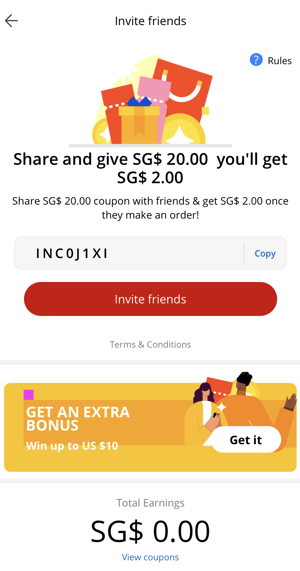 Invite new users and get coupons
Sharing is caring in this camp. When you invite your friends to sign up for AliExpress using your referral link, your friend can get a S$20 coupon while you get a S$2 coupon after they make their first purchase.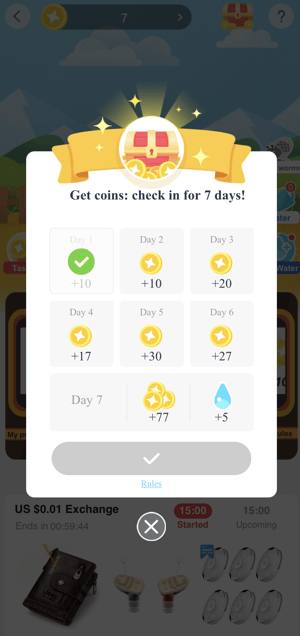 Check in daily for coins
You can use those coins to offset your purchases or exchange for in-app game tokens for you to stand a chance to win even more coins. Since seven coins amount to S$0.19, we'd say that checking in every day is pretty worth it.
Look out for flash sales
Visit the flash sale section to find bargain deals that are only available for 48 hours. You can also see upcoming flash deals ahead of time by clicking on the "Upcoming" tab near the top of the page. See anything that you'd like to buy in advance? Just set an alarm to remind yourself.
Check out Super Value Deals
This section is filled with products with discounts of up to 90%. Depending on the store, you can enjoy more savings by stacking available coupons on top of the discounted prices.
Subscribe to their newsletter
Subscribing to the AliExpress newsletter is a great way to stay updated and receive exclusive deals and coupons.
Purchase through Shopback and charge your AliExpress order to the right card
Make sure you checkout through ShopBack to enjoy cashback!
Ongoing Shopback promos:
Additional 5% Cashback (capped at S$5) for UOB Credit Cardholders every Monday, Wednesday and Mega Days. Deal is ongoing.
Do note that only the promo codes listed on ShopBack are eligible for cashback, so you should only use those when making your purchase. These deals are also not valid for purchase of face masks and medical consumables.
Charging your order to the right card can earn you up to 10% in cashback, so choose your card wisely!
Read these next:
Latest iHerb Promo Codes In Singapore
Latest Foodpanda Promo Codes In Singapore
Shopee Promo Codes And Credit Card Discounts
Latest GrabFood Promo Codes
10 Telegram Channels Every Singaporean Millennial Must Follow