The Aspire Visa Corporate Card is a digital-only Visa debit card that offers freelancers, start-ups, and SMEs an agile business management expense solution, along with some useful perks.
It mainly competes on being a low-cost (in many cases, cost-free) and convenient payment solution for businesses, while also taking advantage of its digital status for increased flexibility.
Is the Aspire Card right for you and your business? Read on to find out.
What the Aspire Visa Corporate Card can do for you
The primary advantage of the Aspire Card is its low fees, and ability to cover most basic business expense management needs.
For a start, foreign currency fees charged to the card are calculated according to daily Visa FX rates, plus 0.7% FX fees, making it one of the lowest FX fees in the market.
This card also has no annual fee, no interest charges, no fall below fees and no minimum monthly fees. Granted, this is because the Aspire Card is a debit card, and not a credit card. Correspondingly, there is no credit limit.
But just because it's a debit card doesn't mean it won't be able to serve your needs. In fact, as a eVisa Debit Card, the Aspire Card offers greater flexibility and convenience.
For starters, you can set different budgets for different expenditures, control who has access, and easily make contactless or mobile payments.
As a digital card, it also comes with an app via which provides updated expense reports and transaction notifications.
Expenses made with the Aspire Card can also be captured hourly, thanks to the app's integration with Xero accounting software. This preserves important accounting information that will prove to be a boon for you and your accountant when it comes time to file your taxes.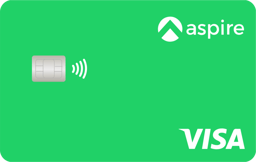 | | |
| --- | --- |
| Pros | Cons |
| 1% cashback on digital marketing and SaaS spends | No credit limit (it's a debit card) |
| Low-cost, vet flexible business expense solution | No physical card available |
| Low foreign transaction fees | Must be director or appointed representative of a business to apply |
| Virtual card allows greater flexibility in usage, including setting different budgets, controlling different access levels, and contactless & mobile payments | |
| Integrated with Xero accounting software for easier accounting statements and updated records | |
| At-a-glance expense reports via Aspire app | |
| Funds held in trust at third-party bank | |
Why should you choose the Aspire Visa Corporate Card?
#1: eVisa Debit Card offers flexible business expense solutions
The Aspire Card is available as a eVisa card, allowing you to set different budgets for different expenses, control who has access, and pay easily via mobile.
This makes it far more convenient for appointed employees or partners to make the necessary business spends, compared to having only one physical card with a universal balance shared by all.
#2: Low-cost solution
Unlike some traditional corporate cards, the Aspire Card comes with zero annual fees. There also isn't any fall-below fee, so you don't have to worry about reserving a certain amount in your account.
There are also no fees charged for local payments, while any transactions in a foreign currency is charged at the daily FX rate form Visa, plus 0.7%. That's among the lowest rates you can find for foreign currency transactions.
#3: Earn 1% cashback on selected expenses
On top of providing access to the Visa payment network, the Aspire Card also allows you to earn 1% cashback when you spend on certain business-critical transactions.
At present, you can earn cashback for digital marketing spends, such as Facebook and Google Ads. You can also earn cashback on SaaS transactions, such as for Hubspot, Amazon Web Services, Mailchimp, Salesforce and more.
1% cashback may not sound like much, but it can quickly stack up by the end of the quarter!
#4: Integrated with Xero accounting
One of the biggest headaches for many entrepreneurs is accounts-keeping, which is critical when tax season rolls around.
Aspire Card is automatically integrated with Xero accounting software which automatically tracks your business expenses and other work-related transactions. This makes it easier for you or your accountant to download reports and get updated information on the state of your finances.
#5: Funds held in trust
Any funds tied to your Aspire Card are held separately in trust with a Tier-1 bank, safeguarded according to guidelines in MAS' Payment Services Act. This ensures that Aspire or other bad actors do not have access to your business funds.
Who is the Aspire Visa Corporate Card best for?
Freelancers, entrepreneurs and SME owners seeking an agile, low-cost solution to manage business expenses, cross-border collections and more. Do keep in mind that your firm must be locally incorporated in order to qualify for this card.
What charges or fees should you look out for?
Card fees
Card annual fee: $0
SGD payments: No fees
FX payments: Daily FX rate from Visa + 0.7% FX charge
Transfer fees
No fees on local transfers
No fees on inbound TransferWise FX transfers
Low, transparent fee on outbound TransferWise FX transfers
Account fees
No fees for account
Minimum payment: None
Late payment: None
Interest on purchases: None
Eligibility criteria
This is a corporate card, so you'll need to have a Singapore-registered business before you can apply, as aforementioned.
If you do not have a registered business or if your entity is registered overseas, Aspire offers you the services of a partner company to help you with registration, after which you can then apply for your Aspire Card.
How to apply?
Click on the 'Apply Now' buttons found on this page and follow the on-screen prompts.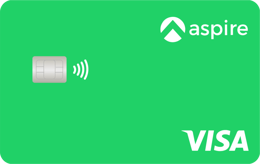 Read these next:
Best Business Credit Cards In Singapore
Compare Best Business Credit Cards in Singapore
AMEX-SIA Business Credit Card: How Does It Stack Up Against Other Corporate Cards?
Travel Insurance: Does It Cover Redemption
Top Credit Card Promotions And Deals On SingSaver