Looking to travel soon? It's no wonder the YouTrip card is on your radar. After all, those in the know would be aware of YouTrip's edge in helping you dodge annoying fees and charges associated with making payments in foreign currencies.
If you don't quite know what YouTrip and the YouTrip card have to offer just yet, don't worry. We'll share all that you need to know in this five-minute guide below.
YouTrip acts like a wallet/debit card that lets you manage multiple currencies in a single app. It offers the purchase of more than 150 currencies worldwide, with no additional fees or markup.
What is a YouTrip card?
YouTrip is a multi-currency mobile wallet available on both iOS and Android operating systems. Each YouTrip account is linked directly to a contactless YouTrip Mastercard®, which is free upon sign-up with no registration or annual card fees.
You can use your YouTrip card to make payments in more than 150 currencies with no fees and no fuss, both online and in-store.
Within the YouTrip app, you can store any of the following 10 currencies:
Singapore Dollar (SGD)
United States Dollar (USD)
Euro (EUR)
Great British Pound (GBP)
Japanese Yen (JPY)
Hong Kong Dollar (HKD)
Australian Dollar (AUD)
New Zealand Dollar (NZD)
Swiss Franc (CHF)
Swedish Krona (SEK)
Looking for an alternative card for overseas purchases? Pair your Citi Rewards Card with the Instarem AMAZE card to save on foreign currency exchange fees!
YouTrip card benefits
#1 The merchant is charged by YouTrip, not you
Unlike traditional credit card providers, YouTrip doesn't charge any transaction fees or cross-border fees. Unlike money changers, YouTrip doesn't charge a spread on your exchange rate.

How does YouTrip make money? Whenever you make a purchase with your YouTrip card, YouTrip takes a small commission of each purchase from the merchant through Mastercard.
TL;DR: YouTrip doesn't make money off you.


#2 Competitive exchange rates
YouTrip offers competitive exchange rates, period. YouTrip users will never have to contend with hidden charges and additional markups. This applies to the more than 150 currencies that YouTrip offers.
Here's an illustration of what you pay in SGD for a 500 Euro purchase abroad: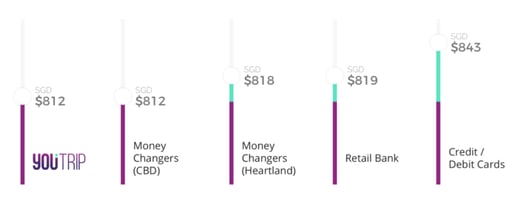 #3 Simple and convenient to use
The YouTrip app has a pretty user-friendly design. It is intuitive for anyone to use. Trust me, it will probably take you five minutes to get a hang of things. If you already use e-wallet apps like GrabPay or PayLah in Singapore, you'll like how YouTrip works.


The UOB KrisFlyer has no cap on the maximum amount of miles you can earn!
#4 Transaction search
Need to check on a particular transaction or two? YouTrip has you covered with its user-friendly transaction search feature — there's no need to deal with those tiresome scrolls.
Simply look for the magnifying glass icon at the top-right corner of your screen, beside the YouTrip logo. You can search by merchant name, location, currency code, date or amount. Easy peasy.
Also read: Ultimate Guide To Digital Multi-Currency Accounts: Revolut vs YouTrip vs Instarem vs Wise vs Wirex (2022)
Are YouTrip exchange rates good?
YouTrip offers mid-market exchange rates across more than 150 currencies globally without extra fees or markup. In layman's terms, these real-time exchange rates are pretty close to the published rates you see on Google, XE.com or other financial sites. Banks, big companies, and public and private institutions use these exchange rates for large-volume currency transactions.
In case you need more convincing, YouTrip's exchange rates are likely a whole lot more favourable than those you can get from traditional money changers peppered across the Lion City.
Is YouTrip a credit or debit card?
YouTrip is a debit card. To use YouTrip, you first need to top up money in your account. Your YouTrip wallet storage limit is capped at S$5,000 at any point in time.
While there isn't any daily spend limit, take note that your annual spend is capped at S$30,000, including overseas ATM withdrawals.
How to top up your YouTrip account?
There are two ways you can top up your YouTrip account:
PayNow (S$1 minimum)
Singapore debit or credit card (S$20 minimum)
Note that a 1.5% service fee will be charged for each top-up made using a Visa credit card!

Want to avoid the processing fee? Simply top up via PayNow, Mastercard debit or credit cards, and Visa debit cards!
Back to top
How to change money on YouTrip?
After you've topped up your YouTrip account, select the currency you want to exchange your SGD for by tapping on the exchange button on the home screen.
For instance, you can exchange SGD for EUR. YouTrip will then show you the 'live' exchange rate. If you're agreeable with the exchange rate, tap 'Next' and key in the amount you would like to exchange. You will get some EUR in your wallet, instantly.
You can even lock in and secure a preferred rate for up to 10 currencies within the app. This allows you to pay at your favourable rate the next time you use your YouTrip wallet overseas.
YouTrip transfer to bank: is it feasible?
One of the biggest disadvantages of YouTrip is the fact that YouTrip withdrawal isn't doable, despite YouTrip's function as a wallet.
Your money can go in, but not out.
This means once you have topped up money into YouTrip, the only way is for you to spend it. Alternatively, you may also choose to transfer it to someone else who wants money in their YouTrip account via YouTrip Send. This can only be done if the transfer currency is one of the 10 wallet currencies.
In the event that you'd like to close your YouTrip account, you can contact YouTrip to request for your YouTrip balance to be refunded to you. Take note YouTrip charges an administration fee of S$10 for this.
Looking for travel insurance? You can consider Singlife's travel insurance that offers coverage for rainfall and trip cancellation for any reason! Valid for selected plans only.
Where can you use YouTrip?
The short answer: Any merchant that accepts MasterCard, in-store and online.
SingSaver's Best Price Travel Campaign: All successful applicants of participating Travel Insurance products will receive 1x draw chance to enter our weekly lucky draw where 1 lucky winner will stand to have their flight ticket reimbursed (up to a maximum of $2,000). Valid till 31 July 2023. T&Cs apply.
Travel Insurance
Premium for Individual Cover
Covid-19 Coverage
Promotion
Allianz Travel Insurance





from S$34.10 (for 1 week in Asean)

Yes

Use promo code AzSSV to get a 45% discount (Exclusive to SingSaver) and up to $60 via PayNow.

Valid till 30 June 2023. T&Cs apply

MSIG Travel Easy




from S$34.10 (for 1 week in Asean)

Yes

Score an

Airalo eSIM with 1GB data

and receive it within 4 working days when you apply now! Valid till 12 June 2023.

T&Cs apply.

Enjoy 40% off your Single Trip premium and 20% off your Annual Trip premium. Plus, receive up to S$38 via PayNow when you apply.

Valid till 31 July 2023. T&Cs apply.

Etiqa (TIQ) Travel Insurance




from S$39 (for 1 week in Asean)

Yes

Single Trip:

Use promo code TIQSINGSAVER to enjoy 40% off when you apply.

Annual Trip: Use the promo code TIQSINGSAVER to enjoy a 60% discount and S$20 cashback on your COVID-19 add-on.

Valid till 18 June 2023. T&Cs apply.

Starr TraveLead Travel Insurance





from S$11.05 (for 1 week in Asean)

Yes

Use the promo code SSVTL35 to enjoy up to S$48 via PayNow, a 35% discount, plus an exclusive Agoda promo code.

Valid till 30 June 2023. T&Cs apply.

FWD Travel Insurance




from S$22.50 (for 1 week in Asean)

Yes

Score an

Airalo eSIM with 1GB data

and receive it before you travel! Valid till 2 July 2023.

T&Cs apply.

Use the promo code TRAVEL25 to get 25% off on Single Trip and Annual Trip plans.



Valid till 5 June 2023. T&Cs apply.

AIG Travel Guard® Direct




from S$30 (for 1 week in Asean)

Yes

Score an

Airalo eSIM with 1GB dat

a and receive it within 4 working days when you apply now! Valid till 16 June 2023.

T&Cs apply

.

Single Trip: Use promo code SSFLASHSALE to get 10% off and up to $50 Dairy Farm eVoucher (fulfillment by AIG).
Can you get travel insurance with YouTrip?
In tandem with YouTrip's impressive array of benefits, there's another useful perk recently added to their list. You can now apply for travel insurance with YouTrip x HL Assurance (HLAS)'s new insurance collaboration --- HL Assurance COVIDSafe Travel Protect360 Enhanced Plans.
This travel insurance scheme provides some of the most comprehensive and flexible COVID-related coverage with enhanced features including flexi-date changes, overseas hospital cash benefits, and reimbursements to travel delays, postponements and disruptions.
Under YouTrip, users will be entitled to purchase a single-trip policy via their app with up to 65% savings on the plan. Curious to know how? Here's the breakdown:
Guaranteed 15% cashback on every purchase of their single-trip policy under the Enhanced Plans
Additional 40% off the premium*
Up to 10% No Claim Discount (NCD) for customers who don't make a claim*
*Valid till 31 July 2022
Not to mention, since YouTrip operates under Mastercard, this builds upon the Mastercard Flight Delay Pass announced earlier this year. This travel benefit potentially entitles Mastercard holders (and their companions) to more than 1,000+ LoungeKey™ airport lounges globally.
Looking for an alternative card for overseas purchases? Pair your Citi Rewards Card with the Instarem AMAZE card to save on foreign currency exchange fees!
Can the YouTrip card be used in Singapore?
Absolutely. You can even use your YouTrip card as your EZ-Link card if you wish. That being said, keep in mind that you don't get to earn cashback or miles on your YouTrip transactions, in Singapore and abroad.
Does the YouTrip card come with an annual fee?
Nope. You'll never have to pay an annual fee.
YouTrip fees
YouTrip charges S$5 each time you withdraw cash at an ATM machine using your card. Apart from that, the card doesn't come with other fees and charges.
YouTrip promo
Did you know YouTrip users are automatically in for a YouTrip card promotion galore? YouTrip Perks let you slash your spendings by doling out deals and promos from your favourite local and international brands across travel, beauty, fashion, F&B, e-commerce marketplaces and more.
YouTrip users who patronise foreign brands and e-commerce marketplaces regularly will surely be pleased to stack these savings, while enjoying the benefits of avoiding foreign exchange fees and charges.
Where can you access YouTrip Perks? You can do so within the YouTrip app. Tap on the 'Perks' tab at the bottom of the homepage.
Looking for the best credit cards to complement your spending patterns and expenditure in 2023? Check out our Ultimate Credit Card Guide that covers all things credit cards in Singapore – from choosing between a cashback, miles, or rewards credit card to planning your credit card strategy.
YouTrip eligibility
Anyone 15 years and above in Singapore with a valid NRIC or FIN can apply for YouTrip.
In case you're wondering, there's no income requirement to apply for YouTrip! There are no account fall-below fees or annual card membership fees either!
How to sign-up for YouTrip?
All it takes is three minutes to sign up for a YouTrip account.
Download the YouTrip app on App Store or Google Play
Sign up with MyInfo
Wait to get verified
Receive your spanking new YouTrip card in the mail in 5-8 business days
Once you've received your YouTrip card, follow the instruction in-app to activate your account. You are now ready to start your YouTrip experience!
Should you get a YouTrip card?
There's no harm in getting one since it's free anyway. If you are looking to travel in the near future, or if you like to shop on international e-commerce websites, getting a YouTrip card isn't a bad idea at all.
Consider topping up only the amount that you need to avoid having excess funds stuck in there!
Read these next:
7 Travel Insurance Plans With COVID-19 Coverage (2022)
Top Credit Card Promotions And Deals On SingSaver
Best Credit Cards For Overseas Spending In Singapore
Mobile Wallets In Singapore: Complete 2022 Guide
What Really Happens If You Skip Credit Card Bills, Loan & BNPL Payments