If you want to get a credit card, MAS mandates that you meet at least one of three conditions:
Annual income of at least S$30,000
Total net personal assets of at least S$2M
Total net financial assets of at least S$1M
Few of us will meet meet conditions (2) or (3), but most working graduates are quite likely to satisfy condition (1). What if you don't, though? What if you're studying, or taking a significant pay cut to pursue a passion project: are credit cards out of reach for you?
Not exactly. Back in 2007, the MAS eased restrictions on credit card age and income requirements. Banks were now allowed to issue cards with a S$500 credit cap and no minimum income requirement. Soon after, Citi launched the Citi Clear, the first-ever "no income requirement" card. It didn't offer much in the way of benefits, but it meant that students could boast their first-ever credit card, even before they joined the workforce.
In the many years since, many new products have been launched for this segment, which begs the question: which is the best credit card with "no income requirement"?
Credit cards aren't for everyone
Before we begin, a word of warning. It's one thing if you're a student from a well-to-do family who sees a credit card as a convenient means of payment. It's another if you're struggling to make ends meet, and hoping to get some short-term funds through a credit card.
The latter should seriously consider whether they "need" to get a credit card, even if it only has a S$500 credit limit. Debt is not something to be taken on lightly, and a debit card may be a more appropriate option.
What 'low income' credit cards are available?
The following credit cards either have no minimum income requirement (for students) or reduced income requirements (for working adults).
Card
Eligibility
Annual Fees
Rewards
DBS LiveFresh Student Card
21-27 years old, students only
S$192.60 (waived for five years)

5% cashback on GV, McDonald's, Starbucks, Netflix, Spotify

Extra 5% cashback on selected eco-eateries, retailers & transport services

0.3% cashback elsewhere

Cashback capped at S$15 on eligible sustainable spend, S$15 on merchant spend and S$20 on all other spend each calendar month
Maybank eVibes Card
18-30 years old, students only
S$5 per quarter, waived with one transaction per quarter
1% cashback
CIMB AWSM
18-29 years old if student/NSF.
If working adult, <35 years with min income S$18,000
No fees
1% cashback on dining, entertainment, online shopping, telco bills
SCB Manhattan
18-32 years old if student

If working adult, <32 years with min income S$18,000
S$32.10 (waived for one year)
0.25% cashback
BOC F1RST Card
Above 18 for students

For working adults above 21, min income S$18,000
S$203.30 (waived for two years)
0.5% cashback, capped at $2.50 per billing cycle
Citi Clear Card
18 or older for students
S$29.96 (first year free)
1 Reward point per S$1 (0.4 mpd)
A few points to note here:
These cards are really meant for students, not working adults
You'll note the vast majority of the cards listed above require you to be a currently enrolled student, or an NSF waiting to enter a tertiary institution. There are a handful of cards that are available for working adults (SCB Manhattan, CIMB AWSM, BOC F1RST Card), but they're the exception rather than the rule.
Rewards (and benefits) aren't stellar

The main value proposition for credit cards in this segment is clearly convenience rather than rewards. The majority of cards here earn cashback, and pretty measly rates at that.
It says a lot that the best-in-class offer is 1% cashback . So scarce are the benefits that banks feel obliged to list "benefits that aren't really benefits", like the ability to track expenses online 24/7 or the possibility of using your card for public transport via SimplyGo.
The only benefits of note are that you'll at least get to enjoy the bank's generic offers: if you see a restaurant advertising 20% off for Citibank cards, for example, you'll be able to get that promotion with your Citi Clear card.
Forget about earning miles
There are hardly any miles earning cards available here, but if you're still studying, or working and earning less than S$30,000 a year, playing the miles game should be the least of your concerns.
You could earn 0.4 mpd with the Citi Clear card, but that's a pretty abysmal rate and you'd need to spend S$37,500 to earn a round-trip ticket to Bali (versus S$10,000 if you used a "proper" credit card like the BOC Elite Miles World Mastercard).
If you're really insistent on trying though, there is an alternative option I haven't mentioned above: Diners Club.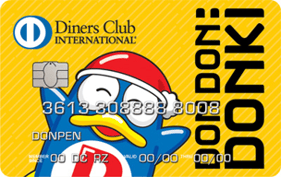 Given its almost non-existent acceptance, people tend to forget that Diners Club exists. However, Diners Club offers 10 different cobrand cards with S$500 credit limit versions. Students and working adults with at least S$16,000 annual income are eligible to apply.
These cards include:
These cards are all ostensibly cashback offerings, but Diners Club cards can double dip on cashback and Diners Club Rewards points. Points are earned based on S$1=1 point, and can be transferred to both KrisFlyer and SkyMiles (Delta Airlines' FFP).

However, the conversion rate is 4,500 points= 1,000 miles, which means the earn rate is a paltry 0.22 mpd. In other words, if you thought it'd take you a long time to earn a free ticket with the Citi Clear card, it's not much better with Diners Club.
Conclusion
It's no big surprise that the benefits and perks offered by cards in this segment are somewhat underwhelming. After all, these were never meant to replace "proper" credit cards; they merely provide the convenience of cashless payments to those who would otherwise not have it.
If you're still eyeing a "proper" credit card but don't meet the income requirement, an alternative is to consider a secured credit card instead. These basically carry the same fees and benefits as a regular credit card, but require you to put S$10,000 in a fixed deposit (which also serves as the credit limit).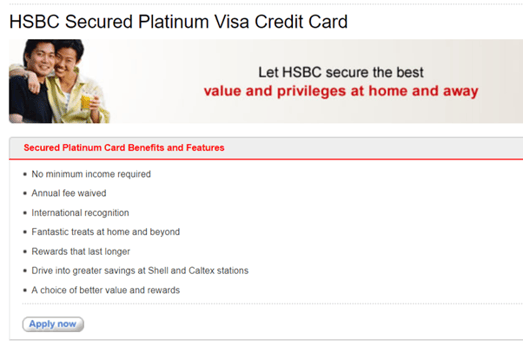 HSBC, DBS, UOB and CIMB all offer secured versions of popular credit cards like the DBS Altitude and UOB PRVI Miles.
So those are your options for getting a credit card if you earn less than S$30,000 a year. Choose wisely!
Read these next:
3 Reasons To Cancel Your Credit Card (And How To Do Just That)
6 Credit Cards That Give You Free Access to Airport Lounges
Balance Transfer: How Does It Work And Should You Get One?
6 Credit Cards You Should Use as Your EZ-Link Card
Most Popular Credit Cards In Singapore (2021)
---
---