Supplementary cards aren't just for spending; some of them pack excellent travel and dining benefits too. Here are the best options to offer your family and loved ones.
Supplementary cards are a great way of extending credit facilities to family members and loved ones who may not otherwise qualify.
In one sense, a supplementary card is like cloning your main card. The supplementary cardholder can then make online or in-person transactions in Singapore or overseas, earning additional rewards for the main cardholder, while paying a reduced or waived annual fee.
But not everything is cloned! if you as the main cardholder receive lounge benefits, for instance, those may not necessarily be extended to supplementary cardholders as well.
So which supplementary cards offer actual, concrete benefits?


Table of contents
---
---
Supplementary card basics
Before we talk about the supplementary cards with the most perks, let's do a quick rundown of some ground rules.
The first and most important thing to know is that principal cardholders are ultimately responsible for any spending made on their supplementary cards.
At the end of the month, the bank does not send a separate bill to the supplementary cardholder; instead, the principal cardholder gets one consolidated bill with all the spending made across principal and supplementary cards. This means that you should only issue a supplementary card to someone you're confident will use it responsibly!
Second, since supplementary cardholder spending is the responsibility of the principal cardholder, spending across principal and supplementary cards is combined when determining whether the minimum spend for a sign-up bonus has been met.
For example, if a sign-up bonus requires a minimum spend of S$2,000, this can be achieved by the principal cardholder spending S$1,500 and the supplementary cardholder spending S$500. If you think you'll have difficulty meeting a sign-up bonus through your own spending, a supplementary card allows you to "team up" with a second player.
Third, since supplementary cardholders are not ultimately responsible for the spending on their card, supplementary cards have no impact on their credit score. In other words, it neither helps nor harms an individual looking to apply for a principal card of their own.
Fourth, supplementary cardholders do not enjoy their own bonus caps. For example, the DBS Woman's World Card earns 4 miles per S$1 on online spending, capped at S$2,000 per calendar month. Getting a supplementary card will not double this cap; instead, the supplementary cardholder will share the bonus cap of the principal cardholder.
Fifth, holding a supplementary card, in and of itself, does not disqualify you from the various new-to-bank promotions offered by banks and SingSaver. For example, holding a supplementary Citi PremierMiles Card does not render me ineligible to enjoy new-to-bank gifts when I apply for a principal Citi card myself.
Sixth and finally, supplementary cardholders must be aged at least 18, although exceptions can be made for individuals requiring a card for overseas travel.


Click to toggle between the credit cards:
---
Supplementary cards with the best perks
For the rest of this article, we'll explore which supplementary cards offer the best perks and benefits.
As a general pointer, you may notice that all the cards below are for those who earn at least S$120,000 per annum. If you're looking for meaningful benefits, you won't find them with credit cards at the MAS-mandated minimum of S$30,000 per annum. At that level, supplementary cards at best receive the usual generic bank discounts. Unfortunately, that's just the way things are.
See also: 5 Best Metal Credit Cards in Singapore


Citi Prestige Card
Principal card cost: S$540 per annum
Supplementary card cost: All supplementary cards are free
Citi Prestige supplementary cardholders do not receive the same lounge access or 4th night free privileges as principal cardholders, but still enjoy perks by virtue of World Elite Mastercard.
This includes a complimentary GHA DISCOVERY Titanium membership, which gives access to perks such as a two-category room upgrade, early check-in, late check-out and a welcome amenity.
On top of this, they also receive a complimentary 12-month HoteLux Elite Plus membership. HoteLux is a luxury booking agent, and reservations made through this platform receive additional perks like complimentary breakfast, room upgrades, late check-out, a US$100 hotel credit and a welcome amenity, all while paying the same rate as the hotel's best flexible rate.
---
HSBC Visa Infinite Card
Principal card cost: S$656.08 per annum (S$492.56 for HSBC Premier customers)
Supplementary card cost: Up to five supplementary cards are provided free of charge
HSBC Visa Infinite supplementary cardholders enjoy a LoungeKey membership with unlimited lounge visits. This means they do not need to depend on the principal cardholder for lounge access, and can travel independently.
They also enjoy the same dining and spa benefits as the principal cardholder, namely:
Up to 50% off dining at Goodwood Park Hotel
Up to 50% off dining at Fairmont Singapore
Up to 50% off dining at Singapore Marriott Tang Plaza Hotel
Up to 50% off dining at Swissotel The Stamford
35% off all spa treatments at Willow Stream Spa Fairmont Singapore
Dining discounts are tiered based on the number of diners; to maximise your benefit, always dine as a couple!
25% off when dining alone
50% off when dining with 1 guest
33% off when dining with 2 guests
25% off when dining with 3 guests
20% off when dining with 4 or more guests
🔍 Read our full HSBC Visa Infinite Card Review here.
---
AMEX Platinum Charge Card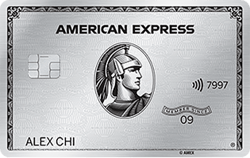 Principal card cost: S$1,728 per annum
Supplementary card cost: Up to two supplementary cards are provided free of charge
The AMEX Platinum Charge has a hefty annual fee of S$1,728, but two supplementary cards are included for free, with some of the most "full fat" benefits out there.
Supplementary cardholders receive unlimited lounge access to Priority Pass (for first supplementary cardholder only), Plaza Premium, Centurion and Delta SkyClub Lounges worldwide, inclusive of one guest.
On top of this, they also enjoy a complimentary Como C5 Membership, which comes with various discounts and privileges across the Como Group (behind Culina Market, Club21, COMO Shabhala and various dining concepts). C5 members enjoy S$260 worth of annual birthday vouchers, all of which have no minimum spend.
Hilton Honors Gold status, Marriott Bonvoy Gold Elite status, Pan Pacific DISCOVERY Platinum status & Radisson Rewards Premium status is accorded to supplementary cardholders, which means additional perks like room upgrades or complimentary breakfast, depending on the chain.
Finally, there are the usual AMEX Platinum benefits, including Love Dining (up to 50% off dining at participating hotels and restaurants) and Chillax (1-for-1 drinks at participating bars).
All things considered, this is a very comprehensive list of benefits, and well worth sharing with a loved one!
🔍 Read our full AMEX Platinum Charge Card Review here.
---
OCBC VOYAGE Card
Principal card cost: S$492.50 per annum
Supplementary card cost: S$189 (first year fee waived for the first two supp. cards)
OCBC VOYAGE Cardholders enjoy unlimited lounge access to Plaza Premium Lounges, as well as access to the VOYAGE concierge, which assists with dining reservations, travel bookings, transfer requests and personal shopping.
---
Conclusion
While the vast majority of supplementary cards do not offer any benefits beyond another way of charging spend to the main cardholder, there is a small handful which offers travel, dining and lifestyle perks.
Keep in mind that these are invariably the more premium cards where annual fees cannot be waived (for the principal cardholder at least). However, offering supplementary cards to your loved ones allows you to tap additional benefits, thereby making the annual fee more worthwhile!