Making a credit card for couples work may just be one of those new couple goals you'd like to achieve. Trust me, it's more than just a romantic gesture.
A credit card for couples sounds bizarre, or is it? Depending on how savvy you are when it comes to making credit cards work hard for you, a credit card for couples can accelerate your rewards journey by leaps and bounds.
But of course, there are tricks you can employ to make this happen. Read on to find out what a credit card for couples is exactly, the pros and cons of sharing a credit card account, our curated selection of cards suitable for couples, as well as tips on managing a shared credit card account.
What's a credit card for couples?
We don't blame you for being baffled. A credit card for couples doesn't exist per se, but you can turn a regular credit card into a couple's credit card simply by sharing the credit card account. Another way is to get a supplementary credit card for your other half. Both ways can work.
Advantages of using a credit card for couples
Snag sign-up bonus
New-to-bank customers are in for a treat as most banks dole out big money to get people to sign up for their credit cards. Before you can call the free Apple AirPods Pro, Dyson AM07 or cold hard cash yours, you're often expected to make a minimum spend of a certain amount within a specific period of time starting from the date your card's approved.
Some rewards credit cards and air miles credit cards also offer bonus rewards when you hit the stipulated spend amount, sometimes thousands of dollars, as per their T&Cs.
Earn rewards faster
The main aim of selecting a credit card that suits your spending habits and lifestyle needs is to maximise your rewards. As you use your credit card, rewards accrue.
When you share your credit card with your partner, more qualifying transactions will naturally be made, leading to quicker earning and accumulation of rewards. This is especially helpful if your credit card of choice has a fairly high monthly minimum spend requirement of say, S$800 or S$2,000 in order to earn the advertised high cashback rates.
You don't necessarily have to share your credit card in order to achieve this feat. Supplementary credit cards can work as well since the rewards earned on supplementary cards are funnelled to the primary cardmember.
Reduce annual fees
Given that the average annual fee for mainstream credit cards in Singapore is S$192.60, applying—and paying—for one primary credit card of the same type could prove to be a financially savvy move that doesn't compromise on the card benefits that you and your other half get to enjoy.
For those who would like to skip annual fee payment altogether, be sure to check out our guide to asking for credit card annual fee waivers. Psst, you may not even have to speak to a human customer service representative!
Sharing of card benefits and perks
While a supplementary credit card typically shares the same reward structure as the primary credit card, credit card issuers usually extend some or all of the same privileges and perks that primary cardmembers can enjoy to supplementary cardmembers — most commonly their spouse or children.
Disadvantages of using a credit card for couples
No increase in rewards due to caps
Depending on the credit card you hold, there could be rewards caps in place, making it impossible for you and your other half to chalk up more rewards despite a higher amount of eligible spending.
This rings true for cashback credit cards that offer high cashback on specific categories and rewards credit cards that give you 10X rewards on the first S$1,000 spent on eligible transactions each month.
The only exception to this is if you hold an air miles credit card or cashback credit card that lets you earn unlimited miles or cashback.
Can be inconvenient to track and split expenses
While earning and accumulating credit card rewards at an accelerated rate sounds really nice in theory, it can be tedious and inconvenient to track and split expenses all the time.
Supplementary credit cards may come with annual fees
In case you didn't already know, not all supplementary credit cards are free for use. It depends on the banks and the exact primary card you're holding. Some banks offer free supplementary credit cards while some are chargeable.
Best credit cards for couples
Want a versatile cashback credit card that lets you earn up to 5% cash rebate on everything you purchase and another 5% cash rebate on Shopee, Grab services, Dairy Farm Group merchants (e.g. Cold Storage, Giant, Guardian, 7-Eleven), and UOB Travel Planner transactions? Look no further than UOB One Card.
This credit card is a great choice if you intend to share the card or get a supplementary card for your significant other. UOB One's cashback is tiered: you'll earn 5% cash rebate if you spend S$2,000 per statement month for each qualifying quarter (i.e. S$300 cash rebate per quarter) and 3.33% cash rebate if you spend S$1,000 or S$500 per statement month for each qualifying quarter (i.e. S$100 and S$50 cash rebate per quarter).
As for the additional 5% cash rebate you can potentially earn on eligible transactions, the cashback is generously capped at S$100 each month.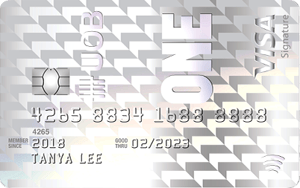 Maybank Family & Friends Card is another strong contender if you're looking to share your credit card account with your partner.
To earn 8% cashback on your five chosen bonus categories, a minimum monthly spend of S$800 is required. All other spend will earn unlimited 0.3% cashback.
Here are the eight spend categories you can select from:
Groceries
Dining & Food Delivery
Transport
Data Communication & Online TV streaming
Retail & Pets
Online Fashion
Entertainment
Pharmacy & Wellness
The maximum cashback you can earn per calendar month is capped at S$125. Each of the five bonus spend categories can earn a maximum of S$25 per month.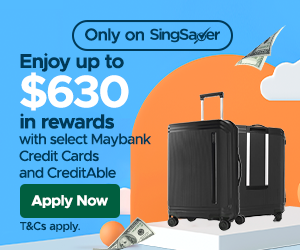 SingSaver Exclusive Offer: Receive S$80 via PayNow upon card approval. Valid till 13 October 2022. Plus, receive a Samsonite Harts 68/25 Spinner (worth S$550) when you apply for both a credit card & a CreditAble account and make a min. spend of S$300 per month for 2 consecutive months. Valid for the first 4,500 applicants. The remaining applicants will score S$100 cashback instead. T&Cs apply.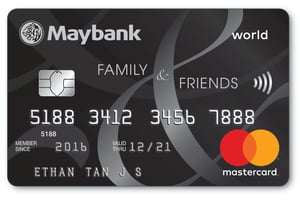 If you and your partner are gunning for Singapore Airlines award tickets, consider the UOB KrisFlyer Credit Card that lets you earn unlimited 3 KrisFlyer miles per S$1 spent on dining, food delivery, online shopping, travel, transport and SIA-related purchases, unlimited 1.2 KrisFlyer miles per S$1 on all other spends.
To ensure you earn 3mpd on eligible dining, food delivery, online shopping and travel, and transport spend, simply make a minimum S$500 annual spend on KrisShop and Singapore Airlines Group. If your card membership year is ending April 2021 and August 2022 (both months inclusive), you will earn the accelerated miles on such transactions when you make a minimum S$300 annual spend on KrisShop and Singapore Airlines Group.
The only thing you need to be aware of for this credit card is its strange bonus miles crediting policy: all bonus miles earned will only be awarded within two months after your card membership year.
The odd bonus miles crediting policy may or may not be a deal breaker for you, depending on how you look at it. My partner and I use this credit card pretty often as it helps us accrue KrisFlyer miles at a comparatively more generous rate. As it stands, most air miles credit cards don't even offer close to 3mpd; many offer the standard 1.2mpd or 1.3mpd on local spend and 2mpd on foreign currency spend.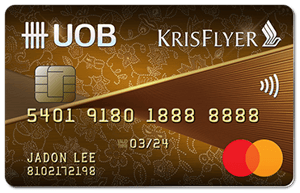 Do you and your partner mostly spend on online and/or contactless purchases? If so, definitely consider the HSBC Revolution Credit Card.
This rewards credit card is straightforward and rewarding altogether — it lets you earn 10X rewards points (4 air miles or 2.5% cashback per S$1) on online purchases and contactless payments. All other spending will be eligible for 1X reward point for every S$1 spent.
The best part? No minimum spend is necessary to start chalking up 10X rewards points on the first S$1,000 spent on such transactions per calendar month! Plus, there's no annual fee you need to deal with for as long as you have this card in your arsenal.
The free ENTERTAINER with HSBC access is the cherry on top that deserves some spotlight for it lets you enjoy a plethora of 1-for-1 dining, lifestyle and hotel deals at no extra cost.
Welcome Gift: Score a Samsonite Prestige 69Ccm Spinner Exp (worth S$670) or up to S$200 cashback when you apply and make a min. spend of S$500. Valid till 31 December 2022. T&Cs apply.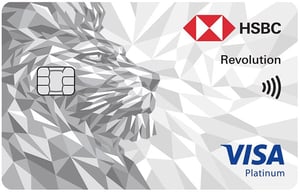 Learnings from my experience sharing credit cards with my other half
My fiance and I have been chasing miles on my credit cards for years. To make this work, we rely a lot on the mobile app Splitwise to record whatever he's spent as well as the expenses we share.
There's no need to set due dates for him as he would automatically transfer the funds to my bank account whenever his 'debt' is close to S$1,000. He feels uncomfortable seeing the amount rise *nervous chuckle*.
Back to the experience — it's great because we're very transparent with each other. Having been with each other for over 12 years, the trust is there and we're aware of each other's spending habits.
The takeaway? Sharing credit cards may or may not work for you because so many factors are in place. But of course, you'll need lots of trust and discipline to make this work.
Tips on how to manage a credit card for couples
Try to keep things simple by limiting yourself to just a handful of shared credit cards. For instance, one credit card (or supplementary card) could be a do-it-all type of card that you reach for when you're unsure which one to use. The other shared credit card could be one that rewards you for all online purchases made, such as online shopping, food delivery, the booking of rides and more.
If it helps, consider pasting sticky notes on each shared credit card (or supplementary card) to note down what types of expenses that particular card is good for.
Read these next:
5 Credit Cards That Will Help You Save The Most Money in 2022
How To Ask For Credit Card Annual Fee Waivers
Top Credit Card Promotions And Deals On SingSaver
4 Types Of Credit Cards With Lifetime Annual Fee Waivers
Money Confessions: Are Joint Savings Accounts Relationship Wreckers Or 3Boosters?