UOB has launched the Absolute Cashback Card, offering 1.7% cashback with no minimum spend, cap, or exclusion categories.
UOB looks set to shake up the cashback card market with the launch of the new UOB Absolute Cashback Card.

Now I know what you're thinking: do we really need yet another cashback card? But instead of being 'yet another' cashback card, the UOB Absolute Cashback Card brings something unique to the table: 1.7% cashback, with no minimum spend, no cap, and no spending exclusions.

That's right, no spending exclusions.
Overview: UOB Absolute Cashback Card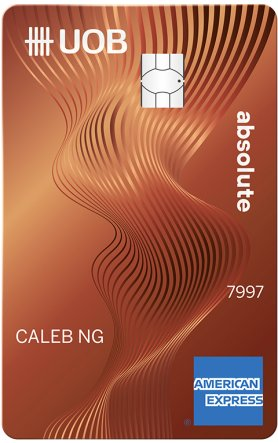 The UOB Absolute Cashback Card has an income requirement of just S$30,000 per year, the MAS-mandated minimum for credit cards. There's a S$192.60 annual fee, which is waived for the first year.
Cardmembers earn a flat 1.7% cashback on all transactions, with no minimum spend and no cap. This alone would make it the best 'no minimum spend' cashback card on the market. For context, the Maybank FC Barcelona and Citi Cash Back + Mastercard earn a flat 1.6% cashback, while the American Express True Cashback Card and the Standard Chartered Unlimited Cashback Card earn a flat 1.5% cashback.
But there's more. While most banks exclude transactions like school fees, insurance premiums, rental, government payments, charitable donations and prepaid wallet top-ups from earning rewards, UOB Absolute Cashback Card users have no spend exclusions.
The only exceptions, if you want to call them that, are for NETS transactions, 0% instalment payment plans, balance/fund transfers, cash advances, fees and personal loans. Everything else is fair game—as long as the merchant accepts American Express, you'll earn your cashback.
Any cashback earned will be credited to the principal card account, and automatically used to offset any bill amount in the following month.
Why is this exciting?
Let's pause a minute to think about the possibilities this creates. Right now, most people would be paying for things like insurance premiums or school fees through bank transfers or cheque. Even if they use credit cards, they're almost certainly walking away with nothing in return.
With the UOB Absolute Cashback Card, you get an effective discount of 1.7% on these transactions. It's not life-changing I know, but it sure beats zero. What's more, these may be some big ticket purchases; imagine getting S$170 back on S$10,000 worth of school fees.
If you're worried about the fact it's an American Express card, don't. Yes, American Express isn't as widely accepted, but remember the GrabPay workaround. By topping up your GrabPay wallet with the UOB Absolute Cashback Card, you'll earn 1.7% cashback. You can then spend these funds via the GrabPay Mastercard, effectively 'converting' an American Express into a Mastercard and getting around the acceptance issues.
While I certainly wouldn't use the UOB Absolute Cashback Card as my regular spending card, I think it would be highly useful for plugging the gaps in situations where other cards don't offer any rebates or rewards.
The main question I have is: how long can the 'no exclusions' clause last for? It's not difficult to imagine some, shall we say, creative users figuring out ways to manufacture spend (i.e topping up a prepaid account and then liquidating the balance). When that starts happening in sufficient volume, the bank will have no choice but to plug those gaps.
Even so, I see that as more of an issue for prepaid wallet top-ups. Hospital bills, government transactions and insurance premiums don't pose the same problem, and as long as the card continues to cover these categories, it's a worthwhile addition to your wallet.
Sign-up offer: UOB Absolute Cashback Card

If you don't have a UOB credit card at the moment, you'll be eligible for a sign-up bonus upon approval for the UOB Absolute Credit Card. Cardholders who apply and get approved will earn 5% cashback on their first S$3,000 charged to the card from 4 May to 31 July 2021*.
*To be eligible for this offer, you must not hold any principal UOB credit cards now, or in the six-month period prior to 4 May 2021
The 5% cashback is broken down into:
The regular 1.7% cashback
A bonus 3.3% cashback on the first S$3,000 of spending
The maximum bonus cashback that can be earned is capped at S$99; to maximise this offer, you'll want to spend exactly S$3,000. Bonus cashback earned under this promotion will be credited to your account by 15 October 2021. There is no cap on the maximum number of eligible cardmembers; as long as you meet the eligibility criteria, you'll get the bonus.
The full T&C for this offer can be found here.
Other Perks

While these benefits aren't unique to the UOB Absolute Cashback Card, they're worth mentioning nonetheless.
Cardmembers are entitled to a complimentary six-month FoundersCard membership, which includes benefits such as hotel, airline and rental car elite status and discounts.
Cardmembers also receive a complimentary two-year Tablet Plus membership. This gives them additional perks such as room upgrades, early/late check-in/out, free breakfast and hotel credits when they book selected hotels through the Tablet Hotels website.
Conclusion
Even if you're a die-hard miles collector like me, the UOB Absolute Cashback Card would come in handy for situations where your regular credit card does not offer rewards. After all, 1.7% cashback is certainly better than nothing at all!
My hope is that this card will encourage other banks to loosen up their rewards restrictions as well, creating more scenarios to earn rebates on everyday spending.
---