Which SQ business class seats deserve your hard-earned miles? We break it down for you.
Opinions expressed reflect the view of the writer (this is his story).
So picture this: after many months of carefully planned spending, you've just earned enough miles for your first Business Class redemption.
You login to the KrisFlyer website to book a ticket to Korea and see two flight choices -- SQ612 and SQ608. Both leave shortly after midnight, but SQ608 leaves roughly two hours earlier. Both cost 43,000 miles plus taxes.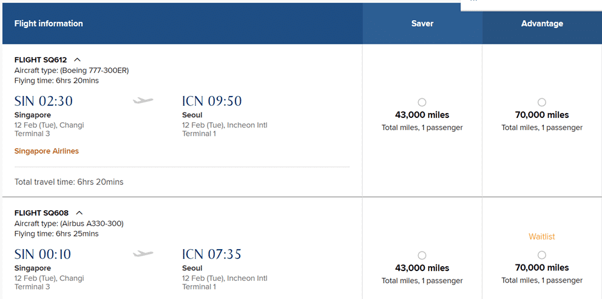 You opt for SQ608, figuring it's better to get to Seoul earlier to maximize your holiday time.
The day of your trip comes and you're excited beyond words. That luxurious seat, that inflight champagne and gourmet dining, that legendary SQ service, and lots of other goodies are coming your way.
You've seen the Singapore Airlines adverts and have a grand vision of what Business Class looks like -- flat bed seat, tons of privacy, plenty of legroom: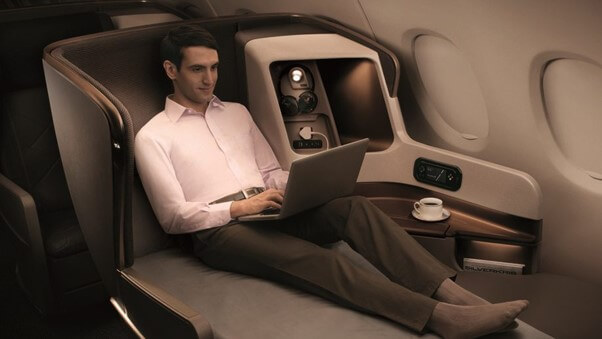 But an unpleasant surprise awaits you when you board SQ608.

You enter the cabin and see this:

[caption id="attachment_26436" align="alignnone" width="602"]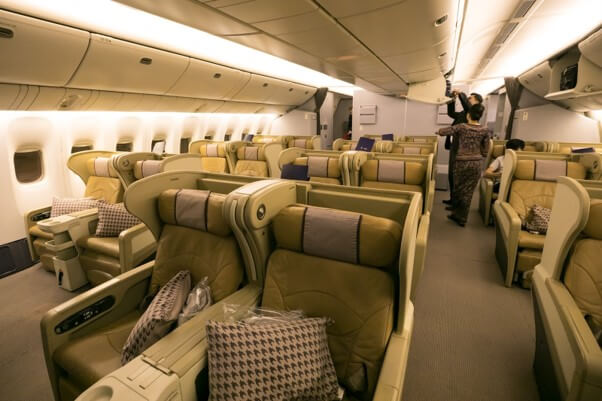 Photo Credit: Points from the Pacific[/caption]

The cabin isn't that private, and your window seat location means you need to awkwardly straddle your neighbour to get to the aisle. Worst of all, when you recline to sleep, the seat goes flat at an angle to the ground and you slowly slide to the floor as the night passes.

Sure, the service is still good, and you get the same wine and dine menu as other SQ Business Class flights departing Singapore that night. But you can't help but feel a bit ripped off knowing that, for exactly the same number of miles, you could have had a much better experience.
What Business Class Seats Does Singapore Airlines Have?
You see, not all Business Class is made equal. Singapore Airlines operates a diverse fleet and different aircraft have different types of seats. In fact, SQ has 5 different types Business Class seats. We arranged them below from newest to oldest.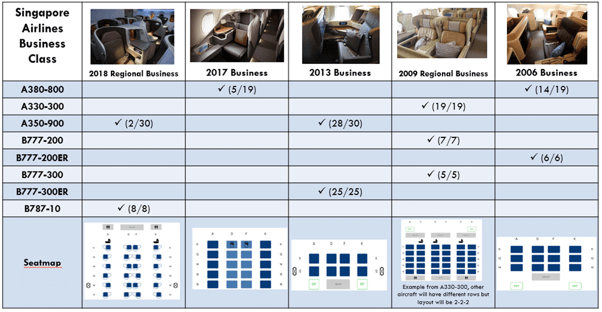 There are three key questions to consider when comparing seats:
Does the seat have in-seat power and USB ports?
Does the seat convert into a full-flat bed?
Does the seat offer all aisle access?
(1) is pretty self-explanatory: you want to keep those devices juiced up and working throughout the flight. Ditto (2): the human body wasn't meant to sleep upright, or even at an angle. A flat-bed seat is still the gold standard for a restful business class experience. (3) is important because aisle access is the difference between uninterrupted rest and being disturbed when your seatmate (or you) needs to climb over you (or your seatmate) to reach the aisle.
The good news is that majority of SQ's fleet will provide Business Class seats that have power, fully flat seats, and all aisle access. The only exception is the 2009 Regional Business Class, found on the A330-300s, B777-200s and B777-300s. As we saw in our earlier example, these seats are angled flat, making them very uncomfortable for sleeping, and don't provide all aisle access. Trust me, you don't want to get one of these on a 6.5 hour red-eye flight.
Singapore Airline is phasing out the 2009 Regional Business Class seats, and thankfully its replacement, the 2018 Regional Business Class seat, is a much superior product. However, you're still likely to encounter the 2009 Regional Business Class seat over the next 1-2 years on flights to Taipei, Perth, Seoul, Adelaide, and Ahmedabad . Be sure to pick your aircraft carefully!
How do I know what seat I have?
In most cases, the aircraft type is sufficient to tell you what Business Class seat you have. You can find this information on the booking screen (highlighted in red below):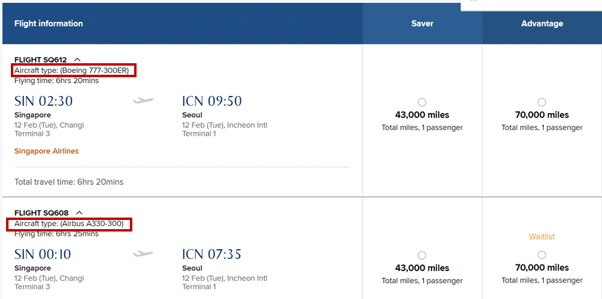 The table below illustrates which aircraft have what products. The numbers in brackets refer to how many aircrafts of that type have that particular seat. For example, 19 out of 19 A330-300 aircraft have the 2009 Regional Business Class seat.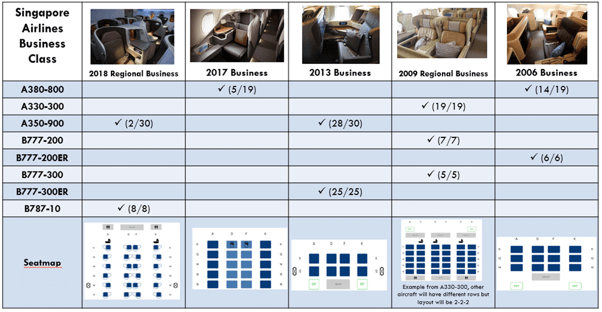 For the A330-300, B777-200, B777-200ER, B777-300, B777-300ER, and B787-10 flights, you can be 100% sure of the cabin product you'll get. However, there are two cases where the aircraft type alone is insufficient to identify the seat -- the A350-900 or A380-800.
In this case, check the seatmap provided during the booking process.
A380-800 Business Class

The seatmap on the left shows the new 2017 seat (note the double bed symbol in 11 D&F) which can be found on 5 of the A380-800s. The seatmap on the right shows the old 2006 seat, which can be found the other 14 A380-800s.
A350-900 Business Class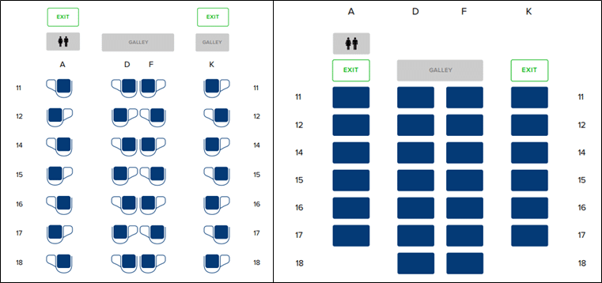 The seatmap on the left with "arms" on the seats shows the 2018 Regional Business Class seat. The seatmap on the right with the generic rectangular blocks shows the 2013 Business Class seat.
Conclusion
If you're finally ready to redeem your miles for Business Class, congratulations! You've done the hard work. Now's the time to make sure you spend your miles on the absolute best Business Class experience out there, and knowing your seats is just half the battle! And as always, be sure to choose the right air miles card that fits your needs and gives you the most reward on your spending.
Related articles:
Singapore Airlines Is Increasing Its KrisFlyer Air Miles Redemption Rates
'Hack' the 11 Public Holidays in 2019 and get 36 more!
6 Credit Cards Which Give Free Access to Airport Lounges
Travel Insurance: Does It Cover Redemption Bookings By Air Miles?
Travel Hacking Singapore Blog Teaches Anyone How to Fly on Business Class
---

By Aaron Wong
Aaron started The MileLion to help people travel better for less and impress "chiobu". He was 50% successful. This is his story.
---