Save even more with these early bird deals and other Great Singapore Sale promotions you shouldn't miss in 2017.
Every good Singaporean knows what The Great Singapore Sale (GSS) is. We are notorious for finding a good bargain.
GSS 2017 officially runs from 9th June to 13th August this year. But there's no reason why we can't start saving greater and earlier. Here are some Great Singapore Sale promotions you can take advantage of at your favourite malls, using your favourite credit card.

Great Singapore Sale Promotions for 2017
Mall stores and retail stores have started announcing their GSS deals for 2017. Don't miss out on these amazing savings!
Robinsons: Flash Discounts
If you weren't aware, Robinsons has already started their sales. And it's all yours for the taking if you're quick enough. In fact, they started as early as 12 May. They've been having flash discounts, such as a week-long daily special "quick strike deals", and voucher giveaways with minimum spend (one "bolt" of voucher giveaway just ended) since. Stay glued to their Facebook page for their latest steals.
Extra Savings
For those who have the OCBC Robinsons Group Visa Card, don't leave it at home. You could get S$50 vouchers, with minimum spending of course.
Takashimaya: Up to 50% Off
Throughout Takashimaya's departmental store, many brands are starting their GSS promotions ahead of the official 9th. Some examples are Timberland, which will be having a 50% storewide promotion that's starting on 1st June, and promotions for Calvin Klein underwear and jeans that started on the 29th May.
If you spend more than S$200, don't forget to take part in the special lucky draw that ends on 8th June. You could be win tickets to Seoul for you and your buddy, or win another S$500 to splurge.
BHG: Up to 70% Off
Your neighbourhood departmental store chain is giving away substantial savings. They started GSS promotions as early as 19th May, with occasional additional flash storewide discounts, on top of existing GSS discounts up to 70% off. So do be sure to keep yourself updated with their flash sales.
Additionally, BHG's holding a weekly "Shop for Free" lucky draw till the 26th June. Just be sure to spend between S$60 to S$500 to qualify. You could win - you might want to sit down for this - 10 times the amount you spent. You literally could shop for free –yes, it's our favourite 4 letter word.
Somerset 313: Stand to Win Prizes
There're a couple of deals at 313 to take advantage of. The first one is the #BFFNOMATTERWHAT event that's happening in partnership with LINE. From 29th May to 28th June, you qualify for an instant lucky dip to win LINE premiums or shopping vouchers (we both know which we want) when you spend S$150, and S$130 if you're a member.
Not forgetting to add 313@somerset as a friend on LINE too. In other news, between 29th May and 26th July, if you spend S$30 in a single receipt, you stand to win a Subaru Impreza 1.6L-S and a Nissan SYLPHY 1.8L among other things.
SMS your entry to 146077877 in the following format: SPHGSS<space>NRIC<space>Date of Purchase DDMMYYYY<space>Amount Spent <space> 313<space>
Lazada: Crazy Flash Deals Up to 90% Off
From a new set of stereo speakers to alcohol (yes, alcohol) the range of goods we can get from this one single site is pretty extensive. They usually price their goods below instore prices and their delivery is pretty quick –nothing like instant gratification. So if you were already thinking of getting something, you might not have to wait as long for the nationwide GSS as Lazada's from the 6th to the 8th. Check it out here!
Extra Savings:
They have Crazy Flash Deals every 2 hours, discounts up to 90% and vouchers up to S$100. Use the best credit cards for Lazada to get even more rewards or cashback when you shop!
Zalora: Up to 60% Off
Another local online shop, they focus on apparel and accessories from innumerable brands. From Aldo to Under Armour, Dorothy Perkins to their own house brand, it's a lot to choose from. They've already started their sale which goes up to 60% off. Don't forget - you can save more if you check out using any of these Zalora credit card promo codes too!
Love, Bonito: Up to 75% Off
For all the ladies, and boyfriends *cough*, Love, Bonito's having a sale up to 75% off from 22nd May to 4th June online, but 11th June in store at 313@Somerset. They have exclusive designs in store, but they always sell out in a snap. So you might want to head to the site, or the store right about… now.

Great Singapore Sale Credit Card Promotions
Use the right credit cards for shopping to win amazing prizes throughout GSS season. Not only that, but you get to earn rewards, miles, and cashback too!
Standard Chartered: Win Luggage, Hotel Stays and More
As part of a GSS promotion, Standard Chartered is having a "Spend & Redeem" promotion. If you've been wanting to take a vacay, you might want to get in on this!
You can win a 28" American Tourister luggage or a weekend stay at JW Marriott Hotel South Beach if you spend anywhere from S$9,000 to S$24,999. This runs from 16th May to 15th July but is limited to the fastest hands…or fastest spender. Check out the full list of prizes here!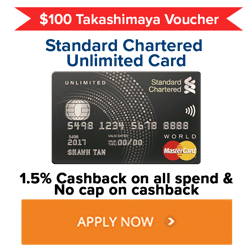 We suggest using the Standard Chartered Unlimited Credit Card to instantly get 1.5% cashback on anything you spend. Grab it from SingSaver.com.sg to also get a S$100 Takashimaya voucher when your card gets approved!
UOB Credit Cards: Up to 70% Off Stores
If you're a UOB credit card holder, you can expect this GSS to be made greater. If you weren't already in on it, head to their website to check out partner brands and stores. From as early as 17th May, you get additional discounts with brands from Ecco to Etude House, and an additional 10% off for 2 sale items at Kate Spade or even Motherswork. The list is (nearly) endless, really.
Read This Next:
How Not to Shop During the Great Singapore Sale
Best Credit Cards for Online Shopping in Singapore
---

By Alexa Fang
Alexa is a pop-culture vulture. She lives to read, write and travel, and decided long ago that life is stranger than fiction. When she's having croissant, she thinks in French. "31 Rue Cambon" is her favourite address, and she believes that money one enjoyed spending is never money wasted.
---