Spend less time banking and more time taking care of what matters with the HSBC Advance Account.
Life in Singapore is crazy hectic, more so if you're raising a young family.
Balancing time between careers, friends, looking after parents and parents-in-law, in addition to raising children of your own, is quite the juggling act. Even with a proper schedule and a daily to-do list, it's not easy to keep everything going smoothly. Sound familiar?
If this sounds like you, then anything that can help reduce the stress of daily life is heaven sent, none more so than when it helps manage your finances. After all, it's one less (important) thing to worry about.
And this is where the HSBC Advance Account might come to your rescue.
What is the HSBC Advance Account?
The HSBC Advance Account is the all-in-one current and savings bank account that meets both your short-term needs and grows with your long-term needs. With features like mobile banking, and a suite of investment, forex, and insurance options, the HSBC Advance Account is tailor made for you and your young family.
Investing and saving is built into the account from the moment you begin. You get as much as 1.80% p.a. on your savings, and can get up to 6.95% p.a. bonus savings by using your HSBC Advance Account when you save, spend, remit and insure each month.
Account holders also get access to wealth management tools and HSBC Advance Wealth Managers, who will help you find the best way to meet your next life milestone. Together, they'll review your financial goals and find the right investment strategies for your future.
As for your present-day needs, the HSBC Advance Account meets these with ease, especially when you carry the HSBC Advance All-In-One Debit Card.
Simplify life with the HSBC Advance All-In-One Debit Card
The HSBC Advance All-In-One Debit Card is the companion debit card to the HSBC Advance Account. As the name suggests, this handy card keeps up with you and your young family's needs, thanks to these features:
Pay with Visa, NETS and more
When you're pressed for time (and an extra pair of hands!), you want to pay for things quickly and seamlessly. The HSBC Advance All-In-One Debit Card supports several contactless payment options.
Visa payWave:

The HSBC All-In-One Debit Card is payWave-enabled, so you can tap and pay at all local and global retail stores, supermarkets, and restaurants that accept Visa payWave payments.

NETS Contactless:

Tap and pay for up to S$100 worth of local transactions at taxis,supermarkets and major retail outlets. No PIN or signature needed.

NETS FlashPay:

Make instant payments for ERP fees and parking. The Auto Top-Up feature ensures that you'll always have balance on your drive

Apple Pay:

Got an iPhone? Add your HSBC Advance All-in-One Debit Card to make instant and secure transactions from your phone.
Access cash at 800+ locations
When you need quick cash, HSBC's network of dedicated ATMs and atm5 network are spread islandwide. Even if you can't reach the nearest one in time, you have instant access to your cash through HSBC's QuickCash network. Visit the nearest Guardian, 7-Eleven, Giant, Cold Storage, and Marketplace during your grocery run to withdraw from your account in seconds.
Doubles up as public transport card
No EZ-Link card? No problem. Your HSBC Advance All-In-One Debit Card doubles as your public transport card. Enjoy the convenience of public transport without fumbling for cards or queueing to top up.
No withdrawal fees at overseas HSBC ATMs
When you travel overseas, instantly access your cash for S$0 withdrawal fees at any HSBC ATM worldwide1. With over 2.3 million Visa/Plus ATMs globally, you've got easy access to your funds should an emergency arise.
Whether in Singapore or overseas, having an HSBC Advance All-In-One Debit Card keeps you one tap away from making payments or accessing your cash, so you have more time for the things that matter. Make the most out of your spend while enjoying what's important. Be sure to check out www.hsbc.com.sg/debit for monthly offers to reward yourself and your loved ones.
Earn 6.95% p.a. bonus interest with HSBC Advance Account
When used together, the HSBC Advance Account and HSBC Advance All-In-One Debit Card gives you a maximum savings bonus interest rate of 6.95% p.a. on your SGD savings. This is one of the highest interest rates you can earn from a bundled account. Here's how: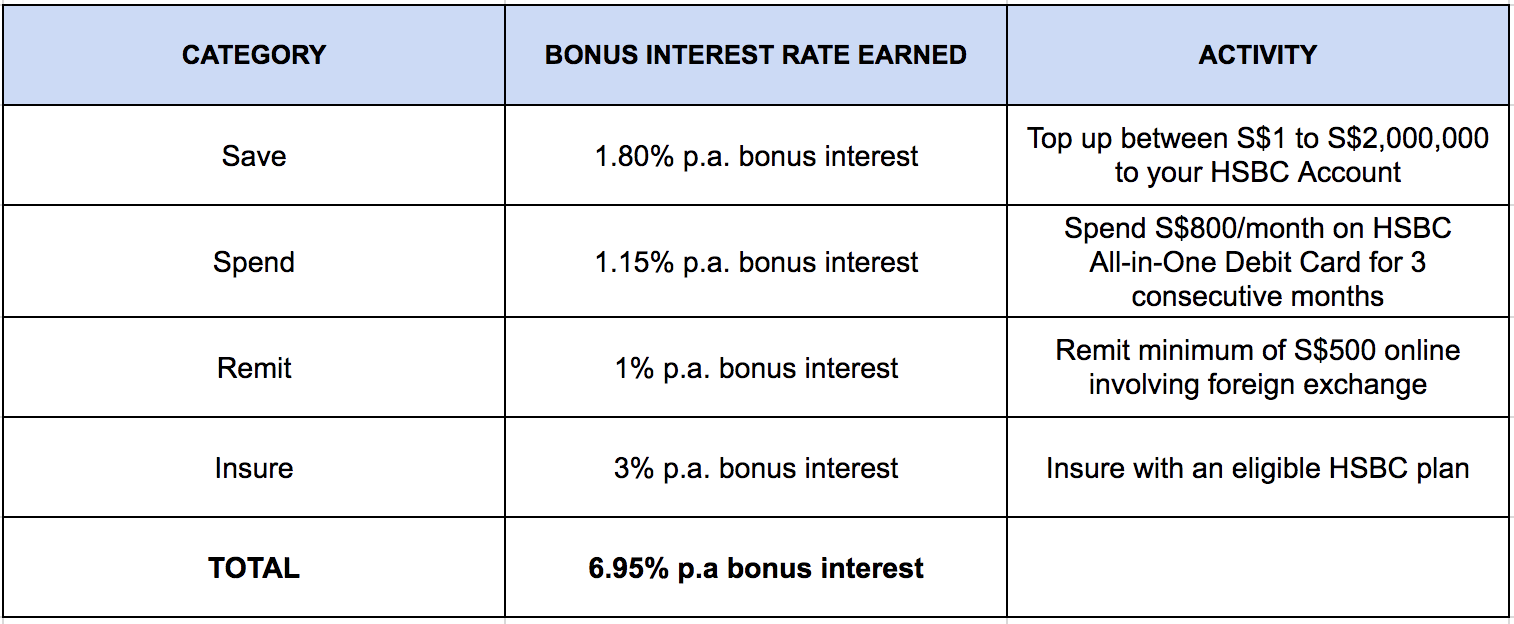 Even if you can't fulfil all four criteria if you've just started out your career and are only just starting to grow your savings, you still enjoy up to 2.95% p.a. interest rate on your savings if you hit the Save+Spend criteria. 2.95% interest rate is still way more than an ordinary savings account.
Summary
When you've got a million things on your mind, you learn to value simplicity -- both in terms of convenience, but also in making sure that things are being taken care of. The HSBC Advance Account ensures your finances are in the right hands, both in the short-term and long-term. All so you can focus on what matters most -- you and your family.
Visit the HSBC Advance Account website for more information.
Apply for the HSBC Advance Account today and enjoy the facilities of the HSBC Advance All-in-One Debit Card.

This article was developed in collaboration with HSBC.
Terms and conditions:
1Applicable to HSBC Advance Debit Card customers only, excludes HSBC ATMs at Argentina, Australia, France, Brazil, Greece, Malta, Mexico, New Zealand and Turkey.
---
By Rohith Murthy
Rohith leads SingSaver, a financial comparison site aimed at helping consumers in Singapore save money and time by finding the right financial products.
---