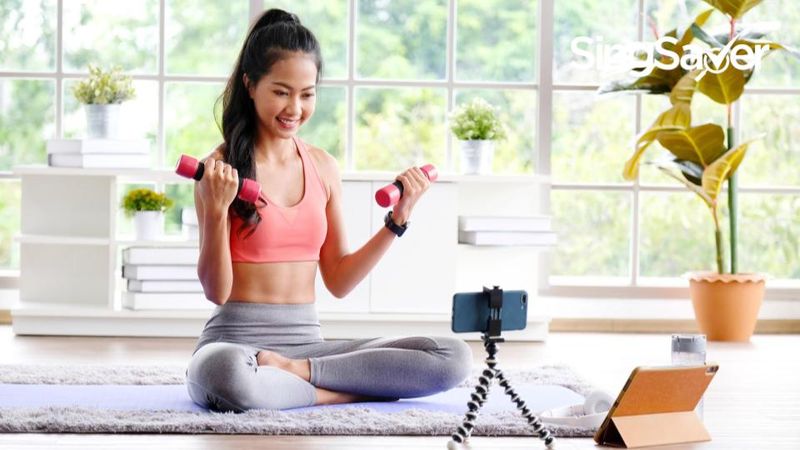 Not ready to head back to the gym or too tired after work to make the trip? Bring your workouts home with these 7 home gym essentials.
Contrary to popular belief, you don't need sophisticated gym equipment or even a large space to get a good workout for washboard abs or toned arms. Here are 7 home gym essentials that will fire up your muscles and put you on the path to fitness glory — no matter your fitness level or how much storage space you can spare.
Last updated on 11 May 2021. Prices of exercise equipment and apps are subject to change without prior notice.
Exercise mat
They don't get enough recognition, but a good exercise mat can make or break (quite literally) a workout. I say this because I've gone through a few mats and realise that the cheaper ones you find at drug stores don't provide cushioning well, wear out quickly and don't provide good grip (trust me, the last thing you want to worry about is slipping in the middle of a burpee). So, if you're looking for a good exercise mat that will last, here are a few that you'll want to add to your shopping cart.
---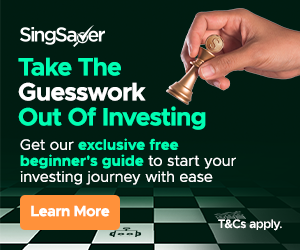 Start managing and saving money like a pro with SingSaver's weekly financial roundups! We dole out easy-to-follow money-saving tips, the latest financial trends and the hottest promotions every week, right into your inbox. This is one mailer you don't want to miss.
Sign up today to receive our exclusive free investing guide for beginners!
---
Dumbbells
The quintessential gym equipment that most exercises will use in one way or another, it comes in various shapes, sizes, colours and even materials. If your fitness goal is to build strength, consider getting dumbbells that come with adjustable weighted plates. This is so that when you 'graduate' to the next weight, you only have to purchase weighted plates and not an entirely new set of dumbbells that will most likely cost more and take up more storage space.
| | | | |
| --- | --- | --- | --- |
| Shop | Type of dumbbells | Weight of dumbbells | Price |
| Decathlon | Single weight rubber and adjustable cast iron | 0.5kg to 15kg | From $6.00 for a pair of rubber 0.5kg dumbbells |
| Gymsportz Fitness | Single weight rubber and adjustable cast iron | 1kg to 40kg | From $7.50 for a pair of rubber 1kg dumbbells |
| Movement First | Single weight plastic and rubber, and adjustable plastic | 1kg to 40kg | From $2 for a plastic 1kg dumbbell |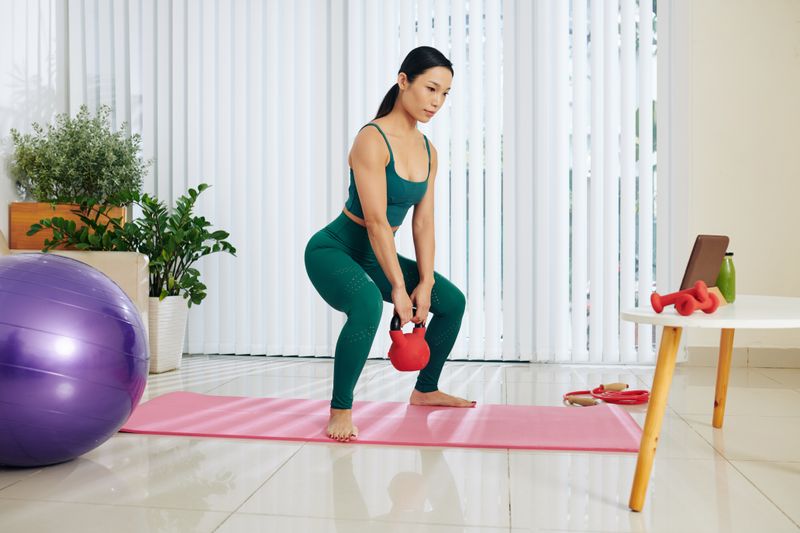 Kettlebells
Similar, but no, they are not the same as dumbbells. Dumbbells are used to help you gain strength through slower repetitions with heavyweights. Kettlebells-specific movements on the other hand, train endurance and strength through faster repetitions over a short period of time. For those who have picked up exercising during Circuit Breaker or if you're looking to jazz up your fitness regime, then you'll definitely need at least one kettlebell in your home gym arsenal.
| | | | |
| --- | --- | --- | --- |
| Shop | Type of kettlebells | Weight of kettlebells | Price |
| Gymsportz Fitness | Cast iron, PVC, competition grade and Bowflex SelectTech (weight adjustable) | 2kg to 92kg | From $10 for a 2kg PVC coated kettlebell |
| Movement First | Cast iron powder coated, PVC and competition grade | 4kg to 32kg | From $14 for a 4kg PVC coated kettlebell |
| Decathlon | Cast iron | 6kg to 20kg | From $22 for a 6kg kettlebell |
Pro-tip: Head down to a physical exercise store like Decathlon to test the kettlebell or dumbbell out before purchasing them online. Not only are more prices competitive online, but you will also get to skip the hassle of lugging them home — the thought of transporting a 16kg kettlebell is already making me feel tired.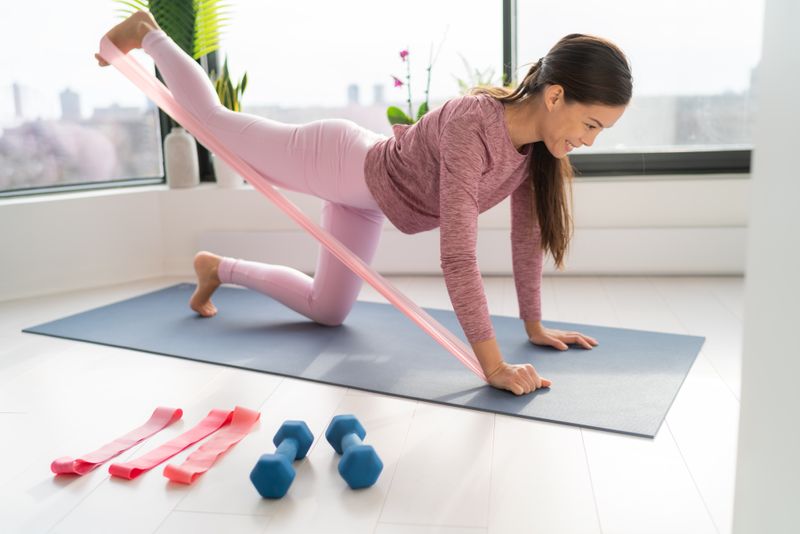 Resistance bands
Do not be fooled by these seemingly harmless bands, with the right exercise and resistance, they can inflict muscle aches at areas which you didn't even know existed! Lightweight, portable and most importantly compact enough to be stashed away into any drawer or cupboard, resistance bands are great alternatives if you're on a budget or don't have the space for dumbbells or kettlebells.
| | | |
| --- | --- | --- |
| Shop | Type of resistance bands | Price |
| Fitness Activist | Rubber, adjustable and non-adjustable resistance bands | From $2.90 for a mini resistance loop that provides 2kg to 6kg of resistance |
| Decathlon | Rubber, non-adjustable resistance bands | From $7 for a resistance band that provides 5kg of resistance |
| Gym Hero | Adjustable resistance bands with changeable handles | From $22.90 for a hip resistance band that provides 4.5kg of resistance |
Smartwatch or fitness tracker
Worried that you don't have a trainer or coach tracking your progress when exercising from home? No problem. Tap on technology, and track your workouts with a smartwatch or fitness tracker. Just a quick search online and you can find anything from a $20 OEM fitness tracker, to luxury branded ones that will set you back a few thousand dollars (the Tag Heuer Connected is one of them).
While designs and interface are important, what really matters are the capabilities that these smartwatches or fitness trackers are able to provide. Ultimately, you want a gadget that is able to recognise your favourite exercise activity and be able to track it accurately without hassle. Here are a few that meet those conditions and not to mention, make for a great wrist accessory.
| | | |
| --- | --- | --- |
| Brand and model of smartwatch or fitness tracker | Features | Price |
| Xiaomi Mi Smart Band 5 | Colour display (1.1"), waterproof, 11 sports modes, heart rate and sleep monitor, female health tracking, 14 day battery life and mobile notifications | From $35.90 on Shopee Mall |
| Apple Watch Series 3 | Retina display (42mm or 32mm), waterproof, 16 sports modes, heart rate and sleep monitor, female health tracking, mobile notifications, send texts, Siri enabled, plays music, mobile payment and GPS | From $299 on Apple Store |
| Fitbit Versa 3 | AMOLED display (1.58"), waterproof, 20+ sports modes, heart rate and sleep monitor, female health tracking, mobile notifications, 6 day battery life, fast charging, Google Assist enabled and GPS | From $318 on Lazada Mall |
Fitness app
Can't find a YouTube exercise video to exercise with? Then you might want to give mobile fitness apps a try. Yoga, high intensity, pilates, running, calisthenics, stretching and whatever else your heart or body requires that day, these fitness apps offer thousands of easy-to-follow videos for all fitness levels. If you've at least 2 fitness apps, I am pretty confident that you'll never have to worry about a dull workout session ever again.
Name of fitness app
Type of exercises
Price
FitOn
Cardio, HIIT, strength-training, yoga, pilates, dance, barre, prenatal and postnatal
Free
Nike Training Club
Cardio, HIIT, mobility, strength and yoga
Free
Centr
HIIT, MMA, yoga, strength training and body-weight
From $12.25 a month (annual subscription)
Free 7 day trial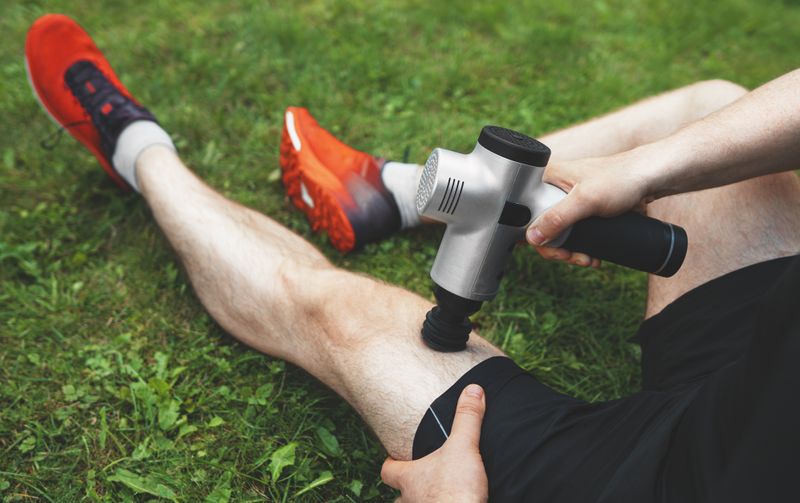 Muscle relief accessories
On off-days from the gym or even after a particularly gruelling session, it's wise to take the time to release muscle tension or cool down properly. This can be easily achieved with some help from foam rollers, massage balls, contoured massage sticks, or even a massage gun. Best part of it all, they are affordable and don't take up too much storage space.
| | | |
| --- | --- | --- |
| Shop | Type of muscle relief accessories | Price |
| Decathlon | Foam rollers, massage balls and vibrating massage ball | From $5 for a massage ball |
| Fitness Activist | Foam rollers, massage balls, contoured massage sticks, | From $7.90 for a massage ball |
| The Quality Store | Massage gun170 x 240 mm30-gear speed, 2,500mAh, 4 hours on a single charge, 6 interchangeable massage heads | $59.80 on Shopee |
---
Equipping your home with these gym essentials? Then don't forget to charge it on the right card so that you earn points, cashback or air miles that can be spent on your next fitness app subscription or shopping adventure. Apply for one through our comparison tool below and you could get rewarded* with attractive prizes and cash welcome gifts!
*Rewards may change at any time. Terms and conditions apply.
Read these next:
Smartwatch vs Fitness Tracker: Which Is Well Worth Your Money?
Cheap Gym Memberships In Singapore Under $80 Per Month
Best Workout Apps To Try At Home Under $30 A Month
6 Alternative Gym Memberships That Make Fitness Fun
Why 30 Minutes In The Gym Can Turn Your Life Around: Ritual Gym Founder
---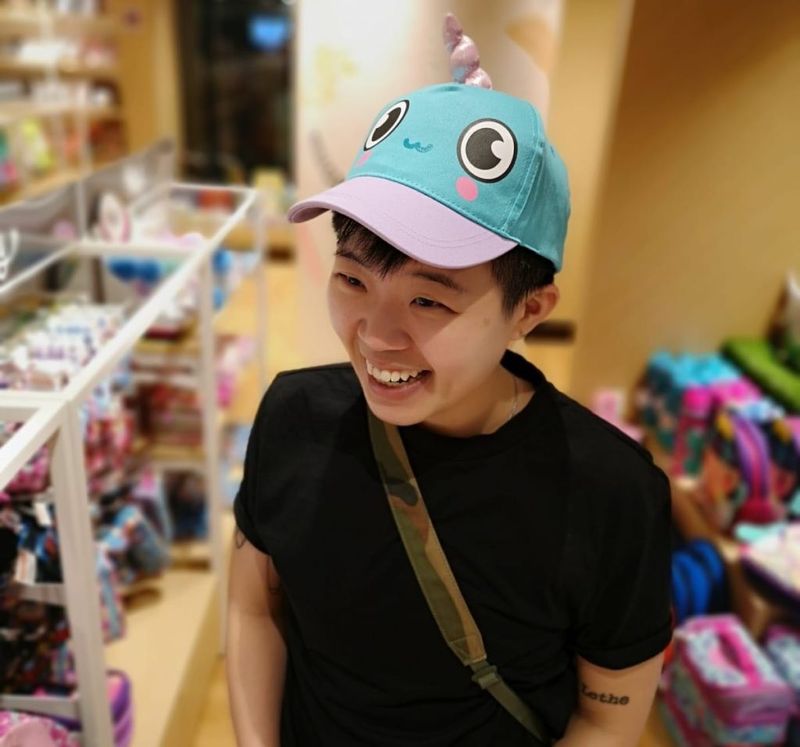 By Geralyne Ong
A lover of gin and all things Nigella Lawson, Geralyne's a big believer of #Adulting. She spends her leisure time serving fur-babies and doing as many mountain climbers and kettlebell swings as she possibly can.
---