[UPDATE]

While you can still earn up to 120,000 bonus OCBC$ annually on the OCBC Titanium Rewards Card, this has now been limited to only

10,000 bonus OCBC$ per month

.
The OCBC Titanium Rewards Card is being touted as the most efficient rewards card you'll need for your local and overseas shopping.
Promising 10 OCBC$ (worth 4 miles) per S$1 spend for eligible online and retail purchases, this rewards credit card is the epitome of shopping 'til you drop for true shopaholics.
But if miles aren't your cup of tea, OCBC$ can be exchanged for a plethora of other rewards like vouchers, products, experiences, and even cash rebates to offset your next month's bill if need be.


Table of contents
---
OCBC Titanium Rewards Credit Card Overview: Key Features
OCBC Titanium Rewards Card product summary:
[Update!]

Bonus 10 OCBC$ (4 miles) per S$1 spend on shopping, department store, and online spend categories, capped at

10,000 bonus OCBC$ per month

1 OCBC$ per S$1 spend on all other retail spend, no cap on points earned
Bonus 2% cash rebate on electronics at Best Denki

[Update!]

Transactions at electronic stores falling under MCC 5045 and 5732 are

no longer eligible

for bonus OCBC$
Complimentary e-Commerce protection on all online shopping purchases
Flexibility in OCBC$ conversion to cash, miles, vouchers, rewards, and more
Enjoy interest-free, fixed monthly instalment plan with min. S$100 spend on OCBC credit card under OCBC PayLite
Earn up to 7.65% p.a. interest on OCBC 360 Savings Account when paired with OCBC credit card spend
Minimum age: 21
Annual income requirement: S$30,000 (Singaporeans/PRs), S$45,000 (Foreigners)
Annual fee: S$194.40 (First 2 years waived)

Subsequent S$10,000 per year required for annual fee waiver
| | |
| --- | --- |
| Pros ✅ | Cons ❌ |
| 10 OCBC$ per S$1 spend (4 mpd) on selected online and high-end retailers locally and internationally | 120,000 OCBC$ cap on bonus spend per year; limited to 10,000 OCBC$ per month |
| Additional 2% cash rebate on electronics at Best Denki | OCBC$ awarded per S$5 blocks |
| No cap on base OCBC$ earned | Subsequent annual fee waiver require min. S$10,000 spend per year |
| Annual fee waived for first 2 years | |
| OCBC$ can be redeemed as cash rebate, miles, vouchers, products or experiences | |
| Pair credit card spend with OCBC 360 Savings Account to earn up to 7.65% p.a. interest | |
---
Reasons to get the OCBC Titanium Rewards Credit Card
Here's listing out the 5 USPs of adding the OCBC Titanium Rewards Card to your wallet that will likely hold you in good stead.


Pros

✅
#1: Earn 4 miles per dollar on shopping

[Update!]
OCBC rewards you with OCBC$ when you spend in blocks of S$5. Earn 50 OCBC$ (20 miles) for every S$5 spent on your shopping, whether it's in store or online, locally or overseas. That's equivalent to 10 OCBC$ per S$1 spend or 4 miles per S$1 (mpd) spend.
This includes transactions made at department stores, shoe stores, men's and women's clothing stores, family clothing stores, kids' stores and more.
Here's the updated list of eligible MCCs: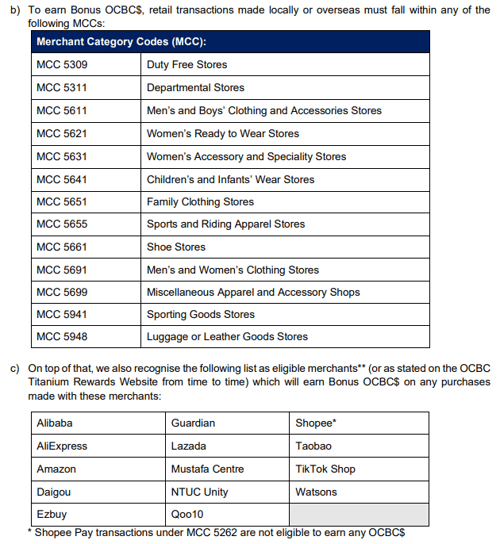 Source: OCBC
Out of the lot, the following are newcomers on the MCC list:
MCC 5309: Duty Free Stores
MCC 5655: Sports & Riding Apparel
MCC 5941: Sporting Goods Stores
MCC 5948: Luggage or Leather Goods Stores
TikTok Shop, Guardian, NTUC Unity, Watsons
If you frequently shop at these stores, be it online or offline, the OCBC Titanium Rewards Card can be a great option to earn you miles that go towards your next overseas trip.
💡 Pro-tip: You can also check out our articles with the latest promo codes to use at: Lazada, Qoo10, Redmart, Klook, Shopee and food delivery services (including Foodpanda, GrabFood, Deliveroo and WhyQ).
While its bonus OCBC$ is still capped at 120,000 OCBC$ per card anniversary year, since 1 November 2023, this has been further restricted to 10,000 OCBC$ per month. [Update!]
Once you hit the 10,000 OCBC$ cap, all transactions made on shopping will earn the base rate of 5 OCBC$ per $5 spent or 0.4 mpd on your spend.


---
#2: E-commerce protection
Shopping online has its pros and cons. There are times when you'll receive products with defects or wouldn't receive them at all.
This is where the OCBC Titanium Rewards Card fits in.
It lets you enjoy e-commerce protection, which safeguards you against non-delivery and defective products, or in cases when the seller fails to reimburse you.
When you buy any physical goods online with this card, you will be provided with worldwide coverage for online purchases under these conditions:
Incomplete delivery or wrong item deliveredb
Improperly functioning due to physical damage to delivered items
Non-delivery of purchase after 30 days of the scheduled delivery
---
#3: Extra cash rebate at BEST Denki
BEST Denki: If you have plans to make a purchase at BEST Denki, either at their retail outlets or online, you can earn an additional 2% cash rebate on your purchase.
To put things into perspective, an Apple MacBook Air from BEST Denki costs roughly S$1,500 currently. This can get you a cash rebate of $30, so that's better than nothing!


---
#4: Two-year annual fee waiver
Many credit cards offer waivers for the annual fee, typically for the first 1 or 2 years. For the OCBC Titanium Rewards card, the annual fee of $194.40 is waived for the first 2 years.


---
#5: The option to choose between Blue or Pink
Most credit cards have a default look for their credit cards. There are no options to choose between designs, colours and look of the card (except cards such as the OCBC FRANK credit card that has an impressive 120 card designs for you to choose from).
However, there are two versions available for the OCBC Titanium Rewards — Blue or Pink. It is completely up to you to choose between the two colours (FYI, there are no gender stereotypes here). This gives you the slightest element of choosing a card that represents you, makes you happier when looking at it or simply a colour that you prefer for a credit card.
---
---
Cons

❌
#1: You don't earn 50 OCBC$ (4 mpd) on other spend
This card specifically rewards you for the purchases you make on shopping. However, on all other spending outside of shopping purchases, such as dining and transport, you will earn 5 OCBC$ per $5 spent.
💡Pro-tip: For miles-chasers, this equates to 0.4 mpd, lower than the average 1.2 mpd you can earn with other miles credit cards.
---
#2: OCBC$ awarded in S$5 blocks
Another rather glaring disadvantage of its rewards point system – OCBC$ – is that it's awarded in S$5 transaction blocks. This follows a similar structure as UNI$ (UOB) and DBS Points (DBS).
For example, if your transaction adds up to S$99, it will not be rounded up to S$100. Instead, it'll be rounded down to S$95 and then divided per S$5 blocks to tally the bonus OCBC$ points earned on this purchase.
OCBC$ can be exchanged for rewards such as KrisFlyer Miles, shopping vouchers, dining vouchers, mall vouchers, department store vouchers, movie vouchers, cash in your credit card and more.
For example:
25,000 OCBC$ = 10,000 Krisflyer Miles
3,600 OCBC$ = S$10 cash rebate
Click here for the catalogue of rewards you can exchange your OCBC$ for.
Again, this pro-rated calculation applies to UNI$ and DBS Points too. So honestly, this isn't a huge issue when considering that other popular rewards credit cards like UOB Lady's & UOB Lady's Solitaire Cards and the DBS Woman's & Woman's World Card are subjected to caveat as well.
It's just that those cards offer a broader range of eligible spend categories to earn bonus rewards points as opposed to the OCBC Titanium Rewards Cards on retail shopping.


---
#3: Changes to the bonus OCBC$ spending cap

[UPDATE!]
For the most part, the OCBC Titanium Rewards Card still maintains a 120,000 bonus OCBC$ (or about S$12,000 spent on shopping) cap annually. This cap could be limiting for big spenders who shell out more than S$12,000 on shopping through the year.
However, what's changed is that this annual cap is now restricted to only 10,000 OCBC$ per calendar month. This roughly equates to S$1,110 spend per month. At first glance, you might be thinking, "Isn't that still a rather high expense each month?".
While you're not wrong, the monthly cap becomes a disadvantage when we account for the fact that most cardholders use the OCBC Titanium Rewards Card for big-ticket item purchases. Such purchases easily exceed the S$1,110 mark, rendering your over-limit amount disqualified from earning the bonus OCBC$ rate, and only the base OCBC$ rate instead. See the bigger picture now? (No pun intended.)
Considering this, if you're exploring other alternatives, be sure to check out these other credit card recommendations for big-ticket purchases.


---
#4: Removal of MCCs

[UPDATE!]
Most notably, the MCC eligibility list has undergone several changes since 1 November 2023. For context, OCBC Titanium Rewards follows a whitelist approach — meaning that only specific merchants under the relevant MCC categories can earn bonus OCBC$.
For instance, previously, merchants under MCC 5045 (Computers, Peripherals, and Software) and MCC 5732 (Electronics Stores) could earn bonus OCBC$. However, these two MCC categories have now been removed.
Other department store merchants such as Courts and IKEA have also been removed.
Examples of ineligible merchants under these categories include:
Ineligible merchants ❌

MCC 5045 Computers, Peripherals, and Software

Apple, Aftershock, Dreamcore, Prism, Plus, Dell, etc.

MCC 5732 Electronics Stores

Best Denki, Harvey Norman, Gain City, Challenger, etc.

IKEA, Courts
Note: The list of examples above is non-exhaustive.
This also means that BEST Denki no longer qualifies as an eligible merchant for bonus OCBC$ due to the removal of MCC 5732 (Electronic Stores) from OCBC Titanium Rewards' T&Cs. Despite this change, you can still rest assured that your Apple Macbook or Samsung fridge bought from BEST Denki will net you extra 2% cash rebate, at the least.
Examples of other excluded categories are:
MCC 8398: Charitable Donations
MCC 8211, 8244, 8299: Education
MCC 6300: Insurance Premiums
MCC 8062: Non-Profit and Government Hospitals
Real Estate Agents & Managers
MCC 5262: Marketplaces (only for Shopee Pay)
You can refer to their T&Cs here for the full, exhaustive list.
Although these MCC removals might be quite disappointing to most of us, it's out with the old and in with the new. So say hi to these new eligible merchants:
Eligible merchants ✅

MCC 5309 Duty Free Stores

Lotte Duty Free, King Power Duty Free, The Shilla Duty Free, etc.

MCC 5655 Sports and Riding Apparel

Nike, Lululemon, Adidas, etc.

MCC 5941 Sporting Goods Stores

Decathlon, Fila, New Balance, etc.

MCC 5948 Luggage or Leather Goods Stores

Louis Vuitton, Coach, Rimowa, Boarding Gate, etc.

TikTok Shop

Guardian, NTUC Unity, Watsons
Note: The above list of merchant examples is not exhaustive. ShopeePay transactions under MCC 5262 are not eligible to earn OCBC$. Amazon and Mustafa Centre transactions under MCC 5411 are not eligible either.


---
What fees & charges should you look out for?
Annual fee: S$194.40 (First 2 years waived)
Minimum monthly payment: 3% of total balance or S$50, whichever is higher
Late payment fee: S$100
Overlimit fee: S$40
Interest on purchases: 27.78% p.a.
Interest on cash advance: 28.92% p.a. subject to compounding
Cash advance fee:
Foreign transaction fee: 3.25% (inclusive of 1% currency conversion from Visa/Mastercard)
Dynamic currency conversion fee: 1%


Eligibility criteria
At least 21 years old
Annual income requirement for Singaporeans/PRs: S$30,000
Annual income requirement for Foreigners: S$45,000
---
How to apply?
Click on the 'Apply Now' button on this page and complete the application form on SingSaver site. You might need to prepare the following documents for the application process:
Front and back of NRIC/Passport/Employment Pass
Salaried employees:

Past 6 months' CPF statement (Singaporean/PR) or latest Income Tax Notice of Assessment and latest original computerised payslip
Self-employed / Commission earner:

Latest Income Tax Notice of Assessment or latest 12 months' CPF statement
Foreigners:

Passport
Employment Pass
Latest original computerised payslip and latest Income Tax Notice of Assessment or original company letter certifying employment and salary
---
Credit cards similar to OCBC Titanium Rewards Card
If you are looking for a credit card that rewards you for your shopping, you can also consider these cards:

Citi Rewards Credit Card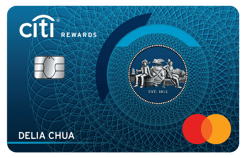 The Citi Rewards Card also gives you 4 mpd for your shopping and online spend. This includes shopping at department stores, spending on bags, shoes, clothes, both online and offline.
Note that the Citi Rewards Card rewards you with 4mpd on all online spend as well, allowing you to earn 4mpd on online transactions for other categories such as transport.
Outside of shopping and online transactions, the earn rate is 0.4 mpd, mirroring the non-shopping earn rate of OCBC Titanium Rewards card.
Read our full Citi Rewards Credit Card review here.
See also: Credit Card Combo: Why You Should Pair Citi PremierMiles & Citi Rewards


---
UOB Lady's / Lady's Solitaire Credit Card
The UOB Lady's Card and the UOB Lady's Solitaire Card are win-win for everyone.
It can be useful to carry in your wallet, especially since it lets you choose the category that earns you 4 mpd. This category can be changed every quarter, allowing you to earn more miles on any other category depending on your spending for that quarter.
You can choose among these:
Transport and Entertainment
For shopping, select 'Fashion' as your preferred category for the current quarter to earn 4 mpd on your fashion spend. There is also an e-Commerce Protection provided for all your online purchases.
---
DBS Woman's / Woman's World Card
The DBS Woman's Card earns 2 mpd on the first S$1,000 online spend each month. The DBS Woman's World Card earns 4 mpd on the first S$2,000 online spend each month. There is also e-Commerce Protection provided for your online purchases.
Or if you want more options beyond the above-listed rewards credit cards, you can check out other shopping credit cards here.
See also: 7 Reasons Why Men Should Sign Up for Women's Credit Cards
---
Should you get the OCBC Titanium Rewards Credit Card?
Honestly, with the massive overhaul that the OCBC Titanium Rewards has received since 1 November, this rewards credit card has lost its lustre as an illustrious big-ticket shopping credit card.
After all, its coveted bonus 50 OCBC$ rate earned on your favourite gadgets and electronic home appliances paired with its annual 120,000 OCBC$ cap were top-tier. But now, those MCCs have been removed and its annual cap has been nerfed to a monthly limit of 10,000 OCBC$.
That said, with new eligible MCCs specifically targeting duty-free stores, sporting goods & apparel, luggage & leather goods, TikTik Shop, and pharmacies (Guardian, Watsons, Unity), the perks of OCBC Titanium Rewards haven't completely gone down the drain.
Perhaps, these changes could be viewed as a pivot towards a new branding instead – as your next dedicated overseas shopping credit card!
See also: Best 6 Credit Cards For Overseas Spending