Here's how to achieve a cosy-looking flat in Singapore without breaking your budget or doing a single DIY project.
Decorating a flat in Singapore is both exciting and daunting. While there's no shortage for chic home decor in the city, shopping can feel like a pointless exercise when you're on a tight budget. And unless you have endless amounts of creativity and patience, executing DIY projects aren't worth the time and effort.
However, there are ways to achieve an Apartment Therapy-worthy flat without breaking your budget or going DIY-crazy. Take it from a thrifty, lazy person whose only major vice is buying pretty objects for the house:

1. Ikea is Your Friend
Some people feel the need to graduate from Ikea and move on to purchasing "real" furniture. Definitely go shopping elsewhere if you want heirloom pieces your grandchildren will inherit. But if you're after great-looking decor at affordable price points, it's worth giving this place a look-over.
2. But So Are Carousell, Flea Markets, and Department Stores on Sale
This will require a bit more effort, but the payoff is worth it. You'll be surprised by the gorgeous hand-crafted items you can score or the well-made furniture you can get on the cheap, just because someone didn't know what to do with it.
If possible, don't buy secondhand furniture from Carousell unless you can examine it in person first. You don't want to end up with a piece that needs a lot of TLC (unless you don't mind doing a DIY restoration job).
Make it a point to drop by department stores' home sections every now and then, to see if there are any items on sale. Case in point: after moving into my flat, I realized I'd be sleeping on a bare mattress. I dropped by a nearby Isetann on a whim and scored a queen-sized bed linen set for just S$41 (originally S$204)!
3. Say Yes to Hand-Me-Downs
If family or friends offer to give their hand-me-down furniture, just say, "Yes, thank you!" Even if they don't quite fit the look you hand in mind, find a way to make them work. Right now, the priority is to feel comfortable in a furnished home. It's much better than eating off a box or sleeping on a mattress on the floor until you can afford to buy everything yourself.
4. Mix and Match Your Bed Linens
Expect to pay at least S$200 for a matching bed linen set. If that sounds ridiculous, you can buy linens separately (on sale), then mix and match the patterns. Not only do you save a lot of money this way, but using different textiles creates a very interesting bedroom space.
To pull this off successfully, choose a colour palette, then pick a variety of prints that fall within this palette. Working around your chosen colours results in a unified yet stylish look.
5. Stalk Your Credit Card's Deals Page
Once you feel the need to "graduate" to "real" furniture and matching linens, see if your credit card offers discounts at your favourite stores.
For example, the Citi Rewards Card offers 20x points when you shop using the Amazon Prime Now app - very handy for stocking up on home essentials and accent pieces.
6. Decorate with Throw Pillows
Give your living room an instant makeover by updating your throw pillows. At S$15 or less per pillow cover, it's an inexpensive way to breathe life into your sofa. Like the mix-and-match bed linens idea, mix up different patterns, shapes, and textures to create visual interest.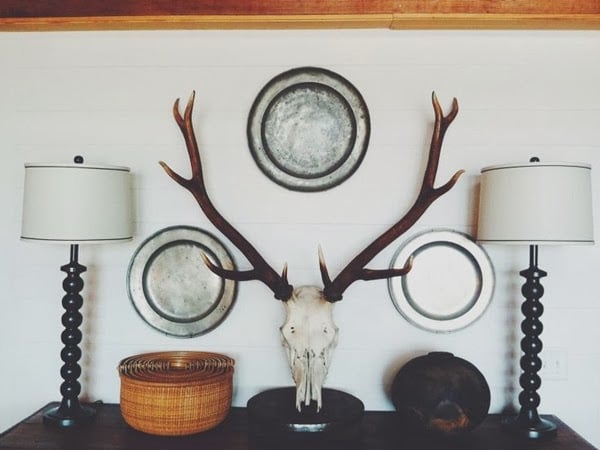 7. Decorate Tables with Vignettes
A vignette is a small, pretty picture formed by grouping a variety of objects together. Think of it as a miniature display that sets the mood of your room or tells a story about yourself, as opposed to displaying a collection.
Vignettes are an easy way to decorate a bare table using items you already own or inexpensive flea market finds. This article has a lot of great ideas on how to create a perfectly-composed vignette.
8. Download Your Wall Art
If you can't afford real art, don't bother with posters or department store prints. Instead, get inexpensive frames and fill them up with free art you can download online.
Reusable Art is a great resource for public domain images - that is, vintage advertisements, old posters, and historical photos whose copyright has expired. For something more 21st century, you can download stunning photos from today's best photographers at Snapwire Snaps, Life of Pix, and Pixabay.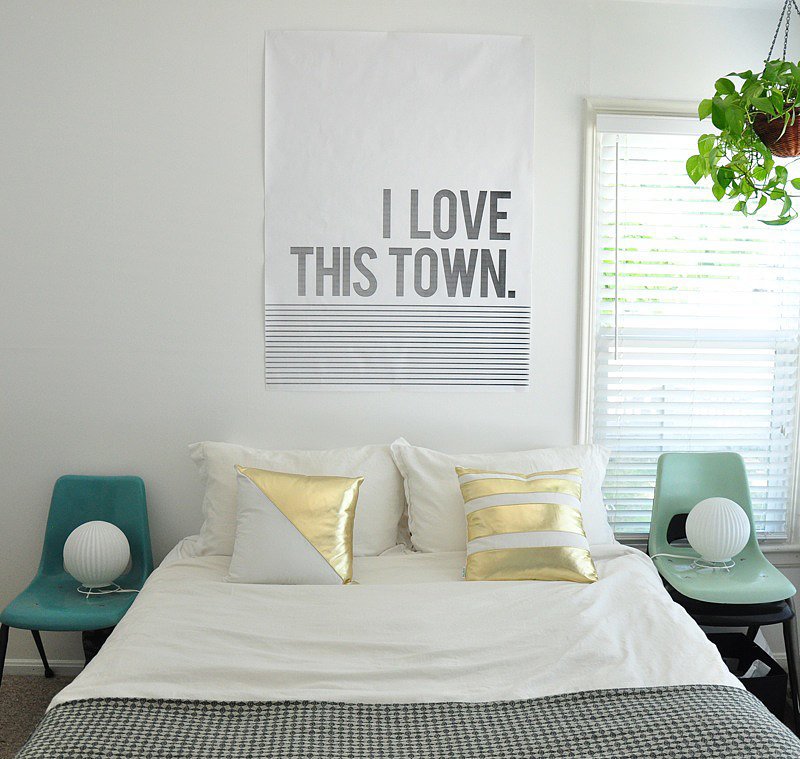 9. Your Nightstand Doesn't Have to Be a Nightstand
It's 2016, and your nightstand no longer has to be an overpriced brown boxy thing. It can be a chair, a repurposed ladder, even a basic filing cabinet! You are only limited by your imagination (and budget) when it comes to executing this hipster home decorating idea.
10. Update Knobs and Handles
If you're getting bored with the furniture that came with your flat, try updating the hardware. New knobs or handles make the most ordinary piece of furniture look more glamorous, and they come in all price ranges, some for as little as S$1 each.
Before rushing to the hardware store, count how many knobs you are planning to replace. Updating the handles of your bedroom cabinet will be much cheaper than updating the handles of your kitchen cabinets. Decide on your budget and stick to it before falling in love with pieces you can't afford.
Don't own a credit card yet? Use SingSaver.com.sg's free comparison tools to find the best shopping credit card for home and decor items.
Read This Next:
5 Cost-Cutting Tips for Home Renovations in Singapore
5 Marketing Tricks that Make Singaporeans Spend More
---

By Lauren Dado
Lauren has been a content strategist and digital marketer since 2007. As SingSaver.com.sg's Content Manager, Lauren edits and publishes personal finance stories to help Singaporeans save money. Her work has appeared in publications like Her World, Asia One, and Women's Weekly.
---