Congratulations, we've made it to Phase 3. With social gatherings of up to eight people starting December 28, we figured it's time to start planning activities with your gang of friends.
The news we've been waiting for is finally official – Singapore will be entering Phase 3 of its reopening on December 28, after almost half a year of being in Phase 2. Social gatherings will be allowed to comprise up to 8 persons – an increase from the current limit of five – and households may also receive up to 8 visitors at any point in time (yay!).
With more restrictions lifted just as we prepare to usher in the new year, we're here to give you some ideas on what to do with your group in two weeks' time. From escape rooms to picnics, scroll on for group activities you and 7 other friends can go for, for just under $25 per person.
Last updated on 15 December 2020. Prices and promotions for deals listed in this article are subject to change without prior notice.
1. Solve escape rooms with more brain power
Address: The Escape Artist, Lost SG, Xcape
Price: Around $20 per pax
Have you been avoiding Escape Rooms because you think you need more than five brains to solve puzzles? Now, you can have three more brains to conquer the most difficult rooms. Whether it is escaping zombies at The Escape Artist, trying to break out from a maximum-security facility at Lost SG, or ending the curse on the infamous Annabelle doll at Xcape, there's sure to be an escape room to suit the thrill-seekers in your group.

2. Have a picnic at the Marina Barrage
Address: 8 Marina Gardens Dr, Singapore 018951
Price: Free
Opening hours: 8am to 9pm, daily (last entry at 8pm)
It's been a long time since the entire gang got together, so how about having a picnic and catching up with each other in person? What's more, if you plan to go in December, you might get a chance to catch the light displays illuminating the Marina Bay skyline.
Sadly, there will be no fireworks at the Marina Bay this year due to COVID-19 restrictions. Instead, fireworks will be set off from different heartland locations, bringing the countdown experience closer to Singaporeans at home.
3. Dine out
Price: Depends on what you eat!
This is probably the first idea that came to everyone's mind immediately after Phase 3 was announced. Thinking of where to go? Consider celebrating your get-togethers with 1-for-1 buffets and high tea sessions.
If you have more than eight in your group, you could also choose to receive up to 8 visitors in your home and order your meals in. Psst: Check out Singsaver's ultimate compilation of food delivery promotion codes you can use to save cost when ordering in.
4. Book a chalet
Price: Average of $160 per night (off-peak), around $20 per pax for a group of 8
If you have yet to plan anything for your countdown party, now is the chance. You and your buddies can book a chalet that provides a bigger space for everyone to hang out over the weekend or even during New Year's Eve (provided there are slots and you're willing to pay a hefty price). After all, what's better than counting down to 2021 with some drinks and the company of your entire group for the first time in nearly a year?
But if you aren't willing to shell out peak period prices, you could wait it out until the off-peak period next year to have a gathering. Click here for a list of affordable chalets you can consider.
5. Stay up all night and play games at The Mind Cafe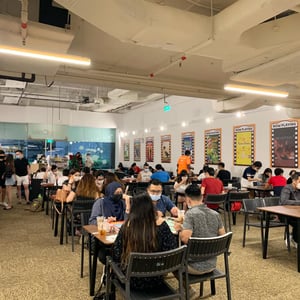 Address: 60A Prinsep Street, Singapore 188664
E-mail: admin@themindcafe.com.sg
Phone: 8121 5188
Price: $5 per gaming hour per pax on weekdays
Opening hours: Mondays to Thursdays, Sundays and public holidays at 11am to 2am, Fridays, Saturdays and eve of public holidays at 11am to 6am
When it comes to games, the more people the merrier. With hundreds of exciting games to choose from, you and your friends can go crazy just like old times and stay up until 6am on weekends and public holidays (oh, the luxuries in a post-pandemic world).The cafe's free-flow drinks and snacks (only available with gaming packages) are sure to keep you powering through the night. Just remember to book your slot in advance!
---
Singapore may be entering Phase 3, but in Prime Minister Lee's words, it's "absolutely not the time to relax and let our guard down, or to hold a big party imagining the problem has disappeared". Existing measures will still stand. Masks will still have to be worn at all times – except when you're eating, drinking or doing vigorous exercises – and you will still have to scan in using TraceTogether when entering public places such as malls, supermarkets, restaurants, bars, and parks.
---
You can save more on your Phase 3 purchases when you have the right credit card. Use our simple comparison tool to find one that suits your lifestyle and even get rewarded with cash* or exciting gifts* when you successfully apply for selected credit cards through SingSaver today!
Read these next:
1-for-1 Buffet Dining Promotions In Singapore
High Tea Promotions In Singapore
Sightseeing, Staycations, Activities: How To Spend Your $100 SingapoRediscovers Vouchers
SingapoRediscovers Vouchers: Spend Your $100 On These Hotels, Ranked By Star Ratings
Sentosa Deals 2020 (Staycations, Activities, Dining & Beach Clubs)