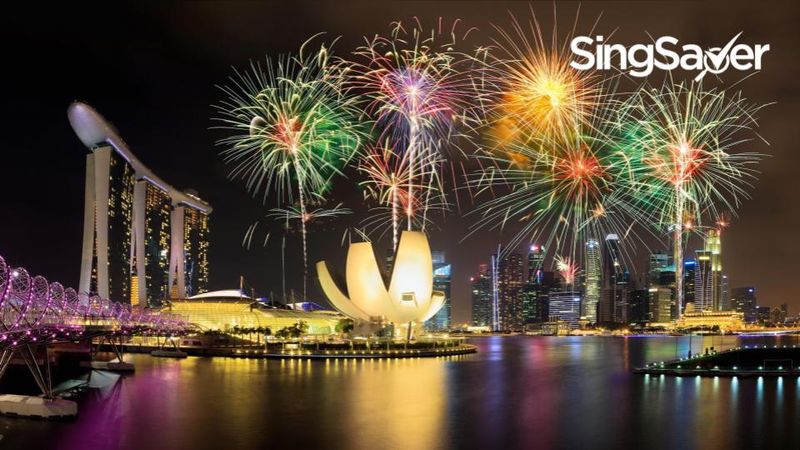 In the blink of an eye, 2019 is about to come to an end.
It feels like it was just a couple of weeks ago when 2019 just started, and we were all busy making new year resolutions in the hope of fulfilling them through the year. But ready or not, in just a couple of days, we will be celebrating the end of a decade and ushering in a new one.
If you are looking to welcome 2020 and bid adieu to 2019 with a loud bang (but on a budget), here's 4 free countdown parties to consider.
Marina Bay Countdown
How about spending the last day of a decade admiring fireworks? Like previous years, this year's fireworks will be taking place at Marina Bay during the countdown to the New Year.
Across the whole Marina Bay area, there are 8 vantage points for you to enjoy the beautiful fireworks when the clock strikes 12 midnight on 31st December 2019. More importantly, these vantage points are free of charge for anyone to catch a good perspective of the fireworks.
The 8 vantage points for you to catch fireworks at Marina Bay area are:
One Fullerton
Esplanade
The Jubilee Bridge (aka Helix Bridge)
Floating Platform @ Marina Bay
The Promontory @ Marina Bay
The Lawn @ Marina Bay
Waterfront Promenade
Marina Bay Sands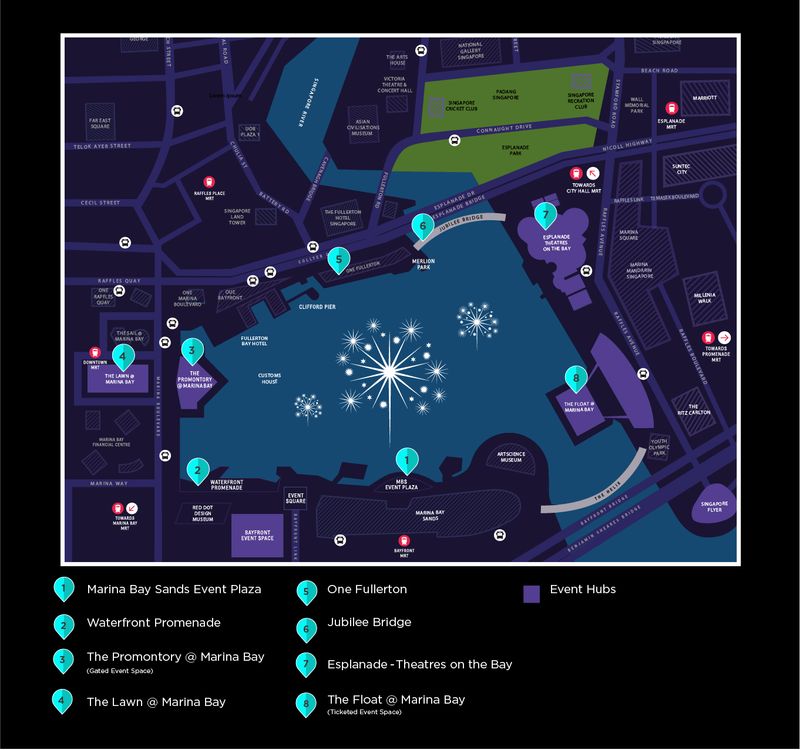 Cost: Free
Website: Link
Location: Along Marina Bay
Pro-Tip: If you are planning to catch a glimpse of the fireworks at Marina Bay area, make sure to get there early (around 10pm or so) to get a good seat.
Clarke Quay 2020 Countdown Party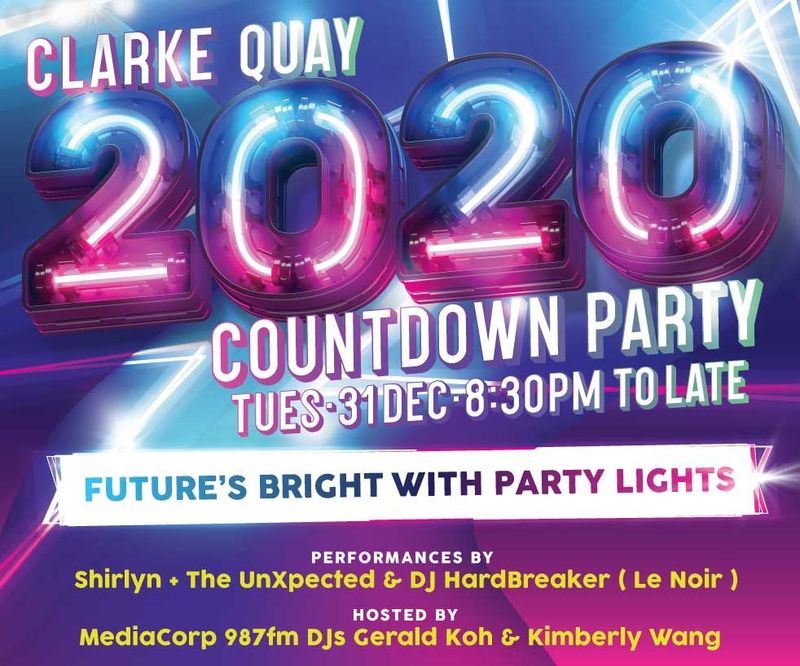 If you are bored of spending your New Year's Eve at Marina Bay, maybe it's time for a change this year. Instead of counting down at Marina Bay, you can check out Clarke Quay's 2020 Countdown Party that is happening at Clarke Quay (duh!). The party starts at 8.30pm with Mediacorp 987FM's Gerald Koh and Kimberly Wang as your hosts, followed by a series of performances by Shirlyn + The UnXpected and DJ HardBreaker, till late.
Apart from the performances, there's also a psychotropic world of neon-enhanced decoration that comes to life with special Chromadepth 3D glasses. You can pick up one of those glasses at the Fountain Square or Tan Tye Gate.
Cost: Free
Website: Link
Location: Clarke Quay, 3 River Valley Rd, Singapore 179024
Pro-Tip: Since you are already at Clarke Quay with your closest friends, why not let loose and dance the night away together? Just remember to dress appropriately and bring your ID along!
Starlight @ The Lawn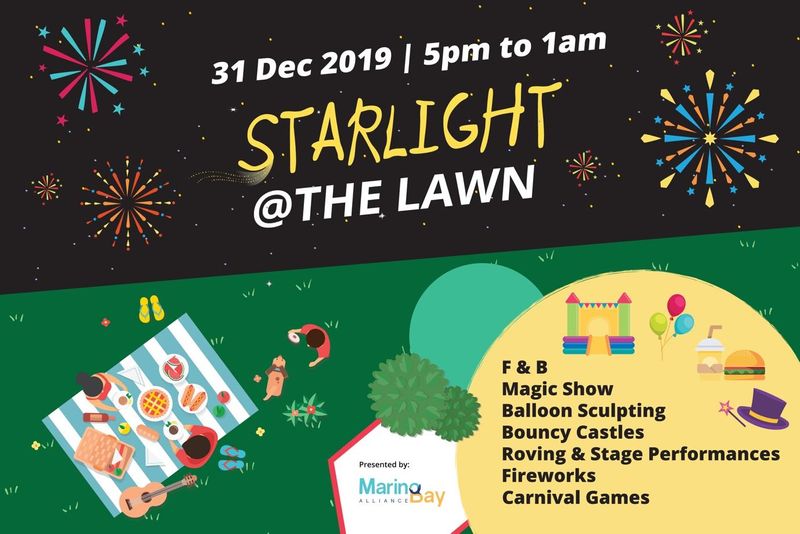 For families with kids, you definitely shouldn't miss the countdown party, Starlight @ The Lawn. An array of family-friendly fun and activities like bouncy castle, stage performances, magic shows and carnival games are planned for families and young children in mind. You will also get to enjoy a multitude of food and beverage options that will be available for both dinner and supper! The countdown party starts at 5pm and will last till 1am.
Cost: Free
Website: NA
Location: The Lawn @ Marina Bay, 8A Marina Blvd, Singapore 018984
Pro-Tip: As it is located at The Lawn along the Marina Bay stretch, you would get to enjoy the fireworks once it strikes midnight! If you are bringing young children or your dog along, do remember to bring earplugs or hearing protectors as the sound of fireworks get scary for them.
Downtown East Celebrates Countdown 2020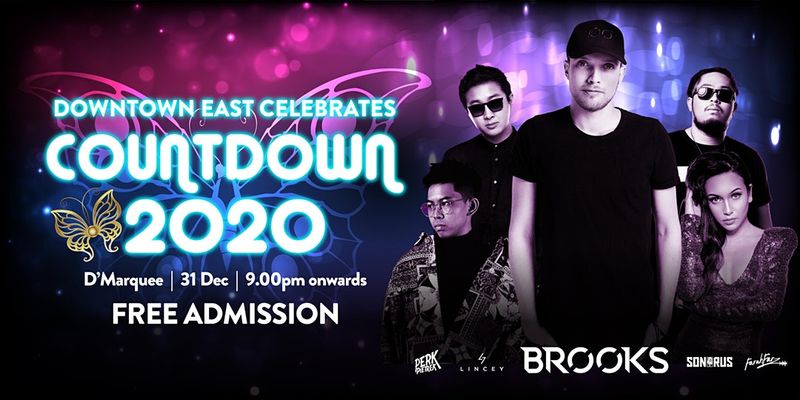 Hey East-siders, listen up! After a 6-year hiatus, there's going to be a countdown celebration in the East again. Downtown East will be holding the biggest countdown party with a star-studded line-up of international and local DJs with DJ Brooks headlining the countdown party.
There will also be popular local DJs performing such as Farah Farz, Lincey and Perk Pietrek spinning the latest tunes. If you are attending the countdown party at Downtown East, get ready to enjoy music genres ranging from Electronic Dance Music, Hip-Hop to R&B and more.
Cost: Free
Website: Link
Address: D'Marquee @ Downtown East, 1 Pasir Ris Close, Singapore 519599
Pro-Tip: Be sure to bring your ID (or driving license) along as this is a countdown party strictly for those aged 18 and above. Also, covered shoes are mandatory for this event.
Read these next:
7 Cheapest Holiday Destinations From Singapore For Under $350 (All-Inclusive)
Travel Insurance Promotions and Discounts
1-for-1 Buffet Dining Promotions in Singapore
Best SIM-Only Mobile Plans For Light, Moderate, And Heavy Data Users
Should I Use A Credit Card Or Multi-Currency Card For Overseas Spending?
---
---