'Tis the season for school holidays, Christmas and New Year's, all rolled into one. Despite being a drag of a year, December still feels like the best festive month to let loose, have fun and spread festive joy. It's also that time of the year you get plenty of time with your little ones.
There's a lot to do this festive season with your family in Singapore, whether you're planning to explore Christmas Wonderland at Gardens By The Bay with your kids or looking for a Christmas-themed parent-child workshop for some good ol' bonding time.
After all, the month of December is the best because you get to spend time with your little ones who are on school holidays, so make the most of it and check out our top 8 picks for the best kid-friendly Christmas activities in Singapore.
From holiday workshops to storytelling performances and more, you're sure to find something that keeps your children happy!
There's no better way to celebrate the exhilarating jolly of Christmas than partaking in Universal Studio's array of thrilling rides and mind-blowing performances. This year, your kids are in for a bigger treat for the gang of the most adored characters are here for a visit. Make sure to seek out Otto from the Minions series, the quirky trolls Poppy and Brunch or the humorous duo, Elmo and Abby during your time here, in addition to the many other fan favorites.
While here, take the opportunity to write an intimate letter to Santa Claus at Sesame street, or indulge your kids' naughty side at Minions Mail as they join Kevin and Stuart to spread chaos using despicable technology.
For those yet to utilise the SingapoRediscovers vouchers, Universal Studios has a set of amazing festive packages.
Address: 8 Sentosa Gateway, Sentosa Island, Singapore 098269
Price: From S$59
Until 2 January 2022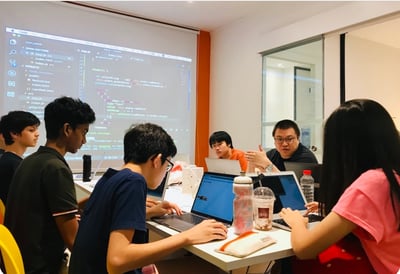 In just a few years, mobile technology has flourished and prospered remarkably. Now an integral part of our daily lives as well as our kids, mobile programming has become a boundless canvas for creativity and innovation. Have your kids venture into the domains of mobile applications at this online inventor camp as they learn the facets that define mobile technology.

Code campers can expect a comprehensive coverage of the fundamentals of mobile applications and App Inventor, an intuitive app designer. After which, campers can even design one of their own, going through the process of curating its user interface as well as coding its interactive behaviors. Recommended for children who are at least 11 years old.
Address:
Bukit Timah Campus: 587 Bukit Timah Road , #03-15, Singapore, 269707
Marina Parade Campus: 1 Marine Parade Central, #04-06, Singapore, 449408
Price: Starting from S$359.90
13 December to 17 December 2021 , 20 December 2021 to 23 December 2021, 27 December 2021 to 31 December 2021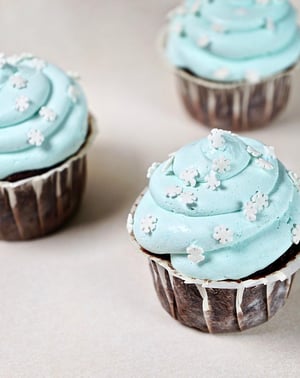 Let your kids take reign over the kitchen duties as you assist them in baking delightful Christmas gingerbread cookies and cupcakes. This workshop will guide you and your children in the process while imparting ways you can decorate these pastries with artistic flair. Teach 'em young.
Address: 28 Tai Seng Street, Level 5, Singapore, 534106
Price: S$128 for a pair (one parent and one child)
16 December 2021 and 21 December 2021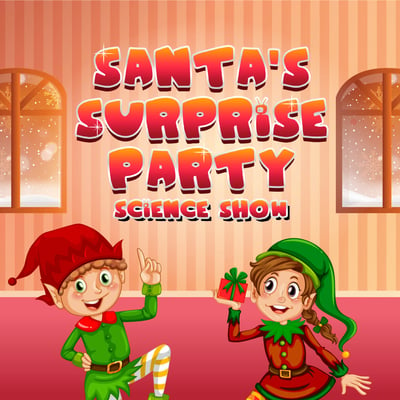 In case you didn't know Science Centre Singapore is jam-packed with scientifically-curated Christmas activities until 3 January 2022.
Participate in various educational and engaging workshops, go on a Sci-sational Christmas Trail and even bring partake in a Christmas-themed science show (S$5)
Sci-sational Christmas activities
Activity
Venue And Timings
What To Expect
Shape of Christmas
Hall E

10am to 12.30pm, 2pm to 4.30pm

Design a Christmas card and a LED lightbulb
Sensing the festive season
Hall A

10am to 12.45pm, 2pm to 4.45pm

Learn about sensor technology and its application to a smart Christmas
Are you hot or cool this season?
Hall G

10am to 12.45pm, 2pm to 4.45pm

Understand the applications of a thermal camera
Santa's mind challenge
The Mind's Eye exhbition

10am to 12.45pm, 2pm to 4.45pm

Challenge yourself to stay calm during a game
Sci-sational Christmas trail
Using your scientific knowledge, navigate your way through different exhibits and help Santa on his Christmas journey. At the end of the trail, receive a very special gift that promises to literally light up your day.
| | | |
| --- | --- | --- |
| Venue | Price | Purchase link |
| Multiple galleries | $5 | Click here to purchase your tickets |
The super cool sci-sational Christmas show
Santa has tasked his two head elves with throwing a super cool party that will be the talk of the North Pole! Join them as they rack their little elf brains and race against time to decorate Santa's workshop with a festive splash of liquid nitrogen.
| | | |
| --- | --- | --- |
| Venue | Price | Purchase link |
| Maxwell Auditorium | $5 | Click here to purchase your tickets |
Things to take note of
Science Centre Singapore admission charges apply to on-site workshops and exhibitions.
Address: Science Centre Singapore, 15 Science Centre Rd, Singapore 609081
Price: From $4 onwards
Till 3 January 2022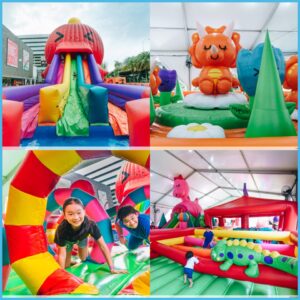 This haven has artistic workshops, carnival games and inflatable parks all in one central location. Packed with mindless fun and opportunities for creative exploration, this activity promises an ultimate escape.
Some of the activities available here include:
| | |
| --- | --- |
| Attraction | Price |
| Dino inflatable park | S$12 |
| Ultimate carnival game | S$25 for S$30 worth of credit vouchers |
| Uncle Ringo's carnival | S$40 for S$50 worth of credit vouchers |
| FaraDesign art workshop | S$20 |
If this isn't enough to satiate your appetite for adventure, you can always head to Wild Wild Wet after.
Address: Downtown East, 1 Pasir Ris Close, Singapore Singapore 519599
Until 20 March 2022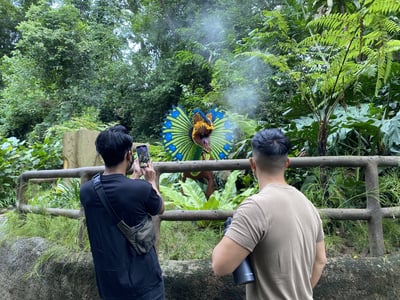 Explore a primitive era of our world this Christmas season at Brickosaurs World, Asia's first-ever exhibition of life-size dinosaurs. Your kids will surely gasp in awe at the colossal and animated terrestrial vertebrates wondering around the compound. And, interestingly enough, these life-like installations are made from over 1.5 million lego bricks!

This trail, while action-packed, is also an educational one, for it seeks to enlighten visitors on the contemporary plight of endangered species.
Address: 80 Mandai Lake Rd, Singapore 729826
Price: Starting at S$82 for adults and S$57 for children (Local citizens enjoy 40% off. Valid until 24 December 2021)
13 November 2021 to 3 May 2022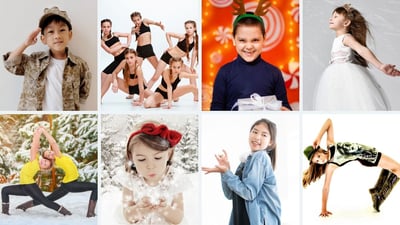 Find your kids restless during the year-end holidays? Direct their energy towards this week-long dance camp by All That Jazz, specially created for kids aged 3 to 17.
Until 7 January 2022 , the programme includes fun activities such as learning dances from different genres, games and crafts. Students will get to put on a short showcase at the end of the week.
The best part is, your kids don't need to have any dance background in order to sign up! This experience is suitable for beginners as well as those with some dance experience.
| | | | |
| --- | --- | --- | --- |
| Dance | Genre | Recommended age | Lessons |
| Snowflake Fantasy | Ballet | Ages 3 to 6 | Narrative-driven class that introduces ballet fundamentals |
| Winter Wonderland | Lyrical | Ages 3 to 10 | Emulate dance movements that is reflective of the Christmas spirit. Kids from ages 7 to 10 will also learn contemporary dance movements |
| Winter Acro Olympics | Acro Dance | Ages 4 to 10 | Learn the ins and outs of acro dance through strength training and drills |
| Rockin' Toy Soldiers | Street Dance | Ages 3 to 6 | Incorporate the classical Nutcracker theme with street dance elements. Practice basic dance movements such as breaking, popping and locking |
| Tik Tok Superstar | Street Dance | Ages 7 to 17 | Choreograph personal dance sequences that are inspired by reputable Tik Tok dancers |
| How The Grinch Stole Christmas! | Musical | Ages 5 to 10 | Partake in a musical commemorating Dr Seuss's beloved holiday tale. |
| K-Pop Music Awards | K-Pop | Ages 5 to 10 | Pick up dance sequences inspired by acclaimed K-Pop hit songs |
| Winter Potpourri | Various Styles | Ages 11 to 17 | Master the basics of five popular dance styles - jazz, street, lyrical, contemporary and acro dance. Each day will be dedicated to one of the five dance art forms. |
Things to take note of
Each dance camp runs for 5 days at 2.5 hours per day.
There are also 4-day winter dance camps available. Click here for more info.
Address: Various studios
Price: S$350 for a 5-days package, S$280 for a 4-days package
Till 7 January 2022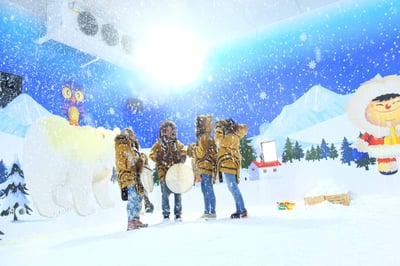 What is Christmas without snow? While we may be notorious for our tropical humidity, the authentic Christmas experience can finally be replicated at Snow City. This glacial paradise has a rich catalogue of activities that await you and your family, from a bumper car arena made entirely out of ice, a winter shooting arena to an exhibition of icy installations. You and your children can finally live out your winter fantasies.
With the advent of a novel ice hotel at Snow City, you can also get craft beers at the ice bar while your kids admire the icy sculptures emulating recognizable hotel rooms.
Address: 21 Jurong Town Hall Rd, Singapore 609433
Price: Starting at S$16.80
Operating Hours: 10am to 5pm (Tuesdays to Fridays), 10am to 6pm (Saturdays and Sundays), Closed on Mondays
---
Read these next:
Reasons You Should Pay $5 To Visit Christmas Wonderland 2021
8 Kid-Friendly Restaurants With Entertainment
Things To Do In Singapore That Get You The Most Bang For Your Buck (December 2021)
Best Christmas Dining Deals That Come With Your Credit Cards
The Best Christmas Log Cake Promotions in Singapore This 2021