If you can't concentrate on studying at home, here are five conducive and pocket-friendly (some are even free!) places where you can get some work done.
For most students, life is an endless cycle of pounding out presentations, research papers and theses. If you're looking for a quiet, conducive study escape, we've rounded up five perfect study spots throughout Singapore where you can go to get all your work done (and chug unlimited coffee).
Last updated on 8 July 2021. Prices and operating hours are subject to change without prior notice.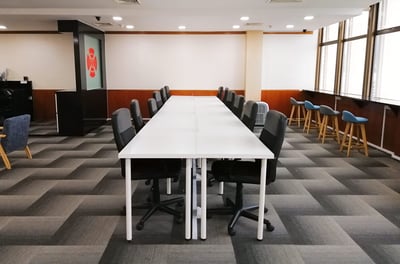 Address: 111 North Bridge Road #21-01 Peninsula Plaza, Singapore 179098
Price: S$75/month
What do you get: 24/7 usage, free lunch, drinks, soup, desserts and high-speed internet
We'll start with the best: free lunch, free coffee, free tea, free hot desserts, free soup and open 24/7.
We know that Lionsworld Business Centre is advertised as a coworking space, but who says students can't get their work done here too?
At only S$75 a month, get unlimited access 24/7 to this space and utilise it to your heart's content. Located next to City Hall MRT, we would say that it's a pretty convenient location for anyone.
Because Lionsworld cares about your productivity, they're even offering free lunches on weekdays so that you can focus on getting your work done. And their lunches aren't just any random bento set — Lionsworld serves up special menus throughout the week and lunch is different every day. You can check out their weekly menu here.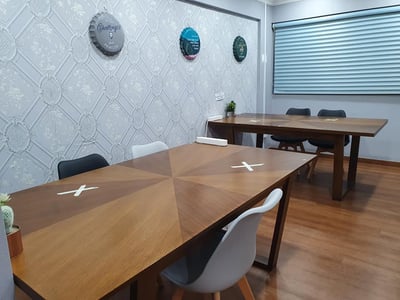 Address: 350 Jurong East Avenue 1 #02-1239, Singapore 600350
Price: Day pass: S$10 (Weekdays, 9am to 6pm), S$12 (Weekends, 10am to 9pm), bundle promotion (buy three hours and get one hour free, every day 9am to 11pm): S$6
What do you get: Hotdesks and discussion rooms that come with wifi and power sockets
Located in Jurong East among HDB blocks, My Study Place is easily accessible for westies with affordable rates for students. With wifi and many power sockets available, you'll never have to worry about your devices running out of juice. With separate desks at each corner back-facing away from others, you're sure to get the privacy as well as the 1m safe distance that everyone's so particular about these days. After all, you came here to study, not to contract COVID-19. Be sure to bring your own bottle of water as their water dispenser is temporarily suspended due to COVID-19.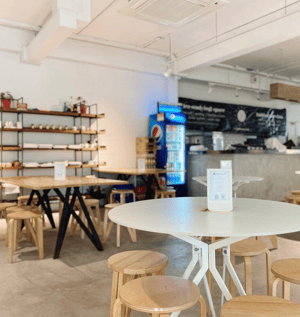 Address: 400 Lengkok Bahru #01-01, Singapore 159049
Price: Monday to Saturday, 5.30pm to 10pm: S$8/ day and Sunday, 10.30am to 10pm: S$12/ day
What do you get: Free wifi, free-flow snacks, charging points and printing facilities
With the aim of meeting all educational needs under one roof, Afterhours Study is a tuition centre and co-study spot all in one. After you're done with your tuition session, you can continue to revise your work at the co-studying space. They also offer 20 pages of black and white complimentary printing so you can print your notes there too! If you often feel peckish whilst studying, you'll be glad to know that they also offer free-flow snacks.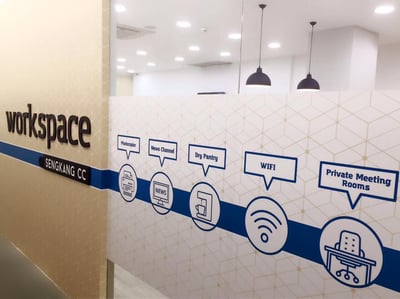 Address: 2 Sengkang Square, #04 - 18, Singapore 545078
Price: Free, but reservations required
What do you get: Free wifi, private meeting rooms, dry pantry with snacks and coffee and photocopier
For students who live in Sengkang, this is a good place to study on weekdays. Not only is it free to enter, you'll also get access to wifi and free-flow coffee and snacks.
Just take note that only people aged 16 and above are allowed in and that the place is closed on public holidays. To make bookings, simply contact Sengkang CC at 6715 7029.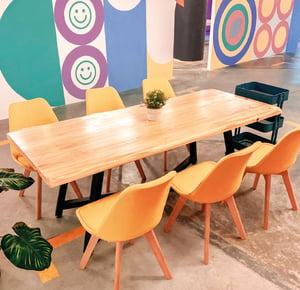 Address: 51, Changi Business Park Central 2 #02-06, The Signature, Singapore 486066
Price: Day pass: S$30 (one day), S$180 (10 days)
What do you get: Social pantry, community events, concierge services, free wifi and power and mailing and postage services
For only S$18 a day when you opt for the 10-day pass, get access to the living room area, a pantry with microwave, concierge services, as well as free wifi and power throughout the day. The Mox's new hot-desking area is perfect for easties who seek spaces with minimum distraction for maximum productivity.

Read these next:
Heads Up, Fresh Grads: 4 Tips To Nail Your First Job In This New Norm
The Real Cost Of Working From Home (WFH) May Surprise You
Best Affordable Air Coolers To Beat The Heat With
5 Best Home Fibre Broadband Plan In Singapore (2021)
Cost Comparison: Meal Prep Versus Buying Food