Make memories for a lifetime with unique venues that don't cost an arm and a leg.
Location, location, location. Whether it be a wedding, proposal, birthday party or anniversary celebration, where it's held can have the potential to make or break the entire affair. And in Singapore where grand venues can cost the equivalent of a year's pay cheque, it may seem that memorable yet affordable locations are hard to find.
Sometimes all it takes is a little ingenuity to spot places that can deliver the exceptional ambience our most special occasions deserve. Here's a round-up of options that might just suit your event and budget.
Decks at FOCUS Adventure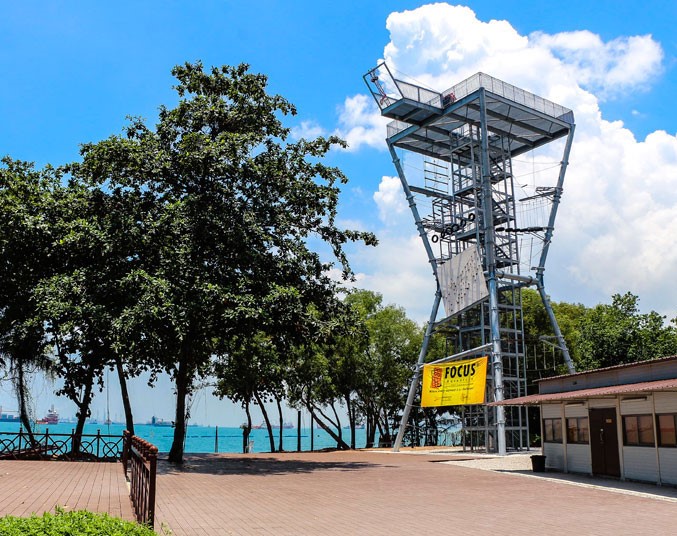 Address: 1 Gunner Lane, Singapore 099562
Contact: 6278 6560
Fancy the seaside, balmy breezes and plenty of space to do as you please? Then you might want to check out the decks on offer by FOCUS Adventure at Tanjong Beach. These include the top deck of its 24 metre Team Challenge Hourglass tower, which provides unobsctructed panoramic views of the sea.
Catering is not provided, but you'll have full flexibility to do with the spaces as you please, with toilets and showers nearby as well. Adventure seekers could even opt to rent kayaks or dragon boats, or get the party started by challenging themselves with the elements onsite.
Rental costs start at S$700 (for 7:00pm–10:00pm), and range between S$1,200 to S$1,800 depending on whether you're looking to rent for a half or entire day.
Into The Woods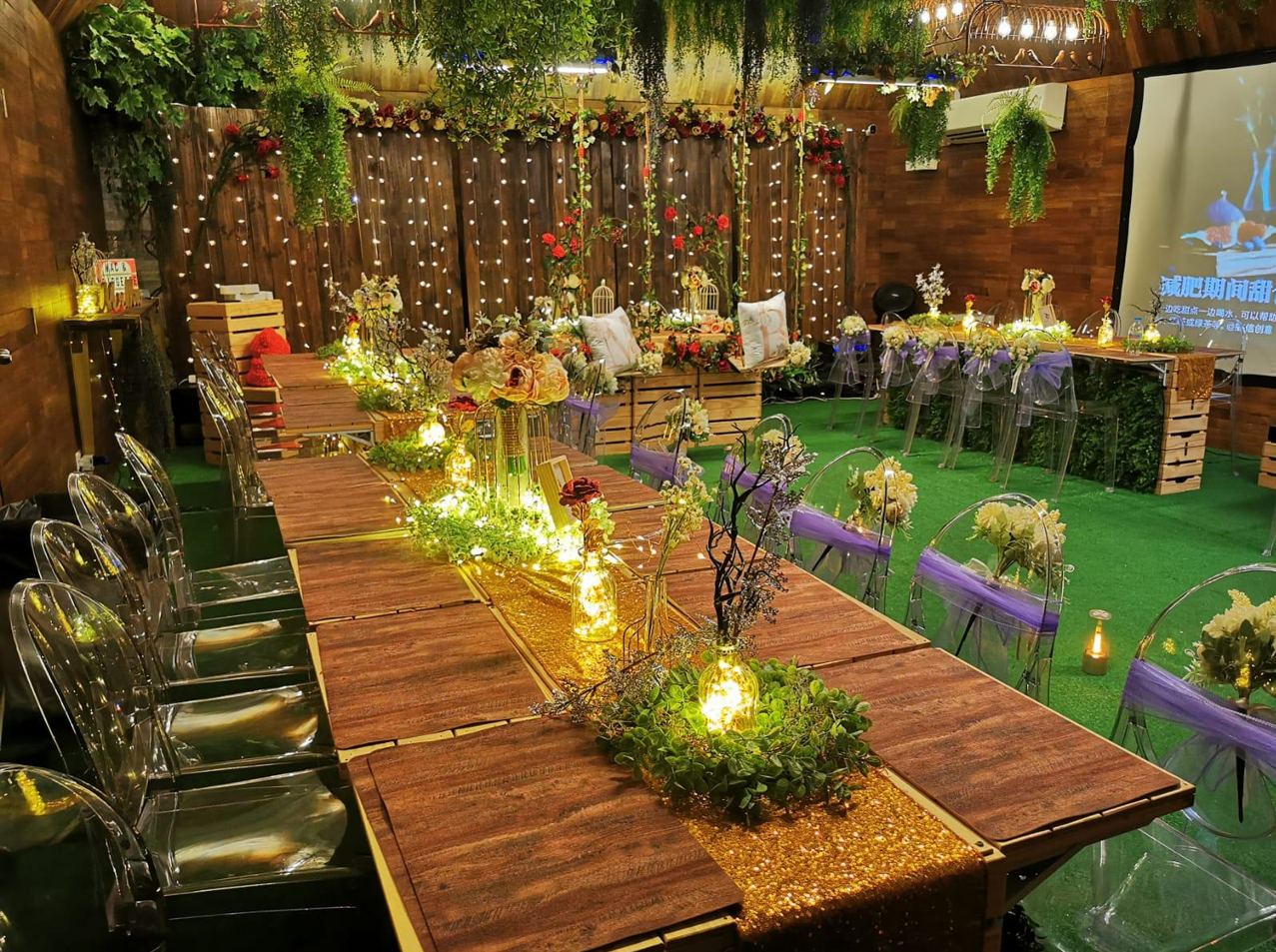 Address: 213 Lavender Street, Singapore 338770
Contact: 8925 9290 (WhatsApp)
If you're on the hunt for a natural setting, yet don't want to brave the unpredictability of the weather, Into The Woods can give you a sense of a storybook forest in air-conditioned comfort.
Belying its shophouse front, the space is enchantingly bedecked in greenery and blooms. The venue can also provide a projector and Audio-Visual system, among other facilities, and requires minimal set-up. Accommodating seating for up to 40 pax, the affordable rental price (starting from S$750) makes this a prime contender for a cosier event.
MINT Museum of Toys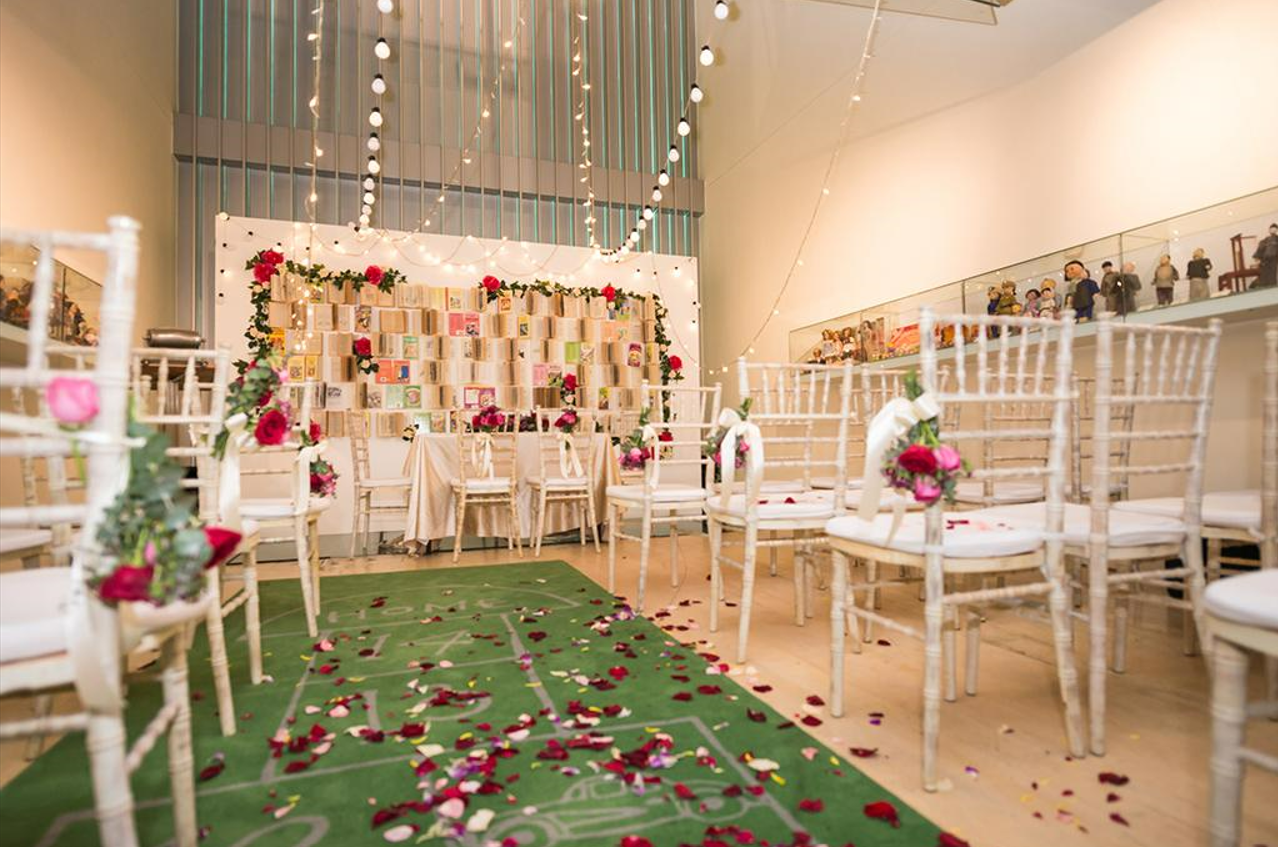 Address: 26 Seah Street, Singapore 188382
Contact: 6339 0660
Embrace your playful side or take a nostalgic-laden trip down memory lane by holding your special occasion at MINT Museum of Toys. The museum has an assortment of spaces available for booking; the vintage toy displays make for colourful complements and sure-fire conversation starters.
The whimsicality of childhood trinkets is balanced by the edginess of the rooftop bar, which specialises in innovative punch mixes and can supply alcoholic refreshment for your event.
Rental prices start at S$500 for four hours, and can go up to S$2,500, depending on the space selected.
Café Melba Mediapolis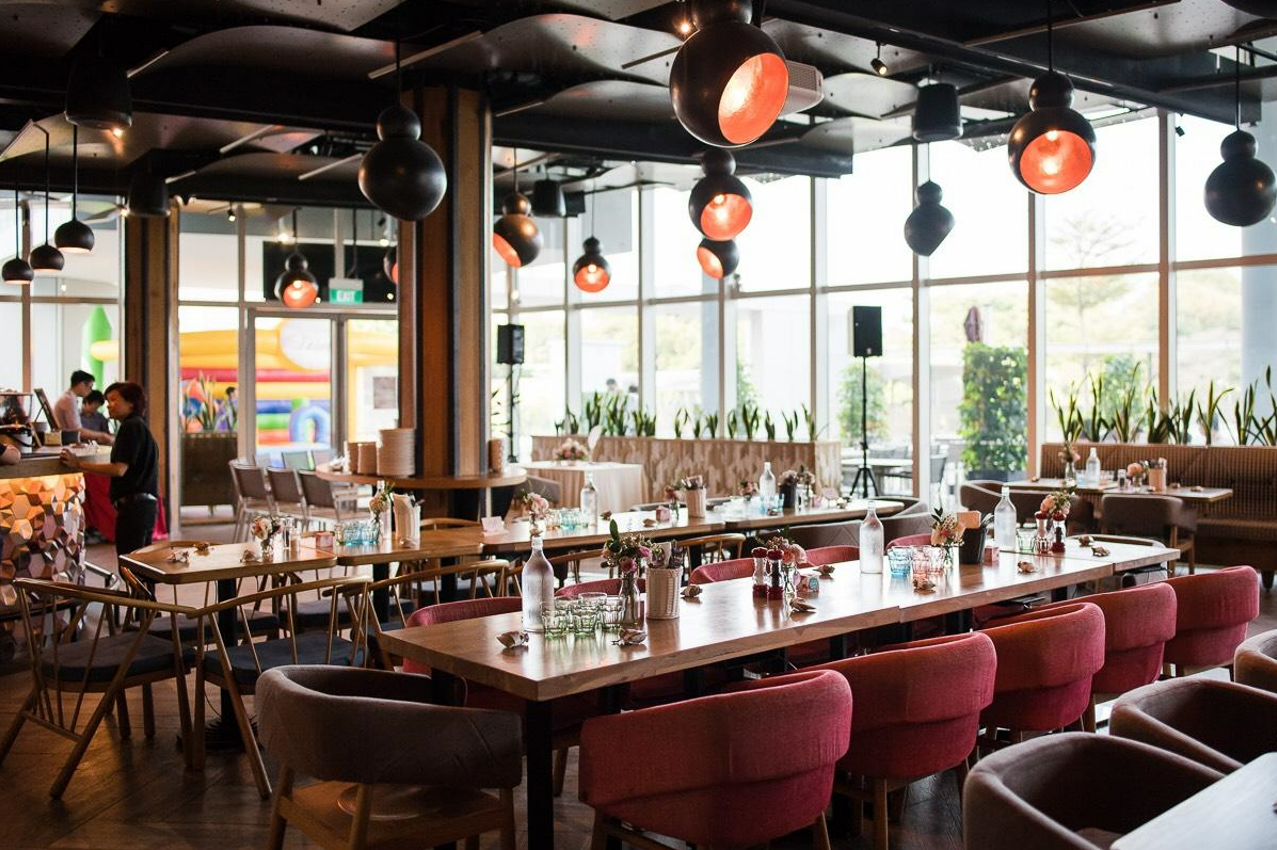 Address: 1 Stars Ave, #03-01, Singapore 138507
Contact: 6352 2721
Woody tones, floor-to-ceiling windows facing green views, and plush furniture make for a relaxed yet classy atmosphere at Café Melba Mediapolis. Seating for up to 150 pax allows for larger groups to be hosted comfortably.
Another plus is the Australasian food provided by the café, which means you won't have to worry about arranging for a caterer. You can opt for canapés or buffet spreads, making it equally possible to host a cocktail party as it is a wedding luncheon.
Prices start at S$48 per person, which is still pretty affordable compared to some hotel packages.
PasarBella Suntec
Address: 3 Temasek Blvd, #01-455, North Wing, Suntec City 3, Singapore 038983
Contact: 6887 0077
PasarBella, a funky street food- and culture-inspired food court, offers a vibrant and spacious place to throw a party or event. Its street food- and culture-inspired interior pops with neon lighting and graffiti elements, making for a refreshing alternative for those tired of staid and standard venues. Catering is taken care of, with a wide variety of bites available from its food stalls.
The sprawling 8,000 sq ft space can take up to 350 people, so you can rest easy if you've got an extensive guest list. Event pricing starts from S$100, and may require a minimum pax. Bonus: it's located at Suntec City, which is centrally located and accessible by the Circle Line and Downtown Line, so it'll be a cinch for your guests to access.
The Great Room
Multiple locations
Contact: 6817 9590
Named for the room at the heart of the home, The Great Room is an elegant co-working space. Its five branches in Singapore incorporate flexible and sophisticated areas suitable not only for work, but also an array of various functions, and are available for booking by members and non-members. Its State Room, Studio and Drawing Room have different capacities and layouts, unlocking possibilities for events no matter how intimate or large.
Prices start at around S$500 to S$1,000 for the smaller and mid-sized rooms respectively.
The Projector
Address: 6001 Beach Road, Golden Mile Tower, #05-00, Singapore 199589
Cinephiles, this one's for you. The Projector, known for its curation of offbeat and arthouse films, also leases out its quirky screening rooms for events. From its cosy 48-seater Neon Room, to its imposing 230-seater Green Room, to the 210-seater Redrum where you can sink into reupholstered cast-iron seat frames from the 70s or slouchy beanbags, you'll be able to find a hall to host a group of any size. This could be the perfect venue to make your dreams of being the leading man/lady come true.
Its Intermission Bar can provide catering too. Prices start from just below S$1,000 for the smaller rooms.
Open Farm Community
Select your menu from their event packages, which start at around S$88++ per pax
Address: 130E Minden Rd, Singapore 248819
Contact: 6471 0306
Farm-to-table eatery Open Farm Community leases out its lawn and outdoor deck for events, ensuring your special occasion will be set amid a picturesque landscape. Can't imagine getting married without your best furry friend beside you? These spaces are pet-friendly, so you'll be able to enjoy the company of your nearest and dearest whether human or canine.
---
If you've got your wedding day or a big occasion coming up, it can feel like the expenses are never-ending. Make your expenditure more manageable through these personal loans that can help spread out your payments.
Read these next:
Cost Guide to Weddings in Singapore 2022
Planning A Wedding? Here's How To Earn The Most Miles Possible
You Can Use Endowment Plans in Singapore to Fund Your Wedding
Should You Choose Co-Living Or Renting When Moving Out Of Your Parents' House?
How Much Do You Need To Buy Your First Home In Singapore?