Looking for a relaxing getaway without straying too far from the mainland? Here's a deep dive into Royal Caribbean's best luxury liners before you disembark.
Although international travel borders are opening up, it doesn't mean that you can't indulge in a luxury cruise bound for nowhere amidst the endless sea.
For some, cruises can be therapeutic — relaxing idly on a pool lounge chair, sipping some martinis at the deck's bar, indulging in delectable culinary affairs and enjoying onboard entertainment and services all within walking distance.
Although Genting Dream (better known as Dream Cruises) is no longer operating due to financial constraints, the Spectrum of the Seas ship under Royal Caribbean's fleet is still here to stay for the foreseeable future.
So, if you're still aching to escape Singapore's metropolitan mayhem for a few days, here's the breakdown of what to expect before disembarking on the Spectrum of the Seas.
Table of contents
Lasted updated on 9 May 2022. All prices, itineraries and amenities onboard the Royal Caribbean fleets are subject to change without prior notice. Please refer to their official website for more information.
Before embarking on your cruise
Before sailing off, it's pertinent to know what are the travel requirements necessary for a smooth-sailing journey.
Although it's marketed as a 'cruise to nowhere', this 'nowhere' still refers to international waters — or otherwise known as the Malacca Straits. So it's not exactly no man's land.
Since it's technically considered as leaving Singapore, your passport, proof of full COVID-19 vaccination (final dose taken 14 days before departure), and complying with other prevailing re-entry COVID-19 requirements are essential.
You can refer to Royal Caribbean's COVID-19 guidelines here.
Royal Caribbean cost comparison 2022: Quantum vs. Spectrum (of the Seas)
Previously, Royal Caribbean used to run two different cruise liners out of Singapore's port — Spectrum of the Seas and Quantum of the Seas.
As of now, however, Royal Caribbean is withholding the latter from any outbound voyages from Singapore for reasons unknown. Instead, it is currently used to serve the waters of Alaska, Australia and Washington.
Only Spectrum of the Seas departs and docks at Singapore's bay at the moment.
Here's the price list of the room accommodations available on the Spectrum of the Seas.
Spectrum of the Seas (Singapore)
Room Types
Three Nights
Four Nights
Interior
From S$317* per person
From S$417* per person
Ocean View
From S$466* per person
From S$546* per person
Balcony
From S$516* per person
From S$596* per person
Suites
From S$763* per person
From S$863* per person
*All prices are exclusive of taxes, fees and port expenses of S$59.53.
*Prices reflected are the cheapest recommendations (as of 9 May) according to different departure dates.
Conversely, Quantum of the Seas is presently docked at Brisbane, Australia 🇦🇺. Prices for the Interior Room under their Three-Night and Four-Night packages start from S$597 per person and S$681 per person respectively. All prior to tax.
From this overview glance alone, it's apparent that Spectrum of the Seas is more value-for-money right now.
For an Interior Room used for three nights, that adds up to only about S$105.70 per pax each night — which is a very affordable rate by hotel accommodation standards.
---
Tag your Royal Caribbean cruise booking to an HSBC credit card like the HSBC Revolution card. Till 31 December 2022, HSBC is offering cardholders complimentary Pierre Cardin luggage and 5% off Balcony or Deluxe Staterooms.
With the HSBC Revolution credit card, you'll also earn 4 miles per local dollar spent on your cruise charge!
SingSaver Exclusive Promotion: Become an HSBC credit cardholder and spend a min. of S$500 to score up to S$200 cashback! Valid till 31 July 2022. T&Cs apply.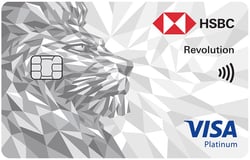 Types of rooms available at Spectrum of the Seas
As far as rooms are concerned, there are a total of four different room accommodations to choose from:
1. Interior Staterooms

Source: royalcaribbean.co
The Interior Rooms are humble, understated accommodations that are compact but cosy. Spacious enough for a queen-sized bed / double single beds, couch(es), television, drawers, and desk, there remains sufficient space between the bed and toilet.
Depending on your needs and budget, the Interior Room also offers a few variations to choose from: Accessible Interior, Studio Interior, and Connecting Interior. For instance, the toilets for Accessible Interior Rooms are suited for special needs or disabled guests.
In general, the standard Interior Room consists of two twin beds that can be converted into a Royal King bed and one double sofa bed. The room is about 166 sq. ft. in size and can host up to four guests.
2. Ocean View Staterooms

Source: royalcaribbean.co
For those with a mid-range budget, wake up to the stunning ocean landscape of the Malacca Straits from the Ocean View Room. Interior-wise (no pun intended), this room doesn't differ significantly from the Interior Room except for the window.
A standard Ocean View Room holds the same twin beds and double sofa bed arrangement as the Interior Room. In total, this room stands at 182 sq. ft. and can accommodate four pax.
For guests who still find the room to be a little bit of a tight squeeze, fret not, you can upgrade to a Spacious Ocean View Room or the Accessible Ocean View (270 sq. ft.) if necessary.
Thus, if getting a whiff of the glistening ocean first thing in the morning is a non-negotiable for you, definitely consider topping up a few extra for this accommodation.
3. Balcony Staterooms

Source: royalcaribbean.co
The Balcony Rooms are a slightly elevated version of your Ocean View Rooms where the window has been enlarged and converted into a full-on balcony!
Single passengers will be pleased to know that the Balcony Room comes with a Studio version, featuring one full-sized bed with a total of 164 sq. ft. including the balcony space.
Otherwise, a typical family can opt between the Obstructured or Unobstructed Ocean View Balcony Rooms too. Both variations stand at 253 sq. ft., with the latter being more ideal for those preferring greater privacy.
The Balcony Room is definitely a treat for those who constantly daydream about being onboard a tropical cruise. Guests can lounge around their private parapet to their heart's content. It's nothing but the golden sun rays and crisp sea breeze here.
4. Suite Class

Source: royalcaribbean.co
Last but not least, we have the crème de la crème of all accommodation — the Suite Class Rooms.
Exuding an air of royalty and privilege, the allure of the Suite Class Rooms is not difficult to see. Lavishly decorated with a postmodern vibe with splashes of nautical elements, the Suite Room will make you the envy of all.
Capable of accommodating a royal king-sized bed and other amenities, the ample space allows for two sliding glass doors to access your private balcony perch. Other Suite variations include the Silver Junior Suite, Grand Loft Suite, Ultimate Family Suite and the Owner's Suite. Opulence at sea doesn't get any better than this.
Food options on the Spectrum of the Seas
Restaurants
By now, you must've worked up an appetite. Have no fear, because it's near impossible to go hungry aboard this impressive cruise liner. With over 17 dining delights to choose from, eating will never be a dull moment here.

Chops Grille
Source: royalcaribbean.co
Pique your tastebuds with the freshest seafood at Chops Grille where their talented kitchen will whip up incredible seafood towers comprising jumbo prawns, green-lipped mussels, Maine lobster and more. Or for a more subdued, ala-carte choice, their tender filet in both 170g and 255g are hot favourites too.

Sichuan Red
Source: royalcaribbean.co
For the Mala fanatics, pop by the Sichuan Red for an exotic, epicurean adventure of some of the region's most tantalising spices. This dining experience is uniquely designed by Spectrum of the Seas, serving guests with seemingly endless platters of Royal Sea Cucumber, Mao-Pu tofu, pickled radish and duck soup and more.

Teppanyaki
Source: royalcaribbean.co
And of course, we can't forget the classic Teppanyaki array. Beloved by many Singaporeans, Teppanyaki can be considered a culinary-performance art fusion where the chefs themselves are your artists. With a knife in one hand and a spatula in another, watch as these masterful cooks serve up a sizzling tray of top-grade steaks and succulent seafood right in front of you.
If fancy dining isn't your cup of tea, there are more casual options like Splashaway Cafe, Noodle Bar and others to patronise.
Note: Many of these dining establishments require a smart casual dress code. Do check beforehand to avoid disappointment at the entrance.
Bars & Lounges
After finishing a sumptuous meal, the night is still young. It's time to taste some spirits and wine concoctions to end what would be a memorable night. With seven bars in total, there's something for everyone — aged 18 and up.

Schooner Bar
Source: royalcaribbean.co
Pay a visit to the Schooner Bar where live music and masterful mixing come together as one. Highlights of their menu include classic cocktails such as Old-Fashioned (which comes in five variations) and New-Fashioned that pairs pink grapefruit and fresh raspberries.
Whatever your poison is, no concoction is off the books for this soulful lounge. Their flavourful combinations are soothing for both the palate and soul.

North Star Bar
Source: royalcaribbean.co
For a livelier and upbeat feel, the North Star Bar is one of the best spots to be at dusk. Because it's located above deck, it offers panoramic views of the ocean scenery 90 metres above sea level.
Perhaps one of their biggest claim to fame is their cocktail menu. With revitalising mixtures like Lodestar, Dark N' Stormy or the Manhattan, the night truly comes alive at this bustling bar.

Bionic Bar
Source: royalcaribbean.co
If you think bartenders are too traditional, there's the Bionic Bar that features the ship's two resident bionic arm bartenders. These robotic mixers know how to serve spotlight classics, signature drinks and even custom-crafted sips designed by you.
This bar is the manifestation of mixology meets technology, with cocktail creativity and possibilities only limited by your own imagination.
---
Although these aren't bottomless mimosas, the slew of cocktails and wines you order throughout the night will certainly add up. Charge these beverage orders to a dining credit card and savour the rewards that you will receive.
Dazzling entertainment on Spectrum of the Seas
What luxury cruise experience is complete without attempting as many in-house entertainment and amenities as possible?
Although there are over 54 shows and activities to participate in, the queues are often ridiculously long.

FlowRider
Source: royalcaribbean.co
The FlowRider is a crowd favourite for many cruisegoers. This epic surfboarding simulator will either see you wiping out a lot or leave you championing the artificial currents. Whatever it is, it's loads of fun for both guys and gals.
Not to mention, there's tons of fun to be had indoors as well like Laser Tag: Battle for Planet Z, indoor skydiving at Ripcord by IFLY, Dodgem bumper cars and more.
Lastly, unwind for the night with some relaxing outdoor film nights right on deck. This dive-in film theatre projects a roster of newly released films and major sporting events upon a 20.4m² outdoor big screen above the main pool area.
It's hard to encapsulate the entire activity list all in one sitting, so the only way to find out is to come down and experience them for yourselves.
Pro-tip: Book for your desired activity or amenity as soon as the booking slot opens. Slots fill up very quickly so don't delay.
Note: Availability and applicable fees of activities are subject to cruise routes and itineraries.
A well-deserved vacation to nowhere
Though holidays and vacations are resuming to what they once were, there's no hurry to rush to specific countries yet. In fact, many of these destinations are still in the midst of getting their COVID-19 situation under control.
Yet, many of us are met with the dilemma of: if not now, then when? Wait for another variant outbreak to happen and send us all hurtling into another lockdown? I don't think so.
Whatever your travel concerns may be, at least we can all agree on the importance of travel insurance. Before embarking on your trip, pick the best travel insurance plans to protect the health and safety of your friends and loved ones.
For starters, Starr Cruise to Nowhere Travel Insurance provides bundle coverage for COVID-19 and other important medical or personal accident expenses necessary.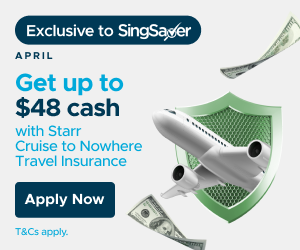 SingSaver's Starr Cruise to Nowhere Travel Insurance Exclusive Promotion: Get rewarded with up to S$48 via PayNow when you apply. Valid till 30 June 2023. T&Cs apply.
Plus, all successful applicants will receive 1x draw chance to enter our weekly Travel and Win Big lucky draw where 1 lucky winner will stand to win a cash prize of $1,888. Valid till 30 April 2023. T&Cs apply.
Read these next:
Best Travel Insurance Plans With COVID-19 Coverage
5 Reasons Travel Insurance is Extra Important on Cruise Ships
10 Most Affordable Holiday Destinations for Singaporeans 2022
Things To Do In Singapore That Get You The Most Bang For Your Buck (May 2022)
Klook Promo Codes in Singapore (May 2022)