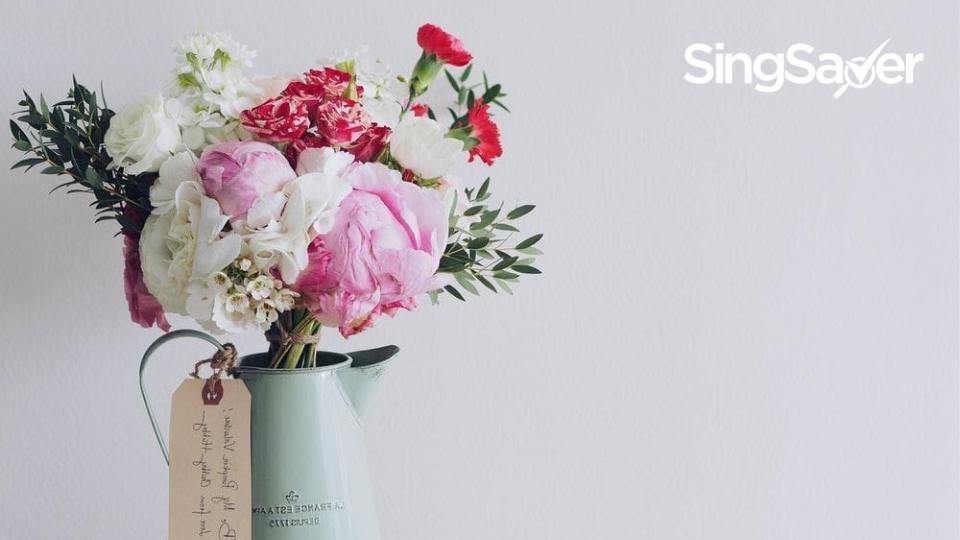 Want to liven up your home with some affordable flowers? We list some wholesale flower delivery options for you to take your pick.
Flowers can do wonders to your home and your mood. Not only can they brighten up your room and mood, it also acts as a natural filter for your room. That's why flowers make an excellent housewarming gift or are suitable for festive events, such as Christmas and Chinese New Year..
These floral arrangements, however, don't come cheap. Fortunately, you can get them at affordable rates from wholesale florists that deliver right to your doorstep.
If you are planning to order some flowers for a friend or to spruce up the home, consider these six wholesale florists.
6 Wholesale Flower Delivery To Order From
Shop Name
Address / Contact Number
Delivery Charge
Delivery Lead Time
Far East Flora Market by Far East Flora
557 Thomson Road62515151
$7.49 (inclusive of GST)
1 day
Sing See Soon
32 Punggol East #01-01; 5 Simei Lane
62852777
$10.70
$2.68 if you are within 2km of their shop in Simei or Punggol
3 days
Ji Mei Flower
5 Joan Road
62850017
Free
2 days
Sky Floral Trading & Landscape Pte Ltd
25 Kaki Bukit Road 4 #07-23, Synergy @KB
$6 / $10
1 day
Kampong Flowers
18 New Industrial Road, #03-17
81114338
$14
Free for purchases above $150
1 day
G Flower Wholesale
101 Kallang Avenue, #01-20, Victoria Wholesale Centre
62525555
$9.70 if order is less than $50
$5 if order is between $50 and $100
Free for purchases above $100
1 day
For more than 55 years, Far East Flora Market has been supplying flowers to its customers at wholesale prices. From traders, florist, event organisers to retail customers, Far East Flora Market provides fresh flowers at wholesale prices all-year-round without fail.
They offer a wide range of freshly cut flowers, including foliage, leaves, floral accessories, dried flowers and preserved flowers. Now with their online store, you can conveniently add fresh flowers into your cart and have them sent to your home within a day.
Contact Number: 62515151
Address: 555 Thomson Road
Price: From $8.50 onwards
Sing See Soon is a family-owned business that is now in its fifth generation. The home-grown company attained pioneer status with its prominent portfolio of original and breath-taking floral creations. They have been growing their reputation as a wholesale florist and developed a clientele that includes celebrities, event organisers, top-tier wedding planners and entertainment producers.
Contact Number: 62852777
Address: 32 Punggol East #01-01; 5 Simei Lane
Price: From $4 onwards
Ji Mei Flower is a wholesale flower shop that specialises in wedding floral decoration. It prides itself on designing, making and creating breathtaking floral arrangements. From bespoke bouquets to event decoration, Ji Mei Flower ensures that its creation can bring out the personality in you with their floral design. If you want to try your hand at creating bespoke floral designs, you can also create your own floral bouquet with the fresh flowers that they provide.
Contact Number: 62850017
Address: 5 Joan Road
Price: From $120 onwards
Sky Floral was established in 2007 by Mr Yeo Siong Kie, who is from one of the pioneer families that started the fresh flower business in Singapore in the late 1960s. Sky Floral imports fresh flowers from an extensive network of suppliers, spanning across different countries including China, Taiwan, Malaysia and Holland. The wholesale florist is committed to supplying top quality wholesale flowers, delivering consistent and reliable personal service to its customers.
Address: 25 Kaki Bukit Road 4 #07-23, Synergy @KB
Price: From $4 onwards
Kampong Flowers started with a dream: to bring the world's most luxurious traditional garden roses and flowers to Singapore's community. They believe that flowers can create harmonious interactions, bringing us back to our Kampong days when people live closely together in a community. To achieve their dream, Kampong Flowers work closely with growers to uphold strong standards and provide better availability of luxury flowers all year-round for their customer's enjoyment.
Contact Number: 81114338
Address: 18 New Industrial Road, #03-17
Price: From $15.10 onwards
G Flower Wholesale is a wholesaler and distributor of flowers, foliage and fillers that prides itself on providing wholesale fresh flowers with delivery service to your doorstep. They provide a one-stop fresh-cut flower wholesale service to retailers, online florists, supermarkets, wet markets, shopping malls, events floral and workshops. Their flowers are imported from all over the world, from Holland, Kenya, China, India, Ecuador, USA, New Zealand, Taiwan, Vietnam, South Africa and other parts of the world.
Contact Number: 62525555
Address: 101 Kallang Avenue, #01-20, Victoria Wholesale Centre
Price: From $2 onwards
Read these next:
Cheap Gym Memberships In Singapore Under $80 Per Month
12 Things You Can Buy With The Money Spent On An iPhone 12
40+ Hawkers & Restaurants With Free Delivery During COVID-19 Circuit Breaker
Food Delivery Promo Codes 2021: GrabFood, Deliveroo, Foodpanda, WhyQ
Top Credit Card Promotions And Deals On SingSaver (January 2021)
---
Before you click on check out and pay for these beautiful flowers, make sure you're using the right cashback credit card to maximise your spending. Remember, if you haven't gotten yourself a cashback credit card, simply use our credit card comparison tool to find the best option within minutes, and you could even be rewarded with cash and prizes*.
*Rewards may change at any time. Terms and conditions apply.