Getting married is a big deal. It's also an occasion where budget is a key consideration (unless you're the likes of Taylor Swift). Deciding on the location is the 1st step to getting the party started. Here are eight beautiful venues to host the wedding of a lifetime
With the upcoming GST increase on 1 January 2023, many of you ready-to-wed couples are probably sealing the deal on your wedding location.
Either way, your wedding location is a topic that will make the biggest impact on your wedding budget. If you're wondering about a more creative way of celebrating your matrimony, and you know, break with convention but not break the bank, well, we're on the same page.
There's no denying that money can be a significant source of stress in your relationship, not to mention your wedding planning. You may have found Mr/Ms Right, but there is no right answer to what you should or should not spend on.
The groom, for instance, may not think 100 extra white roses count as essential, but to the bride, fresh flowers are simply non-negotiable. Many couples are taking a more thoughtful approach to weddings, cutting down fluff to focus on those that matter to them the most.
So, let's start with the location, shall we?
1. 1-Atico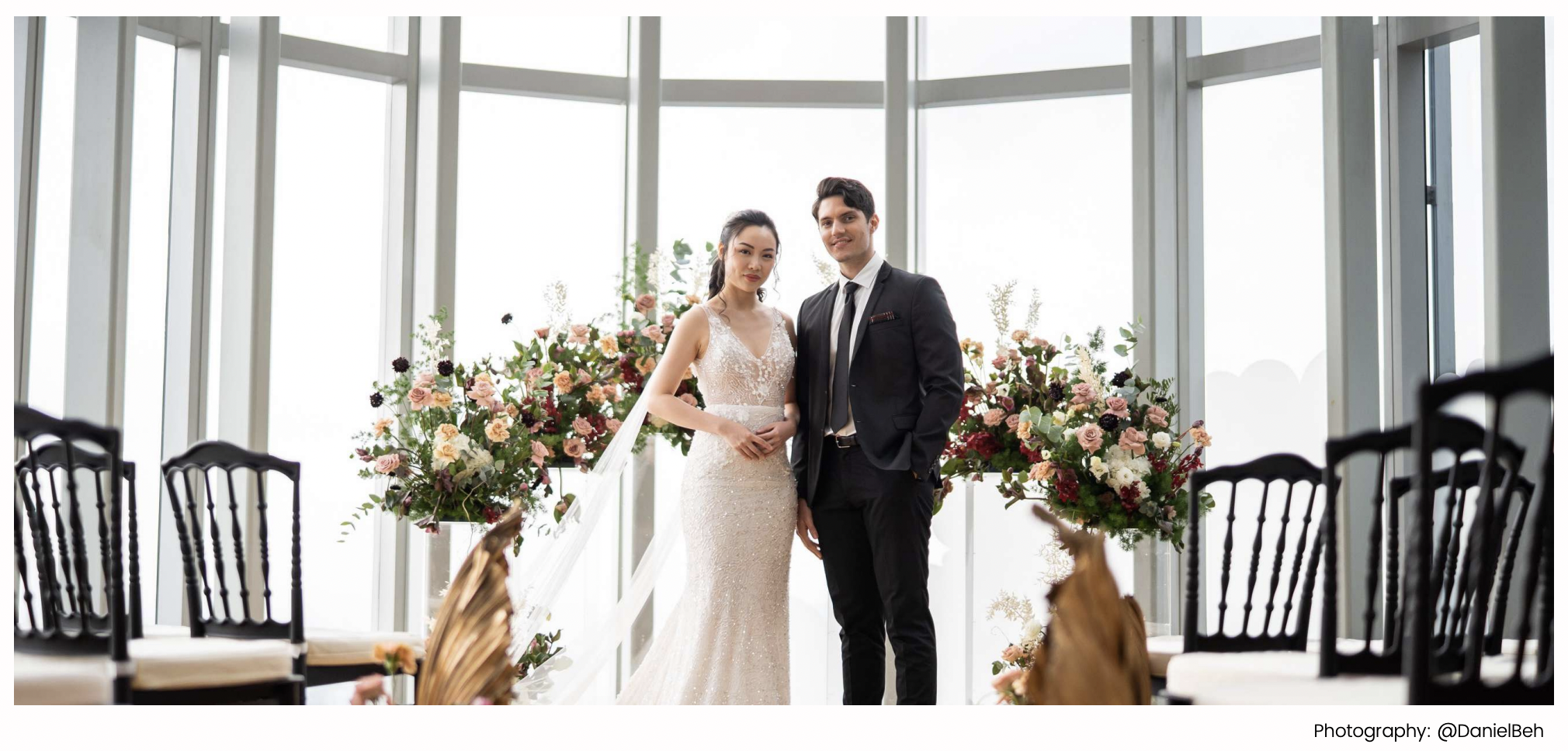 Cost: min. spend from $16,000 - $23,000++ (Lunch), $25,000 - $38,000++ (Dinner)
Capacity: 100 to 238 seated guests
Services: Floral arrangements, bridal gowns, make-up artist, wedding decorations and set-up, event planning and management services

Website: https://www.1-atico.sg/weddings/
Looking for a super accessible location with stunning views to mark this momentous occasion? Located at level 55 of Ion Orchard, a celebration here is a real treat for the senses. Surrounded by a panoramic 180-degree view of the cityscape, this destination dining spot promises a warm ambience flooded with natural lighting.
The menu offers a well-designed array of delicacies that are sure to please even the fussiest palates.
Related to this topic: 6 Things That SG Couples Regret Spending On Their Weddings (And The #1 Thing They Don't)

2. Cloud 9 Piazza @Jewel Changi Airport

Cost: From S$218++ per pax
Capacity: min. 120 pax
Services: The wedding package includes usage of Cloud9 Piazza for up to 4 hours, enclosed with planter hedges to complete your private indoor alfresco experience
Website: https://www.jewelchangiairport.com/en/venue-hire1.html
If you're planning to give your guests a luxurious, non-hotel dining experience, consider Jewel at Changi Airport. Granted, this is not the cheapest option available, but it's still a good deal compared to a hotel banquet for the same number of guests, plus you'll get a range of renowned caterers to choose from.
Jewel offers a range of indoor locations for both wedding banquets and solemnisation ceremonies. Under the wedding banquet package at Cloud 9 Piazza, you can choose between a 6-Course Chinese Banquet or a 4-Course Western Set.
With the majestic HSBC Rain Vortex providing a spectacular backdrop for photo and video taking, you could say it's the next best thing to hosting a destination wedding (at a fraction of the budget).
Related to this topic: Cost Guide to Weddings in Singapore 2022

3. Riviera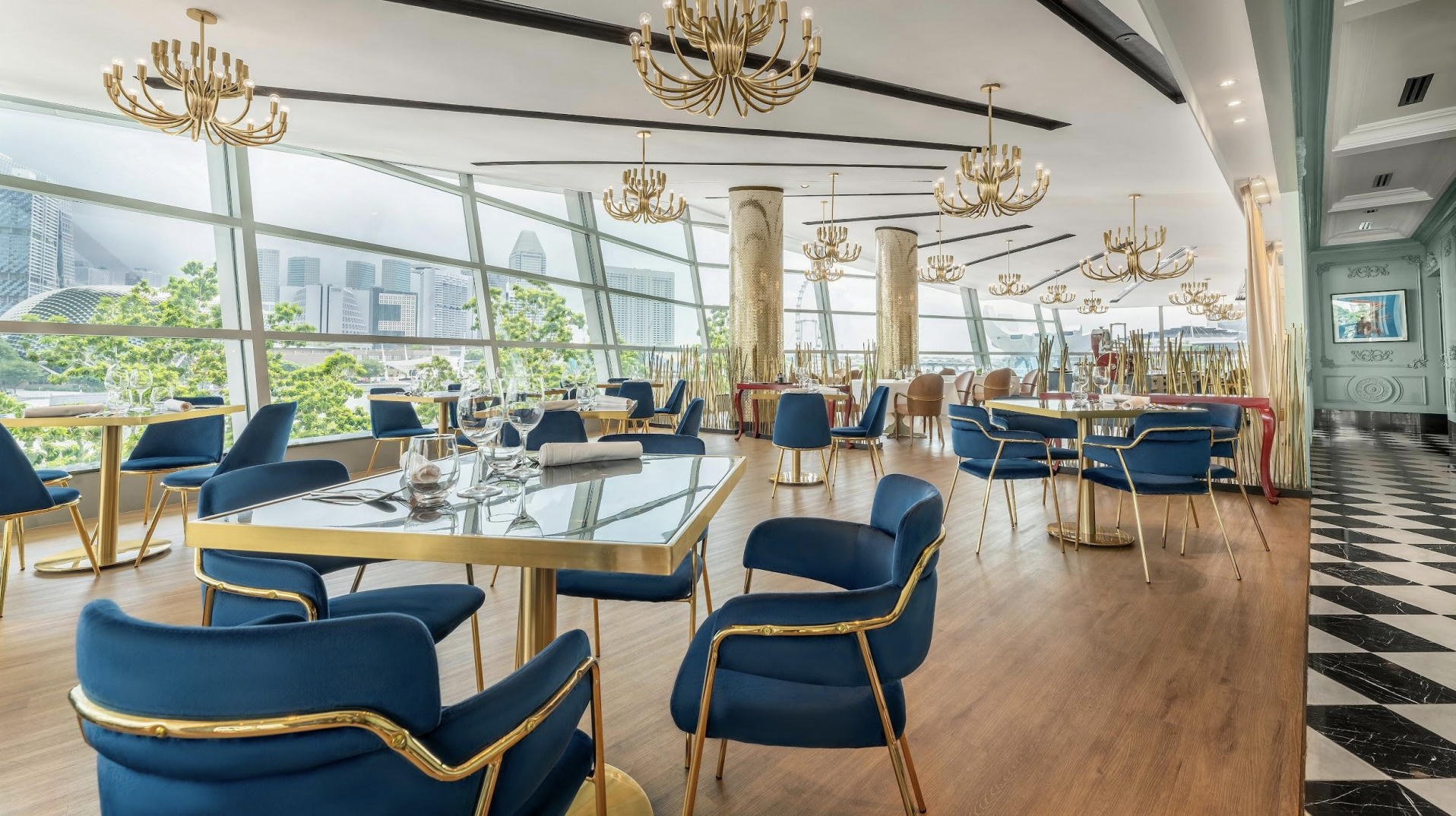 Cost: min. spend of S$10,000++ for lunch, S$15,000 for dinner
Capacity: 80 seated guests in the main dining room. Private dining rooms can sit 24 and 14 guests respectively
Services: The wedding packages include contemporary Mediterranean Cuisine, curated wine selection, floral décor, event services, custom place cards
Website: https://www.riviera.sg/weddings-events
Sitting on the 2nd floor of One Fullerton, this is one wedding location which is a calm oasis in the city centre. The expansive main dining room opens up to stunning views of the Marina Bay area. Food-wise, expect nothing less than exquisite cuisine from Executive Chef Rémy Carmignani, who has honed his chops at the award-winning 5-star palace hotel, La Mamounia, in the heart of the old city of Marrakech, Morocco.
Related to this topic: Wedding Loans: How Do They Work And Should You Get One?

4. Tanjong Beach Club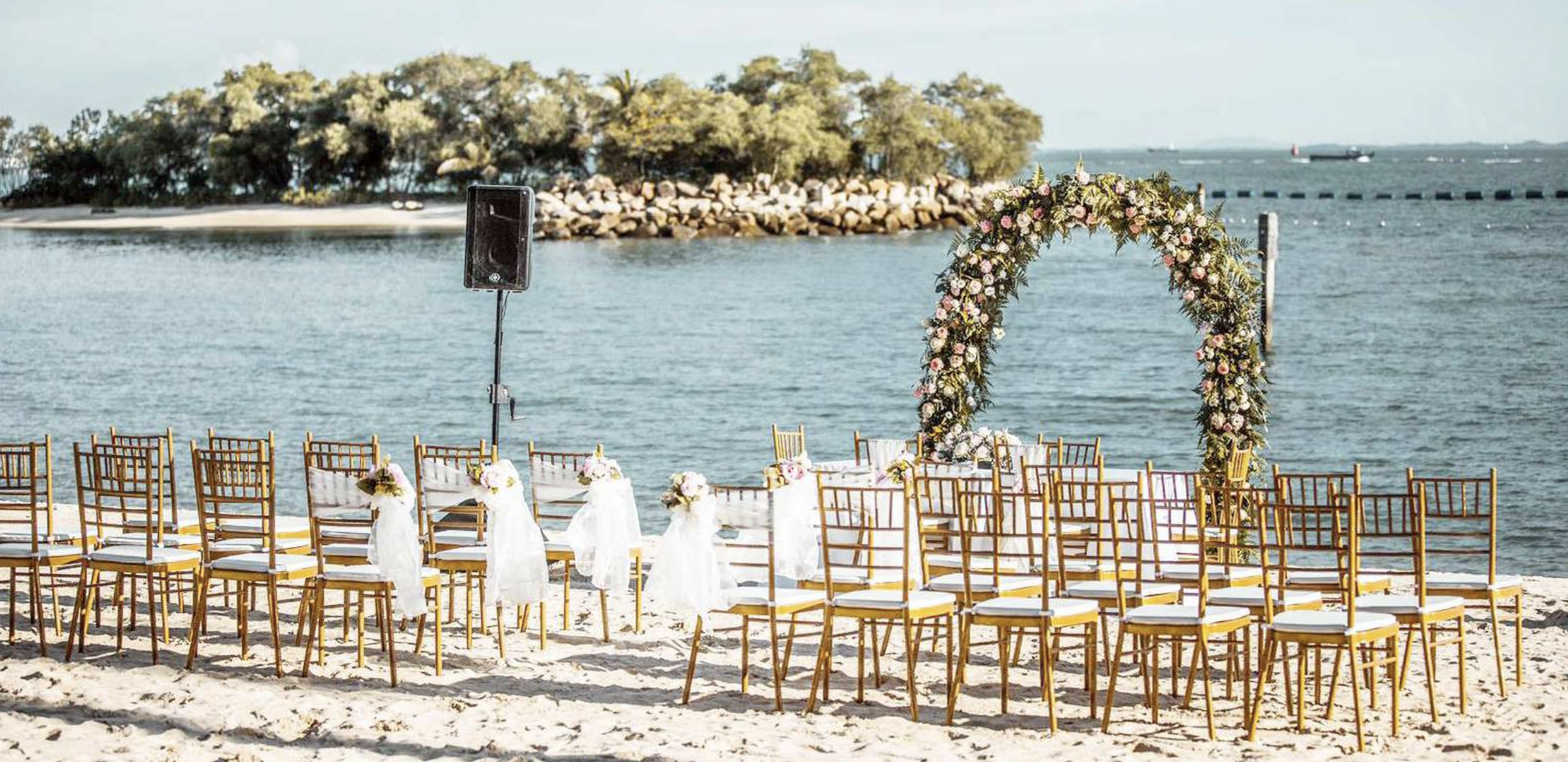 Cost: S$26 to S$126 per pax (inclusive of meals) / S$38 to S$63 per pax (inclusive of canapés)
Capacity: The Dining Room: 60 guests. Outdoor Restaurant Bar: 20 seated guests
Website: www.tanjongbeachclub.com
It looks like a small space at first glance, but you'd be glad to know it can hold up to 300 guests if you're looking for a casual setting. If you and your other half love the chillax appeal of beach vibes, Tanjong Beach Club is quite the perfect backdrop for your "I do's". You can choose from plated set menus (max capacity of 80 guests) or canapés (min 20 guests), with the option of free-flow beverages. Solemnisation packages are also available.
Related to this topic: Wedding Ang Bao Rates 2023 For Various Wedding Venues in Singapore
5. The Alkaff Mansion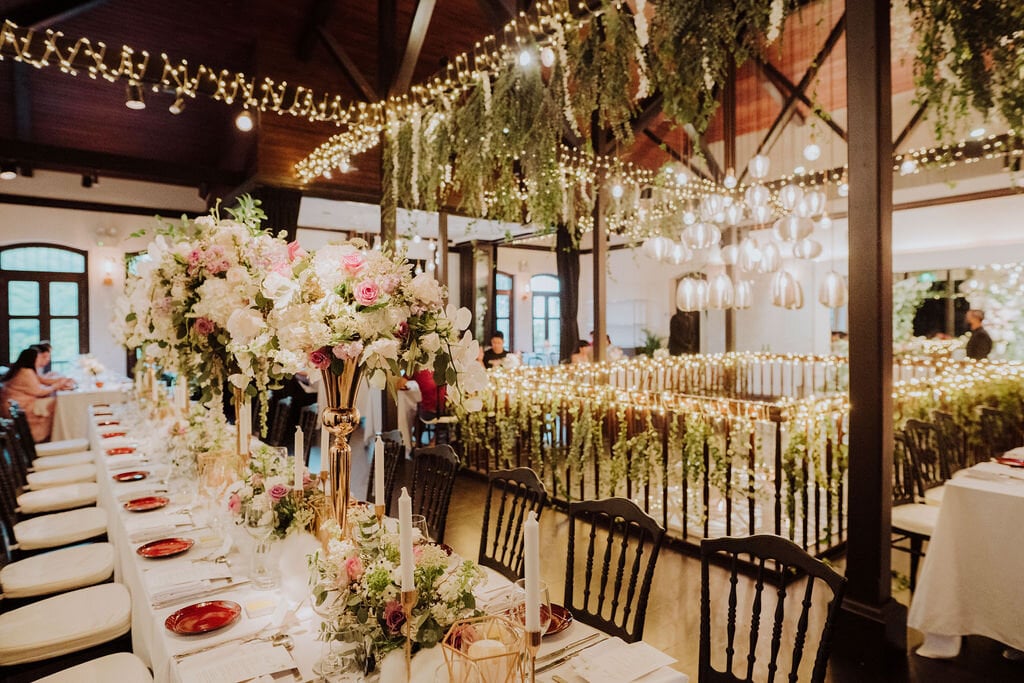 Cost: min. spend S$12,000 - S$19,000++ (Lunch), S$15,000 - S$26,000++ (Dinner)

Capacity: Up to 250 pax (Level 2 main dining hall)
Services: Event Planning & Management, Food & Beverage, Set-up & Decoration
Website: https://www.1-host.sg/venues/wedding-the-alkaff-mansion/
Set in a heritage building with over 100 years of history, this place is the perfect spot for an idyllic garden wedding. With European-style fountains and water features with welcoming spaces, treat your guests to wholesome and contemporary Spanish delicacies. The lush greenery forms the ideal backdrop for exchanging your vows. Dreamy.
Related to this topic: Cost Guide: How Much Does Wedding Photography Cost In Singapore?
6.

Food For Thought @ National Museum
Cost: upon enquiry
Capacity: The entire restaurant space comprising the private dining room and
atrium can accommodate up to 150 guests.
Services: Table decor with rustic centrepieces and candles for a cosy and intimate
event. A full A/V system will be provided with music playlists provided
Website: https://foodforthought.com.sg/#home-section
Nestled in the bustling heart of the city, Food For Thought @ National Museum is a great location for an intimate and casual wedding. The layout is designed for mingling between spaces, so you won't have to worry about feeling overcrowded. Choose from three and five-course wedding menus with an extensive beverage list available as add-ons to keep your guests happily satiated.
7. Little Island Brewing Co
Fancy a rustic community-style wedding with a coastal backdrop? This one is for you. The industrial-chic café boasts an alfresco space which, if you're lucky, will offer you the gift of a sunset by the sea as you say "I do".
If you're not one for fuss and just want to enjoy a good time with people you care about — imagine a live band and dancing all night long — then the Little Island Brewing Co is the place for your big day.
Cost:

S$18 to S$92 per pax (inclusive of meals)

Capacity:

Up to 472
8. Vineyard at HortPark

Cost: From $108 per pax, depending on menu customisation
Capacity: Indoor Dining Hall sits up to 85 pax, while The Verandah (sheltered outdoor) sits up to 48 pax

Website: https://www.vineyardhortpark.com.sg/weddings/events
Intimate. Simple. Classy. Is that what you have in mind for your special day — or night? There is a gorgeous spot overlooking greenery as far as the eyes can see, and an "infinity" pond that provides a picture-perfect backdrop.
Set amidst the tranquillity of the Southern Ridges' embrace, it is a spacious and airy location to mark this special occasion.
Related to this topic: Best Credit Cards To Use For Wedding Expenses

Find the best personal loan to fit your wedding needs
Planning your special day? Compare and apply for the best personal loans on SingSaver to save hundreds of dollars in interest and afford the wedding of your dreams.
Read This Next:
6 Things That SG Couples Regret Spending On Their Weddings (And The #1 Thing They Don't)
Money Confessions: We Blew Our Wedding Budget by S$30K, Here's Our Advice to Couples Planning Theirs
Why A Banquet Wedding May Not Be Your Best Option in 2022
Wedding Ang Bao Rates 2023 For Various Wedding Venues in Singapore
Planning A Wedding? Here's How To Earn The Most Miles Possible
---

By Alexa Fang
Alexa is a pop-culture vulture. She lives to read, write and travel, and decided long ago that life is stranger than fiction. When she's having a croissant, she thinks in French. "31 Rue Cambon" is her favourite address, and she believes that money one enjoyed spending is never money wasted.
---