Use these credit card wedding promotions in Singapore to stay on budget and start your marriage right.
With couples prepared to spend anywhere from S$30,000 to S$50,000 on their weddings, getting married in Singapore is no cheap affair. Even if you're not in the market for a six-figure wedding, market forces can still do their best to push your budget upwards.
Take for example wedding banquet prices, which have been seen increasing every year by between 5% and 10%. In 2017, weddings in Singapore are now approaching the S$2,000-per-table mark. And just in case you think it's simply a matter of avoiding hotel ballrooms, even a community club or void deck wedding can set you back S$70,000.
But you don't have to give up your dream wedding entirely. Instead look for the right financial tools and promotions to help you balance your budget. Here are some credit card wedding promotions that will help you stay on budget, the better to start your marriage off on the right foot!
UOB Cards: Free Candy Buffet Bar (for 30 pax) at Amara Singapore Worth S$500++
Book your wedding banquet at Amara Singapore and the hotel will throw in a Candy Buffet Bar for 30 pax worth S$500++, for free!
This candy buffet will be included in your pre-dinner cocktail reception, which should help keep your guests entertained as they wait for their turn at the wacky photobooth. At least until the sweet treats run out.
For 2017, Amara Hotel is also providing a complimentary night's stay and buffet breakfast for 2, free floral centerpieces, and waiver of corkage charges, among other wedding freebies when you book a solemnisation package.
The Promotion
Charge lunch or dinner wedding banquet deposit to any UOB credit card and receive complimentary Candy Buffet Bar for 30 pax

Valid from 1 Jan 2017 to 31 Dec 2017

Min order of 25 tables required
Address: 165 Tanjong Pagar Road, Singapore 088539
Tel: +65 6879 2555
Email: singapore@amarahotels.com

UOB Cards: S$88 off Per Table (Max 12 Tables) for Wedding Banquets at Parkroyal on Pickering
The wedding banquet can easily be the most expensive item on your wedding budget, so any excuse to save money here merits a closer look.
Use your UOB credit card to book your wedding banquet at Parkroyal on Pickering and you can enjoy S$88 discount per table of 10 pax. The discount is limited to a maximum of 12 tables, but you'll still be saving up to S$1,000.
The Promotion
Charge lunch or dinner wedding banquet to any UOB credit card and get S$88 off each table of 10 pax

Minimum of 8 tables and maximum of 12 tables only

Applicable for banquets held in Conference One and Conference 2 only

Valid from 1 Jan 2017 to 31 Dec 2017
Address: 3 Upper Pickering Street, Singapore 058289
Tel: +65 6809 8888
Email: celebrate.prsps@parkroyalhotels.com

UOB Cards: Free Flow of Soft Drinks and House Pours, Plus Complimentary Table and Additional Wedding Perks at York Hotel
Keeping the alcohol flowing is a great way to keep your guests in good spirits. Book your wedding banquet at York Hotel with a UOB credit card and you can enjoy up to 4 hours of free-flow soft drinks, beer, wine, house pours and mixers. Better keep the night's best drinkers on your side.
Even more exciting, you can choose 2 exclusive wedding perks when you confirm your event by 30 Sep 2017, and hold it by 31 Dec 2017.
The Promotion
Charge your wedding banquet payment to any UOB credit card to receive free flow of soft drinks, beer, wine, house pours and mixers. Maximum of 4 hours.

Choose any 2 of the following:

One complimentary table of 10 persons for minimum booking of 20 tables on weekday & 25 tables on weekend;

Complimentary solemnisation ceremony venue (max 30 pax), to be held prior to banquet;

An additional night stay for couple in the Honeymoon Suite with breakfast for 2;

S$80.00 meal voucher for Wedding Couple

Promotion valid from now till 31 Dec 2017 (Event must be confirmed by 30 Sep 2017)
Address: 21 Mount Elizabeth, Singapore 228516
Tel: 6830 1121/1125/1203
Email: events@yorkhotel.com.sg
UOB Cards: Choice of Additional Night's Stay, House Wine or S$300 Rebate for Wedding Package at Royal Plaza on Scotts
Royal Plaza on Scotts' wedding package offers you a choice of 3 different privileges, so you're bound to find an option that fits your plan. You can choose to have an additional night's stay, treat your guests to 1 bottle of house wine per table, or opt for a S$300 cash rebate on your bill.
What's more, you can enjoy these benefits with a minimum booking of 9 tables - ideal for small- to mid-size wedding parties.
The Promotion
Charge your wedding package to any UOB credit card to receive 1 complimentary privilege of the following 3:

Additional 1 night stay in Executive Suite with breakfast for 2 and club benefits;
1 bottle of house wine per table;
S$300 rebate on total bill;
Minimum booking of 9 tables required
Valid from 6 Feb 2017 to 31 Dec 2017

Standard Chartered cards: 20% off Wedding Bouquet and Floral Arrangements with A Better Florist
Flowers go a long way in enlivening your wedding, and you certainly don't want to have to skimp on poor quality ones for your big day. If you have a Standard Chartered credit card, you can use it to save 20% on your wedding flowers budget.
And lest you're concerned about the freshness of your flowers, worry not. This offer is made in conjunction with A Better Florist, which promises flowers as fresh as 2-days-old.
The Promotion
Get 20% off all items when you charge your purchases to any Standard Chartered credit card

Valid till 14 Jun 2017
Website: https://www.abetterflorist.com/
Because A Better Florist is an online shop, we recommend using the Standard Chartered SingPost Platinum Visa Credit Card. You'll get an additional 7% rebate on your wedding bouquets.
Earn 10x Points with American Express at Venus Tears
Another opportunity to stretch your wedding budget is when you buy your wedding band and other matching jewellery - just do your shopping at Japanese wedding jewelry specialist Venus Tears and charge your purchase to your American Express CapitaCard.
You'll earn a generous 10x STAR$ (50 STAR$ per S$1), which you can use to redeem CapitaVouchers (in denominations of S$5, S$10 or S$50) for all your CapitaLand mall shopping sprees.
Japanese understated elegance and extra rewards points? Yes, please.
The Promotion
Earn additional 10x STAR$ on wedding jewelry at Venus Tears

Bonus STAR$ is awarded on top of 3x STAR$ at participating merchants

Valid till 30 Jun 2017

Valid only with payment via American Express CapitaCard credit card
Address: 200 Victoria St, #01-22/22A, Bugis Junction, Singapore 188021
Website: http://www.venus-tears.jp/sg/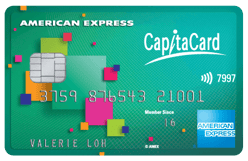 Apply for the American Express CapitaCard to receive a S$50 CapitaVoucher as an exclusive welcome gift. To redeem the voucher, just spend S$888 within the first 6 months of receiving your card.
You can find the right credit card for you at SingSaver.com.sg.
Read This Next:
You Can Use Endowment Plans to Save Money For a Wedding
The Best Wedding Planning Tips From Singaporean Finance Bloggers
---

By Alevin Chan
A Certified Financial Planner with a curiosity about what makes people tick, Alevin's mission is to help readers understand the psychology of money. He's also on an ongoing quest to optimise happiness and enjoyment in his life.
---