A father's love is often understated. It's the little things, like slicing up some juicy fruits for you or going the extra mile to buy multiple bottles of your favourite shampoo just because you once mentioned how much you liked it.
This makes Father's Day the perfect occasion to celebrate the amazing father figures in our lives and make them feel extra special. If you did not know when Father's Day is this year, it's on 18 June 2023. This year, let's think beyond the typical ties and socks and focus on creating moments that will truly pamper and delight.
From indulging in relaxing spa treatments to exploring new hobbies together, there are countless ways to make this Father's Day memorable. So, get ready to shower your dad with love, appreciation, and some well-deserved spoiling.
Table of content

SingSaver Exclusive Offer:
For Citi PremierMiles Card: Receive an Apple iPad 9th 10.2" WiFi 64GB (worth S$503.65) or a Dyson Supersonic (worth S$699) or a Dyson V8 Slim Fluffy (worth S$509) or S$300 cash via PayNow upon activating and spending at least S$500 within 30 days of card approval. Valid till 1 October 2023. T&Cs apply.
For Citi Cashback+ Card, Citi Cashback Card and Citi Rewards Card: Receive a Dyson Supersonic (worth S$699) or a Dyson V8 Slim Fluffy (worth S$509) or a Nintendo Switch OLED (worth S$549) or S$300 cash via PayNow when you activate and spend at least S$500 within 30 days of card approval. Valid till 1 October 2023. T&Cs apply.
Plus, enjoy up to 2% cashback on all qualifying spend and up to S$656 cash when you apply for the Citi Cash Back+ card and join Citi Plus. T&Cs apply.
---
Where to eat for Father's Day



As the saying goes, the way to a man's heart is through his stomach. And what better way to honour your dad than with a sumptuous meal! Check out our dining options to treat Dad this Father's Day.
Estate Restaurant Grand Champagne Brunch, Hilton Singapore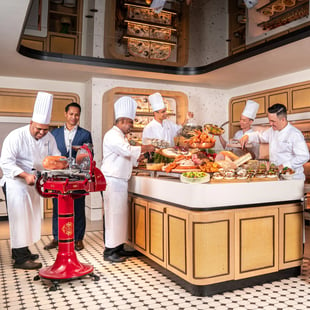 Source: Hilton Singapore

If your father likes to savour the finer things in life, bring the whole family for a Grand Champagne Brunch this Father's Day. From a live oyster and seafood bar to barbecue delights to even an Avocado Bar, Hilton turns up the notch for their weekly Sunday brunch to spoil your dad.
But wait, there's more! Along with a sumptuous feast, Hilton provides a range of engaging activities, such as canvas painting and colouring, adding an artistic touch to your celebration.
And if you're feeling nostalgic, take a trip down memory lane by indulging in classic Singapore childhood games, allowing you and your loved ones to create cherished memories filled with friendly competition and laughter, all while bonding with your dad in a truly unforgettable way.
📍Estate, Hilton Singapore Orchard, 333 Orchard Road, Singapore 238867
Date: 18 June 2023, Sunday
Time: 12pm to 3pm
Price: From S$158++ per person
Website
Father's Day BBQ Platter, YardBird Southern Table & Bar

Source: YardBird Southern Table & Bar
Specially created for Father's Day by Executive Chef Josh Chua, the barbecue platter is perfect for meat-loving dads. The platter will satisfy your cravings with barbecue brisket burnt ends, spicy sausages and smoked pork ribs.
Marina Bay Sands members will also earn up to 10% instant Resort Dollars to reward your spending. And if you are driving to the Shoppes, redeem your complimentary parking ticket when you spend S$75++ during lunch or S$150++ during dinner.
📍YardBird Southern Table & Bar, B1-07, Marina Bay Sands Singapore, Bayfront Ave, Singapore 018956
Date: 18 June 2023, Sunday
Time: 10am to 12am (last seating at 10.30pm, last order at 10.45pm)
Price: S$128++ (2 to 3 pax)
Website
Cantonese Feast, JU Signatures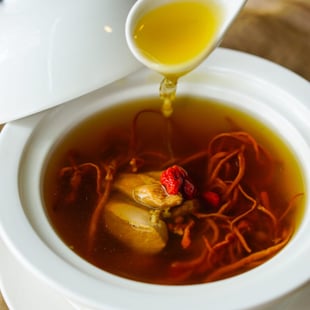 Source: JU Signatures
Picture this: a bowl of double-boiled chicken soup infused with fragrant cordyceps flowers, followed by succulent deep-fried prawns coated in salted egg sauce. As if that's not enough to make your mouth water, imagine savouring the delicate flavours of steamed soon hock fish, perfectly cooked to tender perfection. And to top it all off, indulge in a plate of braised ee fu noodles adorned with savoury mushrooms and fragrant chives.
Just the thought of these mouthwatering dishes makes your taste buds dance with joy! So why resist? Gather the entire family and immerse yourselves in a Cantonese feast that satisfies your cravings and allows you to eat to your heart's content.
Be sure to reserve your spot early, as there are a limited number of Father's Day sets daily.
📍JU Signatures, B1-07, 4 Maju Avenue Singapore 556682
Time: 9am to 2.30pm, 5.30pm to 9.30pm (Tuesday to Friday) | 8.30am to 5pm, 5.30pm to 9.30pm (Saturday & Sunday)
Price: S$238++ (4 pax) & S$338 (6 pax)
Website
Father's Day 3-Course Set Meal, Bedrock Origin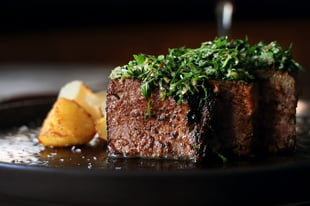 Source: Bedrock Origin
Treat your taste buds to the succulent House-smoked Duck Breast, a dish that combines perfectly cooked duck with a burst of exquisite flavours. Indulge in the melt-in-your-mouth tenderness of Shio Koji Boneless Beef Ribs infused with umami goodness from the Shio Koji marinade. Discover the delightful Pan-Fried Monkfish Cheek, a sea treasure bursting with balanced flavours and subtle nuances.

And for a sweet finale, savour the cloud-like Baba au Rhum, a rum-infused sponge cake that strikes the perfect balance between lightness and moisture.
📍Bedrock Origin, Oasia Resort Sentosa Hotel, 23 Beach View Road, #01-02 Palawan Ridge, 098679
11 June to 19 June 2023
Time: 12pm to 3pm daily
Price: S$98++ per pax
Website
Want to splurge on food without breaking the bank? Check out the best credit cards for your dining spends!
Credit Card

Earn Rate

6% cashback on dining

(with min. S$800 spend per statement month)

UOB Krisflyer Credit Card




3 miles per dollar on dining, food delivery, online shopping and travel, and transport spend

(with min. S$800 annual spend on SIA group)

6% cashback on local and overseas dining

(with min. S$800 spend per statement month)

---
What to get for Father's Day



Looking for ideas on what to get your dad, who has just about everything? Check out our list of unconventional gifts that are sure to warm hearts.
Nothing says 'I Love You' quite like the gift of cold hard cash – well, not literally. Topping up your loved ones' Special Account (or Retirement Account for those whose dads are above 55 years old) is a great way to look out for your dad in the future.
By harnessing the magic of time and the compounding power of interest – and frankly relieving the pressure of retirement planning – your thoughtful top-up guarantees a self-sufficient future for your dad, accompanied by consistent payouts. However, do bear in mind that the extent of cash top-ups or CPF transfers you can make is subject to their current balances and the corresponding amount they are eligible to receive.
You can also transfer your CPF savings after having your own retirement fund set aside. However, this option will not see you qualify for tax relief. Making a cash top-up for your loved ones will also allow you to receive up to S$8,000 of tax relief. A win-win situation if you ask me!
Tender Loving Care
In the hustle and bustle, sometimes our dads neglect themselves. Gift them a massage to loosen the knots and tension in their shoulders – from carrying the weight of being the best father, duh!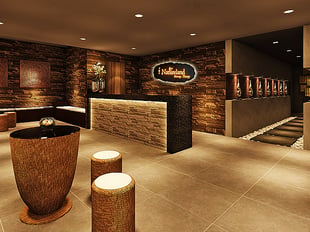 Source: Natureland
Visit Natureland for a relaxing respite. Whether you are there for a 40 minutes foot massage or full body therapy, they have it all. Best of all? Enjoy 20% off all services at Natureland till 30 June 2023.
Do note that this promotion is only available at Changi T3, Clarke Quay and Orchard Rendezvous Hotel outlets. Read our guide to finding the best massage place for your pampering session here.
If a massage is not enough pampering for the ole pops, how about a bespoke grooming session?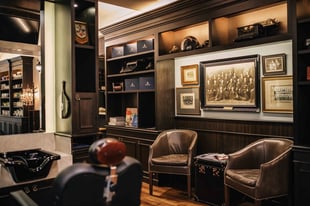 Source: Truefitt & Hill
Your dad will surely be treated like a king at Truefitt & Hill, the barber whose clientele includes Charles Dickens, Frank Sinatra, and even Sir Winston Churchill.
From a general Royal Cut for your hair, a Shave and Shape of your beard, to even a head massage, Truefitt & Hill is truly fit for the king in your life.
For the ultimate experience, you can even engage them for a house call to cut your dad's hair from the comfort of your very own home.
📍Natureland, multiple locations
Time: Depending on location
Price: From S$41.04
Website
📍Truefitt & Hill, 9 Ann Siang Road, Singapore 069690
Time: 10 am to 7.30pm daily
Price: From S$83
Website
The Whiskey Library & Jazz Club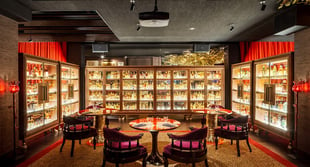 Source: The Whiskey Library & Jazz Club
Indulge in the perfect combination of whiskey tasting and soothing jazz narratives at The Whiskey Library & Jazz Club, nestled within the charming premises of The Vagabond Club Hotel.
As you unwind, tantalise your taste buds with delectable French-influenced Pan-Asian cuisine expertly prepared by the talented Chef de cuisine. While savouring these delightful snacks, immerse yourself in the world of whiskey through a remarkable selection of a thousand rare whiskeys, each offering its own distinct flavour profile and character.
But that's not all – this club goes beyond being a haven for whiskey enthusiasts. It also hosts independent film premieres, captivating book readings, and mesmerizing musical showcases, catering to the artistic soul within you.
So, if your dad is seeking an exquisite gastronomic experience, a refined whiskey journey, or a touch of artistic inspiration, The Whiskey Library & Jazz Club is the perfect destination to unwind, indulge, and immerse in a world of refined pleasures.
📍The Vagabond Club, 39 Syed Alwi Road, Singapore, 207630
Time: Till 10.30pm daily
Price: From S$108++ to S$828++
Website
Want to maximise your purchase? Check out these credit cards that will reward you for spending!
Credit Card

Earn Rate

Maybank Family & Friends Card




8% cashback on 5 selected categories:

2) Dining & Food Delivery

3) Transport, Data Communication & Online TV Streaming

10) Beauty & Wellness

(with min. S$800 monthly spend)


UOB EVOL Card

8% cashback on Online Spend

8% cashback on Mobile Contactless Spend

0.3% cashback on all other spending

(with min. S$600 spend per statement month)


UOB Absolute Card

1.7% unlimited cashback on all spending
---
What to do for Father's Day
Doing a shared activity is a great way to create long lasting memories – and what better way to show dad you love them than to spend time with pops!
Kayak Fishing with Fever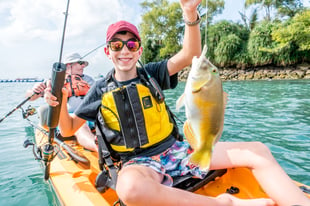 Source: Fever Singapore
Get ready for an outdoor adventure like no other, as this fishing experience is specifically designed to maximise fun and excitement. Picture yourself floating peacefully on the sea aboard a cutting-edge Hobie Kayak, creating unforgettable memories with your dad.
Fever, the host of this incredible experience, offers three types of kayak fishing adventures: Sandy Shores, Monsters Inc Night Kayak Fishing, and Playground.
Sandy Shores and Playground kayak fishing are daytime fishing expeditions held at Sentosa and East Coast, respectively. The Sandy Shores experience is a 4 to 6km route where you will fish deep-sea and coastal structures to reel in parrot fishes and Groupers. If you have some fishing experience or none at all, this experience will still be enjoyable.
The Playground route is shorter, at 2 to 4km, making it perfect for first-timers. The shorter route is also less physically demanding than the former.
There's the Monsters Inc. Night kayak Fishing session for the ultimate thrill. As the name suggests, this nighttime fishing adventure allows you to unwind and explore the waters under the starry sky. Keep your eyes peeled for prized catches like Mangrove Jack, Grouper, and even Catfish lurking beneath your kayak.
Moreover, this unique nighttime experience offers a glimpse of the last few remaining floating homes and farms known as kelongs. After an exhilarating fishing session, you'll be rewarded with a mouthwatering meal of the freshest seafood at a charming seaside house on Pulau Ubin, truly a feast to remember.
📍Fever
Price: From S$199 per pax
Website
---

SingSaver Exclusive Offer: For a limited time only, snag a Dyson Airwrap™ multi-styler (Complete) (worth S$859) on top of your chosen reward if you are one of the first 10 applicants of select Standard Chartered Credit Cards at 12pm and 3pm daily during the flash deal period. Valid till 1 October 2023. T&Cs apply.

For OCBC Titanium Rewards, OCBC 90°N Mastercard and Visa Cards Only: Receive an Apple AirPods Pro 2nd Generation (worth S$362.35) or a Hinomi H1 Classic Plus Ergonomic Office Chair with headrest (worth S$459) or S$280 eCapitaVoucher or S$250 Cash via PayNow when you make a min. spend of S$500 within 30 days of card approval. Valid till 4 October 2023. T&Cs apply.

For OCBC 365 and OCBC Frank Cards Only: Receive an Apple iPad 9th Gen 10.2 Wifi 64GB (worth S$503.65) or an AirPods Pro Gen 2 + MagSafe Charger bundle (worth S$421.90) or S$350 eCapitaVoucher or S$250 Cash via PayNow when you make a min. spend S$500 within 30 days of card approval. Valid till 4 October 2023. T&Cs apply.

---
Golf Simulator Outing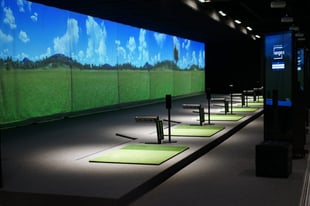 Source: GolfX
Spending quality time with loved ones is great, but sometimes, the best gift is the gift of space. Whether your father is an avid golf lover or maybe he is game to try out a new sport, schedule your father for a session of indoor golf.
There has been an uptake in golf simulators – and for good reason. In sunny Singapore, playing golf in the heat might not be for everyone. Golf simulators allow you to pick your own tee time and play in the comfort of an air-conditioned room.
At GolfX, get insights into your swings through real-time feedback using Golfzon technology. Self-improvement, even if it's just in golf, is key, right?
If you want something more than just swinging a club, check out Kulnari Mystery Golf. Transporting you back to 1920s Boat Quay, this is where minigolf meets murder mystery. Investigate a mysterious occurrence at the Kulnari Trading Company at the 9th hole bar, and piece together the clues alongside a refreshing drink. Be sure to book your slot to avoid disappointment!
📍GolfX SG, The Cathay, 2 Handy Rd, #01-16, Singapore 229233
Time: 10am to 10pm daily
Price: From S$18
Website
📍Kulnari Mystery Golf, 51 Circular Road, Singapore 049406
Time: 12pm to 8.30pm daily
Price: From S$25
Website
Credit Card

Earn Rate




UOB Lady's Card




6 miles per dollar across seven preferred reward categories (choose one):

1) Beauty & Wellness
2) Fashion
3) Dining
4) Family
5) Travel
6) Transport
7) Entertainment


Citi Cash Back+ Card



1.6% unlimited cashback on all spend
---
Love doesn't have to break the bank
As we gear up for Father's Day, remember that the heart of this special occasion lies in spending quality time with loved ones and expressing our love in meaningful ways.

This Father's Day, let's focus on creating priceless moments and showing genuine appreciation for our dads. It's not about fancy gifts or extravagant gestures but rather about the simple joys of being together. Those intangible gifts matter the most, not the material possessions.
---
---
Read these next:
Singapore Public Holidays in 2024: How To Make Full Use Of Your Annual Leave
5 Ways You Can Save On Fun, Relaxation, and More at Sentosa
Things to do in Taiwan: Taiwan Travel Guide 2023
Money Confessions: These Promotions Got Me Free iPad, Apple Watch, AirPods & Dyson Airwrap
4 Ways to Avoid Overspending in the Year of the Rabbit