Driving safely not only reduces the likelihood of costly road accidents, it also enables you to reduce your motor insurance premiums by more than half.
It goes without saying that you should always try to drive as safely as possible. Not only will careful driving help you avoid traffic accidents – and the unpleasant consequences that ensue – you can actually save on your car ownership costs.
You probably already know about the all-important No-Claims Discount (NCD), but did you know you can shave your motor insurance premiums down even further by staying free of demerit points?
Let's take an in-depth look at the two schemes that reward drivers for safe driving in Singapore.
(Note: the information contained in this article is applicable to private cars only.)
Related to this topic:
15 Ways To Reduce Car Insurance Costs in Singapore 2022
How Much Does it Cost to Get a Driving Licence in Singapore?
No-claims discount – Up to 50% off your motor insurance
The No-claims Discount (NCD) is a discount that is applied to your motor insurance premium. You will be entitled to this discount as long as you do not make any claims against your existing policy. The discount is applied to your premiums for the next policy year.
Making a claim for repairs sustained in a road accident will cause you to lose your NCD, either partially or wholly (explained in detail later). However, if you were found to be completely not at fault in the accident (such as, say, getting rear-ended while stopped at a traffic light), your NCD will not be penalised.
In a bid to preserve their NCDs, some drivers may instead pursue a private settlement for minor damage or accidents without injuries. Settling privately with the other driver comes with its own pros and cons, so be sure to consider carefully when presented with this option.
Also, note that the car workshop you use for repairs may be obligated to report your vehicle's damage to your insurer, which may cause your insurer to raise your insurance premium anyway.
Hence, if you wish to preserve your NCD, be sure to only go to a car workshop that is not required to report your accident; this usually means going to off-panel workshops.
How does NCD work, and how much can you save?
You will need to stay claims-free for a period of at least one year to be entitled to your NCD. How much NCD you get depends on how many years you go without making a claim. See the following table for a summary.
| | |
| --- | --- |
| Claims-free period | Premium discount at policy renewal |
| 1 year | 10% |
| 2 years | 20% |
| 3 years | 30% |
| 4 years | 40% |
| 5 years and beyond | 50% |
Completing a full year without making a claim on your policy earns you a 10% discount on your premiums – up to a maximum of 50% discount. That is some hefty savings, but you'll need to remain claims-free for five years at least before you can attain this level of NCD.
What happens if you make a claim on your policy for an accident in which you were found to be at fault? Your NCD will be reduced by 30%, as follows:
| | |
| --- | --- |
| NCD before claim | After making 1 claim |
| 50% | 20% |
| 40% | 10% |
| 30% | 0% |
This means that making just a single claim will wipe out three years of hard work, slapping you with elevated motor insurance premiums for the next few years.
But there's a way to avoid this. You can opt for what's known as an NCD Protector, which is a rider that prevents your NCD from taking a hit for one at-fault claim during your policy year.
However, if you find yourself needing to make more than one claim in a year, your NCD will be penalised upon the second claim (unless found not to be at fault).
Note: DirectAsia offers an additional 10% NCD (for a maximum of 60%) if you manage to stay accident-free for more than five years. You can find out more on their website.
Related to this topic: 7 Cheapest Car Insurance Plans in Singapore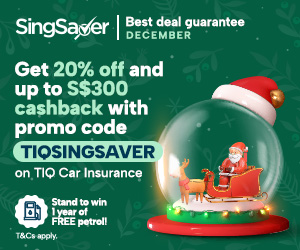 SingSaver Exclusive Offer: Use promo code TIQSINGSAVER to get 20% off and get up to $300 cashback (fulfillment by Tiq). Valid till 31 December 2023. T&Cs apply.
Apply now & pick your reward, and you'll automatically be enrolled in our lucky draws:
Best Deal Car Insurance Lucky Draw:

Get

1x chance

to win

1 year worth of petrol vouchers (worth S$5,200).

T&Cs apply.
101! Milestone Giveaway:

Enjoy

1x chance

to win your share your share of up to

S$200,000 in prizes

in our epic weekly lucky draw, including

S$5,000 bonus cash

each week!

T&Cs apply. Click here to check out our past Lucky Draw winners!
Safe driver discount – An additional 5% off your motor insurance
While working on your NCD, don't forget about the Safe Driver Discount. This will give you an additional 5% savings on your motor insurance policy, and stacks together with your current NCD.
For example, if your NCD at your next renewal is 30%, and you qualify for the Safe Driver Discount, you will get a total of 35% discount on your motor policy upon renewal.
How to qualify for Safe Driver Discount?
To qualify for Safe Driver Discount, you will need to first earn a Certificate of Merit (COM).
The COM is awarded by the Traffic Police to drivers that have been driving safely for a period of three years or more.
It's not just about avoiding accidents. The COM rewards good and responsible driving habits, and you will need to ensure not picking up any demerit points during the period.
As you may be aware, demerit points are given out for driving offences, ranging from minor (speeding, not wearing seatbelts – applies to driver and passengers) to major (reckless driving, driving under the influence).
Under Singapore's demerit point system (officially known as the Driver Improvement Points System), all drivers start off with a tally of zero demerit points. You will rack up demerit points if you fall afoul of driving regulations, and once you accumulate 24 or more demerit points, your driving licence will be suspended.
The only way to get rid of earned demerit points is to wait. Demerit points will be expunged after 12 months of driving without any traffic violations. Note that the 12-month waiting period starts from your last driving offence, so you will really need to toe the line if you inadvertently receive demerit points.
You can check your COM eligibility over at the Traffic Police website.
Related to this topic: Should I Include A New Named Driver Under My Car Insurance?
SingSaver Exclusive Promotion: Get up to $150 petrol vouchers when you apply now. Fulfillment by MSIG. Valid till 17 December 2023. T&Cs apply.
MSIG MotorMax: $100 petrol voucher
MSIG MotorMax Plus: $150 petrol voucher
How long does it take to attain maximum savings on your motor insurance plan?
The Safe Driver Discount only kicks in after three years, but you can start seeing savings on your car insurance premiums in as little as one year.
Assuming everything goes according to plan, here're the savings you may expect:
Years of driving

Motor policy discount

2nd year onwards

NCD: 10%

3rd year onwards

NCD: 20%

4th year onwards

NCD: 30%

Safe Driver Discount: 5%

Total: 35%

5th year onwards

NCD: 40%

Safe Driver Discount: 5%

Total: 45%

6th year onwards

NCD: 50%

Safe Driver Discount: 5%

Total: 55%
Hence, it would take five consecutive years of accident-free, demerit-free driving to earn up to 55% discount on your motor insurance policy.
Related to this topic: How to Claim Car Insurance: A Complete Guide to Making a Claim
Does this mean my motor insurance premiums will only reduce and never increase?
Well, it depends.
Despite the stepped-up savings you can expect for being a safe driver, you may still find your insurance premiums going up. This can happen for a number of reasons, such as:
Switching to a more powerful model or a car with a higher risk profile
Heightened claim rates in your insurance pool (this is separate from your personal claims history)
Increase in labour and material costs
Other risk factors as determined by your insurer
The good news is, your COM and NCD follows you, and not your vehicle, so you're free to shop around for a motor policy that suits your budget.
But before you make the switch, be sure to check the terms and conditions on the new policy thoroughly so you don't get side-swiped by any unexpected clauses.
You can also try negotiating with your current insurer for more favourable terms, especially if you've been a loyal customer.
Protected up to specified limits by SDIC.
Note: This is only product information provided. You may wish to seek advice from a qualified adviser before buying the product. If you choose not to seek advice from a qualified adviser, you should consider whether the product is suitable for you. Buying an insurance product that are not suitable for you may impact your ability to finance your future healthcare needs.
If you decide that the policy is not suitable after purchasing the policy, you may terminate the policy in accordance with the free-look provision, if any, and the insurer may recover from you any expense incurred by the insurer in underwriting the policy.