Car insurance premiums can be expensive, especially for young drivers. However, there are many ways to reduce car insurance costs.
Car insurance is a requirement for all cars in Singapore. The cost of insurance depends on several factors, including the type of car, the driver's age and driving history, and the vehicle's location.
However, one of the most important factors in determining the cost of car insurance is the risk of the car being involved in an accident. If drivers don't want to pay more for insurance, here are some ways to lower the costs of car insurance.
1. Shop around for better car insurance rates
The first step to finding cheaper car insurance is always going to be shopping around. There are several ways to do this:
You can go online and use one of the many comparison websites that will give you quotes from different insurers.
You can also call up other insurers yourself and ask for quotes.
You can even ask your friends and family for recommendations.
The important thing is to shop around and compare as many quotes as possible before deciding.
Read more: 7 Cheapest Car Insurance Plans in Singapore (2022)
2. Drive safely
As much as this may seem obvious, it's important to remember that the better your driving record is, the lower your insurance rates will be.
If you have a history of accidents or traffic violations, insurers will see you as a higher risk and charge you accordingly. So do your best to drive safely and avoid accidents, and you'll see your rates go down over time.
3. Consider raising your deductible
If you're willing to pay a little more out of pocket in the event of an accident, you can save on your overall premiums by raising your deductible. This means that you'll have to pay more money out of pocket if you do get into an accident, but it also means that your monthly payments will be lower.
It's essential to ensure that you can afford to pay your deductible if you have an accident, but it's worth considering if you can swing it.
4. For a minor injury, a private settlement may be preferred
If you're involved in a minor accident, it may be worth considering a private settlement rather than going through your insurance.
This is because filing a claim and dealing with your insurer can be time-consuming and frustrating, and it may not even save you that much money in the end. Of course, you'll need to weigh the pros and cons of this option before deciding, but it's something to keep in mind.
5. NCD protection
One way to help reduce the cost of car insurance is to take steps to protect against NCD (No-Claims Discount) loss. NCD is a discount that insurers offer to drivers who have not made any claims during the policy period.
By taking measures to prevent accidents and maintain a clean driving record, drivers can stand to save a significant amount on their car insurance premiums. In addition, drivers who are members of an approved driving course may also be eligible for additional NCD protection.
As such, taking steps to protect against NCD loss can be an effective way to reduce the cost of car insurance in Singapore.
---
Related to this topic:
FWD Car Insurance Review Singapore (2022)
Singtel Car Insurance Car Protect Review Singapore (2022)
Should I Include a New Named Driver Under My Car Insurance?
6. Take advantage of discounts
You may be eligible for several different discounts, so it's essential to ask about them when shopping for car insurance. Some common discounts include:
Good driver discounts
Multi-car discounts
Low mileage discounts
Safety features discounts
Be sure to ask about any discounts you may be eligible for to save as much money as possible.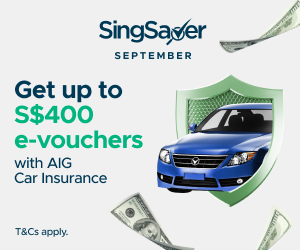 AIG Car Insurance Promotion: Get up to S$350 Petrol Vouchers when you purchase AIG Car Insurance now! Get extra S$50 Petrol Vouchers if you register a new AIG On the Go account. Fulfilment by AIG. Valid till 30 Sep 2023. T&Cs apply.
7. Ditch coverage you may not need
Sometimes, you may be paying for coverage that you don't even need. For example, if you have an older car, it may not be worth paying for collision or comprehensive coverage. Or, if you have a good driving record, you may not need to pay for accident forgiveness.
It's important to sit down and think about the coverage you need before buying a policy. You may find that you're paying for coverage that you don't need, which could be money that would be better spent elsewhere.
8. Buy a dual-year policy
If you're looking for ways to reduce your car insurance costs in Singapore, one option is to buy a dual-year policy. You'll pay for two years of coverage at once with a dual-year policy, leading to significant savings.
The best way to find out if a dual-year policy is right for you is to compare rates from different insurers. Get quotes for comprehensive and third-party liability coverage, as this will give you the most accurate comparison. Once you've found the right policy, you'll enjoy peace of mind knowing that your car is adequately protected.
9. Avoid auto-renewing
One of the easiest ways to save is to avoid auto-renewing your policy. When you auto-renew, your insurer typically gives you a loyalty discount of as much as 10%.
However, this discount is often less than you would get if you shopped around and compared rates with other insurers. In addition, many insurers offer promotions and discounts that are only available to new customers.
As a result, switching insurers every year or two is often cheaper than auto-renewing your policy. If you're looking for ways to save on car insurance, avoiding auto-renewal is a good start.
10. Downgrading
In Singapore, the cost of car insurance is on the rise. In response, some drivers choose to downgrade their cars to reduce their insurance costs. While this may seem counterintuitive, it can be quite effective.
When you downsize your car, you effectively reduce the amount of risk that your insurer will have to cover. As a result, you may be able to get a lower premium.
Of course, there are some trade-offs to consider when downsizing your car. For example, you may have to sacrifice some features or creature comforts. However, if saving money is your top priority, downsizing may be the best option.
---
Related to this topic:
When Should You Pay For Comfort and Convenience?
Car Loan Hacks For New and Used Cars
A Complete Guide: The Cost of Owning a Car in Singapore
Is S$0 Down Payment Car Purchase a Good Idea?
11. Opt for higher excess
An excess is the amount of money you will have to pay in the event of a claim. You agree to pay a more significant portion of the claim yourself by opting for a higher excess.
This means that the insurance company will have to pay out less, and as a result, they will charge you a lower premium. While it may seem like a risk to agree to pay a higher excess, it can save you a lot of money in the long run. So if you are looking to reduce your car insurance costs, be sure to ask about increasing your excess.
12. Keep a lookout for promotions
One way to keep your car insurance costs down is to look for promotions. Many insurers offer promotional discounts from time to time, so it pays to constantly be on the lookout.
For example, you might be able to get a discount if you insure more than one car with the same insurer. Or you might be able to get a loyalty discount if you stay with the same insurer for several years.
It's also worth checking whether your credit card gives you any special deals on car insurance. Some cards offer discounts of up to 10% when you use them to pay your premium.
So it's worth doing some research before you buy your next policy. You can make significant savings on your car insurance costs by taking advantage of promotions.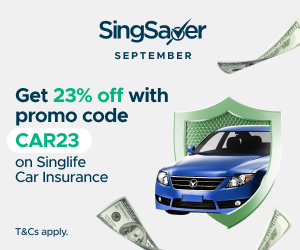 SingSaver Exclusive Promotion: Get 23% off premiums when you use the promo code CAR23 (for new businesses and annual plan only). Valid till 30 Sep 2023. T&Cs apply.
13. Cashback and points with credit cards
Most people in Singapore are familiar with the concept of using a credit card to earn rewards like cashback or points. Many people don't know that these rewards can also be used to reduce the cost of car insurance.
Here's how it works: many insurance companies partner with credit card issuers to offer discounts on premiums when customers use their cards to pay.
For example, a customer who spends S$1,000 on their credit card to pay their car insurance premium may be able to get a 50% discount. While this may not seem like much, it can add up over time, especially if you use your credit card regularly.
In addition, many credit cards offer additional rewards for paying insurance premiums, such as bonus points or cashback. So not only can you save money on your premium, but you can also earn rewards that can be used for other purposes.
Therefore, using a credit card to pay for car insurance is a great way to reduce costs and earn rewards at the same time.
Read more: Best Petrol Credit Cards in Singapore (2022)

SingSaver Exclusive Offer: For a limited time only, snag a Dyson Airwrap™ multi-styler (Complete) (worth S$859) on top of your chosen reward if you are one of the first 10 applicants of select OCBC Credit Cards at 12pm and 3pm daily during the flash deal period. Valid till 1 October 2023. T&Cs apply.
Receive an Apple iPad 9th Gen 10.2 Wifi 64GB (worth S$503.65) or an AirPods Pro Gen 2 + MagSafe Charger bundle (worth S$421.90) or S$350 eCapitaVoucher or S$250 Cash via PayNow when you make a min. spend S$500 within 30 days of card approval. Valid till 4 October 2023. T&Cs apply.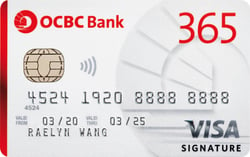 14. Talk to your agent
If you're looking for ways to reduce your car insurance costs in Singapore, one option is to speak to your insurance agent. Your agent can provide you with information about discounts available, such as safe drivers or cars with certain safety features.
They can also help you choose a policy with a higher deductible, lowering your premium. In addition, your agent can advise you on ways to make your car more insurance friendly, such as by installing security devices or by taking a defensive driving course.
By speaking to your agent, you can make sure that you're getting the best possible rate on your car insurance.
15. Getting your driver's licence sooner
Car insurance can be quite expensive, especially for young drivers. One way to reduce the cost of car insurance is to get your driver's licence sooner. This will show insurers that you have more years of driving experience under your belt and are a responsible driver.
---
It can be hard to determine which car insurance plan is best for you and your family. Check out our comparison of the best car insurance plans in Singapore.
Read these next:
How Much Does It Truly Cost To Maintain A Car In Singapore?
Car Insurance: What You Need To Know And How These 5 Factors Determine Your Car Insurance Premium
Personal Accident Insurance: What Does It Cover And Why Do You Need One?
Is Getting Credit Card Insurance a Good Idea?
Understanding Interest Rates: How You Can Use It To Save Even More Money