"Should I change car insurance?" is a question that many car drivers have probably asked themselves before. Here's what to consider when deciding whether to switch to a new insurer.
A valid car insurance policy is required for driving in Singapore. Given the high number of drivers on our roads, it is not surprising that besides car dealers, many insurers and banks in Singapore also offer car insurance packages.
This means there is a wide range of choices for the average driver and the not-altogether-mistaken idea that there is always a good deal to be found right around the corner. An exception could be electric vehicles, as they are still relatively new in Singapore.
Coupled with the fact that car insurance policies are renewable on a yearly basis, and even then, it is common for insurers to offer prorated refunds for those who want to switch plans halfway, drivers may be tempted to switch plans to reduce costs rather than stay with their current provider.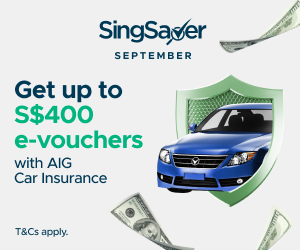 AIG Car Insurance Promotion: Get up to S$350 Petrol Vouchers when you purchase AIG Car Insurance now! Get extra S$50 Petrol Vouchers if you register a new AIG On the Go account. Fulfilment by AIG. Valid till 30 Sep 2023. T&Cs apply.
How often should you change your car insurance?
Car insurance can be pricey, on average costing over a thousand dollars each year, before discounts.
Also, in a bid to stand out in a highly competitive market, insurers often offer different perks and benefits and add-ons. These can increase the customisability of your plan, but in exchange, jack up your premiums.
Hence, there is a case to be made for keeping a lookout for new plans, promotions or discounts, all the better to keep your car insurance premiums as low as possible.
And since auto insurance policies are relatively short-lived at 12 months, comparison shopping for auto insurance policies can be comfortably performed once a year.
Ok, but should you change your car insurance plan just because you can?
Ah, that's the other part of the equation. Should you switch your plan just because you can?
Well, despite the abundance of options available on the market, and the relative ease of switching, it may not necessarily be good practice to switch your car insurance plan frequently.
After all, nobody really wants to keep switching providers, especially once they've found a plan that suits their budget and needs. However, completely ignoring what's out there will cause you to miss out on newer offers or plans that potentially offer more savings, or provide more value.
With that in mind, let's delve deeper into the pros and cons of sticking with the same car insurance plan.

SingSaver Exclusive Offer: Get the Best Price with SingSaver's Exclusive Discount! Use the promo code SSCAR to get a 25% discount when you apply NOW! Valid till 30 September 2023. T&Cs apply.
Pros of staying with the same car insurance company
Convenience
One of the main reasons to stay with your current car insurance company is convenience. When your policy is near expiry, chances are it will be renewed for another term automatically.
In most cases, your insurer will go ahead and renew your policy unless you explicitly tell them not to do so. This feature means that drivers can enjoy continued car insurance cover on auto-pilot.
Stable premiums
Unless you get into an accident for which you are ruled partially or fully at fault, or suddenly commit a number of traffic violations in short order, your car insurance premiums are highly likely to remain the same.
This can be a boon especially if you are already enrolled into the lowest-priced (or close to it) policy on the market.
Even then, your insurer may only increase your premium on your next renewal, which gives you some buffer time to jump ship, if you so choose.
Suitability
Finally, one very simple but compelling reason to stick with your car insurer is that you've found a policy that is an ideal fit for you, in terms of budget and requirements.
If no other insurer can offer the same plan, or provide a similar plan at a higher cost, then there's really no reason to make a switch.

Singtel Car Insurance Promotion:
SingSaver Exclusive Offer:
Receive an upsized
S$250 petrol vouchers
with any plan purchased. Gift fulfilled by Singtel. Valid till 30 Sep 2023. T&Cs apply.
T&Cs apply.
Cons of staying with the same car insurance company
There really only is one con to note when staying with the same car insurance company.
As noted earlier in the article, staying with the same car insurance company might mean missing out better offers that might come along. This is because you only need – and can only have – one auto insurance plan.
By the same token, you could also miss out on new policy features. Insurers are always jostling for more clients, and some may introduce novel benefits that could potentially be a game changer.
Hence, staying with the same car insurance company can cause you to miss out on potential new benefits, especially if you have a clean driving record.
Conclusion: Switch or don't switch, prioritise your NCD
Now, whether you decide to shop around for new insurance plans every year, or stick with a plan that you like, you should always take care to keep your No-Claims Discount (NCD) as high as possible.
At its highest, NCD can give you a massive 50% savings on your auto insurance premium, which can translate to savings of several hundred dollars a year. Having a maxed-out NCD can also help you pay for a higher-tier car policy with a greater range of perks and benefits.
NCD is transferable between insurers in Singapore, but can only be applied to one of your vehicles. In other words, you'll need to build up NCD separately for each different vehicle you own.
Also, note that some insurers offer an NCD Protector, which shields your NCD from one at-fault incident in a year. This means you won't have to take a painful drop from 50% to just 20% discount on your premiums just because of one careless accident.
Clearly, your NCD will provide you with the greatest savings, and thus should be prioritised in your considerations. As such, it may be worthwhile to choose an insurer that offers an NCD Protector for an extra chance at avoiding full-priced premiums.
Read these next
How Much Does It Truly Cost To Maintain A Car In Singapore?
Car Insurance: What You Need To Know And How These 5 Factors Determine Your Car Insurance Premium
Personal Accident Insurance: What Does It Cover And Why Do You Need One?
Is Getting Credit Card Insurance a Good Idea?
Understanding Interest Rates: How You Can Use It To Save Even More Money