Here's our analysis of the Tengah BTO project. So, what exactly makes Garden Bloom @ Tengah so attractive (and not so attractive)?
"Huh? Tengah?" My partner looked at me in disgust while discussing our BTO plans. "That area only has Tengah Air Base and cemeteries. I don't want to live there."
Well, he can't be more wrong. The site will look nothing like how it does currently, when it fully develops around 10 to 20 years from now.
If you don't have an inkling of where the new Tengah HDB BTO site is located, here's a map for you: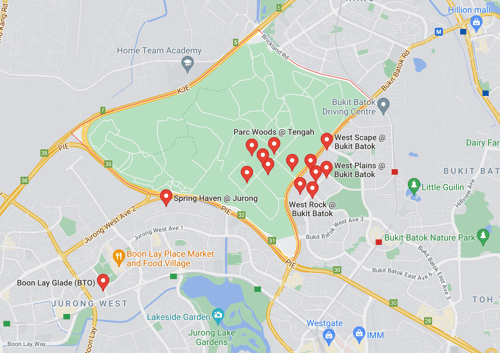 (That entire green spot is where the BTOs will be)
The most recent launch in the estate is Garden Bloom @ Tengah, situated in the Garden District of Tengah town. This project is part of the May 2021 BTO sale by the Housing Development Board (HDB), which put up a total of 6,373 flats for sale on Tuesday (25 May).
May 2021 BTO launch - more than 6,000 homes available for sale
The current BTO launch includes 3,879 BTO units in Bukit Merah, Geylang, Tengah and Woodlands estates, as well as 2,494 Sales of Balance flats (SBF) across Singapore.
The Garden Bloom @ Tengah consists of 782 units, with 2-room flexi, 4-room and 5-room flats made available to the public. The development comprises seven residential blocks that are 15 storeys tall.
You can think of Tengah, the newest residential estate in Singapore, as the 2.0 version of Sengkang/Punggol, when the BTOs were launched there some 10 years ago. They were unpopular at first, with complaints over the inaccessible location and the lack of amenities. However, initial Sengkang/Punggol homeowners who sold their flats in recent years are now laughing all the way to the bank, with the value of their homes nearly tripling in 2015.
From the past BTO launches, we can tell that HDB is really pushing young couples to own a home in Tengah, with this non-mature town being included in nearly every BTO launch since November 2018. The last time Tengah appeared during a BTO exercise was in February 2021, for Parc Wood. This is the seventh time a Tengah BTO project is up for grabs.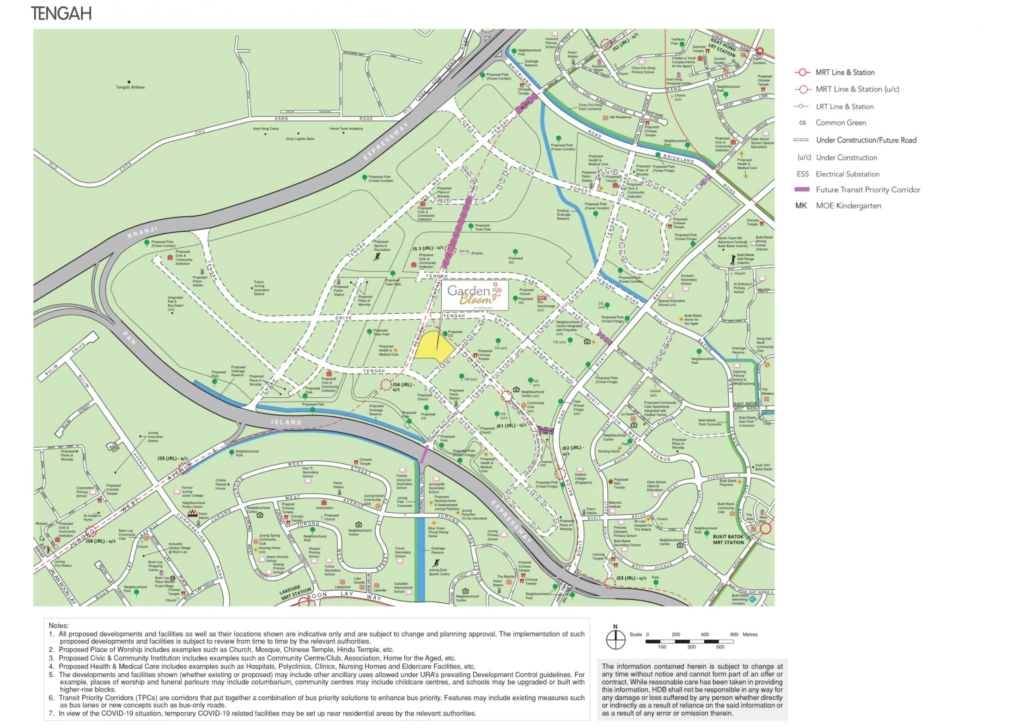 Units: 782
Types of flats available: 2-room flexi, 4-room, 5-room
Site location: Tengah Central, Tengah Garden Walk
Classification: Non-mature estate
MRT: Tengah MRT Station (Jurong Region Line, under construction; opening in 2027), Tengah Plantation MRT Station (Jurong Region Line, under construction), Hong Kah MRT Station (Jurong Region Line, under construction; opening in 2027)
Bus Interchange: Proposed bus interchange to be built about a 10-minute walk away
Schools: Concord Primary, Choa Chu Kang Primary , Shuqun Primary, Corporation Primary, St Anthony's Primary, Dazhong Primary, Princess Elizabeth Primary, Corporation Primary, Jurong Primary, Huiling Primary, Bukit Batok Secondary, Dunearn Secondary, Hua Yi Secondary, Jurongville Secondary, Fuhua Secondary, Yuhua Secondary, Dulwich College, Millennia Institute, Canadian International School
Amenities: Community Club (under construction), Neighbourhood Centre (under construction)
Price and flat details
Tengah is arguably one of the most affordable BTOs amongst the current launches, with prices ranging from S$113,000 for a 2-room flexi to S$404,000 for a 5-room. Here are the pricing estimates, according to HDB's website:
2-room flexi (Type 1)
Estimated floor area: 40 sqm
Number of units: 70
Price (indicative, without grants): S$113,000 – S$137,000
2-room flexi (Type 2)
Estimated floor area: 49 sqm
Number of units: 196
Price (indicative, without grants): S$132,000 – S$167,000
4-room
Estimated floor area: 94 sqm
Number of units: 265
Price (indicative, without grants): S$299,000 – S$359,000
5-room
Estimated floor area: 113 sqm
Number of units: 251
Price (indicative, without grants): S$404,000 – S$495,000
Garden Bloom @ Tengah BTO completion date and other things to take note of
Selection of unit: July 2021 to March 2022
Projected completion: 3Q 2025
Estimated waiting time: 46 months
Estimated delivery possession date: 31 March 2027
Garden Bloom @ Tengah BTO layout and floor plans
2-room flexi (Type 1) (40 sqm)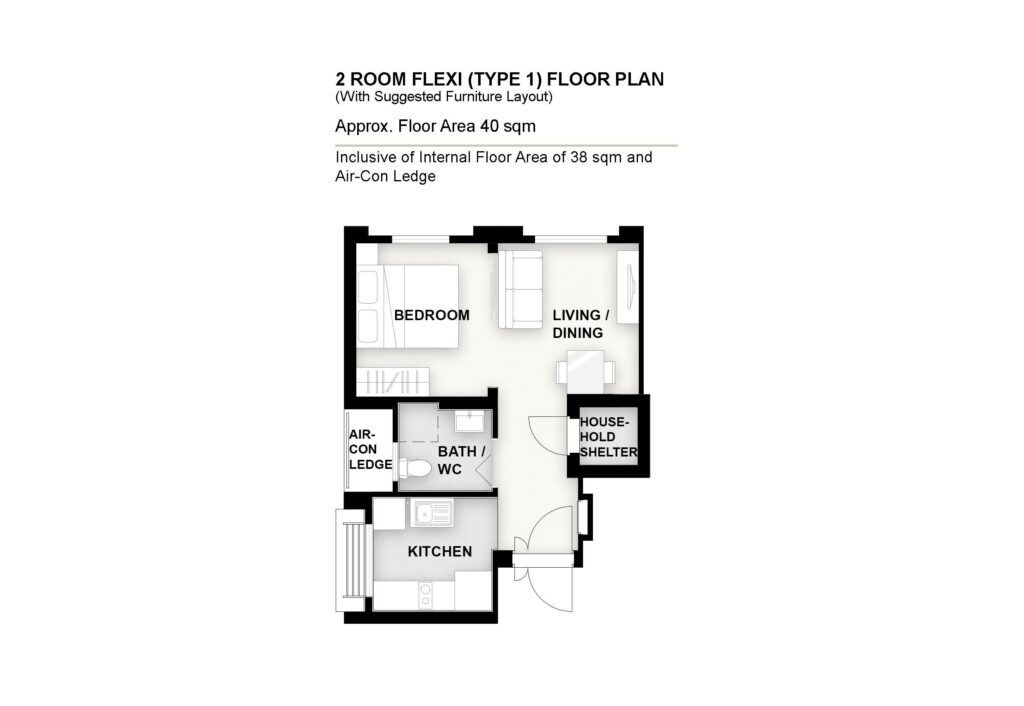 2-Room Flexi (Type 2) (49 sqm)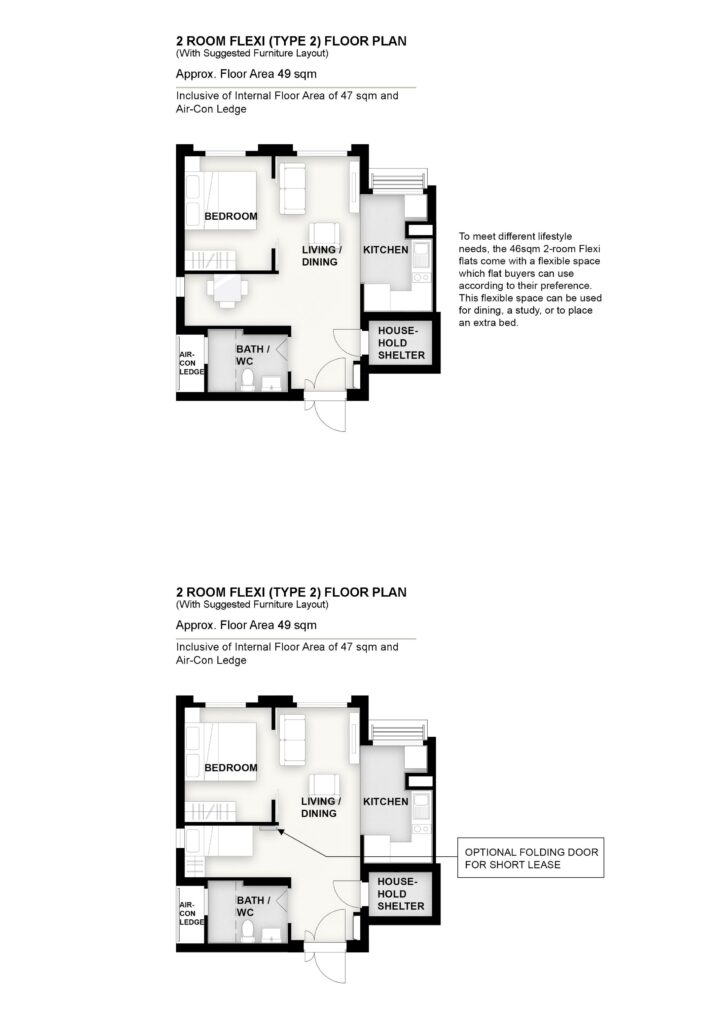 4-Room (94 sqm)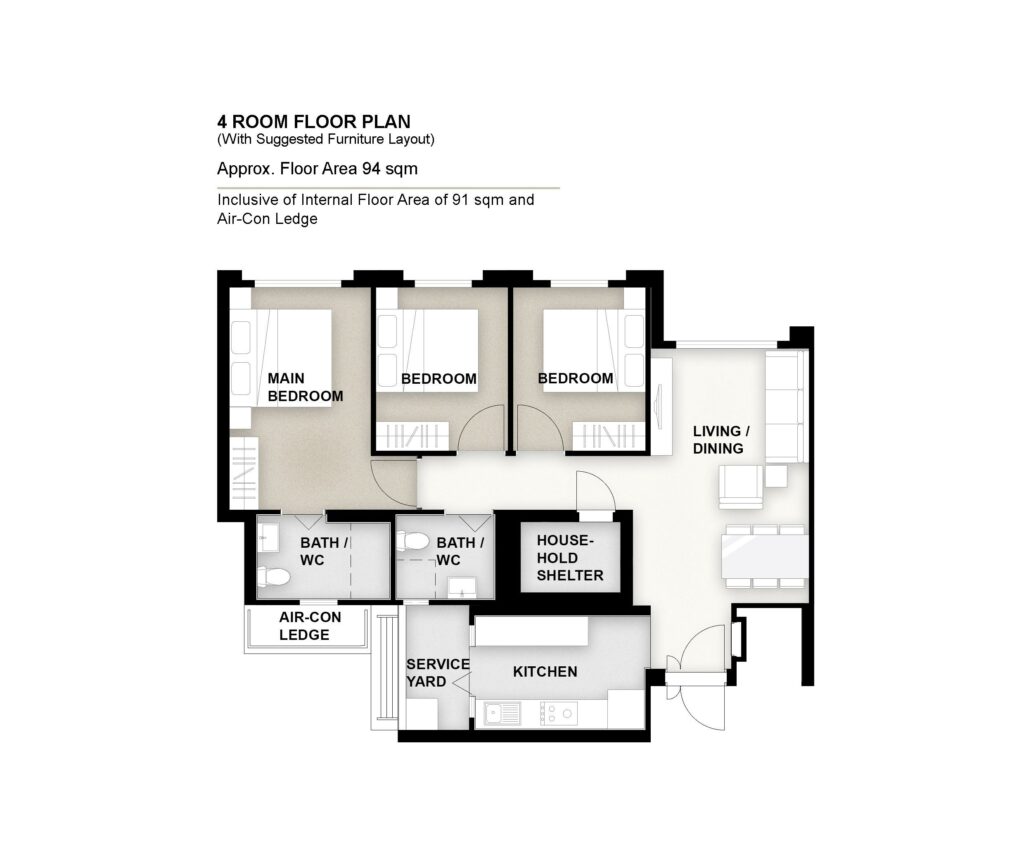 5-Room (113 sqm)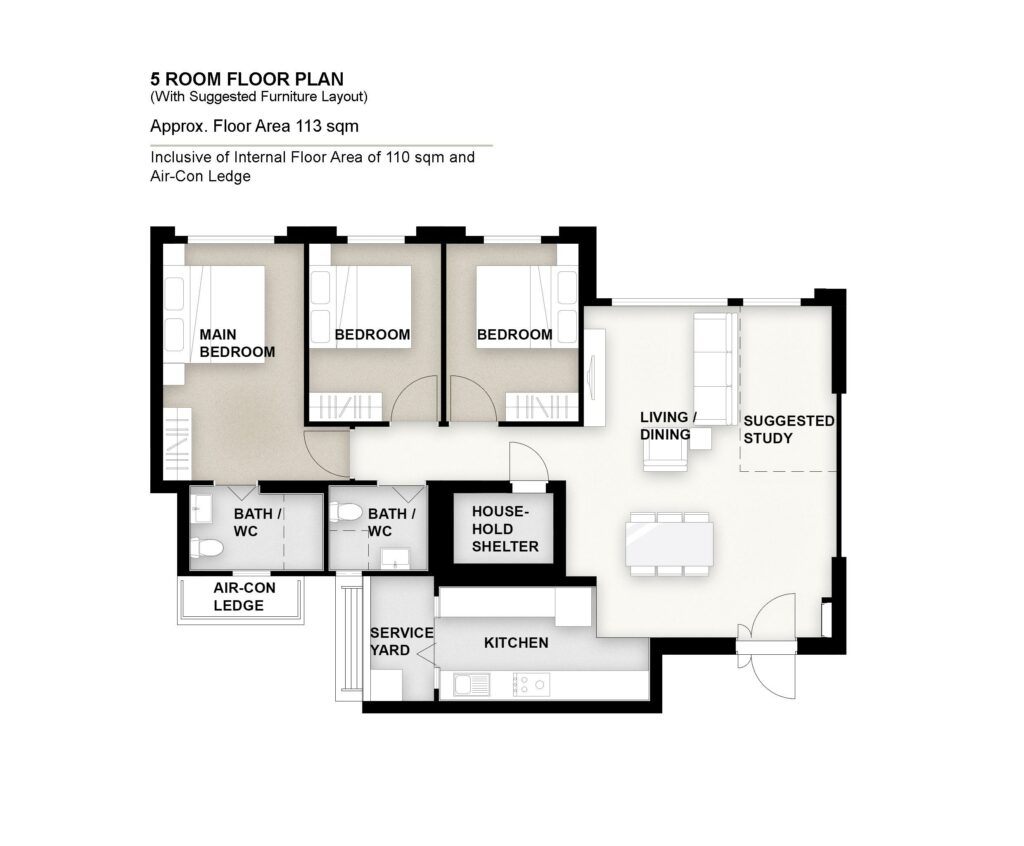 Pros of Garden Bloom @ Tengah
Price — Very affordable
Couples on a budget would prefer this project due to its very reasonable price tag. For instance, a 4-room unit in Garden Bloom @ Tengah starts from S$299,000 while the same flat type in MacPherson Weave under the same May 2021 launch can go up to S$626,000. Now, that's a huge difference.
Accessibility — Close proximity to MRTs, working districts and expressways
Minutes walk away from Hong Kah MRT
One big advantage of Garden Bloom @ Tengah is its proximity to the upcoming Hong Kah MRT, which is only a five-minute walk and is expected to be up and running by 2027 as part of the Jurong Region Line (JRL). The next closest MRT, Tengah MRT, is accessible within a 10-minute walk.
About Jurong Region Line (JRL)
According to the Land Transport Guru, the JRL will open in three phases from 2027 to 2029. It was originally slated to operate in 2026, but got delayed for a year due to the lack of construction workers no thanks to the COVID-19 pandemic.
With the JRL's establishment, residents will be able to easily commute to the rest of Singapore. The North South Line (NSL) will be a mere three stops away via Choa Chu Kang MRT, while the East West Line will be four stops away via Boon Lay MRT. These stations, called the JRL (West), will kick off in 2027, during Phase 1.
In Phase 2, which is expected to happen sometime in 2028, Jurong East MRT station will open and it'll just be six stops away from Hong Kah MRT station.
The rest of the JWL line will be fully operational in 2029.

Close proximity to Jurong Lake District and Jurong Innovation District
The two developments are said to be Tengah's second business district. If you're planning to work there, living in this area will be extremely convenient.
For those who drive, you'll be glad to know that this development is near the Kranji Expressway (KJE) and Pan Island Expressway (PIE).
Amenities — Schools, health centres, community centres and shops
Many schools in the vicinity
There are currently no schools present within Tengah yet, so students will need to commute to neighbouring estates like Jurong and Bukit Batok. Dotting the surrounding area is a wide range of educational institutions, including primary schools like St Anthony's Primary and Princess Elizabeth Primary, as well as tertiary institutions such as Nanyang Technological University (NTU) and Millennia Institute.
But if you're thinking of having children in the near future, there will be a primary school in Tengah from January 2025, formed through a merger of Juying Primary (JYPS) and Pioneer Primary.
The merged school is expected to be relocated to the Tengah Plantation District, and it will be the first primary school in the area, according to The Straits Times.
A proposed health and medical facility will be built across Tengah Central, so residents need not travel far for their medical needs. There will also be a polyclinic under construction along Tengah Park Avenue, which is expected to open in 2025.
Currently, the nearest healthcare facilities are Bukit Batok Polyclinic and Ng Teng Fong Hospital located in Jurong East.
Retail shops and neighbourhood centres
By the time you're ready to move in, there will be an array of shops such as eateries and retail outlets available in the Garden District to meet your daily needs, on top of a neighbourhood centre and community club.
Eco-friendly facilities — Transit Priority Corridors and The Garden Farmway
Transit Priority Corridors (TPC)
Tengah will be a safe space for pedestrians and cyclists. More areas will be allocated to public transport and active modes of commute such as bicycles (no e-scooters, sorry). Road lanes will be repurposed to enhance the pedestrian environment and travel experience by public transport. For an example of an implemented TPC, take a look at Bencoolen Street: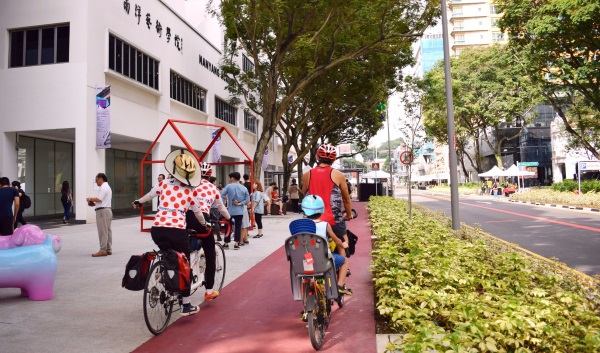 Nature lovers, this will be a huge plus for you. TGF, the key feature of the Garden District, encourages healthy and active living among residents.
As its main purpose is to help foster a new lifestyle centred on community gardening and hobby farming, residents can expect to have a hand in growing their own produce, enjoy farm-to-table dining and share the fruits of their harvest with their neighbours.
Centralised Cooling System (CCS)
For the first time ever in the public housing system, home owners at Garden Bloom @ Tengah can choose to have 'air conditioning' provided from a centralised cooling system (CCS).
In true nature-loving, eco-friendly fashion, cooling to each household unit will come from highly energy efficient chillers, and you need not install nor maintain your own outdoor condensing units on the air-conditioner ledge. Not only will this save you a tonne of money, you'll also get to do your part in contributing to a sustainable lifestyle in this environmentally-sound district.
The CCS looks and functions exactly like how a split-unit air-conditioning system would, just way more environmentally friendly. Some of its functions include temperature setting, fan speeds and operating modes (dry, fast cooling and sleep).
Wait, that is not all. Future home owners at Garden Bloom @ Tengah are able to control of their CCS anywhere and everywhere. Through a dedicated mobile application, they can choose to pre-cool each room or entire home during their commute back.
You may decide to subscribe to the centralised cooling system after signing the Agreement for Lease. More information will be provided during the flat selection exercise.
High chance of property appreciation
With the eventual opening of the JRL and establishment of working districts, prices of the Tengah BTO flats could possibly see a rise in property prices, just like the ones in Punggol/Sengkang we mentioned earlier.
Cons of Garden Bloom @ Tengah
Noise from nearby Tengah Air Base, upcoming temple and schools
When the new school opens in 2025, roads there will definitely be jammed in the morning and afternoon. Let's just hope residents can still work from home in the future.
Tengah Air Base is located within a 3km radius, FYI. So there is almost a 100% chance you'll hear planes flying by almost every. single. day. (people who currently stay near Paya Lebar Air Base can relate). If you're an aerophile, good for you. But for regular people, we'd prefer not to have this much noise disruption in our daily lives.
Since there are also plans to build a Chinese temple across Tengah Garden Walk, it would most probably add to the noise as well, especially during festivals.
Main shopping malls are still a tad far away
There are shopping malls available, but they're in the neighbouring estates and you'll have to travel out. Currently, the nearest "big" mall is West Mall next to Bukit Batok MRT. If you're content with a smaller mall, there's Le Quest Shopping Mall located nearer to the BTO site at Bukit Batok Ave 6. Whichever it is, you still need to commute there.
Centralised Cooling System (CCS): Are we able to turn it off and should we opt into this scheme?
Yes, the CCS can be turned off and on. You can remotely control and monitor your home's cooling anytime, anywhere.
If you are used to having your air-conditioning system on for long periods of time (especially since most of us are working from home), CCS will definitely be a good option to consider.
Possibility of mosquitoes and other insects
Nature = higher insect population. You may want to choose a higher floor to avoid dealing with mosquitoes and other insects. However…
HDBs in Tengah won't be built high
Blocks in the estate generally do not exceed 15 storeys. Why? Because it's located near Tengah Air Base. Back to square one.
Might have to wait for quite a while before fully developed
By a while, we mean 10 to 20 years. While there is no doubt that Tengah will be developed to a certain extent by the time you move in, it will take years for it to fully grow into a bustling neighbourhood so homeowners will have to be patient.
Long wait for property appreciation, but it will eventually happen
Again, patience. You can profit off your Tengah BTO if you sell it after the five-year Minimum Occupation Period (MOP), but chances are, the estate still has a lot of growing to do. MRT lines may be opened, but the Jurong Lake District will be fully realised only in 2040 and beyond. For the highest profit, sell your flat when everything has been fully developed. Are you able to wait that long?
Unfortunately, there are no resale prices for you to compare against, you'll just have to be the guinea pig this time.
Far from city centre
Let's be honest — Tengah isn't exactly the most accessible place and it is not at all centralised. But from what HDB is telling us, we can assume that Tengah will be a self-sufficient neighbourhood in time to come.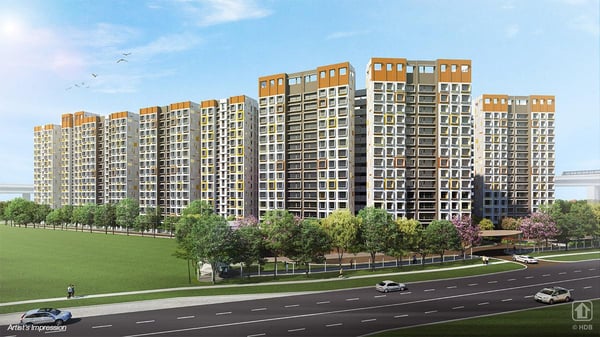 Our verdict: Is Garden Bloom @ Tengah worth applying for?
If you're a sports and nature lover looking for a relatively affordable HDB home in the west, Garden Bloom @ Tengah may be a considerable option.
On the other hand, we're not sure if we can live with months, or even years, of inconvenience while waiting for everything to be fully built. The new school, Tengah Air Base and the proposed temple may also be a dealbreaker for those who like their peace and quiet.
TL;DR — The good and not-so-good of Garden Bloom @ Tengah
Advantages
Definitely the price
Less competition
Wide range of flat sizes
Five-minute walk to the upcoming Hong Kah MRT
Near Jurong Lake District and Jurong Innovation District
Access to various amenities including retail, educational, and healthcare facilities when area develops
Close to nature
Green amenities
Disadvantages
Far from the city centre
Possible noise disruption from schools, Tengah Air Base and temples
Only 15 levels per block, not suitable for people who prefer staying at higher floors
Travelling needed to access bigger shopping malls and schools
High chance of insects (ew, mosquitoes) invading your home due to close proximity to nature
Have to wait years after moving in for estate to fully develop
Not everyone has the patience to wait for flats to appreciate and estate to fully develop (I don't, so I will personally skip this project)
---
Planning to get a new home? Insurance is always important. Check out our home insurance plans where you can get cashback, vouchers, discounts and more!
Read these next:
HDB BTO Launches In 2021
Step-By-Step Guide To Buying Your Very First HDB BTO In Singapore
How To Buy A House In Singapore: A Complete Guide
Complete Guide To HDB Grants: How Much Can You Get?
Fixed vs Floating Home Loan Rates: Which One Is Suitable For You?