Confused about HDB grants? Answer these six simple questions, to find out exactly how many and how much HDB grants you are eligible for.
Confused about what kind of grants you can get for your HDB flat? So was I. As a 26-year old Singaporean about to get married and planning to buy a BTO (Build-To-Order) unit in a non-mature estate, especially with the recent launch of nearly 5,000 flats under the August 2021 BTO exercise, I had to first find out the different types of HDB grants available as my options. After which, I was redirected to individual pages to find out more about each HDB grant, i.e. what it entails and how to qualify for it.
I realised it wasn't easy to navigate the HDB website if you have a tonne of questions, and you're looking for all answers at a glance. I decided to take the matter into my own hands.
The purpose of this article is to help soon-to-be Singaporeans like you and me to maximise the grants you can receive from the HDB without having to read through countless pages of policy names, and terms and conditions.
It's also important to consider: As of December 16th 2021, Singapore announced their new property cooling measures: Higher 'Additional Buyers Stamp Duty' (ABSD) rates and tighter loan limits. It's important to note that the highest applicable ABSD will apply such purchases made by two or more parties (jointly) of different profiles etc. As far as tighter loan limits are concerned, the threshold will be reinforced from 60% to 55%, what this means is that new mortgages cannot cause borrowers total monthly loan repayments to exceed the new 55% of monthly income.
HDB grants at a glance
What are HDB housing grants and how do they work?
Also known as CPF housing grants, these are given to help lower- and middle-income Singaporeans afford a home of their own. Do bear in mind that these housing grants are not given in the form of a cheque or cash transferred to your preferred bank account. Instead, they are credited directly to your CPF Ordinary Account (CPF-OA) after you've booked a flat, to only be used for the purchase of your flat.
How are HDB grants calculated?
There are three main HDB housing grants, and these are calculated based on your level of income, size of the resale flat, and the number of occupants under one roof.
Enhanced Housing Grant (EHG): This is calculated based on your average income for the last 12 months. For singles, it's based on your personal income level and, for couples, the combined household income is considered.
Family Grant (FG): This is calculated based on size of resale flat. The bigger the resale unit you purchase, the more grant money you will receive.
Proximity Housing Grant (PHG): This is calculated based on distance to your parents' place and/or planning to live together. Staying closer to your parents has its benefits, especially if they're old or you have children they give company to. So, if you choose to purchase a resale flat located within 4km of your parents' place, you will automatically qualify for this grant. In addition, those who purchase a flat with the intention of living with their parents stand to receive an additional S$10,000 in PHG grants.
Do you need to return HDB housing grants when you sell the flat?
In one word, yes. But the money goes back to your own CPF OA account, and not to CPF or HDB.
You will have to return all HDB housing grant money that you've received with interest to your CPF-OA. This is pegged to the prevailing CPF-OA interest rate, which currently stands at 2.5% p.a.
For example, if you've received S$30,000 in HDB housing grant money when purchasing your HDB flat, you will have to return the full S$30,000 and accrued interest of 2.5% when you sell your property. This amount will directly go into your CPF-OA; neither HDB nor CPF will benefit in any way from this.
A lot of people choose not to take any HDB housing grants due to the repayment factor, but here's a thought to ponder over. Without this additional S$30,000 at the time of purchase, you would have to take a larger housing loan, which translates to paying more for interest and higher monthly repayments.
Are grants and priority schemes the same?
While grants are physical amounts given to you to help you offset the purchase price of your home, priority schemes only give you a higher chance of being balloted so you can select your flat.
With this in mind, do not confuse the Proximity Grant with the Married Child Priority Scheme (MCPS). The Proximity Grant gives you grant money for staying within 4km of your parents or with your parents, while MCPS increases your chances of getting a flat if you pick a development that is within a 4km radius of your parents.
How do I ensure that I qualify for grants beforehand?
1. Prepare your documents early
Before you start rejoicing in anticipation of the 'free money', make sure your documents are ready beforehand. You are expected to produce your relevant documents at three stages: registration and selection of house, signing of lease of agreement and collection of keys, the most important being the registration and selection since that is when your grant eligibility will be assessed.
We all know the hassle of settling paperwork, so be sure to prepare them early and not leave it to the last minute. if you face any issues retrieving the documents, you might not be able to qualify for the grant at all.
2. Ensure that you stay employed
As most grants that factor in your income assess your salary for the past 12 months, losing your job during this window might affect your chances of getting the grant that you assumed to be eligible for.
However, if you're applying for a flat with a family member or a spouse, being unemployed (for the full period of assessment) might work in your favour as you might be eligible for more grant money. This is because your combined household income will be lower than if both parties are working. Do be sure to go over the eligibility conditions of each grant to see if you're qualified.
3. Call HDB if you have any queries
No one's complaining about the wide range of grants available to help alleviate the financial burden on Singaporeans when purchasing a house, but the different guidelines and eligibility conditions do confuse us at times.
As everyone's own financial and social situation is different, it can be difficult to determine for yourself if you are truly qualified for a specific grant. When in doubt, always call HDB beforehand to clarify any doubts you might have regarding your own unique situation - mostly to avoid disappointment.
Six questions to ask yourself to determine the grants you are eligible for
To simplify how HDB grants work, all you need to do is to focus on the following six questions. Assuming you're a Singaporean or Permanent Resident, and either engaged or married, by simply answering these 5 questions, you can determine the number of HDB grants you qualify for.
Here are the six questions you need to answer:
1. Who am I applying for a house with?
Whether you're applying alone, with your spouse, your family member or another single, you're entitled to different grants.
For example, though the Enhanced CPF Housing Grants (EHG) applies to both couples and singles, there is a different income range you have to fall within if you're single compared to being part of a couple.
2. Are you looking to purchase an HDB flat or an Executive Condominium (EC)?
There are different types of grants available for homebuyers purchasing an HDB flat or an EC. For example, the grant money that you can receive under the Housing Grant for HDB flats and ECs differ.
On the other hand, the EHG applies only to HDB flats but not to ECs. Do note that the income ceiling for new HDB flats and ECs also differ. BTO flats have an income ceiling of S$14,000 (or S$21,00 if you're purchasing with extended family) while ECs have an income ceiling of S$16,000.
3. What's your average monthly household income over the past 12 months?
Your average monthly household income affects how much money you can receive from certain grants like the EHG and Singles Grant. It also affects what type of houses you can apply for.
4. What's the size of your flat (e.g. four-room, five-room)?
Certain grants like the Proximity Housing Grant (PHG) and Family Grant factor in the size of your flat. Typically, living in a larger house like a five-room flat will entail a lower grant, as compared to living in a three-room flat and below.
5. Are you planning to buy an HDB BTO or resale flat?
Whether you're applying for an HDB BTO or a resale flat plays a part in the grants that you can receive. Since BTO flats are much cheaper than resale flats, you can expect to benefit less from the grants as there are considerably fewer grants available.
BTO flats only entitle you to the EHG, while resale flats allow you to qualify for grants like EHG, PHG and Family Grant.
6. Do you stay with or within a 4km radius of your parents?
HDB values individuals staying with or near family, which is why living within a 4km radius of your parents will qualify you for the PHG where you can receive up to S$20,000 in grants, while living with your parents can entitle you to a grant of up to S$30,000.
If you're applying for a BTO flat, living within a 4km radius will also make you eligible for the MCPS, giving you higher chances of successfully balloting for a flat. On top of that, if you're applying for a house within the same precinct as your parents you can also qualify for the Multi-Generation Priority Scheme (MGPS).
Types of HDB grants available
1. Enhanced CPF Housing Grant (EHG) — for HDB BTO & resale
Qualifying criteria: Average monthly household income for last 12 months
Potential grant amount: S$5,000 to S$80,000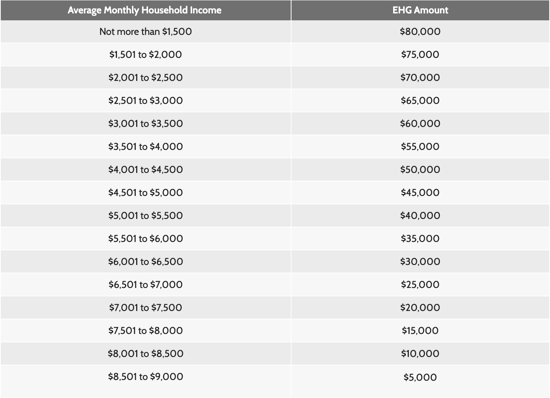 In the past, grants like the Special Housing Grant would only be available to you if you are applying for a flat in a non-mature estate that is 4-room or smaller. With the latest change in the HDB grants, that is no longer a factor. The only factor now is your average monthly household income for the last 12 months that cannot exceed $9,000. This alone will determine the amount of grant money you can receive from the Enhanced Housing Grant (see below).
2. Family Grant — for HDB resale
Qualifying criterion: Size of HDB resale flat
Potential grant amount: S$30,000, S$40,000 or S$50,000

Over the years, the price of resale flats has been rising, especially in mature estates where amenities are aplenty. To help Singaporeans who are considering resale flats, the FG was introduced. You stand to receive either S$40,000 (5-room or bigger) or S$50,000 (4-room or smaller) in grant money depending on the size of your flat. But if you or your spouse is a Singapore Permanent Resident, you'll receive either S$30,000 (5-room or bigger) or S$40,000 (4-room or smaller).
The only caveat to this grant is that you need to ensure that the remaining lease on the resale flat covers the youngest co-owner till they are aged 95.
3. Proximity Housing Grant (PHG) — for HDB resale
Qualifying criterion: Resale flat has to be within 4km from parents' home, or planning to live with parents
Potential grant amount: S$20,000 or S$30,000

Living close to your parents not only makes visiting or caring for them more convenient, but this would also allow you to be eligible for the PHG. The eligibility criteria is straight forward, stay within a 4km radius from your parents and you will be eligible for a S$20,000 PHG grant. And if your entire family decides to purchase a resale flat and live together, you will receive an additional S$10,000 in PHG money.
If you're single, living within 4km of your family will allow you to receive S$10,000 while living with your parents can fetch you S$15,000 in grant.
Unlike most grants, PHG does not have an income ceiling (yay!) and the amount of grant money isn't pegged to your average household income. Having said that, do note that you're only allowed to receive PHG once in your lifetime and the resale flat has to have at least 20 years remaining on its lease.
Unsure if you qualify for this? Use HDB's handy PHG tool to check your eligibility.
Family Grant — for executive condominiums
Qualifying criterion: Gross monthly household income
Potential grant amount: S$10,000, S$20,000 or S$30,000
If you're planning on purchasing an EC, you can qualify for the Family Grant and receive up to S$30,000, though that is less than the grant you can get if you apply for an HDB flat.
However, the Family Grant for ECs depends on your gross monthly income, which has a cap of S$12,000, instead of the size of your flat.
There's also the Half-Housing Grant, which is essentially half the amount of money of the Family Grant, and are for couples who have one party as a first-time applicant and the other as a second-time applicant who previously received a housing subsidy.
5. Singles Grant — for singles
Qualifying criterion: Single applicants aged 35 and above
Potential grant amount: S$20,000 or S$25,000
Singles are not forgotten either. You are eligible for the Singles Grant can if you're 35 years old and above and apply for an HDB resale flat under any of these schemes:
Single Singapore Citizen Scheme
Public Scheme (if parents are included in the resale application as co-applicants or occupants)
Non-Citizen Family Scheme
If you're living in a two- to four-room resale flat, you can receive S$25,000, while living in a five-room resale flat will get you S$20,000.
On top of the Singles Grant, Singles are also eligible for EHG (Singles) and PHG as long as they fulfil the respective criteria.
Overview of grants available
Still confused about the available grants for your type of housing? Don't worry, we've got you.


HDB BTO and SBF
Resale flat
EC
Enhanced CPF Housing Grant (EHG)
Enhanced CPF Housing Grant for Singles (EHG Singles)
Yes
Yes
No
Family Grant (FG)
No
Yes
Yes (different grant amounts apply for ECs)
Proximity Housing Grant (PHG)
No
Yes
No
Singles Grant (only for singles)
No
Yes
No
Case Studies
Couple A: S$6,000 combined household income, eyeing a 4-room resale flat near parents
Benjamin and Emma are married, in their late 20s, and have been trying for their BTO since they graduated from university. Unfortunately, luck hasn't been on their side. They have now shifted their attention to the resale market for a unit near their parents. Luckily for them, they are entitled to S$105,000 worth of grants to help them buy their resale flat.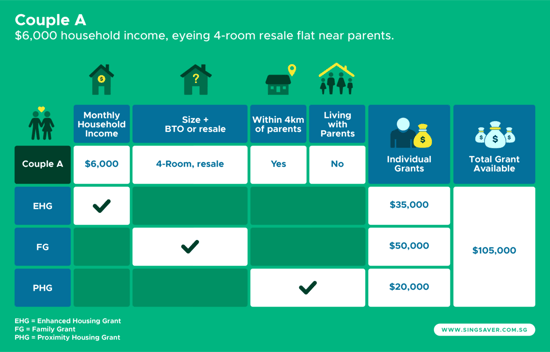 ---
Couple B: S$8,000 household income, eyeing 5-room resale flat near parents
Kevin and Eileen are married, in their mid-30s and earn a combined monthly income of S$8,000. They are first-time owners, looking for a 5-room HDB resale flat that will allow them to live with their parents. Thanks to HDB grants, Kevin and Eileen can expect S$85,000 in grants to help them defray the high cost of a large resale flat.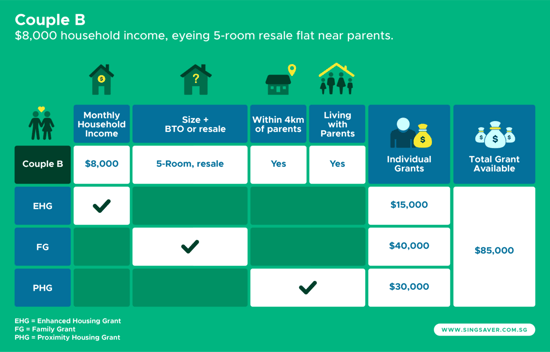 ---
Couple C: S$4,000 household income, eyeing 3-room resale flat away from parents
John and Mary are engaged, in their mid-20s and have a baby on the way. They have a combined household income of S$4,000, are first-time owners looking to start a family in a small and cosy HDB. Unfortunately, there aren't any suitable 3-room resale flats near their parents for them to qualify for the PHG. But even without the PHG, John and Mary can look forward to S$105,000 worth of grants.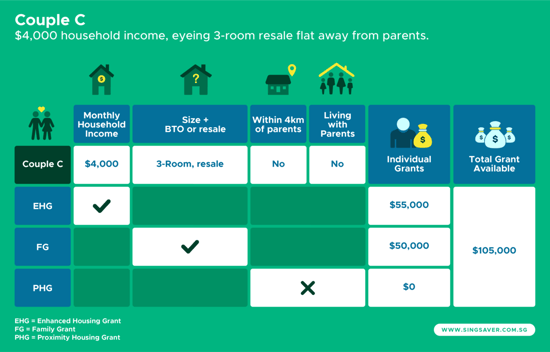 ---
Couple D: S$5,000 household income, eyeing 4-room BTO flat away from parents
James and Jean are fresh graduates who have just entered the workforce, newly engaged and earning a combined income of S$5,000. They are willing to wait for 3 to 4 years for a new HDB flat and have applied for a BTO flat in the upcoming BTO release. Given they are applying for a BTO and will not be staying near their parents, they are only eligible for EHG.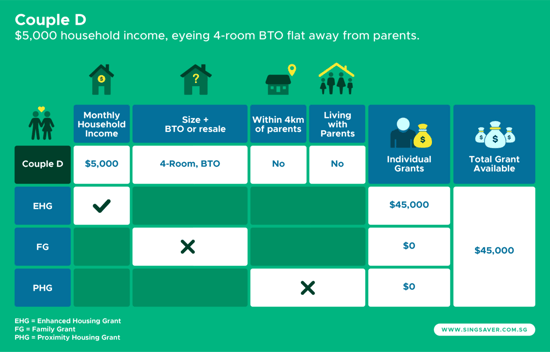 Just applied for the latest HDB BTO launch and shopping for a low interest rate home loan to finance your dream home? Use our simple-to-use comparison tool below to find out what are the housing loan options and promotions currently available.
Read these next:
Step-By-Step Guide To Buying Your Very First HDB BTO In Singapore
HDB BTO Launches In 2021
How Much Do You Need To Buy Your First Home In Singapore?
HDB BTO, SBF Or Resale: Which Should You Pick?
What Type of HDB Flats Can Single Singaporeans Buy?