Ready for a revival of the west? The last Bukit Batok HDB BTO project launch was back in February 2021. If you've been eyeing a property in the west, this HDB BTO November 2022 Bukit Batok might be the one.

The upcoming West Glades @ Bukit Batok BTO in November 2022 is one of the BTO projects to keep on your radar, and here's why.
Although classified as a non-mature estate, Bukit Batok is an assuming yet charming neighbourhood in the west. In fact, it's one of the most coveted areas to live in as a westie. Curious to know more? These facts about Bukit Batok's newest HDB BTO November 2022 might convince you.


HDB BTO November 2022 Bukit Batok overview and location
Initially, it's understandable why many are drawn to mature estates like Kallang/Whampoa and Queenstown under the Prime Location Public Housing (PLH) model. Their city fringe locations and accessibility to MRT lines are tough to beat.
However, this time round it seems like the HDB BTO November 2022 Bukit Batok project might emerge as an underdog and give other BTO projects a run for their money.
Features-wise, the Bukit Batok BTO flats is one of the few projects offering 5-room flats.
Amenities-wise, it's surrounded by multiple MRT stations, primary and secondary schools, established eateries and malls, a stadium and ActiveSG gym, alongside Bukit Batok Hillside Park and the famous Little Guilin.


Read more:
November BTO Launch 2022: What to Look Out For
How to Buy a House in Singapore: A Complete Guide (2022)
S$1 Million HDB Flats in Singapore: Are They Worth the Hype?
4-Room Keppel Club Flats Going at an Estimated S$700,000


HDB BTO November 2022 Bukit Batok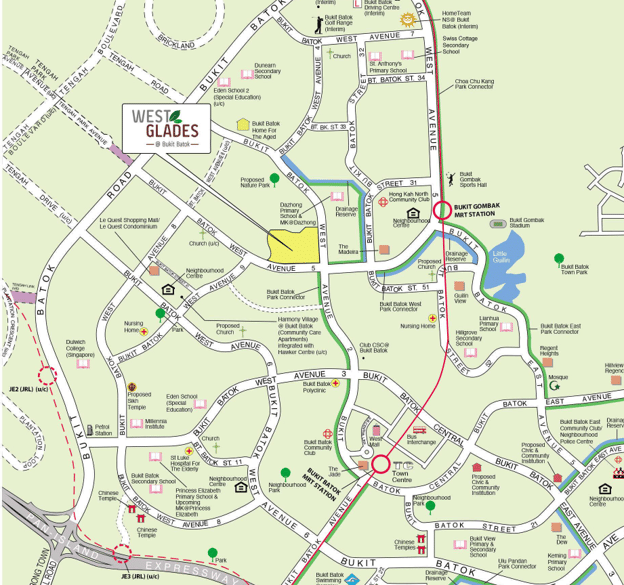 | | |
| --- | --- |
| Project name | West Glades |
| Address | Bounded by Bukit Batok West Avenue 5 and Bukit Batok West Avenue 2 |
| No. of units | 790 |
| Unit types | 2-room Flexi, 3-room, 4-room, and 5-room units |
| Nearest MRT station(s) | Bukit Gombak, Bukit Batok, Upcoming Jurong Region Line |
| Nearby schools | Dazhong Primary School & MK @ Dazhong, St. Anthony's Primary School, Swiss Cottage Secondary School, Dunearn Secondary School, Eden School 2 (Special Education), Dulwich College (Singapore), Eden School (Special Education), Millenia Institute, Hillgrove Secondary School, Lianhua Primary School |
| Nearby amenities | Le Quest Shopping Mall, West Mall, Hong Kah North Community Club, Bukit Batok Home For The Aged, Bukit Batok Park Connector, Bukit Batok West Park Connector, Upcoming Harmony Village @ Bukit Batok, Bukit Batok Polyclinic, Bukit Gombak Sports Hall, Bukit Batok Driving Centre (Interim), HomeTeam NS Adventure Centre @ Bukit Batok (Interim) |
The West Glades @ Bukit Batok BTO project will launch with approximately 790 units consisting of 2-room Flexi, 3-room, 4-room, and 5-room flats.
And as mentioned previously, it's one of the few HDB BTO launches offering luxurious 5-room units for couples desiring for more space.
Flushed with ample amenities, access to nature sites, and above-average accessibility, securing a BTO unit in this upcoming launch might be more competitive than expected.


Location
This property is bounded by the Bukit Batok West Avenue 5 and Bukit Batok West Avenue 2 junction, enveloped by the evergreen Bukit Batok Hillside Park popular for its hiking trails. At first, you might be worried that accessibility might be compromised, but that's not the case.
If anything, this HDB BTO site lives up to Singapore's reputation as a 'garden city'; it's a direct street down (8-minute walk) to Bukit Gombak MRT and one bus stop away (9-minute ride) from Bukit Batok MRT. Bukit Batok also doubles up as a bus interchange for those preferring to commute by bus.
Additionally, it looks like the site will be less than 15 minutes away from the slated Jurong Region Line in the future. This HDB BTO November 2022 Bukit Batok site will be squarely in between three MRT stations — talk about accessibility!
Depending on whether you board at Bukit Gombak or Bukit Batok, you'll be able to change to the East-West Line at Jurong East in a matter of one or two stops.
💡 Pro-tip: Want to access the Downtown line? Take either bus 187, 947, or 985 to the bus stop "Opposite Blk 628". From there, change to either bus 176 or 178 straight to Hillview MRT.

The estimated commute duration (excluding waiting for the bus) is 20 minutes.

Amenities — Shopping Centres
Nearby malls include West Mall and Le Quest Shopping Mall.
For west-siders, West Mall is synonymous with Bukit Batok MRT since it's right beside it. Besides that, it's also been a staple shopping site for daily groceries, F&B, watching movies, tuition centres, and more.
During festive seasons, its main outdoor courtyard acts as a space for pasar malams and festive decor perfect for some quality chill time with friends and family.
Meanwhile, Le Quest Mall is a vibrant newer mall — home to a whole selection of retail, F&B, entertainment services, and even a FairPrice Finest grocery store.
💡 Pro-tip: Find yourself patronising FairPrice supermarkets often? Maybe Trust Bank's savings account and debit/credit card might be suitable for you.
Otherwise, Bukit Gombak MRT is only two stations down (one station if Bukit Batok) to the bustling retail hub of Jurong East. You practically won't have to leave the west since JEM, West Gate, and JCube will have pretty much everything you need.


Amenities — Health, Fitness, Chalet, and Driving Centre
Other key amenities in the Bukit Batok vicinity include Harmony Village @ Bukit Batok, Bukit Batok Sports Hall, HomeTeam NS Adventure Centre @ Bukit Batok, Bukit Batok Polyclinic, and Bukit Batok Driving Centre.
Want to move your folks closer to you? No worries. With the upcoming Harmony Village @ Bukit Batok in the pipeline, this facility doubles up as Community Care Apartments integrated with a hawker centre.
Need a place to host events or simply want a change of scenery? HomeTeam NS provides nearby residents with a whole range of facilities like futsal courts, a game zone, laser quests, and chalet villas for your all-in-one activity hub.
Besides that, proximity to Bukit Batok Driving Centre is also a major incentive. After all, it's one of the three main driving schools in Singapore.


HDB BTO November 2022 Bukit Batok Price
Now, let's move on to more interesting subject matter like… money. How much is this HDB BTO Bukit Batok project expected to cost? This year's prices aren't released yet, but we can speculate based on previous BTO launches in the area based on unit type.
Unit type

Upcoming Bukit Batok BTO price (HDB BTO Nov 2022)

West Hill @ Bukit Batok BTO price (HDB BTO Feb 2021)

West Scape @ Bukit Batok BTO price (HDB BTO Aug 2017)

Median resale flat prices

2-room Flexi (Type 1)

From S$105,000 to S$130,000 (Type 1)
From S$126,000 to S$169,000 (Type 2)


S$101,000 to S$144,000

S$87,000 to S$164,000

N.A.

3-room

From S$206,000 to S$269,000

S$175,000 to S$221,000

S$171,000 to S$246,000

S$345,000

4-room

From S$309,000 to S$392,000

S$260,000 to S$334,000

S$265,000 to S$321,000

S$495,000

5-room

From S$405,000 to S$522,000

S$384,000 to S$460,000

S$353,000 to S$418,000

S$790,000


Immediately, one advantage of Bukit Batok BTO flats that stands out is its affordability. Couples can hope to snatch a prospecting 5-room unit under S$500,000.
A quick comparison to past popular BTO projects under the PLH scheme (e.g. Ghim Moh Ascent @ Queenstown) shows that their 4-room units easily exceed the half-million dollar mark. Meanwhile, the resale value for Bukit Batok 5-room units increases remarkably by 71% above the original selling price.


Read more:
[Sep 2022 Update] Loan-to-Value Ratio & Limits in Singapore
New Singapore Housing Loan Rules in 2022 — How Much Can You Borrow?
Getting a Bank Loan For HDB vs. an HDB Housing Loan — What's the Difference?
How to Use CPF to Pay For Housing Loan
HDB Loan Repayment: Should You Use CPF or Cash?


HDB BTO November 2022 Bukit Batok Analysis
So far, this upcoming HDB BTO Bukit Batok project sounds highly promising. But is there more to it?


Pro #1: Well-established amenities
Compared to the HDB BTO project in Tengah, the Bukit Gombak and Bukit Batok area has been flourishing with amenities for some time already. Although not to Jurong East's scale, but the neighbourhoods are well furnished for a 'non-mature estate' — to the point where it might be mistaken as a mature one.
Moreover, facilities like HomeTeam NS and Bukit Batok Driving Centre are quite unique selling points of the area. I mean, having a driving centre just 7 minutes away by bus can be considered a flex.
In general, residents wouldn't have to worry about travelling far and wide just to secure simple, daily necessities or other entertainment thrills.


Pro #2: Good connectivity via both buses and MRT
As we said, Bukit Gombak and Bukit Batok MRT stations are one to two stops away from Jurong East MRT. This instantly connects commuters to the East-West Line to take them to important destinations like Town and CBD area.
Moreover, if you want access to the Downtown Line, refer to my pro-tip above.
From Hillview MRT, you'll be able to reach stations like Newton, Little India, and Bugis within 20 to 25 minutes. I live in the area, so I can personally attest to that.
Another tried-and-tested route includes express bus options like bus 506.
This commute will take you straight to Toa Payoh's doorstep (including HDB Hub building) via the highway within 30 minutes. Yes, we're not exaggerating. It's that convenient, although the bus timings and frequencies are something to time properly for.


Con #1: Higher competition for first-time applicants
Since 30 August 2022, the government announced that more BTO units in non-mature estates are reserved for first-time applicants.
For first-time families, at least 85% of 3-room units and 95% of 4-room BTO units supply are being set aside. This increased from the previous 70% and 85% respectively.
Hence, there would be even tougher competition surrounding the 5-room units.
History has repeatedly shown how oversubscribed these units are, especially since spacious units are increasingly a scarcity in Singapore.


Con #2: Need to interchange between buses and train lines
Since Bukit Gombak and Bukit Batok reside on the western end of the North-South Line, you'll naturally have to change at Jurong East to continue your journey.
Some commuters might find alternating between buses and MRT lines a hassle, while others might not. It all boils down to your preferences and where your priorities lie.
Objectively, switching from the North-South Line to the East-West Line at Jurong East during peak period is straightforward; you just have to walk across a platform.
However, during non-peak periods, you might have to travel down the escalator and switch to the other platform. But, that depends on which direction (Pasir Ris-bound or Tuas-bound) you're heading towards.
Pasir Ris-bound: No need to switch platforms, just walk across
Tuas-bound: Need to switch platforms
In conclusion…


The HDB BTO Nov 2022 Bukit Batok flats are for you if:
You're on a tighter budget (< S$500,000) but still want to ballot for a 5-room unit
You value convenience and accessibility to MRT stations and bus interchanges
You want a diverse range of activities and facilities like chalet villas, a golf range, laser tag arenas, driving centre, etc.
You want to be closer to nature i.e. Bukit Batok Hillside Park, Little Guilin, Bukit Batok Nature Park
The HDB BTO Nov 2022 Bukit Batok flats are NOT for you if:
You don't want to live too far away from Town or CBD
You prefer direct MRT connectivity to other lines i.e. Circle Line, Northeast Line
You prefer more vibrant and younger neighbourhoods e.g. Punggol
You prefer beaches over forested trails
You prioritise living nearer to the airport
See also: 8 Hacks to Improve Your HDB Ballot Chances


The recent reduction in loan-to-value (LTV) limits and servicing ratios is worrisome. It's become more difficult to sieve through the best home loan deals. But that's why we're here to help.
We've streamlined the best options for you and your spouse to consolidate and consider. Compare your best home loan options with SingSaver today!
Read these next:
7 Lesser-Known Things You Should Be Aware of Before Purchasing a BTO Flat
How Much Can You Borrow For Your Home Loan?
3 Ways to Finance HDB BTO Flats
BTO vs. Resale vs. Executive Condo: Which Gives the Best Bang For Your Buck For Investment?
How Much Do You Need to Buy Your First Home in Singapore?