We compared hotel room prices between Agoda, Expedia, and Hotels.com. Do these hotel booking sites offer better deals, or is it cheaper to book directly with your hotel?
Popular hotel booking sites like Agoda, Expedia and Hotels.com promise Singaporeans the best prices on hotel stays. Besides low rates, each service also incentivise repeat use through different reward schemes. Depending on what your sweet spot is, they can help you optimise your travel budget in different ways.
But do hotel booking sites really provide the best prices? Or is it cheaper to book your room directly with your chosen hotel, avoiding middlemen fees?
Agoda vs Expedia vs Hotels.com vs Direct Boking
To find out, we did a test booking for two hotels in Taipei, Taiwan - one, a luxury 4-star hotel in the city centre, another, a budget 3-star hotel in a popular tourist district. Each room tested was the same across all four sites, and we picked the lowest price quoted for each.
We searched for prices for a 4-night stay (check-in on Friday, check-out on Tuesday), over two periods - the peak Christmas weekend, and an off-peak weekend one month later in January.
To ensure we weren't seeing members' rates, we used each respective websites without logging in, on a fresh browser session in incognito mode. Also, the prices we found are net payment totals, inclusive of taxes.
Here's what we found:
Total Bill for 4-Night Stay for 2 Adults in a Double Room

Booking Method

Hotel 1

Luxury 4-star hotel

Hotel 2

Budget 3-star hotel

Peak
Off-peak
Peak

Off-peak

Agoda.com

S$1,321.56

S$1,197.52

S$463.76

S$375.22

Expedia.com

S$1,272.88

S$1,221.28

S$486.35

S$357.77

Hotels.com

S$1,272.88

S$1,221.28

S$486.35

S$357.77

Direct booking with hotel

S$1,350.03

$1,224.76

S$429.75
S$334.10
Direct Bookings are Not Always Cheaper
We were surprised to find out that making a direct booking doesn't always give you the cheapest rate.
In our test, we found that the 4-star hotel charged higher rates than Agoda, Expedia or Hotels. This was the case for both peak and off-peak periods.
For the budget hotel, direct booking provided the lowest rates for stays during peak and non-peak periods.
Hotel Booking Sites Have Their Own Advantages
If a cheaper price can indeed found on the hotel's website, budget-conscious travellers may be tempted to make a direct booking and cut out the middleman.
However, booking sites offer travellers many advantages, such as speaking a common language, which helps avoid any misunderstandings arising from language difficulties.
More importantly, booking sites offer myriad special deals and discounts that can give you substantial savings on your hotel stays. If you're quick or lucky enough, flash sales, exclusive rates and last minute discounts - commonly announced through the booking sites' apps - can cut down your hotel bill by 50% or more.
Another way that hotel booking sites can help you save money is through their rewards programmes. In this aspect, Agoda, Expedia and Hotels work differently, so we'll go through them one by one.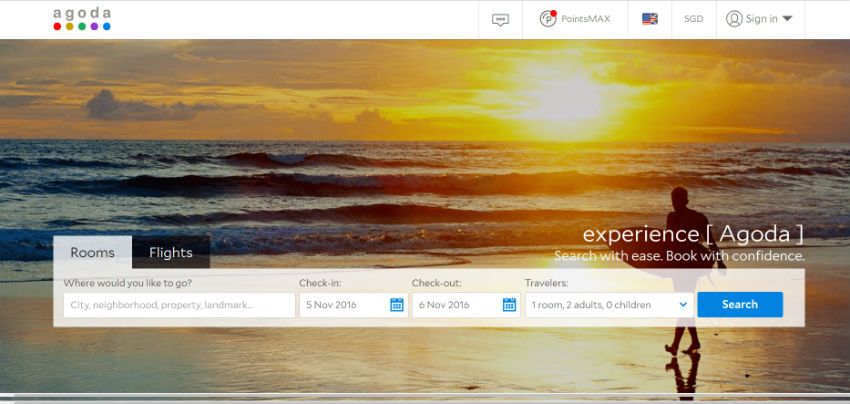 Agoda: Earn Air Miles on Your Hotel Bookings
Agoda has recently revamped their rewards programme to give you the ability to earn air miles with every booking.
When you search for a hotel, an eligible stay will come with a certain number of air miles. To earn those miles, all you have to do is to make the booking, and include your air miles' membership ID. The miles earned this way are credited directly to your air miles account.
Do note that there are different air miles awarded for different rooms. To make the best use of this reward mechanic, try to decide which is more useful - a cheaper room rate, or enough miles to top off your account and redeem your flight.
If you have a credit card, take note of these Agoda credit card promotions to enjoy further savings. Depending on who your card issuer is, you can enjoy up to 8% off hotels worldwide or in certain countries.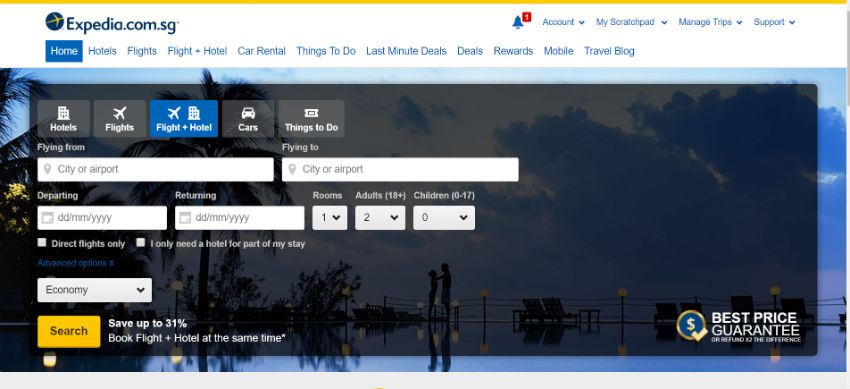 Expedia: Earn Points on (Almost) Everything
Expedia sticks to a rewards point programme that lets you rack up Expedia+ Points on almost any travel related activity.
You will earn Points for spending on hotel stays, travel packages and vacation activities, at 20 points per S$15 spent. When you book flights, you'll be awarded 2 points per S$15 spent. Besides earning Points on your own bookings, you'll also be given points for bookings made in someone else's name.
Expedia+ Points can be redeemed for hotels stays, starting at 3,500 points for a S$25 discount. As you book and stay more nights with Expedia, you'll be automatically upgraded to Silver or Gold status, allowing you to earn bonus points with every transaction.
If you're a frequent traveller looking to pare down your travel spending as much as possible, Expedia's reward mechanic may be the one for you, as you will gain further savings as you travel. Make sure to use the right credit card, and save up to 12% on your bookings with these Expedia credit card promotions.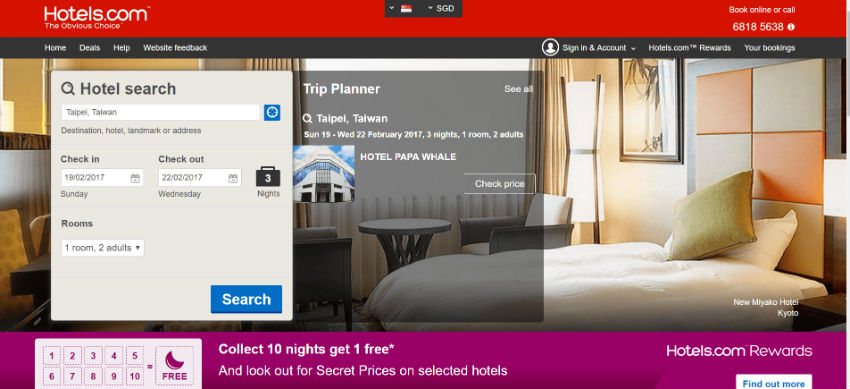 Hotels.com: Earn 1 Free Night For Every 10 Nights
Hotels.com has a straightforward reward mechanic - you'll earn 1 free night for every 10 nights stayed. Your free nights never expire and can be accumulated and applied in any way you choose. You can even redeem your entire hotel stay using your free nights, if you wish.
The value of your free night is calculated as the average value of your last 10 nights' stayed. For example, if you stayed 5 nights at S$80 each, and a further 5 at S$100 each, you'll be awarded one free night valued at S$90.
If you're a trendy jetsetter with a penchant for expensive hotels, then Hotels.com may prove to be most rewarding for you. Just remember to try to keep the value of your consecutive hotel bookings within sight of each other, so you don't affect the value of your free night too much.
Another way to benefit from Hotels.com's reward scheme is to earn nights on cheaper hotels, then redeem them on a more expensive stay.
Earn Extra Miles with the Right Credit Card
No matter which way you prefer to book your hotel, using the right travel credit card will help you get ahead in the miles game.
For example, by using the American Express Singapore Airlines KrisFlyer Credit Card for Agoda bookings, you'll get 2 miles for every US$1 spent. If you have a UOB PRVI Miles card, you'll earn 6 miles per S$1 spent when you book on Expedia.com.
Read This Next:
Are Cheap Air Tickets from Singapore Really Worth It?
How Any Singaporean Can Afford to Travel Every Year
---

By Alevin Chan
A Certified Financial Planner with a curiosity about what makes people tick, Alevin's mission is to help readers understand the psychology of money. He's also on an ongoing quest to optimize happiness and enjoyment in his life.
---