That's a fair statement: although we can earn airline miles fairly easily through sign up bonuses and using the right card in the right situation, hotel points remain elusive in Singapore.
Only Citibank and American Express offer hotel transfer partners, but the transfer ratios are bad. Simply put, you're much better off converting credit card points into airline miles, and using the money saved on flights to book hotels.
10,000 KrisFlyer miles are roughly worth $180, while 10,000 IHG Points are worth roughly $68. The choice is obvious.
But that doesn't mean there's no way to hack hotels. In fact, it's entirely possible to enjoy 5- star stays at 1-Star prices. Here's how.
1) Buy hotel points and redeem them for rooms
You may not be able to earn hotel points in Singapore, but who needs to when you can buy them outright? It's unconventional, but buying hotel points and redeeming rooms instead of paying cash can help you save big.
Take Hilton, for example. Hilton sells its points several times a year, at prices as low as 0.5 US cents per point.
These points can be redeemed at expensive resorts to effectively arbitrage cash rates. For example, the cheapest cash rate at the Conrad Maldives is ~US$1,000 a night, including tax.
However, by buying 95,000 points at 0.5 cents each, I can get the same room for US$475 a night!
If you're an AMEX KrisFlyer Ascend card holder, the deal gets even better because your complimentary HIlton Silver status gives you the fifth night free on redemptions. In other words, a five-night stay would cost 4 x 95,000 points= 380,000 points, or an equivalent cost of US$380. That's a phenomenal deal, especially when you consider the fact that points reservations are cancellable, unlike the cheapest cash rates.
It's not just Hilton which sells points; IHG and Hyatt hold several sales a year, and depending on where you're looking to stay, this could represent great value. We cover hotel points sales whenever they go live, so be sure to subscribe to The Milelion to get all the latest news.
2) Use the Citi Prestige's Fourth Night Free benefit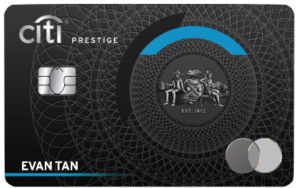 One of the best benefits of the Citi Prestige card ($535 annual fee, $120K income requirement) is the Fourth Night Free perk.
Whenever you book a hotel through the Citi concierge, Citi will refund you the average cost of four nights (before taxes and fees). For example, if you check in on 7 April and pay a total of $470 for four nights, the average cost of your stay ($118) will be refunded to your card.
The best thing is the refund happens on Citi's back end, so if you're staying in a chain hotel with a loyalty program, you'll still earn elite credit and points for the full four nights of spending.
Some worry that booking through the Citi concierge implies higher prices but not to worry, the Citi concierge can book any publicly available rate. This means you enjoy the same prices as on the hotel's website through the Citi concierge.
The Citi Prestige's annual fee may be steep at $535, but the opportunity to save 25% off room rates at pricey hotels helps to soften the blow.
3) Monitor hotel pricing with TripBam
Hotel pricing is dynamic, and rates may change continually all the way until you check-in. If you've booked a refundable stay, you can always cancel your booking when prices drop and lock in a lower rate. But there's no way of knowing when prices drop, short of checking the hotel's website every day.
Enter TripBAM, a free service which helps you monitor hotel prices and alert you when they drop. Suppose I've got a refundable booking at the Westin Bangkok. I can ask TripBAM to monitor prices at the hotel. TripBAM will watch the property, and send an alert when prices drop. It can even automatically cancel and rebook the stay on my behalf.
This of course doesn't work if you're only interested in booking the cheapest, non-refundable rate, but otherwise it's a great way to ensure you don't pay more than necessary.
4) Bid for luxury hotels on Hotwire and Priceline
Every room a hotel can't sell is wasted. Rather than let the room go empty, hotels may instead sell such "distressed inventory" to an opaque channel like Priceline or Hotwire at a deep discount.
Opaque channels are OTAs where the name of the hotel isn't revealed until a non-refundable booking has been made. This helps preserve the hotel's brand. After all, people may be disinclined to pay $400 a night at the St Regis when they know they could buy it for much less!
Why on earth would you buy a hotel room when you don't know the name before paying? The idea isn't as crazy as it sounds. With Hotwire, you can browse inventory based on the hotel's neighbourhood and star level. This means that if I only want a 5-star hotel in the Orchard area, I won't end up with a 1-star hotel in Geylang.
Although Hotwire can't explicitly tell you the name of the hotel, it's almost begging you to guess. It tells you the TripAdvisor rating and tells you the hotel's amenities, so you could cross compare that with hotels in the area (e.g. the presence of a swimming pool would rule out certain places). It even shows you four possible options when you click on the "What hotel will I get" tab - a nice way of narrowing things down!
But perhaps the biggest giveaway is the "actual hotel photo" feature, where Hotwire shows you a photo of a room in the mystery hotel.
A simple reverse image search on Google and, well, mystery solved.
Priceline has a similar concept to Hotwire, but executed differently. With Priceline, I name my own price for a hotel with a given neighbourhood and star level combination.
The system will evaluate my bid and either reject it, or accept it and reveal the hotel name. If my bid is unsuccessful, I must wait another 24 hours before rebidding.
Because of the greater information asymmetry inherent in the Priceline process, there are more opportunities for bigger bargains than Hotwire. Nonetheless, both are great options for booking last-minute hotels in expensive cities like London and New York.
5) Get the Entertainer app
Most people know the Entertainer for its 1-for-1 dining deals. But did you know it also covers hotels? Nestled within the Entertainer is a section called "travel". Tap on that and you'll see a full listing of 1-for-1 hotel nights in places like Phuket, Bali, the Maldives and more.
From time to time, the app will throw up 2-for-2 and 3-for-3 night offers, so be sure to check it out. Even saving on one night's accommodation would more than pay for the cost of the Entertainer.
Note that the complimentary hotel nights offered through the Entertainer may have blackout dates and capacity constraints. If this is the only reason you're buying the Entertainer, email the hotel and confirm they're offering the deal on the dates you want before buying.
Conclusion
Luxury stays don't necessarily mean having to lighten your wallet. With the right tools and tricks, you'll be able to hack better value both in the air, and on the ground.
Read these next:
Help! My Credit Card Points Are About To Expire!
5 Travel Hacking Tips To Get The Most Out Of Flying Scoot
MCC: The Three Most Important Letters When Earning Air Miles (or Cashback)
What Happens To My Points When I Cancel A Credit Card?
Travel Insurance: Does It Cover Redemption Bookings By Air Miles?
---
---