Stalk these websites to score early deals, or wait until 25 November to shop all the 2016 Black Friday sales in Singapore.
Updated 24 November 2016
Hot on the heels of Singles' Day come Black Friday sales and Cyber Monday, a four-day shopping bonanza that will last from 25 to 28 November this year.
Originating from the US, Black Friday takes place the Friday immediately following Thanksgiving (which is on the fourth Thursday of November). In 2016, Black Friday will happen on 25 November. This marks the start of Christmas shopping season, with slashed prices and special store opening hours.
Malls in Singapore typically do not celebrate Black Friday. But on the Internet, Singaporeans let their fingers do the shopping, snagging deals at Amazon, Lazada, and other online stores.
Here're all the websites you should stalk now to score early deals. We'll update this list daily until 25 November, so follow us on Facebook or subscribe to our newsletter and be the first to know!

1. Amazon - Countdown to Black Friday
The granddaddy of online retailing, Amazon doesn't want you to wait two whole weeks to get your hands on some discounted loot.
The website is gearing up for the shopping holiday by slashing prices across its famously vast inventory.
How to Make the Most of It
Amazon means business - we spotted a 38% discount on a Lenovo Chromebook, 50% off a magnetic salt and shaker set, 70% off a cocktail shaker set… and that's only from 2 minutes of browsing.
No doubt, Amazon's countdown is calculated to loosen wallets and start raking in the cash. Hold off on spending until the big day itself to ensure you don't miss out on last-minute price reductions.
You may also want to use the Citi Rewards Visa Card for your Amazon shopping spree. Until 31 December, cardmembers get 20 Reward Points or 8 miles for every S$1 you spend in Amazon. Given that you need purchases worth S$125 to qualify for free global shipping to Singapore, your Black Friday spree can net you 2,500 Reward Points or 1,000 miles!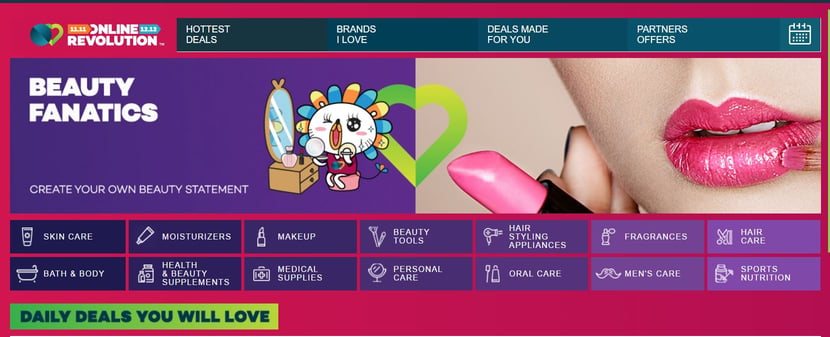 2. Lazada Online Revolution - From Now till 12 December
11 November was just the beginning. On Singles' Day, Lazada kicked off the start of a month-long sales campaign, putting up daily deals and special discounts on its website.
Everything is on sale: from home appliances, electronics and gadgets, beauty essentials, health supplements, groceries, pet products, even car and motor needs!
How to Make the Most of It
With Black Friday still two weeks away, Lazada is probably saving its best deals till then. So we say, snap up a deal or two if you spot some good ones, but save your shopping budget for the main event.
Besides, there're plenty of ongoing offers to look into, including deals with partner merchants ranging from Foodpanda to Expedia. Take advantage of the discount codes for each of these, so you can extend your savings beyond Lazada purchases.
Finally, make sure you're armed with the right credit card for Lazada to save up to S$15 on your total purchase.
3. Zalora Black Friday Sale - 25 to 28 November
If you're looking for that little something extra to take your Christmas outfits to the next level, Zalora has got you covered.
The online fashion retailer will be lining up discounts for the Black Friday weekend, so get ready for a haute couture overhaul.
How to Make the Most of It
If you register through their website as a new user, and stubbornly refuse to use their app, you'll get an exclusive 18% discount.
How? Once Zalora notices your lack of technological savvy, you'll get a pop-up inviting you to download the Zalora app so you can start shopping on your phone, like all the cool kids are doing these days.
They'll even SMS you the download link if you provide them with your mobile number.
You can also get a sizable discount when you use these Zalora credit card promo codes.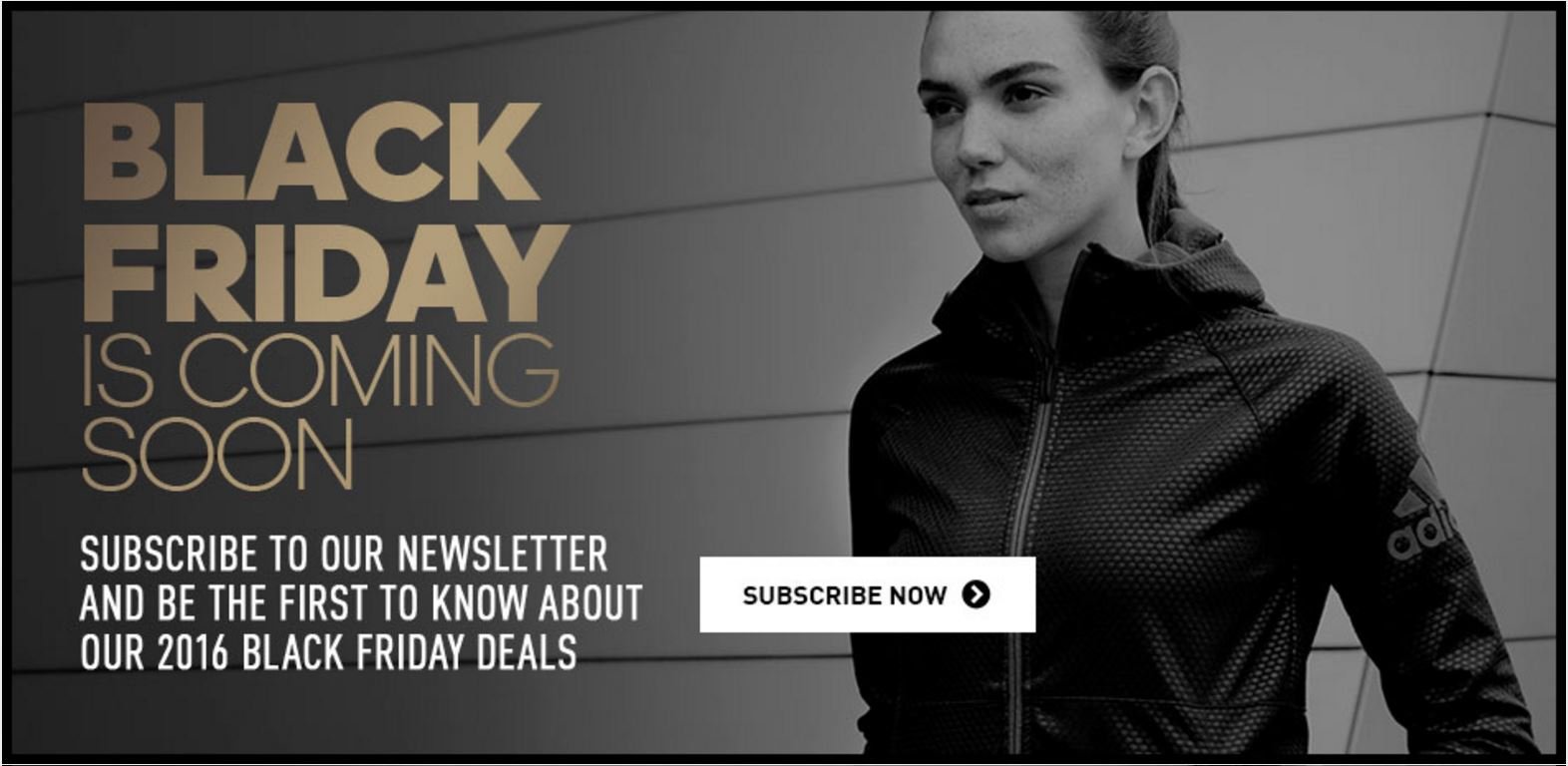 4. Adidas - Special Deals for Black Friday
Footwear and fashion purveyor Adidas is teasing a Black Friday sale on its website. Details are scant at the moment, but we'll update once we get more info.
How to Make the Most of It
You'll want to prep for your Adidas shopping spree by signing up for an online account beforehand. Doing so will net you a 10% one-time discount when you buy over their website.
Adidas also offers free shipping if you spend more than S$100, so take note if you want your new kicks to be delivered at no extra cost.
5. Shopback - Black Friday Cashback Codes
Save more on your Black Friday shopping spree with cashback codes from Shopback that give you cash rebates on your purchases.
The deal is simple, shop online on Shopback's website and get a certain percentage of your spend credited into your account. You can cash out your savings once you reach at least S$10.
For 2016, Shopback is teasing rebates on fashion, electronics and travel. The site is also gearing up to launch what's it's calling "Super Cashback", which will take place on 25 November - all the better for you to top up your cashback account when Black Friday rolls around.
Watch out for discounts of up to 70%, and upsized cashback rates as high as 25%!
How to Make the Most of It
In the lead-up to Black Friday, Shopback is holding a week-long sale featuring discounts plus bonus cashback, so if you're dying to do some shopping, stalk those deals for some savings.
While you're at it, take advantage of Shopback's referral programme to earn up to S$100 cashback credit in your account. All you have to do is to refer 3 friends before 9 December. And, if you're a first-time referrer, you'll get an extra S$30!
Also, Shopback has implemented a new feature to help you find deals with improved cashback rates - just lookout for a yellow moneybag icon. This way you know you're getting the best available deal for your chosen product or service, earning you the most cashback.
One more way to earn cashback: From now till 31 December, shop with your Visa credit card to get up to 6% additional rebate.
We suggest we use the Citi Rewards Visa card, which gives you 10 points (equivalent to 4 air miles) per S$1 spent on fashion, bags or shoes.

6. ASOS - Cyber Weekend Sale
Another website for all you fashionistas to stalk is ASOS, which is teasing a Cyber Weekend sale - meaning from Black Friday through to Cyber Monday, 4 glorious days of fashion deals!
Right now, everything on ASOS is going at 20% off. Use the promo code GOGOGO at checkout.
But if you're chomping at the bit to get your shopping started, check out ASOS Outlet, which features clothing and accessories at uo to 70% off.
How to Make the Most of It
Once again, patience is the name of the game. All the best deals are surely going to be revealed starting Black Friday, so we'd advise you to wait. Also, we'll post any updates here as we get them.
While you're planning your shopping, know that ASOS will provide free shipping to Singapore if you spend more than S$20. That's for normal delivery, which will take about 7 working days.
However, if you're making a large purchase of more than S$250, you'll be upgraded to express delivery, so you can get your goods in 2 working days. If you're spending less than S$250, you can still opt for express delivery by paying S$45 per delivery.
ASOS now provides free returns from Singapore within 28 days, so you can go ahead and give that new label a try without worries.

7. Nordstrom - Black Friday American Fashion Deals
Long-running American fashion retailer Nordstrom has expanded their shipping network to include Singapore, just in time for Black Friday!
The fashion specialist has put an extensive catalogue online, featuring designer collections and the latest fashion trends for men, women and children. Nordstrom also offers handbags, accessories and beauty essentials to complete the look, while a home section lets you dress up your dwellings as well.
How to Make the Most of It
If you're new to American fashion, go ahead and browse Nordstrom's online store and start building a wishlist. Then, when Black Friday arrives in a week's time, make use of the deals to grab some iconic American pieces.
Also, the cost of shipping will be automatically calculated and displayed during checkout, so you won't have to deal with unexpected added charges.

8. Target - Black Friday Sale
It seems that our love for online shopping has attracted the notice of even the mighty Target.
The American mega retailer is opening its doors to Singaporean shoppers, offering its extensive catalogue at discounted prices for Black Friday.
Because Target is the go-to store for many Americans during the holidays, you'll likely find many great gifts, not only for Christmas, but also for birthdays, anniversaries and other celebrations.
The cost of shipping - handled by Borderfree - will be added to your order at checkout, so you can focus on shopping, instead of worrying about shipping charges.
How to Make the Most of It
Subscribe to Target's newsletter to receive information on Black Friday deals, so you can start planning your shopping spree.
When you're ready to buy, spend S$150 or more and you'll get a S$30 discount - just use the code SGSHIP at checkout.
9. Sephora Black Friday Sale
In case you missed your chance to stock up on all your beauty and grooming supplies during Singles' Day earlier this month, Sephora is holding another online sale extravaganza for Black Friday.
On 25 November, the beauty supplies specialist is having a 20% discount on all items offered through its online store. You can take your pick of skincare, make-up and hair products, which will all have their prices reduced on Black Friday.
Products for men will also be on sale, so ladies, here's your chance to clean your man up.
How to Make the Most of It
You can get a head start on your shopping by visiting the Sephora Black Friday Sale page and adding the items you want to your wishlist. Then, just login, checkout and pay for your purchases on 25 November.
Spend at least S$40 to qualify for free standard delivery, to get your cosmetics in 3 to 5 working days. If you need your beauty supplies by 26 November, spend S$110 and above to get free next-day delivery. Don't forget to use an online shopping credit card to earn rebates from your purchases!
10. Qoo10 - Super Black Friday Sale
From 23 to 25 November, Q0010 is holding a super sale featuring discounts on almost every variety of consumer goods you can think of. Beauty, healthcare, fashion, electronics, baby supplies, spa vouchers - everything is fair game!
How to Make the Most of It
If you're nostalgic for the tragically short-lived Pokemon Go, you can relieve your itch with Mamego. Qoo10's version of the monster-catching game gives you exclusive deals and shopping vouchers for playing, so you'll be rewarded for your efforts.
Also, if you're shopping with your OCBC CashFlo Credit Card, you'll get a S$15 discount with a minimum spend of S$100 in one transaction.
11. Reebonz - Countdown to Black Friday Sale
This weekend is a great time to shop your favourite designer pieces at reduced prices. Reebonz is holding a Black Friday sale that will make updating your wardrobe much less expensive.
How to Make the Most of It
Browse the countdown deals for an idea of what's on offer. If you see something that's ideal for your look and budget, use the code BFC13 to get an additional 13% off at checkout.
Otherwise, add it to your wishlist and wait - you might get larger savings in just 48 hours.
12. Courts - Countdown to Black Friday
Home appliance giant Courts is holding a mega sale for Black Friday. Until then, the retailer is offering special discounts on several popular electrical appliances - just look out for the "Countdown to Black Friday" banner on their website.
How to Make the Most of It
The countdown deals change each day, which means that any deals you happen to see are valid for that day only. Furthermore, there are only limited sets on discount each day, so you'll need to be quick (or possibly a night owl) to score the deals you need.
Appliances are often heavy and bulky, and you're likely to need delivery. If so, plan your shopping such that you spend at least S$200 to qualify for free delivery.

13. Cotton On - Black Friday Starts Early
Cotton On decided to skip ahead of the queue and throw open the doors early. They've already started their Black Friday sale, with a 30% storewide discount.
Besides fashion bargains for men, women and children, you can also find trendy crafts and home furnishings, so get to shopping already!
How to Make the Most of It
Coton On's offer is a flat 30% off original prices, so you can shop without worry of missing out on secret deals or discounts.
The Black Friday sale is also happening at their physical stores, so if you feel like stretching your legs after work this evening, head on over to your nearest Cotton On outlet.
Otherwise, if you're cyber-shopping, do remember that you'll get free delivery for spending S$50 and above.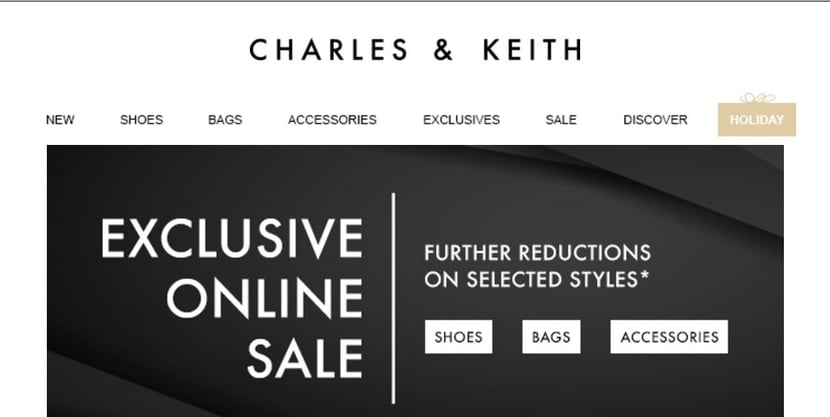 14. Charles & Keith - Exclusive Online Sale
Home grown fast fashion brand Charles & Keith is having an exclusive online sale which nicely coincides with the Black Friday weekend.
If you're in the mood for some new pieces to throw into the mix, shop the online store (under the SALE tab) to find reduced prices on bags, shoes and accessories.
How to Make the Most of It
Because the prices reductions vary quite widely, you'll want to look very carefully through the items on sale, lest you miss out on a truly special deal.
Also, if you spend more than S$40, you'll qualify for free delivery. Otherwise, delivery costs (an extremely affordable) S$2.90 per trip.
We'll update this page with more Black Friday deals as we find them, so stay tuned.
Read This Next:
How to Save Money at ASOS From Singapore
Which is the Cheapest Forwarding Service From the US to Singapore?
---

By Alevin Chan
A Certified Financial Planner with a curiosity about what makes people tick, Alevin's mission is to help readers understand the psychology of money. He's also on an ongoing quest to optimize happiness and enjoyment in his life.
---