Here are five money hacks Singaporeans can use during ASOS shopping sprees.
There's no greater fashion thrill than scoring cheap trends, and ASOS is the mother of all fast fashion websites.
We'll admit the house brand's quality isn't the best, but you're not exactly buying them to hand down to your children. And with a flexible returns policy plus free shipping to Singapore with S$40 worth of clothes, ASOS offers a fairly risk-free shopping experience.
That said, everyone can do with better deals on cheap clothes. Here are some ways you can save money on your next ASOS shopping spree:
1. Shop in British Pounds Instead of Singapore Dollars
Here's a neat trick that will help you save money instantly: swap out the default SGD currency to GBP at the upper right hand corner. Your purchase could end up being around 20% cheaper than if you kept it in Singapore dollars.
Check out the price difference between the Embroidered Kimono Wrap Dress in Singapore dollars versus British pounds.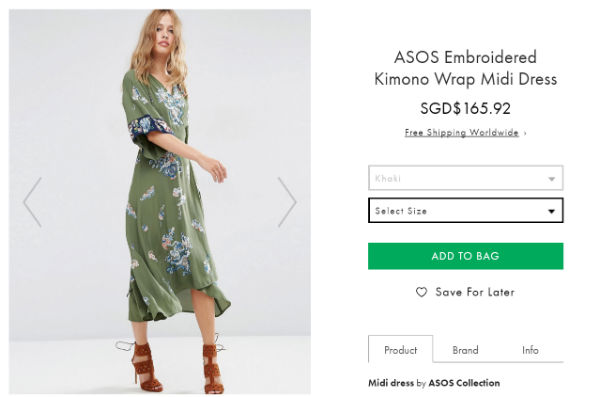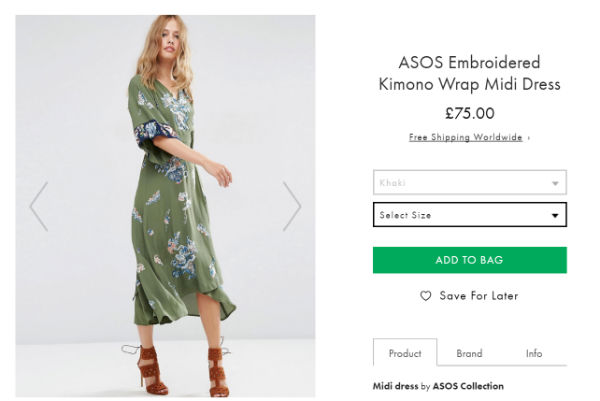 £75 converts to approximately S$133.71, which means a 34% price difference!
Before you rejoice, do note that this tip comes with some caveats. First, the conversion rate depends on your credit card provider. You will also be charged a foreign conversion fee, which varies depending on the bank and your credit card's payment network you use (Visa, MasterCard, or American Express).
So let's say you use the UOB YOLO Card (Visa) to purchase the Embroidered Kimono Wrap Dress for £75, which has a 2.8% foreign transaction fee. Assuming an exchange rate of S$1.79 to £1, the total cost of the dress will end up being S$137.74.
Still cheaper than the dollar price listed on ASOS.
2. Use a Credit Card with Online Shopping Rebates
The best credit cards for online shopping give reward points or cashback every time you click the checkout button. But we recommend choosing a cash rebate credit card. This way, you get a small discount for every ASOS shopping trip (provided you meet the minimum spending requirement, of course).
Try the Standard Chartered SingPost Platinum card - it gives 7% cashback on online purchases. You can earn up to S$60 cashback each month, or the equivalent of an average purchase at ASOS.

3. Be Very Sure About the Size and Style
The tricky part about buying clothes online is that you don't know how good they look on you until you try them on yourself. Size guides are rarely useful, as measurements tend to differ according to brand and style.
Fortunately, it's easy to get a refund on any item from ASOS. All you need to do is return it in pristine condition within 28 days of receiving your order.
Returns aren't free though; Singaporean customers need to shoulder the shipping costs to the UK. Depending on how many items you're returning, and how you want to send it back, it can cost anywhere from S$3 to S$25.
With these shipping costs, impulse purchases aren't worth it at all. To avoid wasting money, make sure that you're absolutely in love with everything in your cart before clicking the checkout button.
As for guaranteeing the fit, there's not much you can do until you receive your package. But you can stalk the As Seen on Me section to see how the clothes look on girls with your height and body type.
4. Save It For Later
Can't wrap your head around spending S$50 or more on a single item? Save it for later and wait for it to go on sale. The last thing you want is to buy it today, only to see it go for 30% off tomorrow.
ASOS constantly adjusts their prices in response to trends and demand, and they don't issue refunds if the price of your order changes after your purchase is made. Be patient and wait for the sale to happen.

5. Take Advantage of ASOS's Price Promise Policy
Before buying Adidas, Michael Kors, and other non-ASOS brands from the site, comparison-shop at competitor websites to take full advantage of the Price Promise Policy.
This means that if you see a cheaper non-ASOS item on a competitor website, ASOS will match that price. If you spot another website selling the same thing for less within 28 days of your purchase, ASOS will refund the price difference in the form of a coupon.
It comes with a couple of terms and conditions, though. The item must be sold by a UK website, with the price displayed in GBP. It also doesn't apply to items sold on discount websites or items that are discounted.
Still, comparing prices pretty much guarantees that you're getting the best deal on your favourite brands, even if you end up buying them somewhere else.
Read This Next:
How to Afford a New Designer Bag in Singapore Every Year
7 Expensive Things Actually Worth Buying
---

By Lauren Dado
Lauren has been a content strategist and digital marketer since 2007. As SingSaver.com.sg's Content Manager, Lauren edits and publishes personal finance stories to help Singaporeans save money. Her work has appeared in publications like Her World, Asia One, and Women's Weekly.
---