Get a S$50 NTUC voucher when you apply for a credit card at SingSaver.com.sg. Hurry - first 200 applicants only!
Did you know that the right credit card can help you save money all year round?
When used responsibly, credit cards can give you discounts, cashback, and points. But with so many credit cards to choose from, how do you know which one is right for you?
The Great SingSaver.com.sg Sale will help you answer this question. We've carefully combed through all the credit card deals this June and hand-picked the ones that bring the most savings for your lifestyle.
So whether you're after air miles, dining deals, groceries, or online shopping, we found the best credit card deal for you. Plus, you receive an exclusive S$50 NTUC voucher when you apply for them at SingSaver.com.sg!
Join the Great SingSaver.com.sg Sale in 3 Easy Steps:
STEP 1: Apply For the Best Credit Card Deals at SingSaver.com.sg
Start by clicking on the Apply Button for any of these credit cards, you can select more than one. Make sure you submit the application form completely and provide us a screenshot of the same: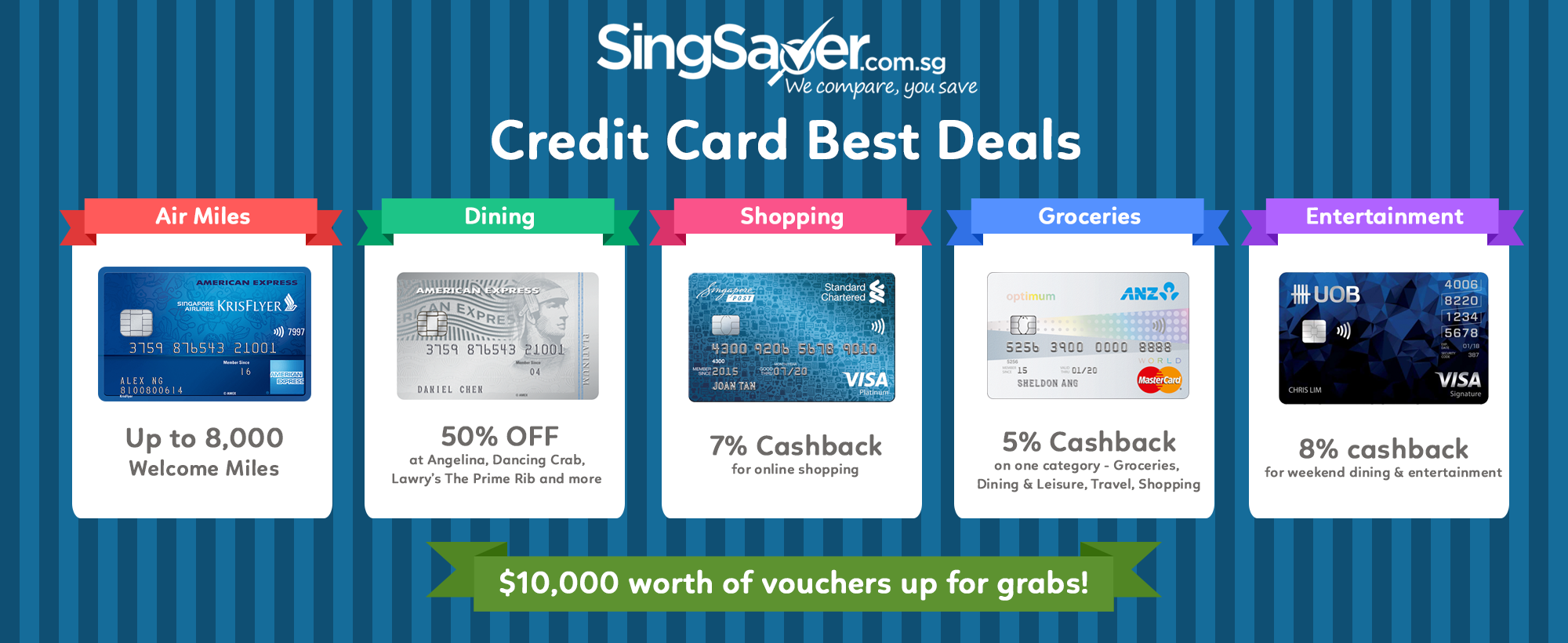 Best Deal for Air Miles: American Express Singapore Airlines KrisFlyer Card
First Time cardholders shouldn't do without the American Express Singapore Airlines KrisFlyer Card in their wallets.
For one thing, you earn 1.1 KrisFlyer miles per S$1 spent locally and overseas. New cardmembers can earn up to 8,000 miles with only $700 spend in 6 months!
You also can earn 2 KrisFlyer miles per $1 overseas spent on eligible purchases in June and December, as well as on Singaporeair.com, Silkair.com, KrisShop and SilkAir SkyShop, with no cap! And its S$30,000 minimum income requirement allows the majority of Singaporeans to be eligible for it.
Best Deal for Groceries Cashback: ANZ Optimum World Card
The ANZ Optimum World MasterCard is probably the only card in the market that lets YOU decide where you want your savings to go.
It's as simple as choosing one out of four categories at the beginning of each quarter: dining & leisure, travel, shopping, and groceries. You get 5% cashback on that category, and 1% cashback on all other spend. Plus, there's no minimum spend required and no limit to the cashback you can earn!
Best Deal for Dining: American Express Platinum Card
The American Express Platinum Card is the credit card for the serious foodie.
Cardholders get instant access to Palate Dining Privileges, which gives you 50% off at Singapore's best restaurants when dining with a friend, with a minimum of two ala carte orders. You also get a complimentary Far Card Membership worth S$425, and 15% off Singapore's hottest bars!
Best Deal for Entertainment Cashback: UOB YOLO Card
If you're only going to live once, you might as well live large. The UOB YOLO Card has a bundle of exciting offers, but its entertainment deals are truly remarkable.
You get 8% rebate on weekend entertainment, 3% rebate on weekday entertainment, 1-for-1 movie tickets at Cathay Cineplexes, and exclusive access to the Priority Queue at Switch, Barber Shop, Timbre @ The Substation, and Timbre @ The Arts House. You and a friend also get free entry at Zouk and one free house pour on Wednesdays and Fridays!
Best Deal for Online Shopping: Standard Chartered SingPost Platinum Card
Don't click the checkout button without the Standard Chartered SingPost Platinum!
This card was built with online shoppers in mind, with a cool 7% cashback for online purchases. If you love shopping at US-based stores like Amazon, you get 30% off your first vPost shipment and 20% off for subsequent shipments. It also has safety features like the CardSafe Guarantee, which protects you from identity theft. You can even use it to do the groceries and get 2% cashback at supermarkets!
STEP 2: Take a Screenshot of the Thank You Page
Once you've filled in your details and sent in your documents, make sure to take a screen capture of the Thank You page. This will tell us that your application has been sent successfully.
Check the below links to see examples of how the Thank You page for each bank looks like:
American Express Thank You Page
Standard Chartered Thank You Page
STEP 3: Email the Screenshot, Application Reference Number, and Your Mailing Address to JunePromo@SingSaver.com.sg
We prefer if you send us the screenshot of the Thank You page. But in case you weren't able to capture the Thank You page, simply forward the confirmation email you receive from the bank. Don't forget to send us the reference number for your application for verification, and your mailing address so we know where to send your S$50 NTUC voucher.
That's it! Once we have verified your application, expect to receive your voucher after approximately 10 working days upon receipt of your email.
Hurry - vouchers are limited to the first 200 applicants!