Apply for your Citi credit cards on SingSaver.com.sg and receive an instant confirmation on your application's approval.
We're sure you'll agree that the most dislikable part about applying for a credit card is the wait you'll have to endure.
After finding the credit card that's a perfect fit for your lifestyle and spending patterns, all you want to do is to start using your shiny new card. Afterall, the sooner you start, the faster you can rack up delicious perks like air miles or cashback.
Most credit cards come with attractive welcome offers - some give you bonus miles to quickly earn your next flight ticket out, while others give you high-quality, stylish luggage for all your travel needs.
(And that's not forgetting the exclusive vouchers you'll get from SingSaver.com.sg when your application gets approved - because we're just that awesome.)
All these only makes waiting for your application to get approved all the more tedious.
Playing the Waiting Game
There are many reasons why your credit card application may fail. You may not fulfill the minimum annual income requirement, or your employment status may be unsuitable, just to name two.
However, you wouldn't know if you qualify for the card or not until, 1) the credit card you applied for shows up in your mailbox, or 2) you get a politely worded rejection letter. In the meantime, weeks would have gone by.
If only there was a way to instantly know if you'll be getting the card upon applying.
Well, guess what, that's exactly what you'll get, when you apply for a Citi credit card on SingSaver.com.sg.

Get Instant Answers
SingSaver.com.sg has partnered up with Citi, integrating our comparison platform with their backend system to give you an instant answer on your application.
As you fill in your credit card application on our website, our system communicates with Citi in real time, checking whether the information you provided fulfils the eligibility requirements.
By the time you complete your application, and press the submit button, you'll instantly be informed on the status of your application. Denied, or approved, you'll know within seconds.
And oh, did we mention this is the first such partnership in Singapore?
No More Time Wasted
Let's be real. If you're in the market for a credit card, chances are you have plans.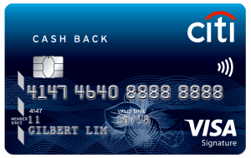 Maybe you want to save money on groceries, dining out, and Grab rides. Well, the Citi Cash Back Visa Card will let you save around S$75 a month - which adds up to S$900 per year! (Also, you'll get S$100 NTUC FairPrice vouchers to boost your overall savings.)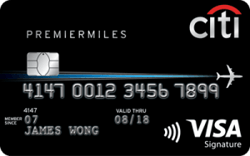 Or maybe, you're looking for a headstart on your next Sakura-viewing holiday, and the 42,000 welcome miles bundled with the Citi PremierMiles Visa Card would come in very handy. (And because we want you to enjoy a good holiday, we're throwing in a S$100 Agoda voucher.)
In any case, you don't want to waste time sitting around, wondering whether you'll get the card you applied for. (We feel like this is a good time to say: Ain't nobody got time for that!)
With instant decision on Citi credit cards available only on SingSaver.com.sg, you'll know the moment you submit your application, so you won't have to waste another second.
Papers Must Still be in Order
If you get an instant approval for your credit card application, congratulations!
Next, all you have to do is to submit the necessary supporting documents (such as income statements and credit report) for Citi to process your application. Once that is done, you'll receive your brand new credit card in the mail.
Note that your application may still be rejected if serious problems are found at this stage, such as a misreported income, or a spotty credit history.
There's no avoiding this, because banks are legally obligated to exercise due diligence when granting unsecured credit facilities, such as credit cards.
Therefore, it's still best to maintain a good credit score by practicing good money habits (such as not missing due payments).
Read This Next:
Best Credit Card Welcome Offers in Singapore
How Many Credit Cards Should Singaporeans Really Own?
---

By Alevin Chan
A Certified Financial Planner with a curiosity about what makes people tick, Alevin's mission is to help readers understand the psychology of money. He's also on an ongoing quest to optimize happiness and enjoyment in his life.
---