With airlines struggling for cash flow at the moment (so much so that some are even denying their legal obligations to provide refunds for cancelled flights), many have taken to running mileage sales. This allows travellers to buy frequent flyer miles at a discount to their usual price.
Some of these sales are routine, but others are offering what amounts to fire sale prices. Just the other day, TAP Portugal was selling miles with an incredible 800% bonus. Other recent mileage sales we've seen include:

These sales may seem like a tempting opportunity to stock up on your mileage balance for future travels, but my suggestion is to skip it.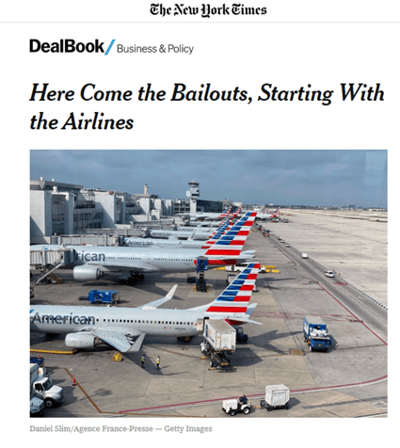 Why is buying miles a bad idea now?
The one thing we can unanimously agree on is this — COVID-19 is unlike anything ever experienced by the aviation industry. It dwarfs the global financial crisis, SARS, and 9/11. It's been estimated that a third of the world's aircrafts are now in storage, and airlines have cancelled orders, laid off staff, cut salaries, and gone hat-in-hand to their respective governments asking for bailouts.
We don't know, for sure, which airlines will survive this, but it's safe to say that more than a few will not. Should an airline go bankrupt, frequent flyer members are not high on the list of creditors. This means your hard-earned miles balance from years of spending and flying (not to mention miles purchased outright) might be worth nothing or close to nothing. For example, when Air Berlin went under in 2017, holders of frequent flyer miles were offered a paltry €0.0036 per mile by the liquidator (and it's not clear whether that was ever paid out).
Even if an airline does survive, there's no guarantee they won't take the knife to their loyalty program. Frequent flyer miles are classified as liabilities, and a lopsided balance sheet increases the cost of borrowing, or may cause banks to impose stricter debt covenants. Devaluing the frequent flyer program helps an airline to shore up their financial position, and should they opt to do this, members have very little recourse.
Although most airlines would give some form of notice before they do a devaluation, this isn't always guaranteed. And before you say this only happens with smaller, lesser-known airlines, consider this — in May 2018, Qatar Airways increased award prices by almost 80% without notice, gutting the value of its loyalty program overnight.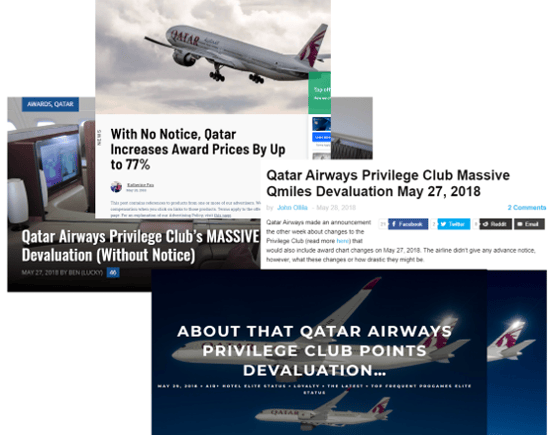 A better alternative to buying frequent flyer miles
I'm a bit hesitant to even suggest this, given the current landscape, but if you must give your miles account a shot in the arm, my opinion is that it's way better to purchase credit card points instead.

For example, Standard Chartered is currently offering an additional 25,000 360° Rewards Points when customers sign up for an SCB X Card through SingSaver. With the regular 75,000 360° Rewards Points for paying the annual fee, this represents an opportunity to buy 100,000 360° Rewards Points for S$695.50.
These 100,000 360° Rewards Points can be converted into:
40,000 miles with Singapore Airlines KrisFlyer, EVA Air Infinity Mileagelands, Air France/KLM FlyingBlue, Qantas Frequent Flyer
33,333 miles with Malaysia Airlines Enrich, Qatar Privilege Club, or Etihad Guest
28,571 miles with United MileagePlus, Lufthansa Miles & More, and Emirates Skywards
It's also possible to buy miles by using bill payment services like CardUp or Citi PayAll, or by paying the annual fee on selected credit cards like the OCBC 90N or Citi PremierMiles.
The biggest advantage of holding credit card points instead of miles is hedging. Rather than buying miles in a specific program, why not buy credit card points that can be transferred to a variety of partners? This way, I'm diversifying my risk in the event that one particular program goes under, or decides to devalue.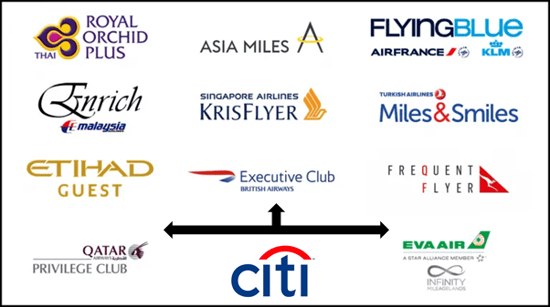 Moreover, in my opinion, there's a much lower risk of a bank in Singapore collapsing than a foreign airline. This means your credit card points should be relatively safe.
Other advantages of holding points instead of miles include:
Transfer bonuses
Banks occasionally offer transfer bonuses, which increase the number of miles you get when you transfer credit card points.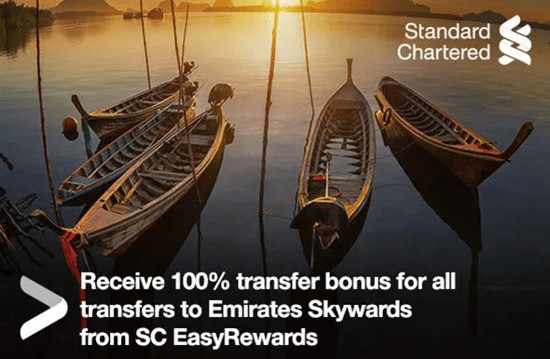 For example, Standard Chartered recently ran a 100% transfer bonus for Emirates Skywards, where 100,000 360° Rewards Points would become 57,142 miles instead of the usual 28,571. Other transfer bonuses we've seen, historically, include a 25% bonus from DBS to Qantas, a 10% bonus from all banks to Asia Miles, and a 25% bonus from American Express to British Airways.
Non-expiry of points
Miles, in most frequent flyer programs, either have a fixed expiry (all KrisFlyer miles expire 3 years after they're earned), or expire after a certain period of inactivity (all LifeMiles expire if there's no account activity within a 12-month period).
On the other hand, points earned on the following cards will never expire:
While you shouldn't be holding on to your points or miles indefinitely, this provides you with a little additional breathing room, should you go through a period where you can't travel (like right now as the COVID-19 outbreak unfolds).
Conclusion
No one knows, for sure, when we'll be out of the COVID-19 woods. That, for me, is reason enough to hold off purchasing any kind of frequent flyer miles. If you still decide to do so, my advice would be to redeem them straight away, preferably for travel in 2021.
Holding on to a large miles balance right now is just asking for trouble (although that said, I'd be perfectly comfortable holding on to KrisFlyer miles, given Temasek's recent indication of support for Singapore Airlines), and there's no need to increase your exposure by buying more.
So, sit tight for now. There will come a time when buying miles will make sense again.
Read these next:
Amid COVID-19, Scoot And Singapore Airlines Offer Cash Refunds, Bonus Travel Credits
Travel Cancelled Due To COVID-19? Here's How To Save Your Expiring Airline Miles
3 Reasons Why Cash is King in Uncertain Times Like COVID-19
Food Delivery Promo Codes 2020: GrabFood, Deliveroo, Foodpanda, WhyQ
8 Essential Shops Open During COVID-19 Circuit Breaker (7 April-4 May 2020)
---
---