It may not have the highest miles earning rates, but the Citi PremierMiles is still a formidable tool in a travel hacker's arsenal. Find out why.
Opinions expressed reflect the view of the writer (this is his story).
What's the best miles card in Singapore?
It's a loaded question, bound to ignite a fierce debate. How do you define "best credit card" anyway? Best for shopping? Best for dining? Lowest annual fees? Best customer service? The list goes on and on.
I'm not about to get drawn into that quagmire, but I would, however, dare to say that the Citi PremierMiles may be the most useful miles card in Singapore.
Here's a recap of the key features of the Citi PremierMiles card: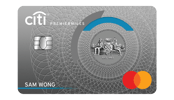 Income Req.
Annual Fee
Miles with Annual Fee
Transfer Cost
S$30,000
S$192.60
10,000
S$25
Local Earn
FCY Earn
Other Benefits
1.2 mpd
2.0 mpd
2 lounge visits per calendar year
Now, reading the above may not impress you all that much, especially when you look at the mileage earning rates. 1.2/2.0 miles per dollar (mpd) on local/overseas spending is a decent rate, but there are other cards out there which do better.
The UOB PRVI Miles, for example, offers 1.4/2.4 mpd on local/overseas spending, and the BOC Elite Miles World Mastercard offers 1.5/3.0 mpd.
So why do I say the Citi PremierMiles is the most useful of all the miles cards in Singapore? Simple answer: transfer partners.
Citibank has the most transfer partners of any bank in Singapore
In the table below, you'll see the different frequent flyer programs that each bank in Singapore partners with. Although everyone partners with KrisFlyer, and almost everyone partners with Asia Miles, there aren't many options beyond that.
With the exception of American Express, no issuer other than Citibank offers more than three partners. In fact, Citibank boasts a grand total of 11 different frequent flyer transfer partners, the most of any bank in Singapore.
Ok, you say. But why would I want to transfer my miles to any program other than KrisFlyer anyway
That's a great question. Again, a simple answer for you: sweet spots. Sweet spots refer to a destination which costs much less when redeemed through a particular frequent flyer program. Let's look at some examples:
Koh Samui
Suppose you wanted to do a long weekend getaway to Koh Samui. If you only had miles with KrisFlyer, you'd need 25,000/43,000 miles for a round trip economy/business class ticket.
But if you had Citi Miles, earned through your Citi PremierMiles, you could transfer them to Etihad Guest and redeem them on Bangkok Airways. Bangkok Airways operates direct flights between Singapore and Koh Samui, and it's only 15,000/20,000 miles for a round trip economy/business class ticket!*
| | | |
| --- | --- | --- |
| Round Trip Tickets To Koh Samui | | |
| Economy | 25,000 | 15,000 |
| Business | 43,000 | 20,000 |
*Strictly speaking, it's insufficient to just consider differences in mileage requirements. We also need to take into account the fact that KrisFlyer does not impose fuel surcharges on SQ/MI redemptions while other FFPs may. However, the savings in terms of miles more than outweigh the increased cash cost in this scenario and the other scenarios I mention below.
Short-haul flights within the region
Or perhaps you're hoping to use your miles to travel around the region.
With KrisFlyer, you'd be spending between 25,000-40,000 miles to travel to popular regional destinations. Transfer your Citi Miles to British Airways Executive Club, and you're paying between 15,000-25,000 miles for those same places.
| | | |
| --- | --- | --- |
| Round Trip Economy Class | | |
| Bangkok | 25,000 | 18,000 |
| Hong Kong | 30,000 | 22,000 |
| Colombo | 37,000 | 22,000 |
| Perth | 40,000 | 26,000 |
Flights to Europe
It's not just short-haul destinations where miles from other frequent flyer programs can come in useful. Consider a trip to Europe.
This would set you back 76,000/184,000 miles in economy/business class with KrisFlyer. With Turkish Airlines Miles & Smiles, the same route would cost 60,000/90,000 miles! That's fantastic value, especially in business class.
| | | |
| --- | --- | --- |
| Round Trip Ticket To Europe | | |
| Economy | 75,000 | 60,000 |
| Business | 184,000 | 90,000 |
In the examples above, I've assumed you're flying out of Singapore. However, there may be other situations where you need to redeem point-to-point flights outside of Singapore. In these cases, miles in programs other than KrisFlyer can still prove useful:
| | | |
| --- | --- | --- |
| Round Trip Ticket Economy | | |
| Flights Within Japan | 25,000 | 12,000-18,000 (via JAL) |
| Flights Within Europe | 25,000 | 8,000-26,000 (via BA, Finnair, Iberia, S7) |
| Flights Within Australia | 22,000-40,000 (via Virgin Australia) | 12,000-26,000 (via Qantas) |
I hope the above figures convince you that it doesn't have to be "KrisFlyer or bust" when it comes to miles collection!
Take advantage of the Citi PremierMiles sign up bonus
From now till 31 Jan 2021, Citibank is offering a sign up bonus on the Citi PremierMiles card. If you spend $9,000 within 3 months of card approval and pay the $192.60 annual fee, you get a total of 45,000 miles, which is split as follows:
10,800 base miles for spending $9,000 @ 1.2 mpd
10,000 miles for paying the $192.60 annual fee
24,200 bonus miles for meeting the spending condition
Do note that this sign up offer are only available for new-to-bank Citi customers, that is, those who do not currently hold any Citibank credit cards, and have not done so in the past 12 months.
Conclusion
With 11 different transfer partners, it's easy to make the case for the Citi PremierMiles being the most useful of all the miles cards in Singapore, at least in terms of flexibility. Start building your miles balance and explore the world beyond KrisFlyer!

SingSaver Exclusive Offer:
For Citi PremierMiles Card: Receive an Apple iPad 9th 10.2" WiFi 64GB (worth S$503.65) or a Dyson Supersonic (worth S$699) or a Dyson V8 Slim Fluffy (worth S$509) or S$300 cash via PayNow upon activating and spending at least S$500 within 30 days of card approval. Valid till 1 October 2023. T&Cs apply.
For Citi Cashback+ Card, Citi Cashback Card and Citi Rewards Card: Receive a Dyson Supersonic (worth S$699) or a Dyson V8 Slim Fluffy (worth S$509) or a Nintendo Switch OLED (worth S$549) or S$300 cash via PayNow when you activate and spend at least S$500 within 30 days of card approval. Valid till 1 October 2023. T&Cs apply.
Plus, enjoy up to 2% cashback on all qualifying spend and up to S$656 cash when you apply for the Citi Cash Back+ card and join Citi Plus. T&Cs apply.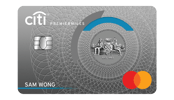 Read these next:
Can't Fly Due To COVID-19 Circuit Breaker? Here's What To Do With Your KrisFlyer Miles
Credit Card Signup Bonuses: How to Maximise Miles with Big Ticket Spending
Everything You Need to Know About Air Miles Credit Card Fees in Singapore
6 Credit Cards Which Give Free Access to Airport Lounges
Air Miles Cards: 8 Questions To Help You Choose the Right Card
---

By Aaron Wong
Aaron started The Milelion to help people travel better for less and impress "chiobu". He was 50% successful. This is his story.
---