Racking up miles isn't about spending big; it's about spending smart. Here are five credit cards to accelerate your miles collection.
While anyone can earn a ton of miles through uninhibited spending, true miles gamers know that it's all about getting the biggest possible return for the lowest possible spend. In other words, you don't need to spend big to accumulate miles; you just need to spend smart!
What does that look like for me? In this post, I'll share the five credit cards which enable me to maximise my miles while minimising my spend – the perfect way of travelling better for less.


Table of contents
---
---
Ground rule: Use specialised spending cards wherever possible!
Before we talk about specific cards, we need to divide them into two categories: general spending and specialised spending
General spending cards earn the same rate regardless of merchant. For example, the Citi PremierMiles Card earns 1.2 miles per dollar (mpd) on all local spending, whether it's a supermarket, a restaurant, or a taxi ride.
Specialised spending cards earn a bonus on selected categories, but a very low rate on everything else. For example, the DBS Woman's World Card earns 4 mpd on online transactions, but 0.4 mpd on everything else
The key to accelerating your miles accumulation is to use specialised spending cards wherever possible. It's simple maths: spending S$1,000 at an average earn rate of 4 mpd will obviously accumulate miles a lot faster than spending S$1,000 at an average earn rate of 1.2 mpd.
While it does mean you'll need to apply for more than one card and remember which card to use when the rewards are certainly worth it.


---
UOB Preferred Platinum Visa Card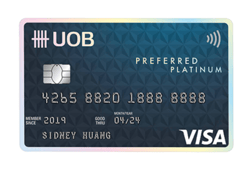 👍🏻Use: Whenever mobile contactless payments are accepted
The UOB Preferred Platinum Visa Card is a simple, no-nonsense solution that earns 4 mpd on all mobile contactless payments, capped at S$1,110 per calendar month. Keep in mind that "mobile contactless" means you'll need to add the card to your Apple, Google or Samsung Pay wallet. Tapping the physical card will not earn you any bonus!
Still, contactless terminals have become so ubiquitous that whether you're paying for dinner, getting a haircut, stocking up on household supplies or even visiting the dentist, you'll be able to earn 4 mpd with just one tap.
The only caveat to note is that UOB has a separate rewards scheme called UOB$, which functions like a cashback programme. Transactions at UOB$ merchants earn UOB$ (cashback) instead of UNI$ (which can be converted into miles), so avoid using UOB cards in such situations. The UOB$ merchant's list can be found here, but the key ones to take note of are Cold Storage, Giant, Guardian, Crystal Jade, Starbucks and BreadTalk.
By the way, if you think you'll spend more than S$1,110 per calendar month, you can consider using the UOB Visa Signature Card instead. This also earns 4 mpd on all mobile contactless payments, with a minimum local spend of S$1,000 per statement month and capped at S$2,000 per statement month.
See also: Best UOB Credit Cards in Singapore


---
DBS Woman's World Card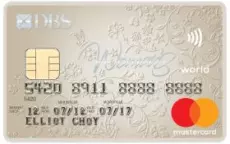 👍🏻Use: For all online transactions
While the UOB Preferred Platinum Visa Card covers all my in-person spending, I need a solution for online transactions too. That comes in the form of the DBS Woman's World Card, which, despite the name, is open to both men and women.
Just think about all the online transactions you perform in a given month: Netflix and Disney Plus subscriptions, Grab and Gojek rides, FoodPanda and Deliveroo orders, Shopee and Lazada sprees…the list goes on.
By charging these to the DBS Woman's World Card, you can earn 4 mpd on up to S$2,000 of online transactions per calendar month. That alone would be just shy of a round-trip Business Class ticket to Japan or South Korea!
See also: Best DBS/POSB Credit Cards in Singapore


---
Citi Rewards + Amaze Card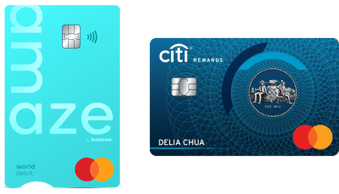 👍🏻 Use: For any transaction, excluding travel-related categories like airlines, hotels, rental cars, cruises and travel agencies
The Citi Rewards Card has a very similar use case to the DBS Woman's World Card, as it earns 4 mpd on all online transactions (except travel), capped at S$1,000 per statement month.
So why bother with this card if its monthly cap is lower, and there's an additional restriction on travel? Simple: because you can pair the Citi Rewards Card with Amaze to earn 4 mpd practically anywhere.
Here's how it works. Amaze is a debit card that lets you pair up to five different Mastercards. When a transaction is changed to the Amaze, it will be passed through to the paired Mastercard (and converted into Singapore dollars if necessary, at a foreign currency fee that's lower than the banks).
The crucial bit: all Amaze transactions code as online spending. Therefore, when paired with a Citi Rewards Card, you basically earn 4 mpd on all your spending (except the aforementioned travel-related transactions). In a way it replicates the functionality of the UOB Preferred Platinum Visa, but without the pitfalls of UOB$ merchants.
The other great thing about Citibank is that it has a very wide variety of transfer partners. In addition to Singapore Airlines KrisFlyer and Cathay Pacific Asia Miles, cardholders can transfer miles to other programmes like Turkish Airlines Miles&Smiles, British Airways Executive Club, and Etihad Guest. This provides additional redemption options.
---
HSBC Revolution Card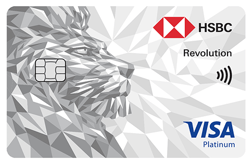 👍🏻Use: For dining, groceries, shopping, travel
The HSBC Revolution Card received a makeover in August 2020, making it a must-have for any miles collector. Not only was the annual fee permanently removed, but the range of bonus categories was also significantly widened.
Cardholders can now earn 4 mpd, capped at S$1,000 per calendar month, on the following categories of spend:
Dining (restaurants, cafes, fast food, food delivery)
Groceries
Shopping (department stores, Lazada, Qoo10, Amazon)
Travel (airlines, car rental, hotels, cruise liners, travel agencies)
Taxi rides (Grab, Gojek, Comfort)
Transactions can either be online or offline, but do note that if they're offline, you must make them via contactless methods (e.g. tapping the physical card or adding it to your mobile wallet).
Thanks to its wide range of bonus categories, this can be the staple card for the vast majority of your everyday spend. You even enjoy a complimentary copy of The Entertainer, with hundreds of 1-for-1 dining and activity deals across Singapore.
---
UOB Lady's Card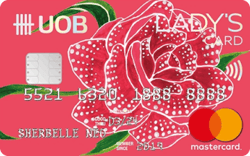 👍🏻Use: For your choice of bonus category (see below)
The UOB Lady's Card is undoubtedly the best rewards card on the market right now, thanks to an upsized earn rate of 6 mpd on the first S$1,000 of spend per calendar month. This bonus lasts till 29 February 2024, after which it reverts to 4 mpd.
Cardholders can choose one of six bonus categories, and rotate their selection every calendar quarter if they wish:
Beauty and Wellness: Drug stores, cosmetic stores, barbers, spas, massage parlours
Dining: Caterers, restaurants, fast food, food delivery
Entertainment: Bars, nightclubs, theatres
Family: Grocery stores, children and infant wear stores
Fashion: Department stores, clothing stores, shoe stores, luggage stores
Transport: Taxis, petrol, public transportation
Travel: Airlines, cruise liners, duty-free stores, hotels, travel agencies
Unfortunately, unlike the DBS Woman's World Card, the UOB Lady's Card is open to females only.
So how do I have one? Well, there's nothing stopping you from asking your other half to apply, then adding their card to your mobile wallet and using it as if you were them (with their express permission, of course!).
Remember – the key advantage of this card (besides its 6 mpd earn rate) is the ability to rotate bonus categories every quarter. That means this card can be different things to you at different times. If you're travelling this quarter, opt for Travel. If you're stocking up on goodies for Chinese New Year, opt for Family. If you're buying an expensive spa or beauty package, opt for Beauty and Wellness.
By the way, if you earn at least S$120,000 a year (and even if you don't- there's no harm in trying to apply), you can get the UOB Lady's Solitaire Card, which offers 6 mpd on the first S$3,000 spend per calendar month on your choice of two bonus categories.
---
Conclusion
While I mentioned at the onset that everyone should endeavour to use specialised spending cards where possible, it doesn't mean you should turn up your nose at general spending cards either!
General spending cards like the Citi PremierMiles Card or DBS Altitude Card often run lucrative sign-up bonuses, which are an opportunity to pick up extra miles on a big ticket transaction. These change regularly, so always check online for the latest deals.
One final caveat: do remember that regular exclusions still apply to all the cards above. For example, insurance premiums are excluded by all banks, so you won't earn 4 mpd by using your DBS Woman's World Card to pay your premium, notwithstanding the fact it's online. You can find the full list of exclusions in the card's terms and conditions, so be sure to familiarise yourself with that.

Read these next:
Credit Card Welcome Offer: A Comparison of the Best Gifts
Credit Card Promotions: Exclusive on SingSaver
Credit Cards With Free Airport Lounge Access: What You Need To Know
Best Credit Cards for Paying Utility Bills in Singapore
Favourite Credit Card Combinations to Max Out Cashback and Miles