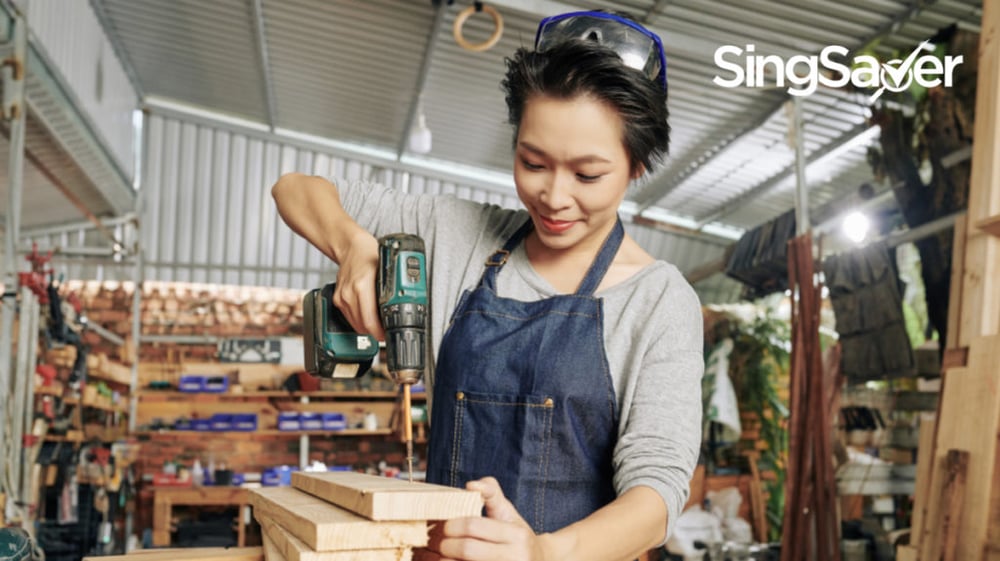 Have you ever called for a plumber or a repairman to your home and felt like you got ripped off by expensive service fees? Well, so did we.
Initially, we thought that this was inevitable. After all, we aren't skilled enough for making a lot of these repairs. But with the rise of Google and YouTube tutorial videos, even the most difficult repair task can be made easy.
The only caveat? You need the right tools. With that , anyone can become a DIY superstar and fix every problem without creating a dent in the wallet thanks to very high fees. . Here is a list of the top places for you to get the right tools to do just that, the next time something in your home breaks.
The ultimate home improvement store list
Hardware Shop
Location
Region
Contact
Best For
Selffix
Multiple Locations
North, South, Central, East, West
See Selffix section
- General hardware and convenience
- On-going monthly promotions all year round, premium brands
Mr D.I.Y.
Multiple Locations
North, Central, East, West
See Mr DIY section
- General hardware and convenience
- OEM tools, appliances and home storage solutions
David Hardware & Electrical
Blk 18 Marsiling Lane, #01-261, Singapore 730018
North
6363 8803
- General hardware
- Industrial grade tools, home accessories, TV brackets and water taps
Horme Hardware
1, #01-01 Ubi Cres, Number One Building, Singapore 408563
10 Buroh Street, #01-05/06 West Connect Building, Singapore 627564
East, West
6840 8855
6840 8822
- Wide range of general hardware
- Indoor and outdoor paint, bathroom accessories and power tools
NBS Hardware & Houseware Pte Ltd
762 Jurong West Street 75, Singapore 640762
West
6792 0811
- Sanitary equipment
- Toilet bowls, bidets and toilet hose
Brandon Hardware Paints & Plumbing Services
3 Everton Park, Singapore 080003
Central
6227 0889
- General hardware and tools
- Paints and plumbing equipment
The Hardware Shop
280 Woodlands Industrial Park E5, #01-25, Singapore 757322
North
6684 2252
- General hardware
- Tool box essentials (screwdrivers, screws, pliers, etc.)
HardwareOnline.com.sg
27 Playfair Rd, Singapore 367991
North-East
6858 8668
- Hardware equipment, light machinery, power tools, welding equipment
- Hand drills, paint and safety gear
SunHee Hardware Paint & Electrical
354 Clementi Ave 2, Singapore 120354
West
6777 1788
- General hardware
- Paint and painting accessories
Samroc Paints & Hardware Supply
354 Clementi Ave 2, Singapore 120354
West
6776 7700
- General hardware and electrical supplies - Paints and wires
1. Selffix
Let's start with the more familiar brand name: Selffix.
With 14 stores across Singapore, you can find a Selffix store anywhere from the East (Paya Labar, Parkway Parade) to the West (Boon Lay), and the North (Choa Chu Kang) to the South (Harbourfront). Simply key in 'Selffix' into your Google Maps to get the exact location of each Selffix store at the palm of your hands.
Besides the wide range of stores across Singapore, Selffix also has its own online store. Through either its online store or physical store, you can get self-fix tools from bathroom accessories, kitchen appliances to painting kits to hardware tools and household cleaning tools.
While prices here might not be as affordable as the rest on this list, they offer monthly promotions and its convenience surely makes up for it. In addition, Selffix also offer free home delivery if you spend more than $80 on its web store.
2. Mr D.I.Y.
Looking for hardware tools, building materials or home storage solutions at low prices? Then you should definitely head to Mr D.I.Y., a Malaysian retail chain that sells a range of hardware and household items to satisfy your DIY needs. The number of Mr D.I.Y. stores across Singapore has been steadily increasing with presence at 10 locations. Most of these stores are located in the western part of Singapore.
How affordable is Mr D.I.Y? Well, a small fire extinguisher costs a mere $3.50 here as compared to $28+ at other stores, saving you at least $24.50. And a heavy duty lock for your front door is priced at $8.90 here as compared to $18+ at other stores.
If you are more of an online shopper, you can also purchase your hardware tools and materials from Mr D.I.Y.'s online store. To save even more, make sure to check out their Facebook or Instagram post for on-going store promotions before making your purchase.
3. David Hardware & Electrical
If you are living in the North, you've probably already heard of David Hardware & Electrical. This is an old school general hardware store that has been serving residents of the North for the past few decades.
If you are searching for heavy-duty or industrial grade tools, accessories, TV brackets and water taps, this hardware store will fit all your needs. While it doesn't have great lighting or shelving like Home-Fix or Selffix, be rest assured that it compensates for it with low prices.
4. Horme Hardware
For anyone that lives in the East, Ubi is your go-to place for any hardware related buys. You can find a hardware shop at almost every corner of the industrial estate of Ubi without having to search too hard. Among the hardware shops in Ubi, Horme Hardware is probably the most popular one.
A warehouse-sized general hardware shop that is located in the industrial estate of Ubi, it sells all kinds of imaginable tools. They have more than 55,000 products across 22 different categories, from cleaning to bathroom and power tools to light machinery. While they also have a website, reviews claim that it doesn't have every item listed online. So, if you are looking for something very specific, you might want to give the physical store a try or drop the owner a call first.
Horme Hardware also has an outlet in the west located in the Jurong industrial estate. You don't have to travel all the way to the East for your hardware needs. Prices here are pretty affordable, a 5L tin of Nippon Paint Odourless All-in-1 costs $88.30 here as compared to $120 on Nippon Paint's official website. If you intend to place your order online, remember to spend at least $100 to get free delivery, else it is priced at $8.
5. NBS Hardware & Houseware Pte Ltd
Don't be confused by the name – it has nothing to do with the Nanyang Business School (NBS). The only similarity between them is that they are located in pretty close proximity.
Unlike the other hardware shops, NBS Hardware specialises in your everyday sanitary equipment from toilet bowls to bidets to taps and shower accessories. You can also find painting material at NBS Hardware like Nippon Paint and Jotun and other general tools (bolts, nuts, screws, etc.). Interestingly, NBS Hardware also sells ready-made furniture if you are looking for one.
6. Brandon Hardware Paint & Plumbing Supplies
Shopping for painting supplies to give your home a new look? Brandon Hardware Paint & Plumbing Supplies is the place to hit. It is centrally located near Outram Park and easily accessible by public transport. From spray paints and ready-made paint to customised Nippon paint, it is a convenient store to grab your supplies for a complete paint overhaul.
Another great service that Brandon Hardware provides is its plumbing tools. If you have any plumbing tools that needs replacement, you will be able to find them here. Besides providing plumbing tools, you can also get plumbing services from Brandon Hardware.
Prices here not the cheapest for some, but definitely competitive. A basic copper pipe measuring 1/2" in diameter costs $3.50 per foot here, as compared to $6.79 at a competitor. Oh, did we also mention that Brandon Hardware is on Carousell?
7. The Hardware Shop
By now, you've probably realised that there is a pattern to where the hardware shops are located. Most of them are located in industrial estates or industrial parks. After all, industrial sites are where such tools will come into use. So, if you are living in the northern region of Singapore, you can try out The Hardware Shop for your hardware needs. It is located in the Woodlands Industrial Park, which is convenient for those living in the North compared to Ubi or Jurong Industrial area.
The Hardware Shop is stocked with basic hardware equipment for both personal and industrial usage. You can also find hardware tools such as spanners, pliers, screwdrivers, nuts and bolts of all shapes and sizes.
8. HardwareOnline.com.sg
HardwareOnline.com.sg is like Singapore's own Amazon for hardware equipment and tools. It has everything you need to make your claim to fame as a professional contractor.
A quick browse on their website will leave you in awe of the types of hardware equipment you can get for your home. Think items like a mini compressor and hydraulic tools to start building your own cupboards, shelves or furniture in your own home. You can also order your own electrical wiring and cable tools to be your own electrical contractor. Add to that a plethora of paint supplies are also available. Prices range from $75 for a Bosch hand drill ($85 at its competitor) to $20 for a safety helmet and $12 for a chrome spray bidet with hose.
HardwareOnline.com.sg has Visa, MasterCard and PayPal integrated into their payment system to make it a seamless experience for you. The only downside is that you need to spend a minimum of $200 to be eligible for free delivery.
9. Samroc Paints & Hardware Supply
Besides the bigger hardware shops in the industrial areas, there are also small neighbourhood hardware shops that can fulfil your DIY needs. Most of these neighbourhood hardware shops do not have any industrial grade tools or equipment, but they can definitely provide you with tools or equipment for personal use.
Samroc Paints & Hardware Supply is one of those neighbourhood hardware shops you might want to check out, especially on days where the bigger hardware shops are closed (they typically close on weekends since the industrial area is pretty dead on weekends). As its name suggests, Samroc Paints & Hardware Supply has both hardware tools and equipment as well as painting tools for you to embark on any DIY home project.
10. SunHee Hardware Paint & Electrical
If you can't find what you need at Samroc Paints & Hardware Supply, try its neighbour/competitor: SunHee Hardware Paint & Electrical.
SunHee Hardware Paint & Electrical is one of the most reviewed neighbourhood hardware stores on Google Maps. It has a 4.4 star rating with 50+ reviews. According to users, SunHee Hardware provides customers with a reasonable price and has a wide product range to fulfil your DIY needs. If you're unsure about what tools or equipment you need, their staff are also friendly and approachable, and will provide you with suggestions on the right items.
Read these next:
5 Cheap Plumbing Services in Singapore
Home Insurance 101: What Exactly Are You Paying For?
Home Insurance: Why Is It Important and How Do You Compare The Best Plans?
Home Insurance 101: 4 Little-Known Facts About Home Insurance
Home Insurance 101: How It Works And Tips On Saving
By Si Jie Lim
Most people think personal finance is dry, boring and full of confusing jargon. But the fact is it can be simple
and interesting. That's why Si Jie is passionate about turning personal finance into an easy and fun topic that everyone can relate to.