The ultimate guide to helping you find the right plumber at the right cost.
Dealing with plumbing issues at home is a fairly common experience. Toilets in high-rise HDB flats or condos can clog, pipes can leak, sinks can choke and water heaters can break down. Your downstairs neighbour may also complain about water leakage on their ceiling, due to water seeping through your bathroom or kitchen floor.
Situations like these require the intervention of a professional plumber, but the horror stories you've heard about nightmare contractors and unlicensed workers make you dread asking for the help you need.
Fear not, we've put together a handy guide to help you understand how and where to find the right plumber, as well as the costs of common plumbing issues from five of Singapore's most affordable plumbers.


---
4 Things to Note Before Hiring a Plumber
1) Check with your town council
If you're residing in an HDB flat, first check with your town council for plumber and handyman services. Certain town councils appoint verified contractors to provide a range of common household repair services, including plumbing works.
These contractors are selected through a tender process, and are contract bound to provide their services at the charges they specified. This provides you with an additional layer of assurance against shoddy work, price gouging or other predatory practices. The contractor is also unlikely to behave unscrupulously, as they risk getting delisted or banned by the town council in case of complaints.
Head over to your town council's webpage to find the price list and contact details of the appointed plumber.


2) Obtain free quotes from Income Home Services
If you're wondering what's a fair market rate to pay, you can approach Income Home Services for help. Raise an online form describing the repairs you need, and ask for three or more quotes. Income Home Services will draw from their database of registered plumbers and supply you with the needed information, which you can then use to estimate your budget. Of course, if you find a quote that you like, you can go ahead and request the service through Income Home Services.


3) Get job details and warranty in black and white
Negotiations between you and your plumber should be captured in black and white, especially the agreed price (including add-ons like transport charges, material fees and inspection fees etc), scope of work and warranty period. Even Whatsapp messages can serve as evidence in case of disputes, so don't be afraid to ask for written confirmation.
You have the right to refuse payment until the job is completed satisfactorily. If the idea of withholding payment makes you sweat, you might wish to go through a third party, such as Ovvy. This Singapore-based start-up helps match homeowners and handymen. The payment is held in escrow, and only released when both homeowner and service provider are satisfied.


4) Personally supervise the work
Sometimes, it is a worker who shows up, and not the plumber with whom you negotiated. In these situations, miscommunication might result in an incomplete or unsatisfactory job. Or, an unforeseen situation may arise which requires a decision. Leaving your teenager or maid at home to supervise the work may not be ideal, as they may not be equipped to make the right decision, or to understand what a properly completed task should look like. Hence, it is best if you supervise the plumbing work in person.


---
Five Cheap Plumbing Services in Singapore
Estimated price range
Type of service
24HR Plumbing
Mr Plumber.sg
24hr Family Plumber
Plumber Singapore
HDB Plumbers

Toilet bowl choke

From $60

From $120

$60 - $250

$80 - $300

$40 - $60

Supply, install toilet bowl

From $250

From $390

From $250

$250 - $400

From $250, replacement (from $500)

Toilet bowl repair, replacement

From $80

From $140

$80 - $120

On request

$60 - $80

Replace sink/basin/cistern hose

From $40

From $100

$20 - $40

On request

$40 - $60

Install new basin

From $150

From $180

From $150

Kitchen sink ($75 - $180), Basin ($150 - $300)

From $150

Replace kitchen, bathroom tap

From $60

From $120

From $60

$80 - $200

$50 - $60

Repair leaking pipes

From $80

From $130

From $80

$100 - $350

On request

Replace kitchen sink bottle trap

From $50

From $90

From $50

$80 - $150

From $50

Replace faulty shower

On request

From $140

On request

On request

$40 - $80

Water heater installation

On request

On request

On request

$250 - $500

On request

Clear choked floor trap

From $40

From $120

$50 to $150

$75 - $180

From $40

Fix hidden pipe water leakage

HDB/Condo: From $120




Landed: From $250

HDB/Condo: From $300




Landed: From $500

HDB/Condo: $120 - $200




Landed: $250 - $350

$150 - $380

HDB/Condo: From $120




Landed: From $250
---
24HR Plumbing
24HR Plumbing offers competitively priced plumbing services that are available around the clock, making it a good choice for emergencies. They have two hotlines that you can call to request for service.
Address: 10 Anson Rd, #27-15, Singapore 079903
Contact No: 9789 7227 (West & South)/6599 9665 (North & East)
24/7 operations: Yes
Website: https://www.my24hrsplumbing.com.sg/
Years of plumbing experience: > 20


---
Mr Plumber.sg
At first glance, Mr Plumber.sg's prices seem to be higher than the others on the list. However, the price range they quote on their website includes transport charges, labour fees and material costs. If you are supplying your own parts, your charges may be cheaper. We also like that they have a well-maintained blog that contains helpful articles and tips.
Address: 3 Phillip Street, Singapore 048693
Contact No: 6653 6258 (Telephone)/8750 8753 (Whatsapp)
24/7 operations: Yes
Email: enquiry@mrplumber.sg
Website: https://www.mrplumber.sg/
Years of plumbing experience: > 10


---
24HR Family Plumber
24hr Family Plumber understands that cost is an important factor for price-sensitive Singaporeans, and provides a guarantee period of up to 3 months. In addition to its handy price guide (see above), it encourages an onsite visit for a more accurate quote. Prefer to shop around before committing? No problem, 24hr Family Plumber guarantees its onsite quote for parts and labour, whenever you decide to engage them. And if you need additional assurance, you'd be happy to know that this company has the longest experience on our list.
Address: 9010 Tampines Ind Pk
Contact No: 8126 2163/9815 7075
24/7 operations: Yes
Email: enquiry@24hrfamilyplumber.com
Website: http://www.24hrfamilyplumber.com/index.html
Years of plumbing experience: 31 (since 1988)


---
Plumber Singapore
Plumber Singapore touts itself as a full-range plumber with 24/7 service. The prices listed on its website tend to fall on the higher end of the spectrum - a fact they candidly acknowledge. This plumber sells itself on reliability and professionalism rather than straight-up low costs. If this appeals to you, go ahead and call for a quote or inspection.
Address: NIL
Contact No: 6871 8768
24/7 operations: Yes
Website: https://plumberplumbing.com.sg/
Years of plumbing experience: n/a


---
HDB Plumbers
HDB Plumbers may be the most official-sounding plumbers we've come across. The name, color scheme and testimonials on their glossy website is all designed to associate themselves very closely with your HDB flat. And it works too, might we say. That their prices are among the lowest in our comparison, and the fact that there are no hidden charges, is just icing on the cake.
Address: Block 153 Batok Street 11, Singapore 650153
Contact No: 8491 6116
24/7 operations: Yes
Email: hdbplumbers@gmail.com
Website: https://hdbplumbers.com.sg/
Years of plumbing experience: > 20


---
Going the digital route for plumbing services
Another option if you need plumbing or miscellaneous household jobs to be done is to try Ovvy, a new mobile app linking professional home services providers like electricians, plumbers, home movers, cleaners and aircon technicians to end consumers.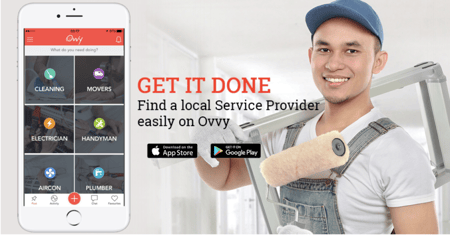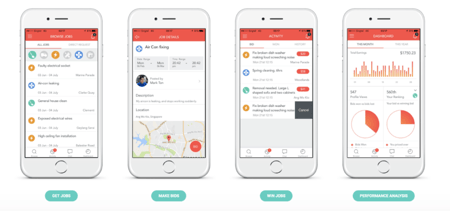 Launched in June 2018, Ovvy allows anyone on their app to source for these service providers, read unbiased reviews and bid for these services. Now that you know the market rate for the various plumbing jobs, you can use the app to source for plumbers. An escrow account ensures the money is only released when both you and the merchant agree the job has been satisfactorily completed. Here's a story on the founder of the mobile app.
Read these next:
How to Minimise Your Home Loan Costs?
2019 Agoda Credit Card Promotions To Book Your Holiday With
When to Use a Personal Loan for Home Renovations