With the 24/7 availability of endless shows and minimal ads, it's no surprise that consumers prefer streaming services to conventional television. It remains to be seen if this appeal will translate into stock market wins
As things slip back into 'normalcy' as the pandemic evolves, it's uncertain how streaming stocks will perform throughout the year. While soaring inflation and geopolitical turmoil have affected the stock market, the potential for growth remains.
Nonetheless, here are some streaming stocks to keep an eye on your watchlist for consideration.
---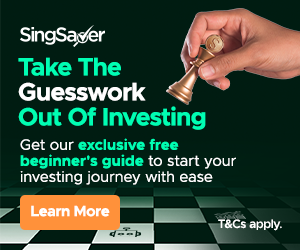 Start managing and saving money like a pro with SingSaver's weekly financial roundups! We dole out easy-to-follow money-saving tips, the latest financial trends and the hottest promotions every week, right into your inbox. This is one mailer you don't want to miss.
Sign up today to receive our exclusive free investing guide for beginners!
---
Netflix (NASDAQ: NFLX)
As the company that stirred the streaming entertainment avalanche, Netflix remains a significant contender in streaming companies to invest in. Netflix provides subscription-based streamed movies and television shows. The company is also venturing into streaming games, making Netflix one of the top streaming stocks to invest in.
As of Q3 2021, Netflix had approximately 214 global pain subscribers, a total increase of around 16 million subscribers from the same period in 2020. By Q4 2021, the streaming giant had 75 million subscribers in the U.S. and Canada.
Furthermore, Netflix is always looking for new ways to expand. Instead of solely focusing on domestic content, the company expanded to more than 190 countries and now streams local content. This is a notable achievement for a company that was only available in the U.S. in 2010.
The company now secures local content by region and country, while adhering to diverse regulations about what should and should not air on television. In 2020, as people locked down globally, the company reported free cash flow for three consecutive quarters.
At the beginning of 2022, the company reported an 8.3 million increase in customers by Q4 2021. However, this increase was below the company's prediction of 8.5 million new customers. The projection hurt the stock, and prices fell more than 20%.
However, the company is still holding strong. In addition, one quarter's performance is hardly a prediction of the rest of the year.
Disney (NYSE: DIS)
The Walt Disney Company is one of the largest media conglomerates in the 20th Century. The company launched Disney+, a video streaming service that streams content made by Walt Disney Studios and television production services Pixar, Marvel, and National Geographic.
Disney+ launched in 2019 and is available in the U.S., Europe, New Zealand, Australia, etc. By the end of 2021, the streaming platform had amassed around 130 million subscribers worldwide, making this one of the best streaming stocks.
In the U.S., Disney+ has approximately 42.9 million subscribers. The company also has 41.1 million subscribers internationally and 45.9 million subscribers on Disney+Hoststar (a collaborative Indian streaming platform).
Notably, The Walt Disney Company also has shares in other on-demand video streaming platforms. For instance, Hulu added 6.6 million new subscribers to reach 45.3 million subscribers and while ESPN+ bagged 2.4 million new subscribers to reach 21.3 subscribers internationally.
Disney is historically known for dropping huge names, especially in film production. The company has not slowed down and recently dropped Encanto, Eternals, Hawkeye, among other productions. The company also plans to invest up to $33 billion to ensure quality production and attract more subscribers. As such, Disney is one of the top streaming TV stocks in the market.
Roku (NASDAQ: ROKU)
The increase in video streaming contributed to the growth of streaming device manufacturers. Roku has risen to the top as a TV platform in the U.S. that distributes content through the Roku Channel. Consumers can view different channels advertised on the platform. As such, Roku generates money from digital advertising and content streaming.
Furthermore, Roku sells its digital streaming products, including television sets, streaming sticks, players, and soundbars.
In Q4 2021, the company announced a quarterly net income of $23.7 million, a 64.8% decrease from the same period the previous year. However, net revenue increased by 33.2% YOY to $865.3 million/ Gross profit also increased 24.3% YOY to close at $379.6 million. Overall, Roku remains an excellent video streaming stock to invest in.
fuboTV (NYSE:FUBO)
fuboTV is fairly new in the streaming services industry, having completed its initial public offering (IPO) in 2020. The streaming company currently serves sports enthusiasts in the U.S., Canada, and Spain. Subscribers can access live streaming sports events.
Initially, fuboTV focused on soccer but has since diversified, offering over 120 channels, and collaborations with major broadcasters and cable networks. The company closed Q4 2021 with 1.13 million subscribers. The company also delivered record revenue of $638 million in total annual revenue.
During the final quarter, the company streamed more than 404 million hours of content, representing a 96% YOY increase in streaming hours. The company also earned $25.9 million in advertising revenue YOY. Clearly, fuboTV is one of the fastest-growing streaming platforms.
The company has been growing in strength through acquisitions. In late 2020, fuboTV acquired Balto Sports to join the competitive online sports betting industry. The company also acquired Vigtory in 2021, a data insights and Sportsbook provider. fuboTV also launched its own Sportsbook that integrates with its streaming service in November 2021.
As more states across the U.S. allow regulated sports wagering, fuboTV is on the path to becoming one of the top video streaming stocks to buy and a leader in sports and betting.
Spotify Technology (NYSE: SPOT)
Spotify is a streaming giant that offers music streaming services in North America, South America, Europe, Africa, Asia, and Oceania. The platform has more than 180 million (Q4 2021) active subscribers globally. Users can access music online, curate playlists, discover new music, share songs, and read lyrics.
The company grew over the past year, reporting an 18% YOY increase in monthly active users (MAU) globally to 406 million by Q4 2021. This was also a 7% increase from the previous year's Q3 381 MAUs.
Notably, Spotify Premium (paid subscription) subscribers increased, translating to approximately €2.295 billion in Q4, up 5% from the previous year's earnings. Total YOY increase in revenue was 22%. The company also closed the year strong with their Spotify Wrapped content, which engaged more than 90 million users across the globe and contributed to 8% of total consumption hours.
Looking to invest in the US market? Compare and find the best brokerage.